hi! how was your weekend? mine was not long enough—story of my life. story of all of our lives, i'm sure.
for the most part, i took the weekend off from the interwebs and spent my time with family and friends. i didn't have a chance to post on saturday, but it was my mother-in-law's birthday and i wanted to wish her a happy birthday here on the blog! she lives out of state so it's tough to not be able to see her, but luckily we can keep in touch through technology.
it's hard to believe that i've been back from costa rica for over a week now. last week was HARD for me. adjusting back to "normal" life was more challenging than i expected. i had taken so much time off from working out and cooking meals that i kinda forgot how to do those things. i also forgot how to do my day job, but that was something i had to do, whether i remembered how to or not. rough stuff.
however, the whole cooking and working out thing? i slacked on that this past week. in seven nights, i made a total of two dinners. i hopped back on the GPP workout train, but by thursday i was so burned out that i skipped it (and went to bed at 7 pm… and slept for 12 hours straight… yes.) hopefully this week will be a little more "back to normal". whatever that means.. right?
anyway, this post is not about me being a slacker. it's about all the delicious food i devoured in costa rica that turned me into the "i-don't-want-to-cook" slacker that i have become as of late. i didn't capture every meal—in fact, i didn't even come CLOSE. but i did capture a few tasty bites and i can also give you a list of amazing things to try if you find yourself vacationing in puerto viejo. tip: you should definitely find yourself vacationing in puerto viejo at least once in your life. it's incredible.
it is about a four-hour drive from the san jose airport to where were stayed in puerto viejo. since we left the airport around 6 AM, we were all hungry for breakfast just a couple hours into the drive to puerto viejo.
there are several little spots to eat ALL OVER in costa rica. they are called sodas—not to be confused with diet coke.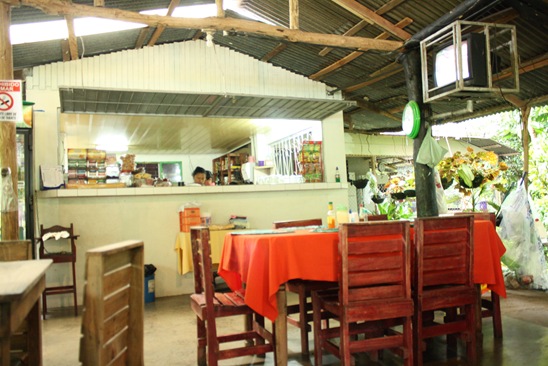 we stopped at a soda along the way. the menu was in both spanish and english—i noticed that most menus in costa rica were this way. i was grateful for this. my junior-high-spanish-skills can only get a girl so far.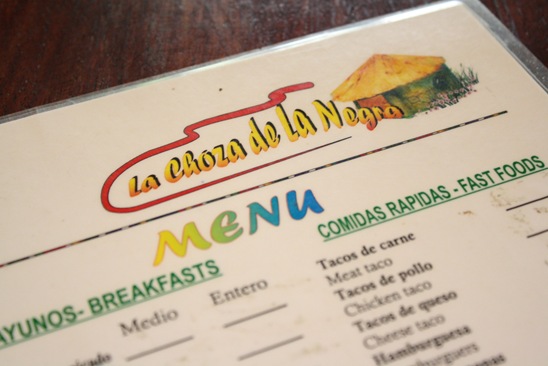 i saw huevos rancheros on the menu and immediately knew that was my pick. i love huevos rancheros!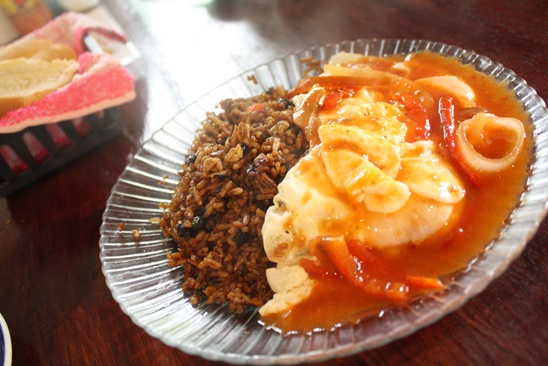 give me a minute to reflect on how delicious that ranchero sauce was. there is no way i could ever recreate something so perfect! there were sautéed peppers and onions swimming in the authentic ranchero sauce and it was all doused over a couple of perfectly cooked eggs—super fresh and over easy. the eggs came with gallo pinto, a common costa rican side dish made of rice and beans. we were also served rich, dark coffee and fresh bread to sop up all the extra ranchero sauce. this, being my first meal in costa rica, set the bar high for my food expectations for the rest of the trip. luckily, i was never let down!
we stayed at banana azul the entire time. fortunately, their chefs were fabulous and made the most remarkable food. breakfast was included with our room fee (which, by the way, was jaw-dropping inexpensive) and was a little different each day. there was always a spread of fresh fruit, cereal, coffee, and tea. in addition to these staple items, there was a breakfast entree offered each morning that included eggs in some way: eggs benedict, breakfast burrito, fried eggs with gallo pinto (my favorite), an egg sandwich, eggs with hashbrowns and toast.. you get the idea. the breakfast was delicious each and every morning!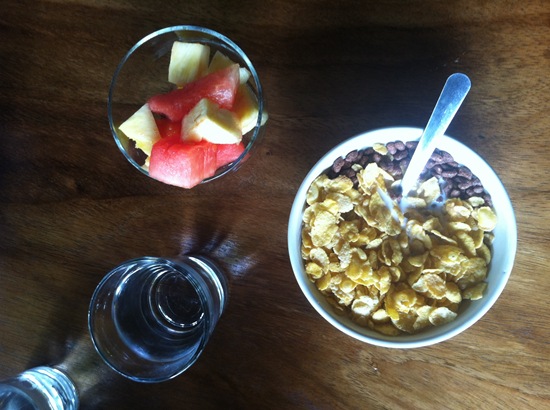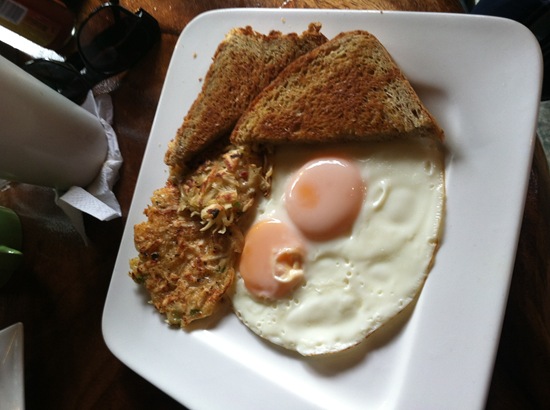 banana azul also offered a large lunch menu and a limited dinner menu. these meals were not included with the room price, but they were very affordable (and very tasty!) my favorites off the lunch menu: the vegetarian quesadilla, the grilled cheese, the peppered french fries, and the guacamole with freshly fried chips. the chips served with guacamole in costa rica were not your typical tortilla chips. they were light, flaky triangles of fried heaven. i am kicking myself for not getting a photo now.. but andie happened to go there earlier this year and has a great shot in this post.
as far as dinners at banana azul went, they were equally as delicious as breakfast and lunch. it was convenient to eat dinner at the hotel simply because going to town took a lot of effort (okay, i am lying—it was a two minute cab ride but sometimes you just wanna hang out at the hotel!)
the menu for dinner always included some type of salad bar to start and then three entrees: a vegetarian option, and then two more options including fish, chicken, or beef. the entree always included a side dish and there was always a new dessert included with the meal. dinner was $13 for all three courses and you could bill it to your room. no wonder we ate in so many nights!
not many photos to share, but i did snap a couple shots of some favorite dinners: jerk chicken, stuffed avocado, and the mediterranean plate. actually, the jerk chicken and stuffed avocado were on the same night. marshall and i ordered chicken for ourselves, but nick and dave (my vegan buddies) had the stuffed avocado. when we tried it, we decided we HAD to get an order of stuffed avocado for ourselves. yep, we are pigs. yep, it was so worth it. no idea what that avocado was stuffed with, but i'm still remembering how tasty it was. i love meals that leave such a mark on my memory!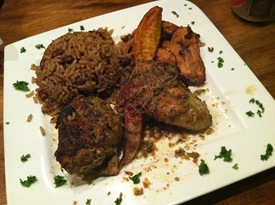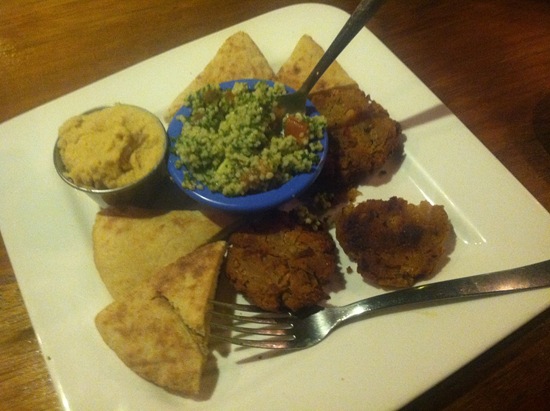 kristen and rory had mentioned that they'd ordered pizza to the hotel when they stayed there before (in 2010) so we did decide to do that a couple of nights. the pizza was nothing short of amazing. i know, i know, i am saying that about everything we ate—but it's true! i was NEVER let down. not even by delivery pizza.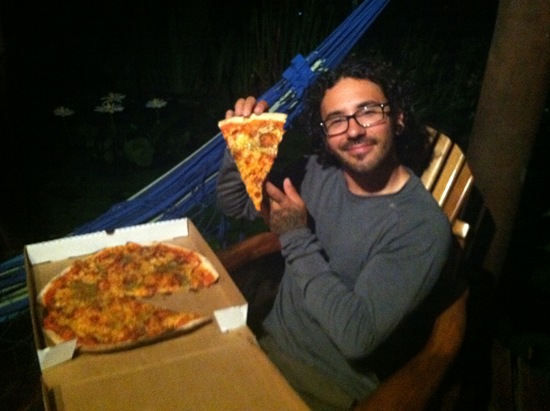 as far as eating out goes, we definitely were never let down. 
we visited zion cafe twice during our time in costa rica. it used to be called jammin' jerk and juice bar (or something along those lines) but a canadian couple recently decided to quit their rat race jobs, move to costa rica, and buy a restaurant. they kept the menu the same but changed the name to zion cafe. (yes, they just stole my life dream right out from under me. where do i sign up for that life?)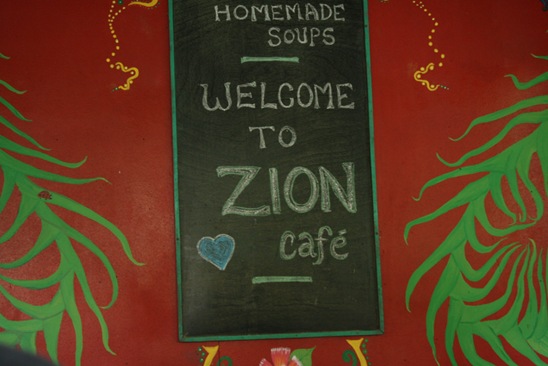 the cafe offers lots of vegan and vegetarian options which was rad for my friends. i got the jerk chicken wrap my first time around and the jerk burrito the second time around. the food was awesome, but i actually think i was more in love with the array of dishes at the cafe! no two plates, bowls, or ramekins were the same. i was giddy.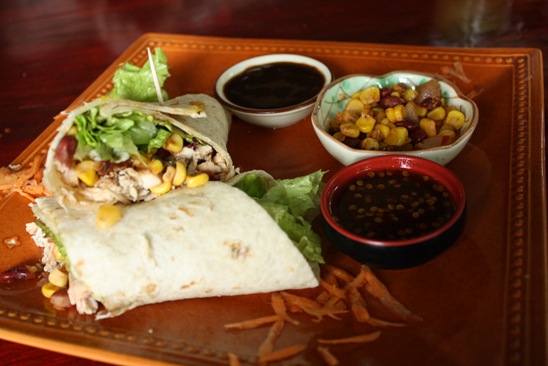 another veg-friendly spot we tried was veronica's place. looks like the spanish word for "vegan" is "vegano". easy enough!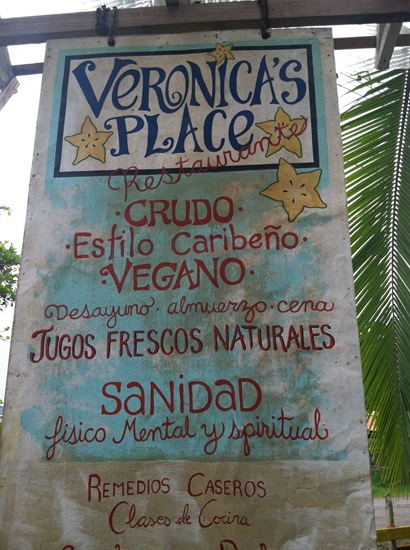 they served breakfast all day which is something i can't resist (nor can my husband.) marshall had delicious banana pancakes and i had a bowl of yogurt, fresh fruit, and veronica's homemade granola.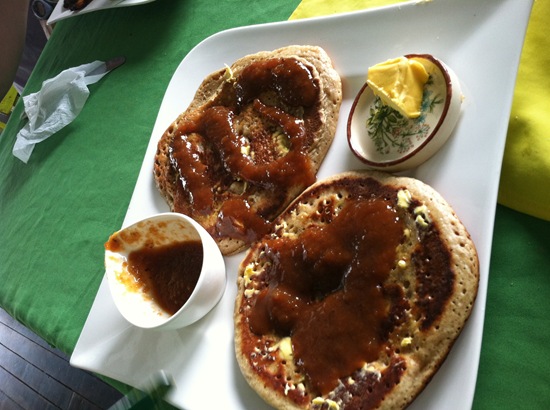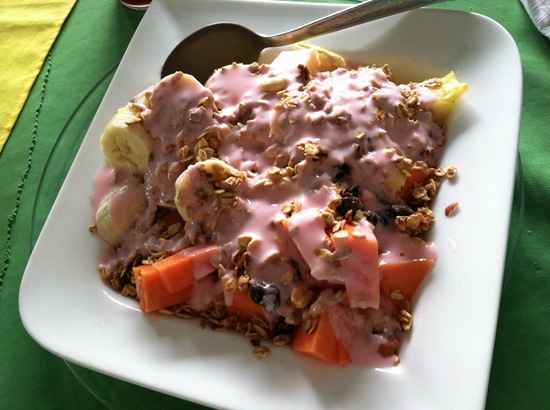 one last lunch location i have to mention is chile rojo. the menu included so many options: thai, mexican, mediterranean, american.. you name it. seriously, i was in awe with the broad selection. marshall had a chicken gyro, kristen had coconut crusted chicken, rory had a burger and fries, nick had a medeterranean plate, and dave and i had the green curry—his with tofu and mine with chicken.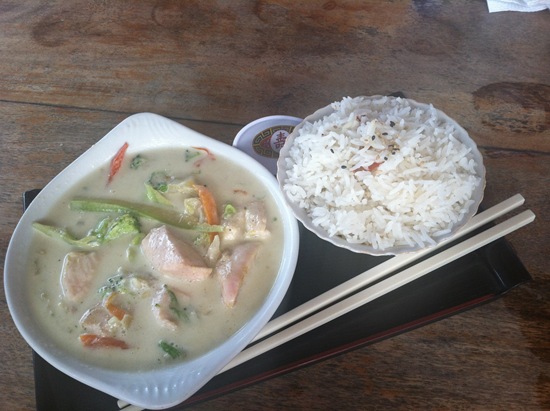 chile rojo also has a great drink menu and we happened to be there during happy hour—i took advantage of that two for one sangria!
speaking of drinks.. i definitely didn't drink even CLOSE to enough water while on vacation. it happens. but i did drink plenty of costa rica's signature brew: imperial.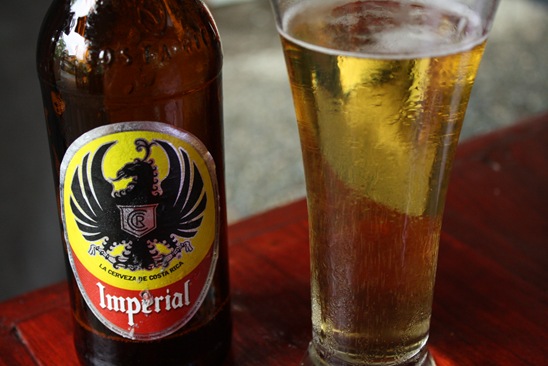 i also developed a slight addiction to the mojitos made by the fabulous bartenders—franklin and eduardo—at banana azul. the mint was SO fresh! and they always took a good 15 minutes to make each drink. no, seriously, they lovingly peeled each lime one by one any time a mojito was ordered.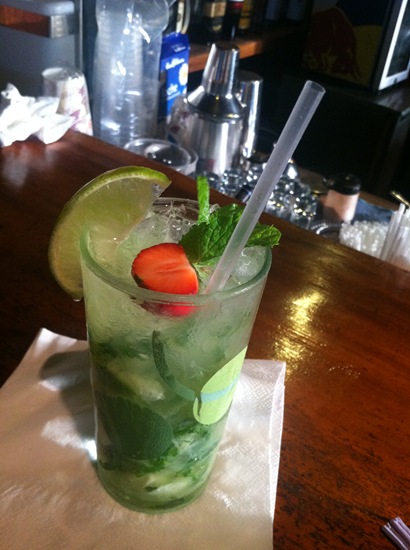 we also enjoyed LOTS of coconut water—right out of the coconut! we'd be lounging on the beach and someone from the hotel would come by and offer us a free coconut.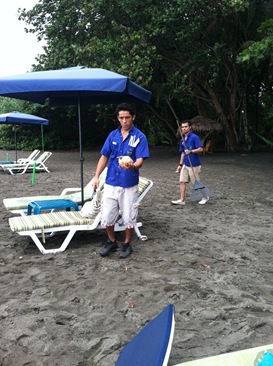 two more random foods i caught on camera…
the cero bars. my mom had told me about these ice cream bars of heaven so when i saw them at the grocery store i HAD to snag one. and then another. and then another. i think i had four or five all together,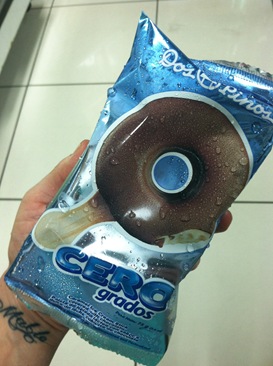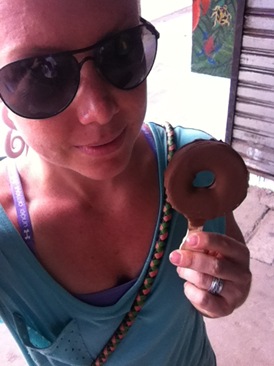 something that many of the restaurants had as an appetizer was "patacones"—plantains that were smashed and fried. and incredible!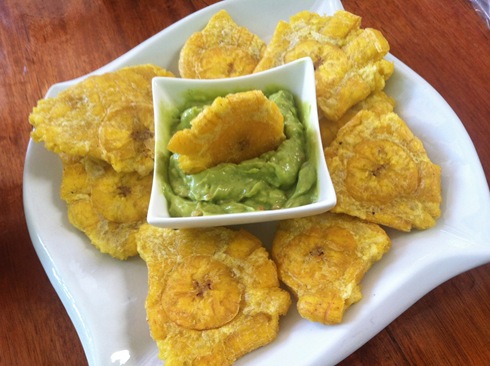 that sums up my foodie photos from the trip. however, i ate at a few more places that were SO amazing (but i didn't take photos) and i must recommend them. so, in classic janetha style, here's a list!
puerto viejo (and surrounding area) MUST TRY restaurants:
i was in costa rica for ten days. i ate a lot of food. thank goodness i didn't photograph it all.. because the very little that i DID take photos of took me a verrrry long time to blog about. what can i say, i'm passionate about food. i could write about it for days on end and never tire of it. hope i didn't bore you too terribly much ;)
Q~
what's the best thing you have EVER eaten on vacation?
xo. janetha g.