hey, guys! i am on the tail-end of my trip.. probably pouting about coming home.. but probably getting excited to see my pups.
i hope you have enjoyed the guest posts while i've been gone. i have a fun one for today from cait of cait plus ate. enjoy!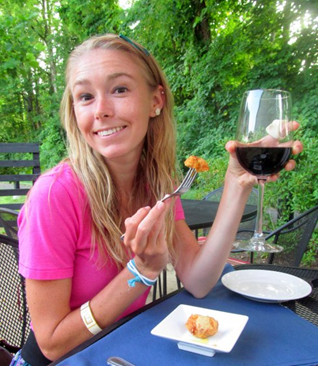 *************************************************************
If you're over 21, like me, then you may have been choosing to enjoy some refreshing alcoholic beverages as the temperature has been rising. Despite the messages our media sends, it IS possible to enjoy these drinks and stay in shape! It's all about selecting options that are more natural and simple. Not only will they taste fantastic, but you will also FEEL way better physically after choosing one of my go-to alternatives than you would if you went for a Pina Colada or a Sex on the Beach. I (unfortunately) know from experience!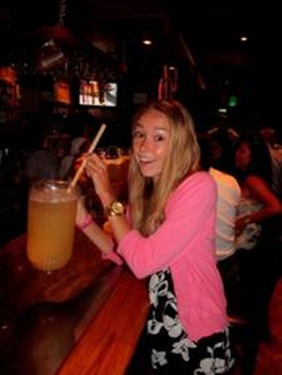 So without further adieu, here are my favorite lighter drink options. Keep these in mind next time you are going out to eat, headed to a BBQ, or lounging poolside!
1. White Wine: It's made from grapes. Vineyards are a form of farm, for crying out loud. A farm-grown drink sounds like a healthy choice to me! I used to be a red wine snob, but I've found myself craving chilled whites whenever I'm enjoying wine al fresco. There are so many different options for every taste! Pinot Grigio is super refreshing, while Chardonnay is a bit more dry. Prosecco is my favorite sparkling variety – toss a few fresh raspberries in a glass of that and you're set. If you don't like bubbles, try Riesling – it's sweet but smooth.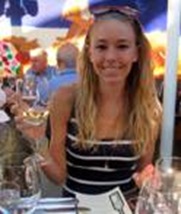 2. Natural Margaritas: You probably know them as Skinny Margaritas, but I don't like that name. The reason this variety of marg is lower in calories in the first place is because it's made with less ingredients. It's a simple version of a cocktail that has been, in my opinion, over-complicated with additions like fruity syrups, grenadine, and triple sec. Whatever the name, you can spot these margaritas on drink menus by counting the number of ingredients. Often they just have tequila, lime juice, and agave nectar. Fear not the tequila – you'll be safer from its headache-inducing powers by skipping out on the sugar-filled add-ons and going with a natural margarita!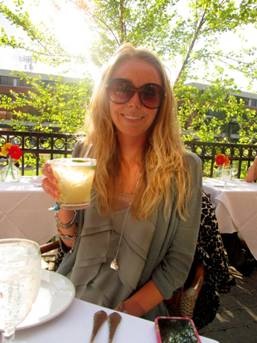 3. Anti-Sweet Mixed Drinks: I had a hard time naming this category…I thought about using the word "savory", but I don't want anyone to think I'm recommending some sort of steak-infused martini (though I have heard of bacon-infused beer). The bottom line here is the fact that I've found that the more sugar a drink has, the crappier it makes my body feel after I drink it. No amount of water-chugging can combat a morning-after headache if I've been drinking cocktails made with added sugars. To avoid these tricksters, choose drinks without fruit juice or sweet liqueurs. Just like with the natural margarita, the less ingredients, the better. Cucumber and lemon flavored cocktails are becoming more popular, and for good reason. These options, like gimlets and martinis, are re-invigorating without the sugar high. If you want a fruity drink, look for words like "infused" and "muddled" on the drink menu. This implies that the cocktail's fruity flavor comes from real, whole fruit and not fruit juices or syrups.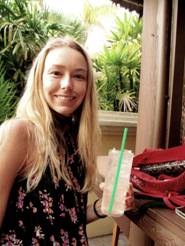 4. Simple Red Sangria: I don't even know if I can call this a recipe because it's far from exact! It's more like a list of ingredients I threw together in arbitrary amounts. The end result was a sangria that was light, easy, and fruity. Here's how I did it:
Ingredients:
a bottle of a light red wine (try Pinot Noir, Cabernet Sauvignon, or Red Zinfandel)
a citrus-flavored seltzer water (try lime, orange, or lemon)
orange slices, slice strawberries, raspberries, blueberries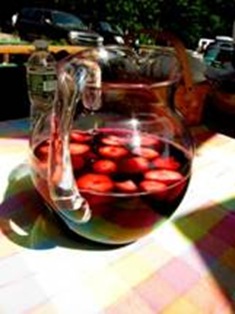 Instructions:
Prepare fruit (peel oranges and separate slices, slice strawberries, etc) and place in bottom of a pitcher. A glass one looks very pretty!
Pour bottle of wine into pitcher.
Add seltzer water to taste. I added about 1/3 of a 750mL bottle if that helps!
Stir and place in fridge to chill for at least 4 hours. Don't add ice yet! It'll water it down!
Before serving, stir again. Enjoy over ice!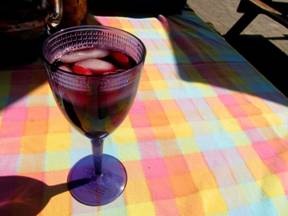 I hope you can use the sangria recipe for your next shindig! The ideas I've shared here are the perfect way to relax and imbibe in the sun – just make sure you DRINK WATER too – while feeling healthy and energized. It's worked for me, and it can work for you, too!
Qs~
What are your favorite summer drinks?
Do you prefer red or white sangria?