hey, guys! i put out a call to blog friends and readers who have a weight loss/weight gain story they would like to share. i am always inspired when reading these types of stories, so i was thrilled when several people offered to share their experiences.
you may remember the first time i posted a transformation tuesday—it was about my best friend, kristen, gaining a bangin' body from jamie eason's livefit trainer. i'm actually with kristen in costa rica right now, prancing around on the beach i am sure.
today's transformation story comes from katie. hope you enjoy reading about her journey!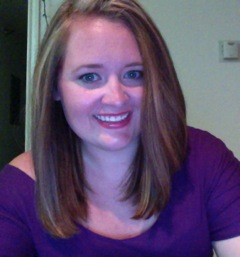 Hi! I'm Katie and I'm a recent college graduate. Instead of going straight to the real world, I'm taking a two-year detour and moving to New York City to go to graduate school for Counseling. I have also recently lost nearly 60 pounds (56.5 to be exact) and am running my first 5K at the end of the month!
Here is a before photo along with some current photos!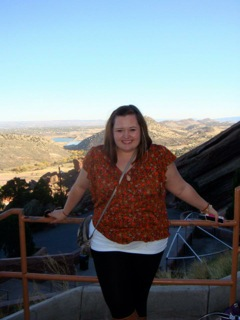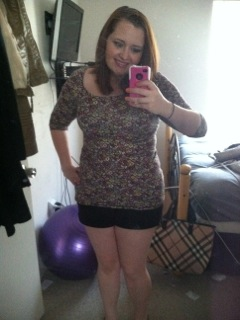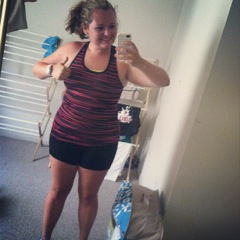 Quick life story: I've always had issues with my weight. I've attempted to lose weight more times than I could count, but it would always creep back. I actually started college at a pretty average weight as a result of losing about 40 pounds in between my junior and senior years of high school. I did this by restricting my eating, since I didn't know how to exercise and I didn't really care to start.
The weight began coming back in college. I made attempts to lose what I had gained, but poor food choices combined with lack of knowledge about fitness won and I always gained more weight. By the time I gained about 40 pounds, I gave up. By my junior year in college, I weighed around 200 pounds and was working full time in addition to being a full time student. I spent much of my paychecks on food. I was fond of having drinks and appetizers with a coworker (just for reference, my order was a frozen Strawberry margarita – sugar rim please – and Spinach & Artichoke Dip, and yes, I would eat it all by myself) at Applebee's after work and often felt too tired and overwhelmed by my schedule to actually buy groceries. The majority of my meals were eaten at fast food restaurants. Drinks after work went from a once a week treat to a sometimes three times weekly event, and I would always indulge in the same thing.
In October of my senior year, things started to change. I was no longer working at the previously mentioned job and was fully dedicating myself to school, an internship, and an honors thesis. During my fall break, I went with a group of classmates and a professor to a conference in Denver. During an afternoon off, we decided to do some sightseeing at the nearby Red Rocks. Part of this sightseeing entailed climbing a ton of stairs. My classmates and professor didn't seem to have a problem with this, but I was another story. I was out of breath, taking breaks, and struggling with every step. I was embarrassed and couldn't believe what I had done to my body. It took me the rest of the afternoon to recover from climbing those stairs. I had to make a change.
After I got home from the Denver trip, I did a lot of thinking. I hadn't stepped on a scale in months. The only clothes that fit me were leggings and sweatpants. My self-esteem was nonexistent: I immediately untagged pictures of myself on Facebook and avoided seeing friends and family that I hadn't seen in a long time because I knew they would be judging how much weight I had gained. I lied about my weight any time it was requested. The Monday after I got back from Denver, I got on the scale and was greeted with a number that, to this day, I have never told anyone: 231.
Instead of going to my bed, crying, and eating a bag of chips, I went to the grocery store and bought healthy, fresh foods. I got a group fitness pass at my university and started taking Zumba classes. I felt like I was going to die during the first class, but there was something about it that made me come back for more. Before I knew it, I had lost ten pounds.
Funny analogy: College health classes drill into your head that marijuana is the gateway drug to more severe drugs. Similarly, Zumba was my gateway drug to all things fitness. I became obsessed. I tried new classes and found what I liked and what I didn't. I ventured into the big scary gym and tried workouts on the elliptical and the treadmill. I started reading fitness blogs for ideas on what to do and how to improve my progress. My confidence skyrocketed, and the weight kept coming off. Even though I was still incredibly overweight, I really enjoyed my new lifestyle and felt a lot better.
It hasn't always been that easy. Because of my size, I had a lot of pain in the beginning, usually in my calves. Sometimes I would weigh myself and be met with complete disappointment even though I had worked my booty off in the gym and not cheated once during that week. I would have insatiable cravings for French fries, chips, pizza, and pasta. In May, right after I hit my fifty-pound milestone, I hit a plateau where I stayed the same weight for nearly two months no matter what I did. There were so many days where I wanted to eat what everyone else was eating and not feel any consequences. There are still those days. Earlier this week I went for a run and my legs were so tight that I turned around and walked two miles home.
If I had to give advice to someone who was just starting out, I would say that the most important thing is to find what works for you and do it. If it doesn't work for you, you won't do it. Here is what has worked for me and a few tips that have helped me out:
Group fitness classes. I find that if I'm in a group, I won't leave no matter how sweaty, tired, or frustrated I am. I'll modify down if it's too hard. The instructors are always incredibly nice and will help you out before, during, or after classes if you need it. Don't be afraid to ask!
If you fall off, get back on. There have been times where I've not exercised or eaten foods with no nutritional value. I took a week long vacation with my family to Florida and indulged in plenty of tropical drinks and delicious fried seafood. I celebrated my college graduation with family and friends. Those events are important, and it's okay to take a break as long as you come back. Most of the time, you'll find that you didn't get as far off-track as you thought.
Have someone you can talk to. Tell them your goal. Call them if you are frustrated. Share your successes. They will talk you through it and help you out. My parents and my grandma have been wonderful during the past ten months and have always reminded me of my goal and how hard I've worked.
Reward yourself. My mom helps me financially to buy new clothes every 10 pounds I lose. Sometimes I reward myself for little milestones with a nail polish or a clearance rack find.
Going out to eat (this tip may apply most specifically to the college crowd). In college, a lot of people want to go out and have drinks, go out for dinners, or have a late night pizza. If you are in a similar situation, the pressure to give in can be extreme. If your friends are your real friends, they won't care if you don't get a margarita at your favorite Mexican place, spend a night out drinking water, or order a healthier item. If they care, you need to find new friends. My previously mentioned coworker and I still go out once every few weeks and I don't get a margarita or a 1300 calorie dip. She has never said a thing about it and has been one of my greatest support systems.
Lately my workouts have been centered around running. I used an awesome iPhone app called Get Running to train for my 5K and run 3 times a week. My all time favorite gym machine is the Precor AMT (it makes you feel like a gazelle!) and I use it about twice a week. My weak point is strength, but I make an effort to work it in using weights or at-home exercises. I love foods like oatmeal, blueberries, turkey burgers, and fresh veggies.
I would love to lose a total of 100 pounds, but if I am healthy and physically fit at a higher weight then I am more than okay with that. I am not perfect and there are still things that I struggle with (namely a long-standing relationship with Diet Coke), but I see this as more of a lifelong marathon than a sprint. I want to be healthy for the rest of my life, not for a few years. I am constantly working to improve myself and my health, and I hope I can be an inspiration for someone else to do the same!
Thanks to Janetha and all of the wonderful fitness blogs out there – you all have definitely played a huge role in helping me get as far as I have with workout ideas and healthy, tasty recipes.
If you have any questions, comments, or want to chat, the best way to find me is on twitter: @katie8912. Thanks for reading!
Katie