hey, guys! i am happy to introduce bria as today's guest poster. bria and i have chatted over the interwebs for quite some time now. she is very knowledgeable in all things yoga, and has offered to share some information today. i hope you enjoy reading them!
***************************************************
Hey, everyone. My name is Bria, and I'm a Yoga instructor based in New York City. I've been reading Janetha's awesome blog for awhile now, and am super psyched at the chance to guest post here. Thanks, Janetha! Today I'll be talking about getting started (and keeping going), in Yoga.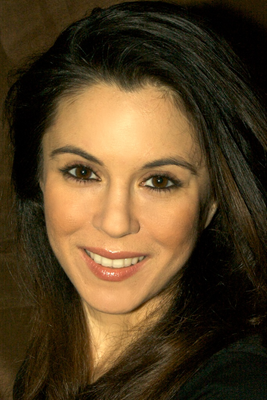 As a Yoga instructor who teaches many classes in the gym setting, I interact with Yoga newbies almost daily. We're talking about the types of people who would most likely never wander into a Yoga studio on their own. I love this about my job! Many of these people have, over time, become my regular students. It's been amazing to see them grow and develop, on the mat and in their lives.
I often chat with folks who want to try my class. I see them peek in at what we're up to from, say, the weight room or the treadmill. Often, I can see they are intimidated, even scared to join in. Intimidated, but intrigued.
Indeed, it seems that these days, everyone is curious about Yoga, which is a good thing (clearly I'm biased here, but hey, there are tons of benefits.)
But as we all know, sometimes finding (and keeping) the motivation to try something new can be a huge challenge. Allow me to debunk a few Yoga myths I hear often, and to offer some motivation tips.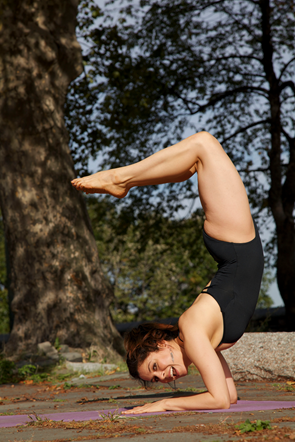 Myth Number One: Yoga is only for flexible people, and I'm not flexible!
Yes, Yoga does improve flexibility, but it does not require flexibility. In fact, the inflexible often see the greatest gains from Yoga. Besides, if you aren't so limber, how are you going to limber up by not stretching? Uh, hello! That would be like me thinking I could get strong or cardiovascularly fit by avoiding cardio and strength training. (For the record, yes, I DO cross-train).
Yoga not only improves flexibility, but it strengthens, tones, improves coordination and balance. It improves propriorecption, and calms us down. Yoga also offers us a smooth, refreshing boost of energy and clarity of mind.
Myth Number Two: I tried Yoga once or twice, and didn't like it. So it's not for me. Ever.
A little secret: When I first tried Yoga, I was bored and not really feeling it. But I knew it was good for me, and I felt relaxed afterwards. I stayed curious and circled back to it until I found a teacher and style of Yoga that resonated with me at that stage in my life.
Now I'm not going to say that Yoga IS for everyone. But I truly believe there is a type of Yoga out there for most of us. What rocks your best friend or boyfriend's world might leave you cold. (Or overheated, in the case of hot Yoga….hot Yoga isn't for everyone. But that's a whole 'nother post topic!) So try different teachers, other class types, a different studio. Search around until something resonates. Take a beginner's class or set of classes if that is offered in your area. Focus on the benefits.That's what I did back in the day, and it was literally a life-changer.
Myth Number Three: But I don't have time.
Ahhhh, the "t word." Can you commit to one class a week? Can you take some of what you learn in the class and incorporate it into your other workouts and day-to-day life? For example, try stretching out between sets in the weight room rather than just wandering around. Do a few breaths in downward dog after a run. At your desk, stretch a bit throughout your workday. Breathe deeply as you lie in bed at night to help you find a restful sleep. Meditate for two minutes in the morning to set a positive tone for your day. Wow, you just did Yoga!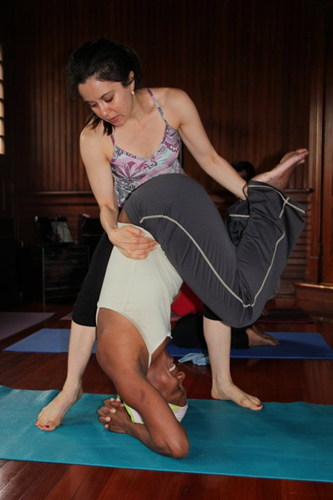 Myth Number Four: But I'm not good at it. Or I'm afraid I won't be good at it.
Oooohh, this has got to be one of my favorites! (As you can see, it's variation of some of the above concerns). A lot of guys struggle with this. Hello, male ego, anyone?
Simply put: Not being good at something can actually be fun. It's a chance to be a student again, to perhaps defy your expectations, and to face your fears. We truly grow in life when we allow ourselves to face up to things that intimidate us. And trust me, most people in Yoga are too focused on their own practice to really get all up in your biz if you're struggling. Odds are, you
To me, the most intriguing parts of my personal Yoga practice are poses that I cannot do well, the side of my body that isn't as limber, and calming my mind during meditation. In other words, the places where I struggle.
Mistakes are a part of life, and we all make mistakes. Allow yourself room for mistakes and detours, because these are often the places where true creativity and breakthroughs emerge.
Give yourself the chance to amaze yourself. The things we discover on the Yoga mat can lead to big discoveries in our lives. What once seemed impossible can become merely challenging. Truly. I've experienced it firsthand, and so can you, one breath at a time.
Myth Number 5: But other people are sooooo much better at it.
Well, this isn't such a myth because, sometimes, yes, they are damn good. Chances are, they have been practicing Yoga for a long time, or have some sort of other movement experience or yeah, natural talent, that makes things look easeful for them.
Let them inspire and motivate you, not intimidate you. Guarantee you they struggle with something in Yoga. Trust me on this.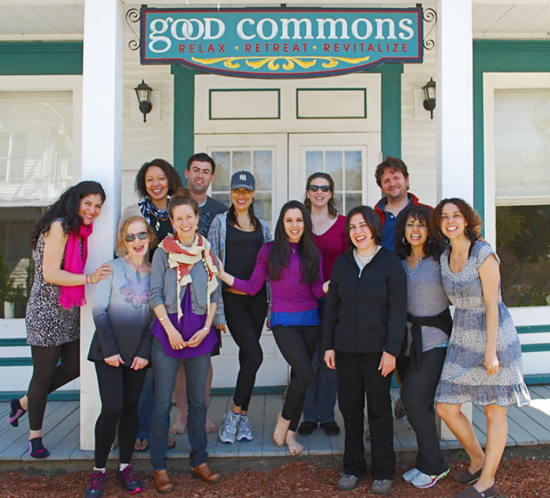 Motivation Tips:
1. Focus on the benefits, in the good feeling Yoga gives you.
2. Let go of the all or nothing mentality. A pose a day and a few mindful breaths a day is a great start. Really!
3. My mentor always says, "progress not perfection." I love this mantra.
4. It helps to remember it's just a class, not a competition.
5. Remember that things change, and that it's okay. Certain poses get easier over time. Others might become more challenging. Your mind might be calmer one day than the next. This is all part of the process, and a great chance to learn about your own body and mind connection.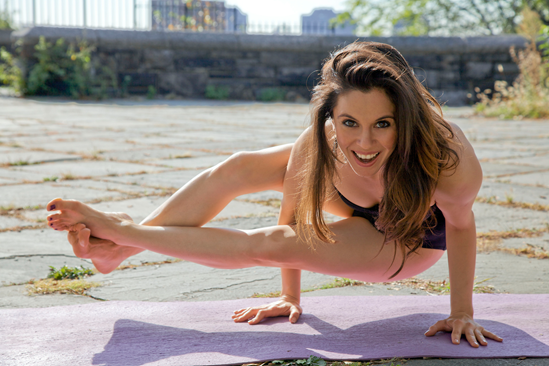 Thanks for reading, and if you want to visit me, I blog about food, Yoga, and randomness at WestofPersia.com . My Yoga site is BriaYoga.com Feel free to reach out to me with any questions, or to come take a class if you're in NYC,. Jump into one of my workshops or retreats if you'd like. It was fun sharing with you all!
Thanks for reading, and thanks again, lovely Janetha, for the opportunity to guest post.
Namaste,
Bria