hey, guys! hope your week is going great! i can't believe it's already thursday. i have been really busy both at work (turns out prepping to go on vacation is a lot of extra work) and in my personal life. luckily i have a special guest lined up for you today.  i am going to turn the time over to my dear friend, lauren, for three tip thursday!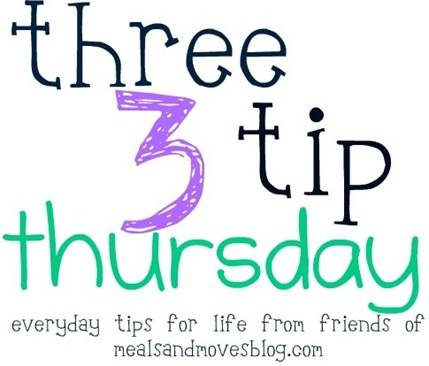 Happy Thursday friends! I'm Lauren from Oatmeal after Spinning, and I'm thrilled to be back here posting on Janetha's blog. I've been a meals & moves reader for a quite some time, and finally got to meet Janetha in person at Blend back in May!
Janetha asked me to come up with three tips months ago, but I've been a big slacker (or maybe I just had so many good tips that I couldn't narrow them down…?). But, I finally got down to it and rounded up three things that I wanted to share.
Here goes!
TIP #1: Buy in bulk
While I'm not a big fan of shopping at Costco, I am a big fan of buying in bulk at the grocery store. Let me clarify a little more- I'm a big fan of shopping at the bulk bins. I could spend all day at the bulk bins section at my local organic market just looking through all of the offerings and filling up little bags. This is really great for two reasons:
#1: It's cheaper to buy in bulk
#2: You only have to buy what you need!
The items I buy in bulk the most are grains, legumes and spices. If I need an ingredient or spice/herb that I know I won't use very often, I don't really want to buy an entire package of it. If I can find it in the bulk bins, I can easily just buy a little bit and not have a bunch of extra stuff taking up room in my fridge.
Here's a little peek inside my pantry:
Two things that I re-stock the most often are organic black beans and garbanzo beans.
Here's a few facts: my grocery store each for around $1.69/lb. (and sometimes as low as $.99/lb. when they're on sale). One pound of dried beans equals about 6 cups when cooked. One can of organic black or garbanzo beans contains 1 3/4 c. of beans and sells for about $1.99. If I buy the beans in bulk, I can get about 7 cups for the same price as 1 3/4 c. of canned beans… it's a no-brainer! Re-hydrating and cooking beans is super easy. I generally measure out what I want to cook the night before (which is also nice, because I only make what I need and don't have a bunch leftover) and place it in a mason jar with water.
Beans will triple in size when cooked (so if you measure out 1/4 cup of dried beans, you will end up 3/4 cooked beans).
Here's a comparison on 10 dried garbanzo beans next to 10 that have been hydrated and boiled!
I tend to spend way too money much on groceries, but little changes like this can really add up and save money. …which leads me to tip #2.
TIP #2: If you can make it yourself- do it!
Just like "making" your own cooked beans- look at some of the foods that you consume most often and figure out if you can make them yourself for cheaper. Chances are- if you can make it yourself, it will often taste better too! Two things that I've been making like crazy this summer are nut/seed butter and pickles (no, not together). I use my Vitamix or food processor (which is generally easier to scrape) for nut/seed butters. (I know that Janetha is a big fan of using her food processor as well- and making my own ground meat has been on my to-do list for way too long!) I also love to add my own flavor combinations- my favorite so far being peanut butter with vanilla, honey and cinnamon.
Making pickles is awesome- and I can't believe I went 32 years without ever trying it. I've made 4 huge jars in the last month- the most current batch being the best pickles I have ever tasted (which is the "simply pickled" recipe from Ashley's blog).
These will probably be gone by tomorrow.
TIP #3: USE CHIA
If you read any healthy living blogs, chances are you've heard of chia. It seemed to gain popularity big time in the last year or two and has been all the rage ever since. I've actually known about chia for a long time- way before I discovered healthy living blogs- and bought my first bag of it after watching an episode of Oprah when Dr. Oz was a guest (back before he had his own show). But, I had no idea what to do with it.
It wasn't until I read some recipes from all of these healthy living bloggers that I actually started figuring out how to use it. I've seen a lot of people sprinkle chia seeds on top of nut butter or yogurt for a little crunch, but that's not really my style. I use chia to BULK things up. I often make up a batch of chia "gel" and set it in the fridge overnight to bulk up. I mix 2 T of chia seeds (I like these the best) with 1/2 cup of water, and when I wake up in the morning, it has magically morphed into 1 cup of chia gel.
Looks appetizing, doesn't it? :)
* If the texture of the gel turns you off, simply grind up the chia seeds into a powder using a coffee bean grinder (just like you would with flax seeds). I mix the chia gel into oatmeal, smoothies, yogurt or anything else that I want to make more voluminous without adding a ton of calories. If I want a quick hit of protein, I'll mix it with 1/4 c peanut flour and 1/4 c water (with a little salt and sweetener) to make "peanut butter pudding." One of my current favorite desserts is this:
Creamy Chia Cocoa Pudding (1 T dried chia seeds, 1/2 c water, 2 T unsweetened cocoa powder, 1/4 c 0% plain Greek yogurt, 1 packet Stevia, 1/2 tsp Bourbon vanilla extract)- full recipe description here.
This little dessert satisfies my sweet tooth and has 92 calories, 3.5 g. fat, 6,5 g. fiber and 10 g. protein! The list of benefits of Chia seeds includes that they are: -a good source of healthy Omega 3s (heart-healthy fats) -a good source of fiber (and keep you fuller for longer) – a good source of calcium – helpful in keeping your blood sugar in check If you haven't tried chia yet, don't be scared- you won't grow a chia pet in your stomach. Rather, you will hopefully discover something that you love and use often!
And there you have it- three tips for your Thursday.
Qs~
Which items do you buy in bulk?
Are you a chia fan (and if so, how do you use it?)?