i have been going to GPP almost every single day for the past few months. i will miss a workout here and there, but that is only if i am out of town or have some obligation that prevents me from being able to get to class.  however, i have never missed a workout simply because i didn't want to go.
the workouts at GPP are always challenging, but they never scare me. sure, some are more intimidating than others, but i always know they can be scaled to my ability and that i will be able to get the workout done one way or another. i love GPP for that very reason.  i can adapt.
yesterday's workout, however, scared the daylights out of me. i saw it monday night (neil posts the workouts the night before) and saw that hand stand push ups were part of the workout.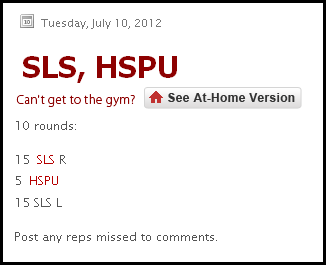 "SLS" stands for single leg sit-to-stand squats. i knew that one right away and i actually like those so i got a little excited at first! then i saw the acronym that was new-to-me: "HSPU". hmmm.. it didn't click in my head right away, so i clicked on the video link. right when i saw the video demoing handstand pushups, my initial excitement for the workout disappeared and turned to sheer and utter fear. yes, i'm being dramatic, but yes, i'm being serious.
i had never done a handstand. no, not ever. i never played "hands up, stands up" as a kid. i didn't do gymnastics. i could never do a backflip on the trampoline or off the diving board. going upside down frightens me. last week i'd tried to do handstands with amanda and kerryne, but i failed miserably and decided i was never meant to do them.  who needs handstands, anyway?!
so, of course, when i saw tuesday's workout on monday night, i quickly decided that i was NOT going to go. no way, no how. amanda, kerryne, and i had a little chat about it.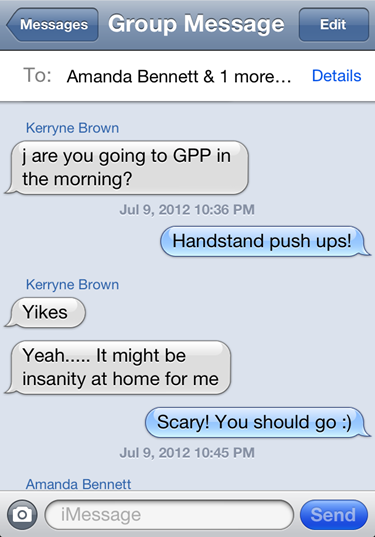 i was up at my mom's house with my family, so we decided to try a few handstand pushups to see what would happen. i failed miserably and had a minor freak out, but my mom and marshall busted them out like it was no big deal! i was seriously impressed.  i was also seriously discouraged and decided i for sure was NOT going to GPP the next day.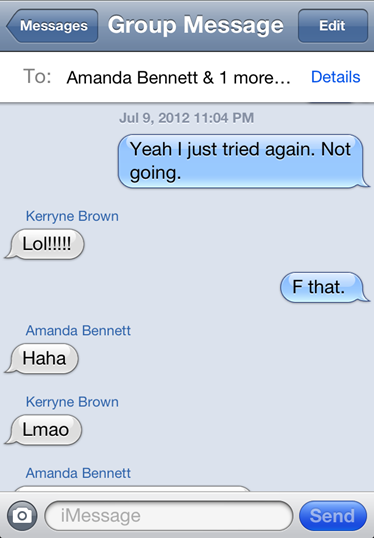 tuesday morning came and went and i didn't go to GPP at my usual 6:30 AM time. i was serious about not going!  later on in the morning, i was texting nick about the workout. i wondered what the modification might be for those who couldn't hang with handstands.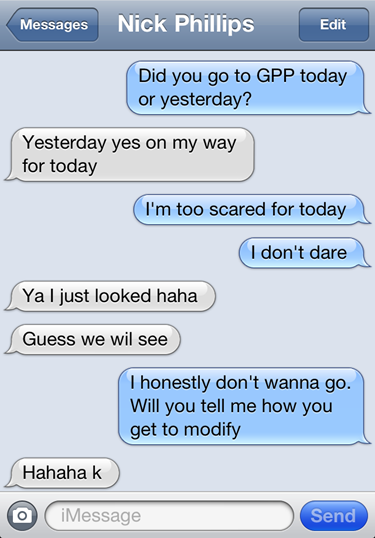 i was super scared and wanted to wuss out. i decided to fess up to neil (AKA the creator of the horrible workout) about my fear.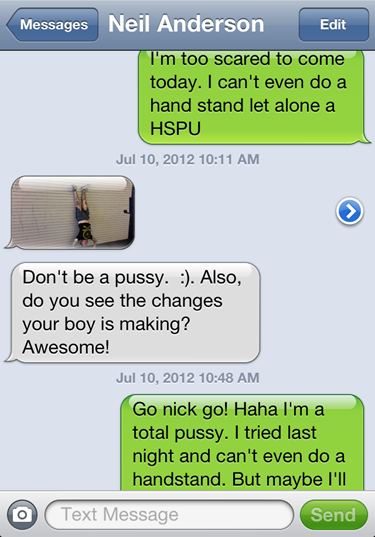 dang. nick was rocking that handstand!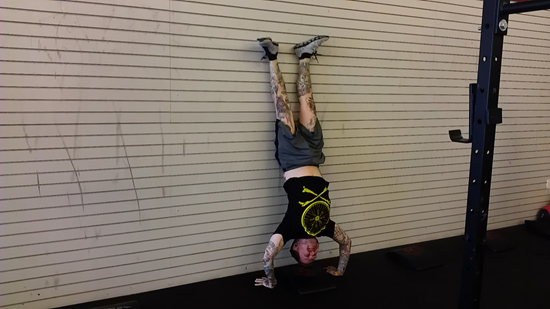 if you remember, nick started his fitness & healthy eating journey not too long ago. i designed him a 12-week eating plan and he started going to GPP. seeing him upside down at GPP made me think twice. i needed to not be so scared.
as the day went on, i couldn't stop thinking about those dang handstands. i wanted to go try the workout, but i was scared. you guys probably think i am sounding dramatic, and maybe i was, but I WAS SCARED.  seeing the comments on the workout post did NOT help.

ha. great! thanks, shmoops, that was real encouraging.
it was almost 5 o'clock and i still was scared about the class but i wanted to go..just a little bit. i tried to get marshall to go with me. he makes me feel OK about anything in life. i decided that if he would go and help me, i would be fine. i nearly begged him to go to the 5 o'clock class with me… but he didn't want to go. however, he urged me to go on my own. after a little convincing from marshall, i decided to just suck it up and head to GPP. i had the sickest feeling in my gut the whole way there, but i made it.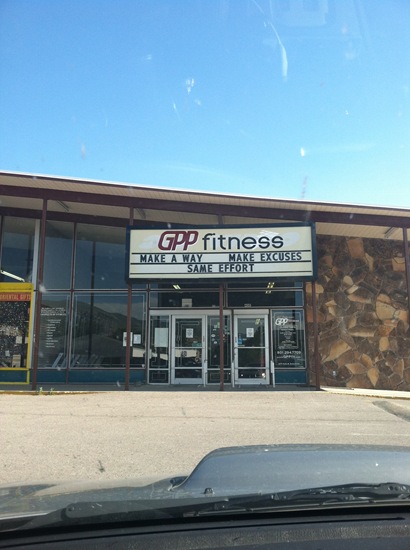 i walked in the door and immediately started whining to lil' kate about my inability to do handstands (or anything involving coordination, for that matter.) she gave me a pep talk and encouraged me to just give the handstands a shot. lil' kate is the best. lizz, one of the awesome GPP trainers, assured me that she'd help me through the workout and spot me on the handstands. i was sure that i wouldn't get up on my own, but i was even afraid that i wouldn't get up with a spotter! it may have had something to do with the fact that monday night i kicked marshall when he was trying to spot me.. then when he did get me upside down i flipped out and had a conniption about being inverted. i hated all the blood rushing to my head and it totally freaked me out. i know, i know, again.. drama queen. but i'm just telling you the truth!
anyway, lizz helped me up on my first attempt to get inverted.. and what do you know, i didn't kick her in the face! i also managed to stay up (with her help) and do some sort of tiny push-up motion.. we are talking a couple centimeters, folks. better than nothing, right?
the workout called for ten rounds, and i decided i couldn't have lizz spot me on ALL TEN, so when round two came along.. i attempted the handstand on my own. guess what? i did it! first try! and then i did the other eight rounds, too! i was SHOCKED at myself. i went 29 years saying i couldn't do handstands.. and there i was, handstanding it up.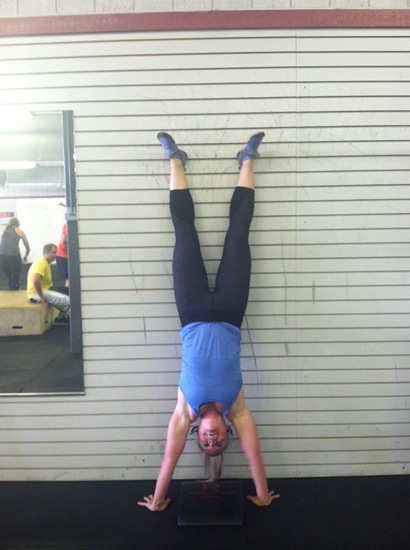 and not only that, i was managing to do something that may one day resemble a pushup! sure, it may be centimeters now, but you gotta start somewhere.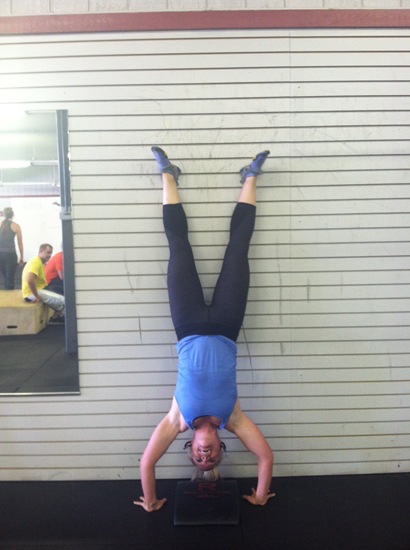 when i got home last night, i decided to try a few in my bedroom to see if it was just a fluke or if i really could do it. note: i'd tried handstands in my room no less than a dozen times in the past two months. and guess what? i did it—every single time i tried!
the difference this time around? i believed in myself.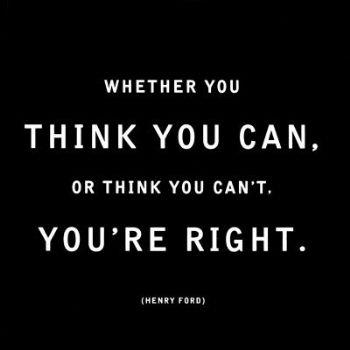 i overcame a fear yesterday. sure, it was a small one in the grand scheme of things.. but it was a little big deal to me. i was scared, but i tried. they say you should do one thing a day that scares you. i told myself this several times yesterday before heading to GPP.. and then i went. and i did it. it was scary, but i did it. and i sure am proud.
side note, i loved what neil said about why he had us do the handstand pushups to begin with:
I know it was a weird move.  I know you didn't want to do it.  I wouldn't have asked you to do it, but there's fitness in it.  Good stuff too.  Many times we (not GPPeeps) get caught up in working the big four (cardio, stamina, strength, flexibility) and forget about the nervous system and our proprioception (ability to sense where your body is in relation to space and time).  The thing to remember is, if you can't USE the fitness you are building, there really is no point in having it, right?  Proud of all who gave this a try today. 

I was flat convinced Nick wasn't going to try.  Like many of you, he did.  And did it well.  Congrats to all of you!
so, yes, there was a physical reason behind it all (as there always is with any workout!)… but what i took away from the workout was way more than physical. i overcame a mental block, which is way more satisfying than any physical feat.
Qs~
1. what's the last thing you did that was scary to you?
2. what is something in your life right now that you haven't tried because you're too scared?
i challenge you all to step outside of your comfort zone and try something that scares you. maybe not today—but soon. and report back!
xo. janetha g.