yo! happy friday. this week was cool with that whole paid-day-off thing in the middle of the week. can that happen more often? please?
hope you all enjoyed ali's three tips yesterday! she's full of fun tips ALL the time, so be sure to follow her awesome blog.
since i took the night off from blogging, i didn't get a chance to recap my special guy's birthday yesterday! note: this is gonna be one of those "crazy dog lady" posts.
he's SEVEN. can't believe it. marshall got randy in 2005 when we were simply co-workers and not in a relationship. i remember when he brought randy into work when he was just a baby pup.. cutest puppy ON THE PLANET. you can't deny it.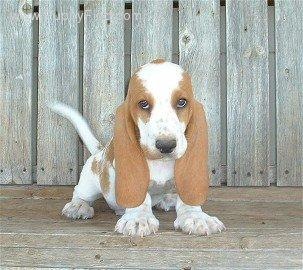 i never get sick of staring at that photo.
as you know, randy and penny have been going to daycare for a few months now. this is a great way to make sure they get plenty of exercise while marshall and i are at work.  plus, they get to socialize with lots of pups all day long, which is good for their mental health.
they daycare we take them to offers special parties for birthday pups. i was really excited that randy's birthday landed on a thursday AKA a daycare day! they made him his own personalized birthday cake.
so cute! i was really surprised at his self control while they took his photo. he licked his chops, but didn't attack the cake.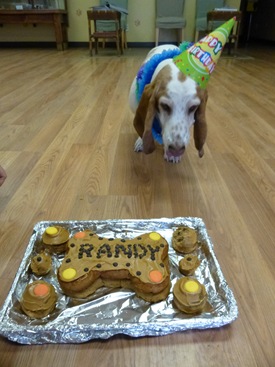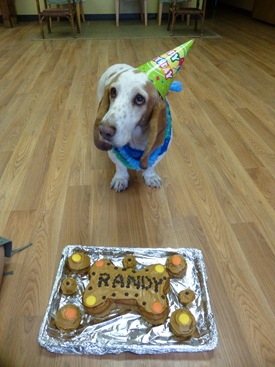 i am also quite surprised he left that hat on for longer than three seconds. i guess you can get this guy to do anything when there is cake involved!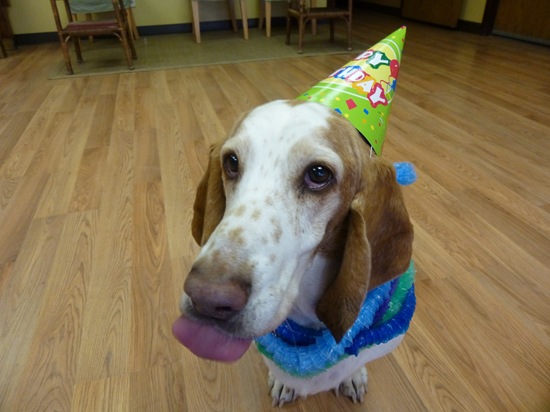 what's a birthday party without guests? randy was able to celebrate his big day with his sister (penny—for those just tuning in), his cousin (boozer, marshall's step-sister stacie's dog), and all his friends!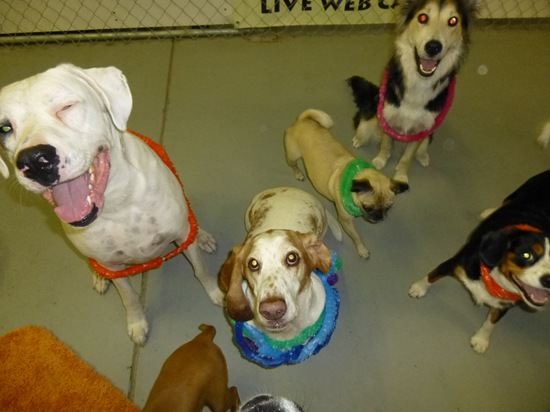 that's boozer on the left, winking. isn't he a sweetie?
i wondered how they decided which dogs get to attend the party. the daycare has 50+ dogs there daily, but only about ten got to go to the party. they told me that the dogs really do make friends with each other and so they pick the dogs that randy (and penny) like to play with. they also try to pick pups who haven't been to a birthday party before. these pooches were stoked to be selected!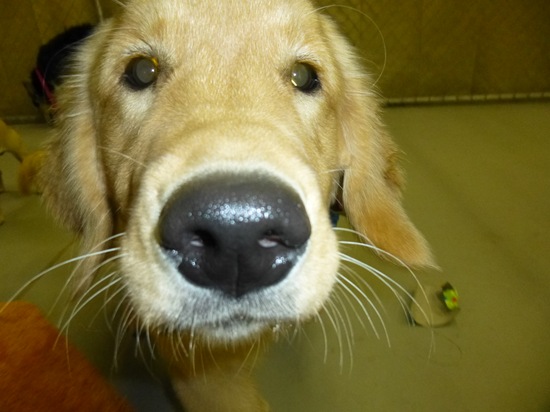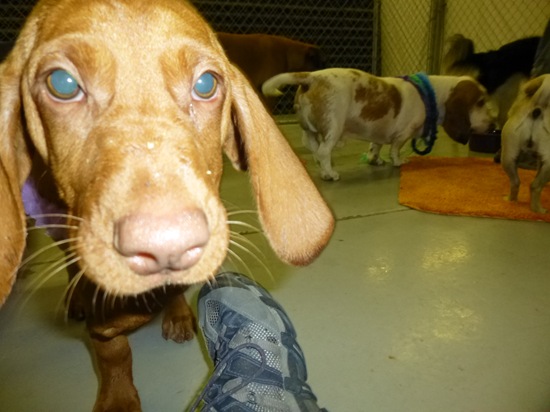 you can see that all the pups were SO happy to be celebrating! check out those smiles.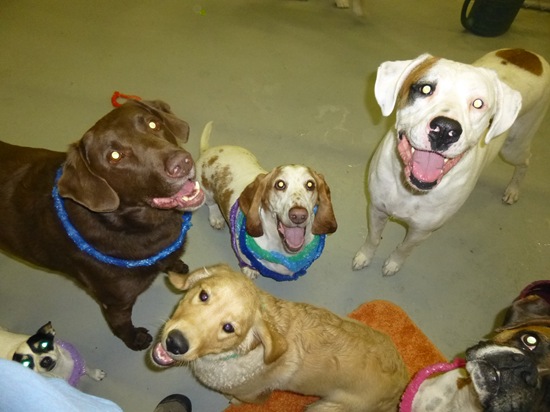 oh, randy, your happy face makes my day.
i loved that all the guests had leis—and that randy, the birthday boy, had four of them. talk about royal treatment!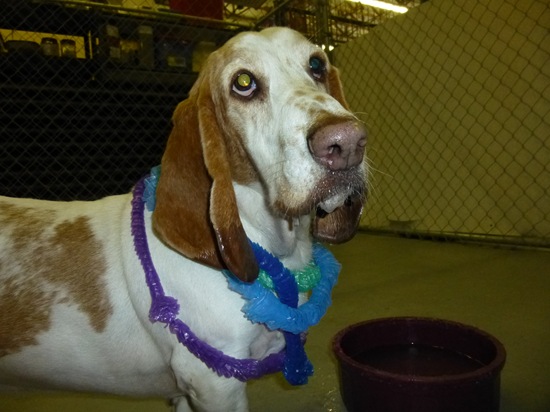 everyone was standing around, licking their lips, and waiting for the cake.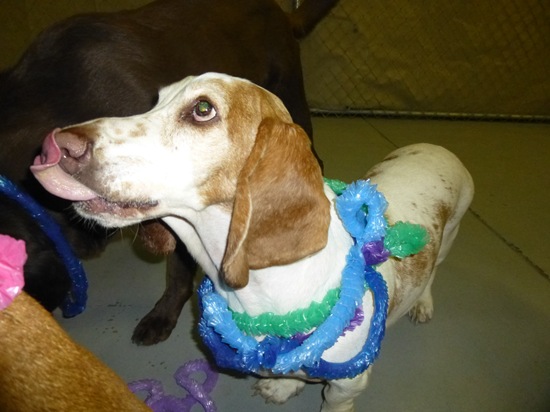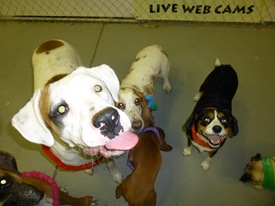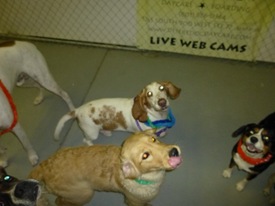 after patiently waiting, it was finally time to eat cake!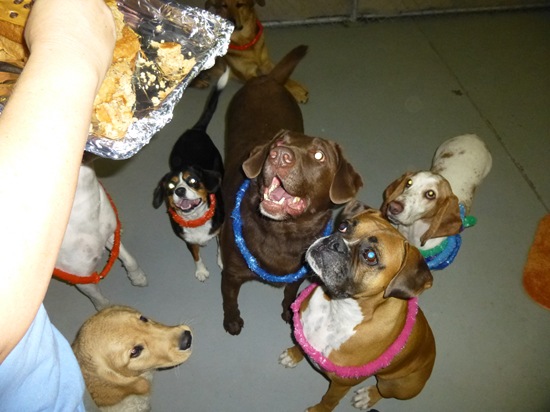 birthday boy first, naturally.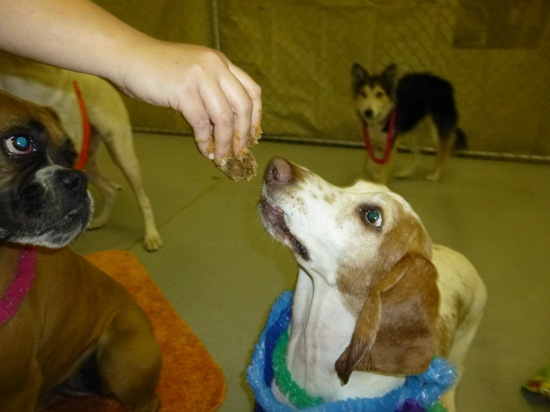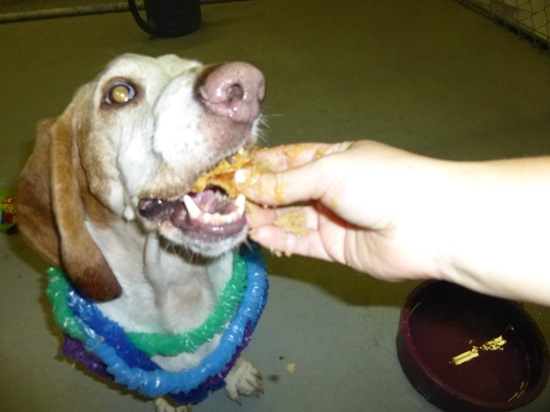 of COURSE penny was trying to get in there. she is suuuuch a hog.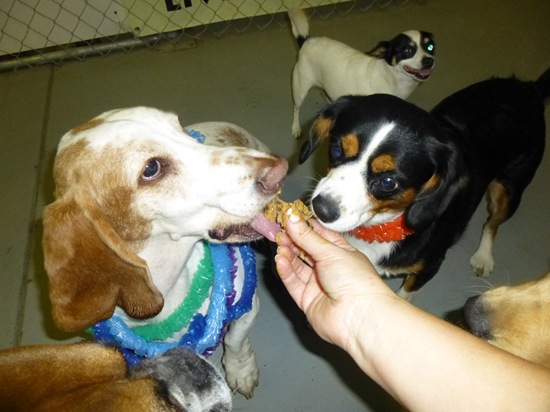 greedy, greedy. pictures to prove it!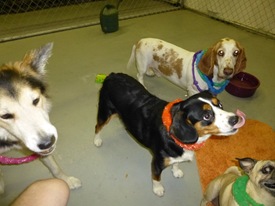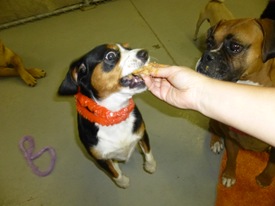 hahahah.. look at that crazy eye!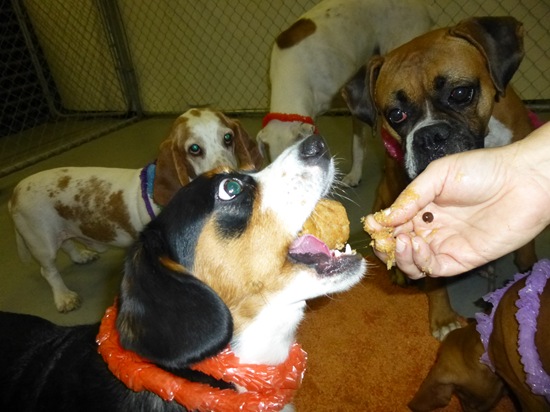 CAKE WASTED.
they made sure to get every last crumb.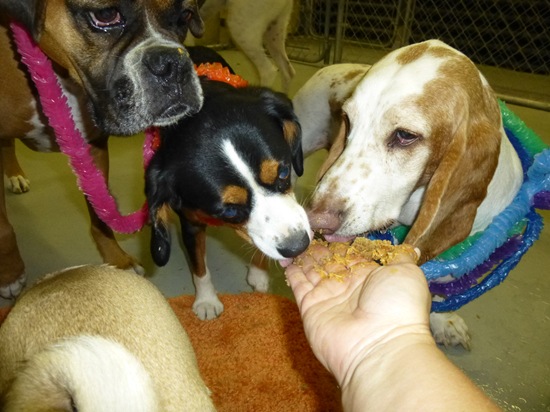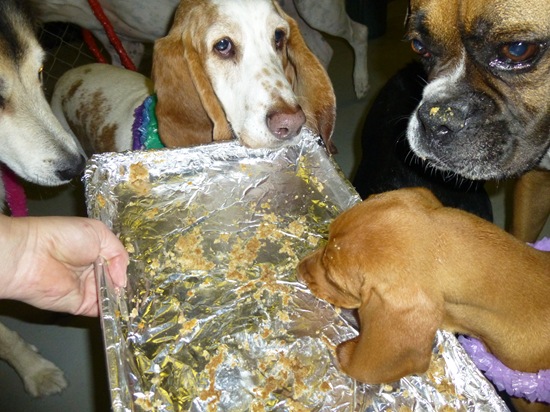 all that cake left them thirsty! there was no booze at the party (they're under age! plus dogs should not drink alcohol…) but there was plenty of water.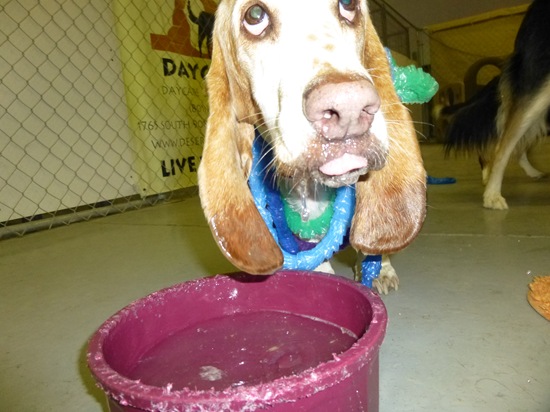 the party began to wind down, but the little vizsla puppy, ariel, just wanted to play.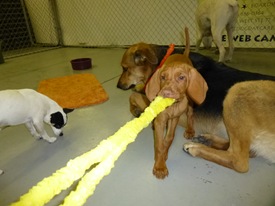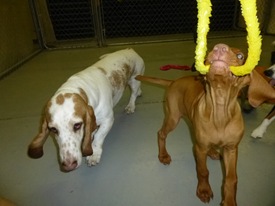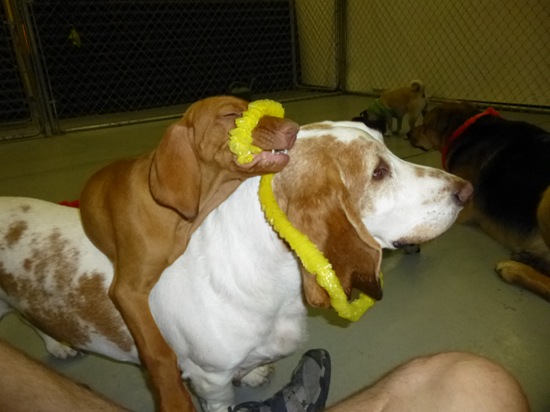 can you tell randy pants is gettin' old? ha.. not amused.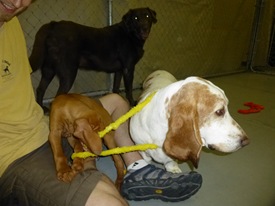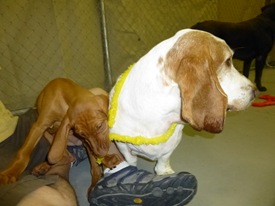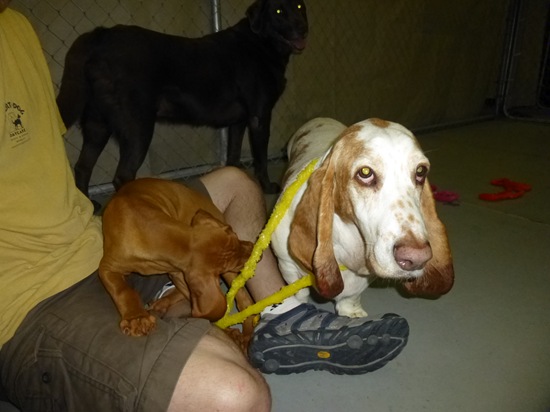 it's good that randy gets to play with little pups. it keeps him young!
i'm so happy randy had a fun-filled seventh birthday party. he was in a cake coma when he got home from daycare and spent the rest of the evening snoring in his favorite chair.
whelp, that wraps up my crazy dog lady post for the day.
in addition to randy's birthday, yesterday was mine and marshall's 5-years-since-we-became-boyfriend-and-girlfriend anniversary. what? that's not a thing?  we celebrated with a carribean cooking class at sur la table. it was so fun and so delicious! the added bonus was there were a total of three students in the class (one other lady aside from me and marshall) so it was basically a private class! pretty cool. i will be making the recipes we learned and sharing them with you guys soon.
a little blog business before i go… the winner of the probar fruition sample pack is #7, sarah b. congrats!
it's time to enjoy the weekend! i think it may have to start with a nap since i was up early and doing the GPP workout this morning. marshall even went! that made me happy.
tonight i'm heading to dinner and a comedy show. kristen and i are seeing fortune feimster (from chelsea lately.) i can't wait to laugh! then tomorrow will be filled with the farmers market, house cleaning, and maybe a little body combat with kerryne. sunday morning we are going to bikram! excited to get back to the mat—it's been over a year.
hope you all have a great weekend!
xo. janetha g.