hello and welcome to another three tip thursday!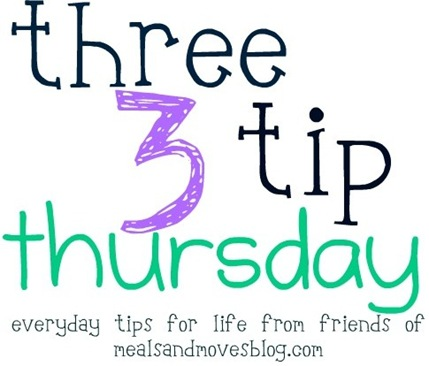 i have a special guest today! i'd like to introduce my friend, ali. ali is the awesome blogger behind "just me!" and she is part of the GPP crew. i feel blessed to know such an inspiring, enthusiastic, creative, motivated individual. she glows with positivity and always leaves me with a smile on my face. she has also had an amazing weight loss transformation—check her out!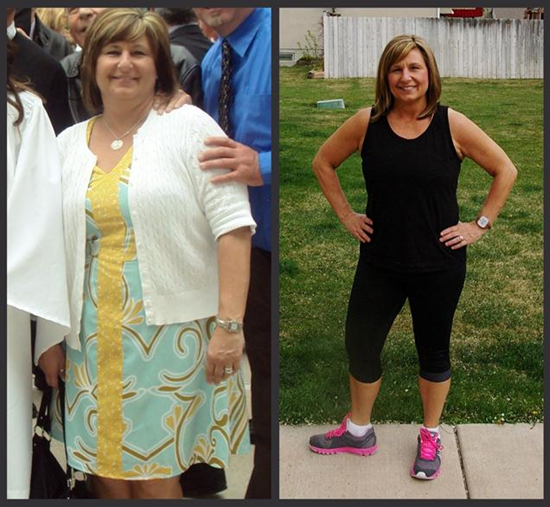 she's fit and fabulous… here's ali!
*********************************************
Hey all! I'm Ali and I blog over at Just Me! where I like to talk about cooking, crafting and getting fit, with a bunch of my random life thrown in!
I am so excited to be guest posting on meals & moves today! I found Janetha's FABULOUS blog a few months ago via The Body of a Mother and GPP . Shortly after finding Janetha's blog, I was able to meet her in person and even spend time together in the same workout. Let me tell you, this girl is FIT! She storms the workouts! Very inspiring! When Janetha asked me if I would like to be part of her Three Tip Thursday series, I was floored! And then I got all nervous and couldn't think of three tips! LOL! It was bloggers block, for sure!
Here we go!
#1. Take advantage of your local community CSA basket, or Bountiful Baskets.
This is a great way to get fresh, local produce and to support your local farmers! I pick my basket up on Saturday morning and I am amazed at the amount of fresh fruits and vegetables that I get for only $16.50. I have been participating in our local program for about four months now, and we have never eaten so many different kinds of produce. As a family we have definitely broadened our intake of fruits and veggies and we are all the more healthy for it!
This is just one week's worth: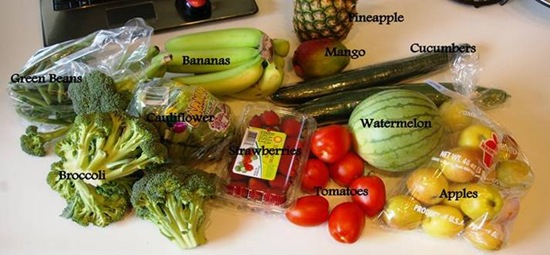 #2 How to make a CUTE hostess gift!
Have you ever been invited to a friend's house for dinner or for a party, and felt the need to take "a little something" for the hostess? I have been making these cute and super easy coasters for years! The only supplies you need are white tiles from Home Depot (less than $1 each), scrapbook paper and mod podge!

Cut your scrapbook the same size as your tile. Paint a layer of mod podge directly on the tile, place your scrapbook paper on top of the tile, and coat with another layer of mod podge. After the first layer dries, you can continue to coat the tile with as many layers of mod podge as you like. Just depends on how shiny you want your coasters. I put 4 small felt circles in on the back of each tile in the corners, to keep the tiles from scratching table surfaces. Wrap your coasters up in a bow and give them to your favorite host!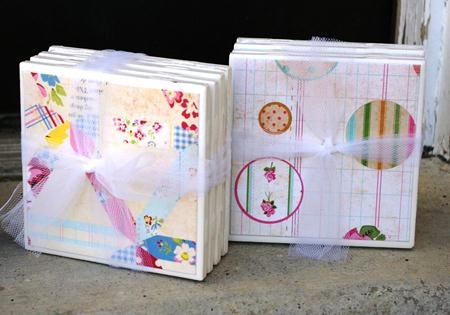 #3 How to ace a job interview!
Wouldn't that be cool if I could really tell you how to ace a job interview? Well, I might not be able to tell you how to ace it, but I can give you MY very best tip for making a good impression on a job interview. In addition to all the regular stuff you know about a job interview (research the company, come prepared with questions, don't wear a tube top, etc.) this is something that has helped me land every job I have ever gotten. Which is quite a few! In the 20+++ years I have been a working girl, I've had a lot of different jobs.
Okay, so here it is. The first thing I always do when I meet my interviewer is look for some type of common ground. ANYTHING that will connect us. I might notice a diploma from the University of Utah, or some type of fan memorabilia from the university. Well, I am a huge UTE fan, so I might quickly mention the university and their football program or gymnastics team, something that I think we might be able to have a quick personal conversation about – before the interview gets going. I may notice a tennis racket in the office, or golf pictures. I will use that to open up dialogue about a golf course I've played at, or a recent tennis match I've read about. I'm not sure if this makes sense to you or not, but I swear by it. I've had interviews last well beyond the actual interview, just because I connected with the interviewer and we chatted about other things. I know it depends on the actual situation and it's not always easy to find some type of common ground, but if you can, it is totally worth it. When the interview goes back to contemplate on the job candidates, he or she may remember you because of your common ground, in addition to your fabulous skills! If you have the same skill level as another candidate, having something else to set you apart is what will get you remembered. I actually try and do this whenever I meet someone new. I am always trying to connect the dots on how someone I meet for the first time, might know someone I already know – and we will be connected. It makes getting to know someone, or an awkward social situation so much easier. For me anyway! Janetha can tell you that I even did this with her. I blog creeped on her and noticed she worked for a window company and I thought I recognized the owner. Sure enough, I did. And we had a connection.
So, there you go. My three totally random tips!
Thanks for letting me be a part of your series Janetha! I had a lot of fun!