hey, guys! hope you had a fabulous holiday!
marshall and i just got done eating a late dinner–leftover basil garlic goat cheese turkey burgers crumbled up and scrambled with eggs and melted asiago cheese paired with a side of buttered sourdough wheat toast. whew, how's that for a dinner title??
today was full of fun and sun. how about i retell the day backwards? just for kicks!
before dinner, we were at the movies. marshall and i headed to see the new spiderman with a few friends.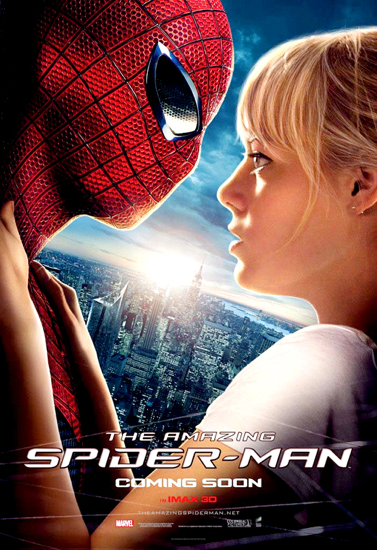 (source)
i really like emma stone and andrew garfield, so that made the movie a hit right off the bat. i absolutely loved the movie, but didn't love that it was 3D. i just hate 3D movies for some reason. the glasses always give me a headache. other than that minor detail, the movie was awesome. two thumbs up.
before the movie, i was lounging at the pool with kristen.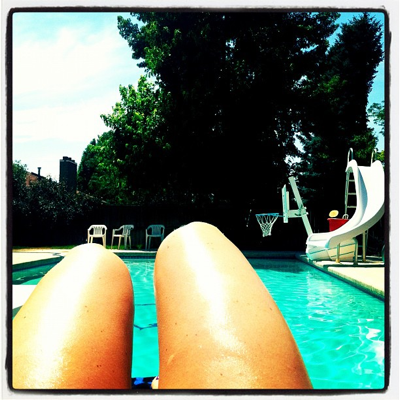 it was flipping HOT today, so we spent most of the time in the pool cooling off. i also ate lots and lots of juicy watermelon. fruit in the summertime is one of my favorite things in life.
rewind another three hours–before the pool. there was a protein shake in there and some blog reading.  
right before that i was doing the fitmixer bootcamp fit test!  i thought i'd quickly check in with the bootcamp since i haven't been blogging about it much lately. the other bootcamp participants and i are in week eight of the twelve-week bootcamp! wow, time flies.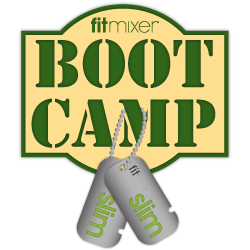 you may recall that when i started the bootcamp nearly two months ago, i was weighing in weekly using the zero scale. weekly weigh ins are part of the bootcamp in order to keep participants accountable for their eating and exercise. i sent my weekly weigh in results the first four or five weeks, but then i stopped weighing in. i did it in the beginning because i wanted to give the bootcamp my all and the weigh ins were a part of the program. however, i think weighing in is stupid–for me. weighing in is GREAT for people who are actively trying to lose a substantial amount of weight. but for me? not so much.
my weight is constantly fluctuating and it also is likely to go up because i am focusing on gaining muscle rather than losing fat. while i don't really care what i weigh, the act of stepping on the scale every monday and reporting my weight to the fitmixer RD, candice, was just causing unnecessary anxiety. it was ridiculous. i began to care about something i genuinely didn't need to (or want to) care about. sometimes i'd be up, sometimes i'd be down.. but in the end, that number just does NOT matter!
what does matter is my fitness. i posted once before (long ago) about how i prefer to focus on food and fitness to gauge my progress. that's still the case. focusing on fitness improvements and making wise choices with meals is what keeps me healthy and happy. 
fortunately, the fitmixer bootcamp is designed for participants to focus on their fitness! that's where the fit test comes in–which i think tells a LOT more than a number on the scale. i originally did the fit test on may 14th and did it again today.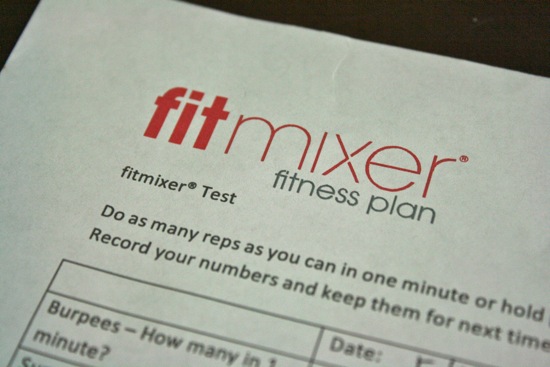 seeing my scores from the first time around helped me push myself to improve my scores on each move today.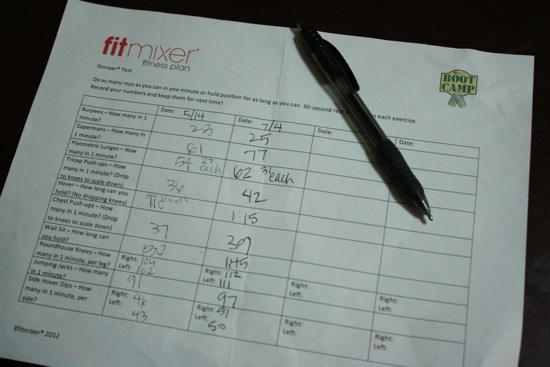 here are my results from today's test with the gains on each move in parentheses:
burpees 25 (+2)
supermans 77 (+16)
lunges 62, 31 each (+8, +4 each)
tri pushup 42 (+6)
hover 1:15 (+:05)
chest pu 39 (+2)
wall sit 1:45 (+:15)
RH knees R 112 (+8)
RH knees L 111 (+9)
jacks 97 (+6)
side dip R 51 (+5)
side dip L 50 (+7)
i am thrilled with the results and plan to keep working on my fitness so the next time we do the fit test my scores will improve yet again.
on the food front–you may recall i rambled about calorie counting at the beginning of the bootcamp. that lasted about two weeks–max. i am just not a calorie counter. i like to count other things–like my steps (yes, i am a weirdo)–but not my calories. it's time consuming and tedious. i do better with the fist/palm portion method and making sure i get enough of each macronutrient each day. i learned to eat this way when i did body for life back in 2008 and it has never failed me. so that's the update on where i am with calorie counting. it's just not for me. i realize it's a valuable tool for lots of people and i DO believe it works well if you stick with it–but i'm just too lazy to do it. and that's that.
i plan to finish the twelve-week bootcamp strong. i am actually looking forward to the workouts in july because ALL the bootcamp workouts can be done at home with no equipment. it's actually quite amazing that they are able to give us a new, challenging workout each and every day that can be done in my living room. when i go to costa rica in a couple of weeks, i plan to print out the PDFs that are provided with the bootcamp so i can do them while i'm there! 
for those who have asked, the next bootcamp will start in mid-september. fitmixer is currently compiling a list of those interested in participating the next time around. if you are thinking about it, head over to the boot camp hub to fill out the form. 
that concludes my bootcamp ramble.. and also is basically the end of this post, since the fit test was the first thing i did today. well, aside from drinking juice made by marshall–which he brought me while i was still in bed… at 11 AM… yeah, it was one of those mornings. hey, i like to sleep in!
okay, this backwards day recapping is starting to hurt my brain. i am going to hit publish and call it a night.
i have a special three tips thursday post lined up for tomorrow, so make sure to come back and check it out!
OH, one more thing, tomorrow is randy's SEVENTH birthday! such a big boy!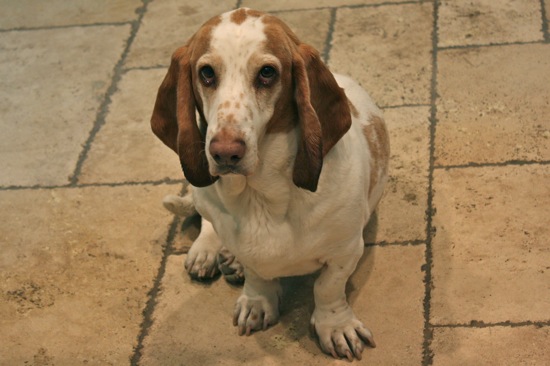 can't wait to celebrate this guy's big day. 
xo. janetha g.