hey, guys! happy fake friday.
super stoked for independence day tomorrow. it'll be weird to randomly have a wednesday off during the work week, but i'll take it. we had a luncheon at work today.  we decided to celebrate the fourth of july a little early since we all have tomorrow off (hooray!) any time we have a luncheon we go with carne asada from a local mexican market. it's the best tasting carne asada this side of the border!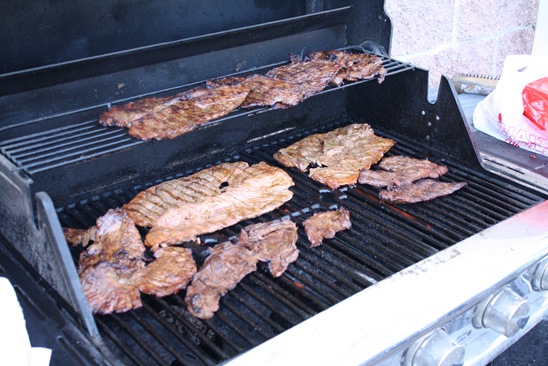 my co-worker's wife makes amazing salsa, rice, and beans every time we have a carne asada luncheon.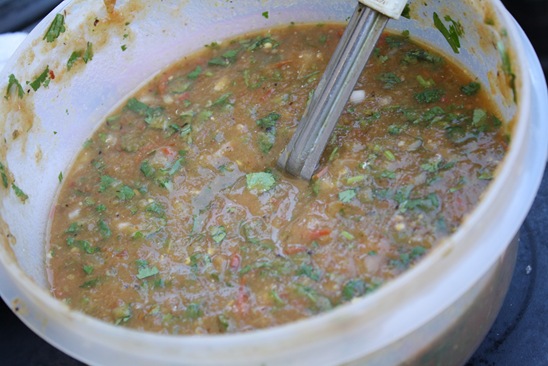 this time around she put peas and corn in the rice—it was a nice addition!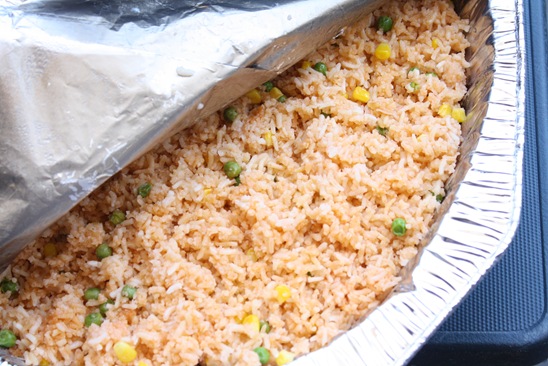 it's official: refried beans just do not photograph well.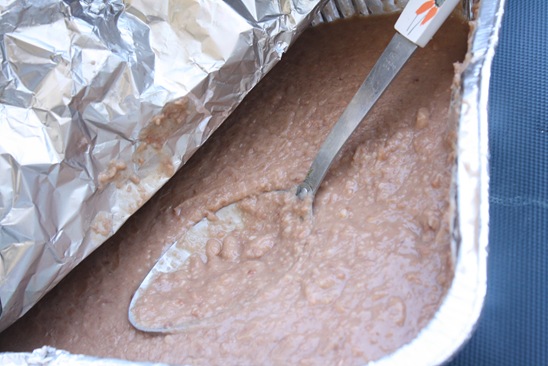 but when amanda throws her face in there? picture perfect!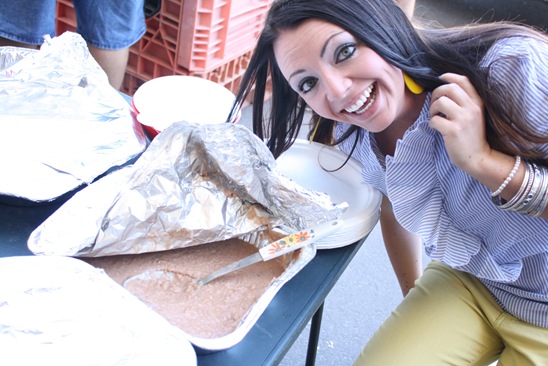 she's gorgeous, no?
for dessert, i made a couple of patriotic fruit pizzas!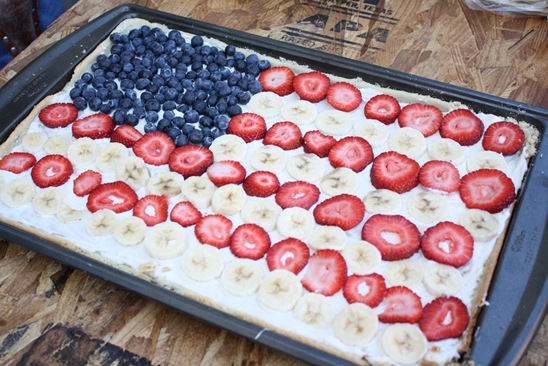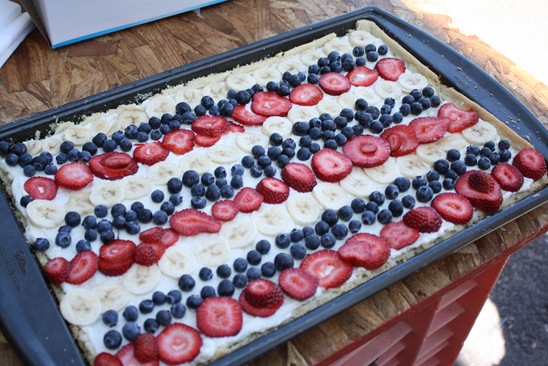 several people have asked me to post my fruit pizza recipe, but there really isn't much to it! it's very sandra lee semi-homemade-ish. but i will still share the "recipe"!
fruit pizza prep time: 10 minutes cook time: 12 minutes yield: one 11" x 17" pizza ingredients:
two 16.5 oz tubes of refrigerated sugar cookie dough
12 oz container of plain whipped cream cheese
7 oz (half of a 14 oz can) sweetened condensed milk
1 tsp vanilla bean paste or extract
fruit of choice!
directions:
spread cookie dough on an 11" x 17" cookie sheet that is lined with a silicone mat, parchment paper, or cooking spray.
poke several holes in the dough with a fork.
bake at 350* F for 12 minutes. edges will be light brown and middle will not look done.
meanwhile, whisk together cream cheese, sweetened condensed milk, and vanilla. place in refrigerator while cookie crust cools.
once cookie crust has cooled completely, spread cream cheese mixture evenly over the crust.
top with fruit of choice and serve immediately.
*note: if you are going to make this ahead of time, you can. bake the crust and mix the sauce beforehand and keep in the refrigerator. wait to spread the sauce on the crust and to slice the fruit. otherwise, your crust will get soggy and your fruit will turn brown! it is best to assemble the fruit pizza right before eating it.
see? not much of a recipe! but it's definitely a simple dessert that's perfect for summer. i love anything fruity!
speaking of fruity…
utah-based company, the probar, recently sent me a box of their new fruition bars to try out.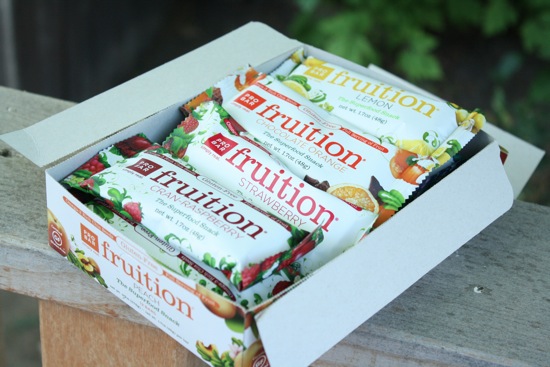 there were several flavors including lemon, cherry, cran-raspberry, chocolate orange, strawberry, and blueberry. but there was one flavor in particular that both marshall and i immediately zeroed in on…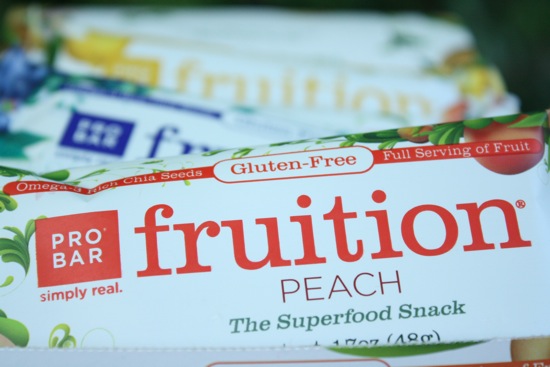 peach! we are peach lovers around here.  since it's not quite peach season, we will have to get our peach fix through other means.. and these fruition bars do the trick.
we busted open the peach fruition bar and it immediately had mister randy pants droooooling. like, literally.. can you spot the drool? (you know how he loves bars!)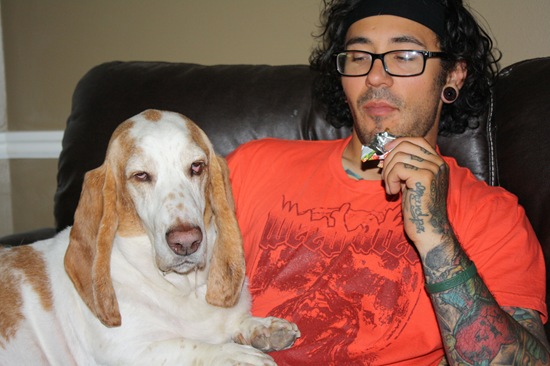 look at those beggin' brown eyes.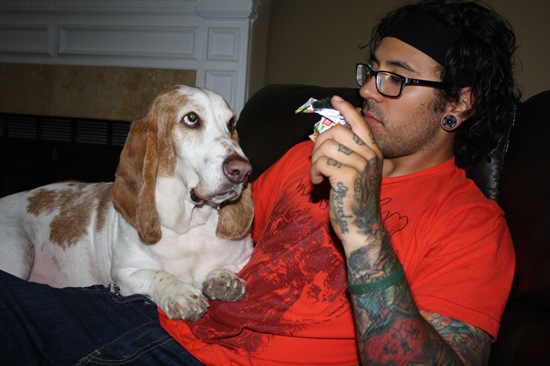 sorry, randy, no fruition bars for you.
a few facts about the fruition bars:
vegan
100% organic
gluten-free
GMO-free
mostly raw
something else that is cool? these bars won the "best bar" title in the prevention magazine 2012 healthy food awards.
each bar is a full serving of fruit, is packed with omega-3 rich chia seeds, and is 160 calories.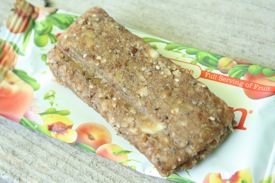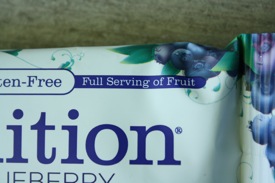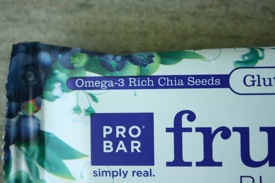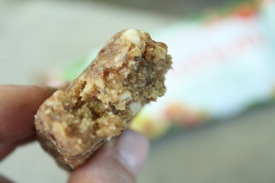 you can find fruition bars at most grocery stores and natural food stores across the country, or you can buy them online. probar wants to extend a special offer to all online shoppers! head to the probar store and use the code "BLOGGER" at checkout and you will get 40% off your first order. dang. good deal!
also, probar has offered to give one meals & moves reader a sampler pack of fruition bars. i will randomly pick a winner from the comments in this post. thanks, probar!
make sure you stop by and say hello to the probar on their facebook page and twitter feed.
well, i am going to go fire up the grill! we are making turkey burgers and then will be heading to see some fireworks tonight.
hope you all have a safe and happy holiday tomorrow (those of you in the US of A, that is!!)
xo. janetha g.