last week i made miniature vegan gluten free peanut butter dark chocolate chip protein cookies.
wow, that's a long name. they were delicious.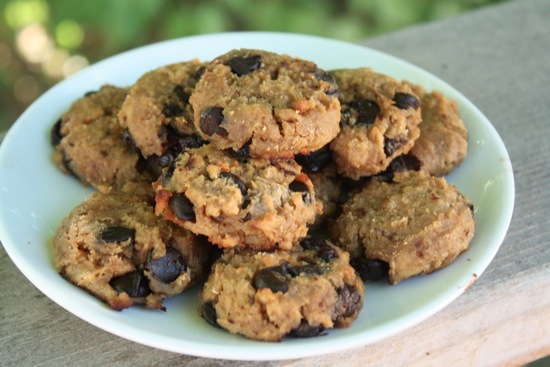 they had no flour. the flour was replaced with a secret ingredient… that is about to no longer be a secret.. as soon as i type the ingredient list below. or i could just tell you now:
garbanzo beans. 
whelp, i guess the cat's outta the bag! who made that saying up, anyway? why was the cat in the bag in the first place? that's a horrible place for a cat to be. 
another saying i really love and said the other day is "pleased as punch!"  that's such a good saying! my friend amanda thought it was weird. i guess she's right.. but i still like it. i just wonder where it came from? i could google it.. but i am lazy.
my friend neil said "hornswoggled" to me the other day. um.. what? that's a new one i'd never heard. when i asked him what it meant, he proceeded to tell me that "it's the same thing as buffaloed!" OH. OF COURSE! BUFFALOED! wait, no.. that explanation didn't do me any favors. i'd never heard "hornswoggled" OR "buffaloed". but apparently they both mean "bamboozled"–which is definitely a saying i can get behind.
"i can get behind" is one of my favorite phrases as well.. "i can get behind" is something i can get behind.
oddly enough, my mom and i had a text conversation today that had me thinking about ANOTHER common saying: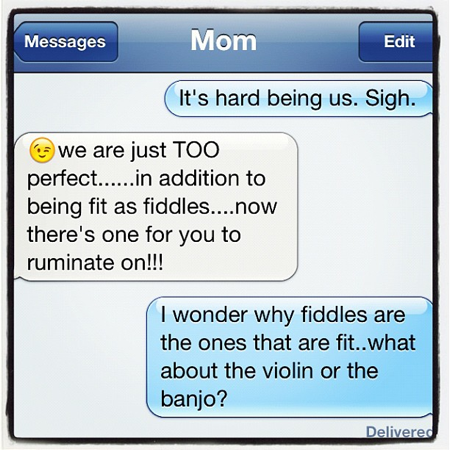 don't mind the bit about us being perfect. my mom and i are pretty sarcastic with each other at all times. but really–"fit as a fiddle"? what makes fiddles so fit? we decided flutes are more fit. they are long and thin. 
other sayings i wonder about?
"a stitch in time saves nine."
"don't look a gift horse in the mouth."
"close but no cigar."
where did they all come from?!?
okay, okay, enough about random idioms. i could go on and on, really, so i will stop myself now. that whole tangent honestly came out of nowhere and i had no intention of talking about any of that. i was just going to post a cookie recipe tonight and call it good–then that word vomit came pouring out of my fingertips. hmmm. i never said i was normal.
back to the cookies!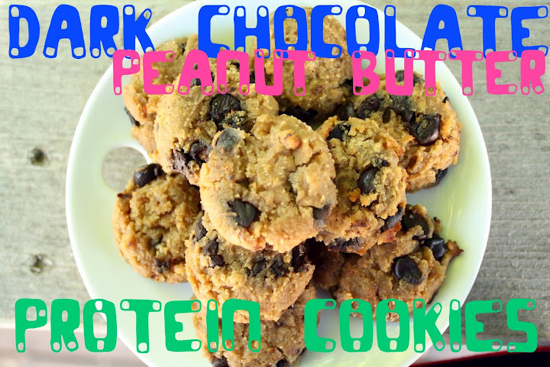 prep time: 10 minutes
bake time: 10-12 minutes per sheet
yield: about 4 dozen miniature cookies 
ingredients
15 oz can garbanzo beans, drained and rinsed VERY well
3 servings plant fusion vanilla bean protein powder (or other vanilla protein powder of choice–this is the one i like to bake with)
1/2 cup creamy peanut butter
1 TB vanilla bean paste or extract
1 TB agave (i used xagave)
4 packets stevia in the raw (or equivalent sweetener of choice)
dash of sea salt
2 – 3 TB almond milk (or milk of choice.. water would work, too)
2/3 cup dark chocolate chips 
directions
preheat oven to 375* F. line a cookie sheet with a silicone mat, parchment paper, or cooking spray.
place rinsed beans in a food processor and process until they are a thick paste. 
add protein powder, peanut butter, vanilla, agave, stevia, and sea salt to food processor. pulse until everything is just combined.
slowly add the almond milk until mixture reaches a doughy consistency.
remove dough from food processor and fold in chocolate chips.
use a 1 TB cookie scoop to measure out dough onto cookie sheet. 
bake for 10-12 minutes. cookies will not spread much.
immediately after removing cookies from oven, gently press down on each one with a spatula to flatten them out a bit.
let cookies cool completely before eating. store in an airtight container in the refrigerator. 
nutritional info per cookie (based on 48 cookies for the batch):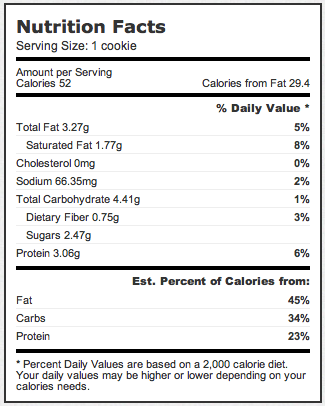 i fed these to my co-workers at work and co-worker-outers at GPP and nobody guessed they contained garbanzo beans. marshall hates garbanzo beans and even he liked the cookies. it was a fun experiment and i can't wait to use beans in more baked goods!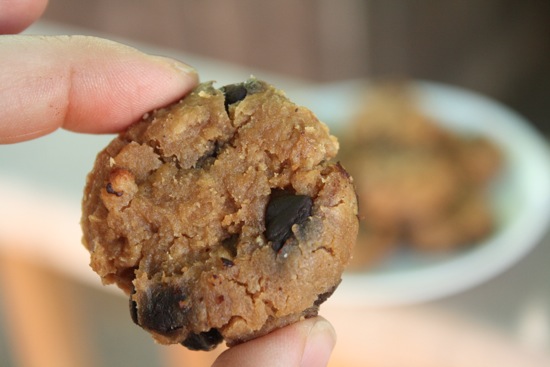 eat a few of these and you'll be in seventh heaven…
wherever that may be.
Q~
what's an idiom you use often but have zero idea where it originated?
xo. janetha g.