hey guys! before i get this post going, i have to wish my dog, mable, a happy birthday. she's kicking it up in heaven right now, but not a day goes by where i don't think of her. actually, i have her name tattooed on my wrist and think of her often. she was hit by a car and killed almost five years ago. miss you and love you, mabes.
so, wednesday night i had amanda, kerryne, and her daughter pajha over for a little food and fun!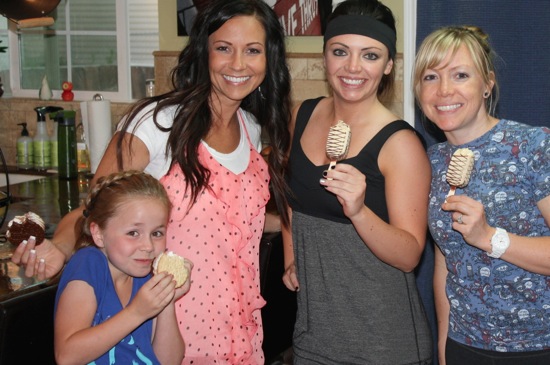 i am a member of the foodbuzz tastemakers program and was selected to try out skinny cow ice cream. they must know how big of an ice cream fanatic i am!! skinny cow is celebrating the 25th anniversary of dirty dancing (it's almost as old as me!) with their new slimited editions ice cream flavors.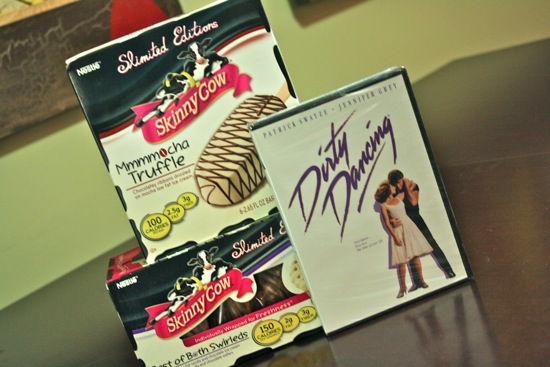 it came as a surprise to the girls that i had never seen dirty dancing. although it shouldn't have been–after their many failed attempts to get me to dance last weekend, they should have realized a movie about dancing wasn't really up my alley. maybe that explains my complete lack of moves on the dance floor my whole life? hmm–yeah–that's it! i have always had two left feet.. it's GOTTA be because i hadn't seen the flick.  that's my story and i'm sticking to it.
we started off the night with food, as any party should start. we all love breakfast foods so we decided that breakfast for dinner would be perfect.  instead of making the tough decision between savory and sweet, we planned a menu with both options!  on the savory side: mexican frittata. on the sweet side: protein french toast.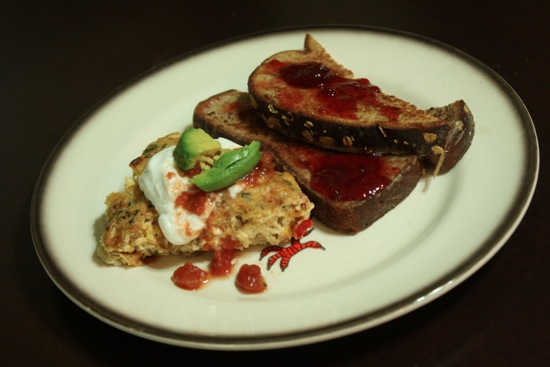 one of the best parts about staying in for dinner is cooking with everyone! we all pitched in to make the meal.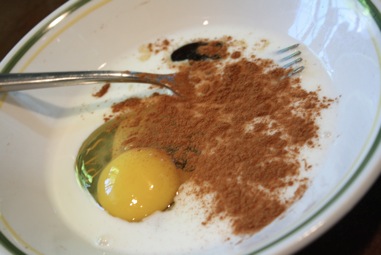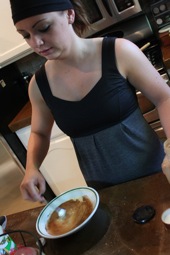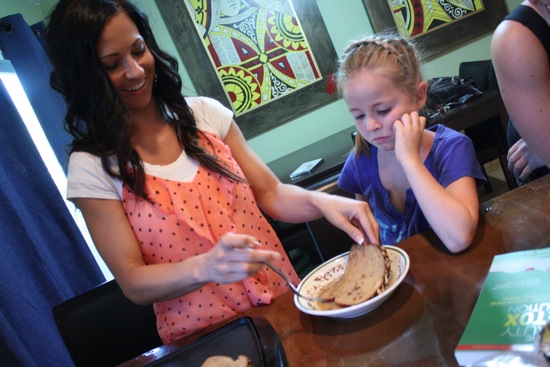 randy watched.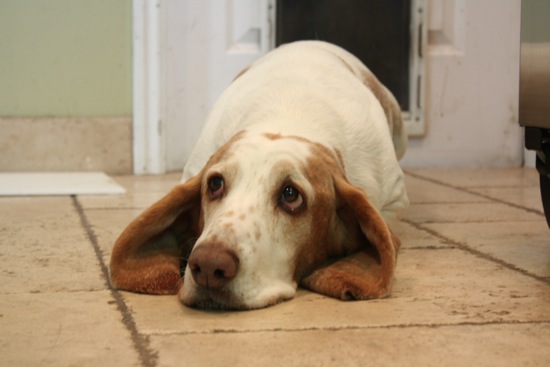 it was supposed to be a no-boys-allowed party.. but i couldn't kick that guy out. come on, look at those eyes!
i couldn't kick this guy out, either… i mean, it IS his house!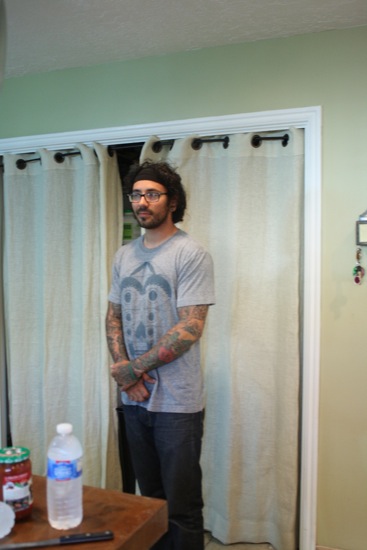 we used the P28 protein bread for the french toast and it turned out flipping fantastic!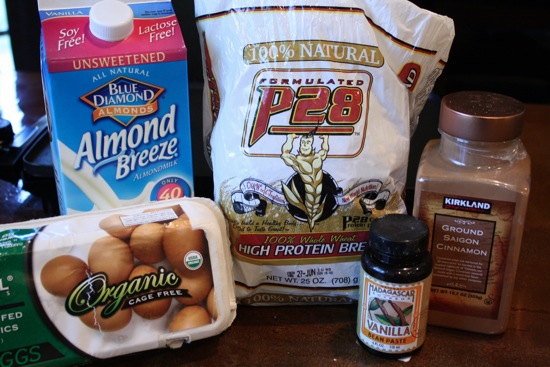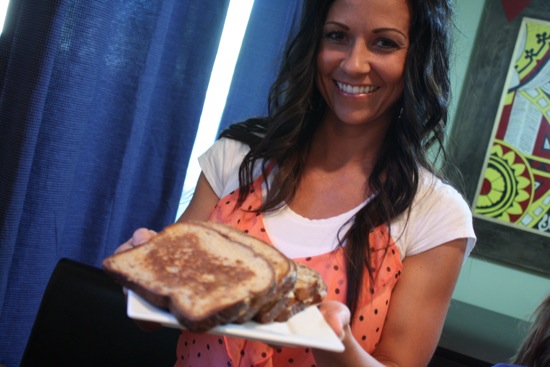 once the frittata and french toast was done, we sat down to eat and talked about how i have zero dancing abilities.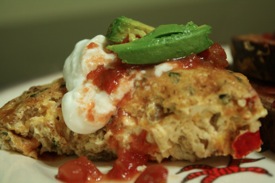 pajha, on the other hand, has some serious moves. she didn't hesitate for a minute when i asked her to bust a few out for the camera!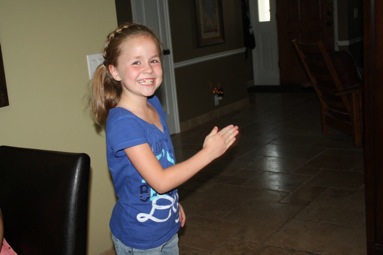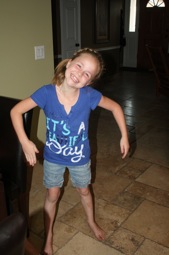 if only my mom had put me in dance instead of clogging.. who knows where i'd be today!
we checked out the flick and, as much as it saddens me, it didn't turn me into a professional dancer. guess i won't be making my debut on dancing with the stars anytime soon.. or ever.
it did, however, spark a dance party with the ladies who know how to shake it! i watched… i mean, someone had to take photos, right???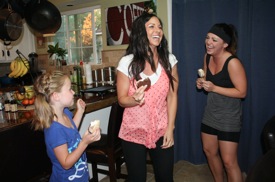 as you can see, we managed to break out the skinny cow slimited editions ice cream for our dance party. that was an activity i could get behind. i am an ice cream monster.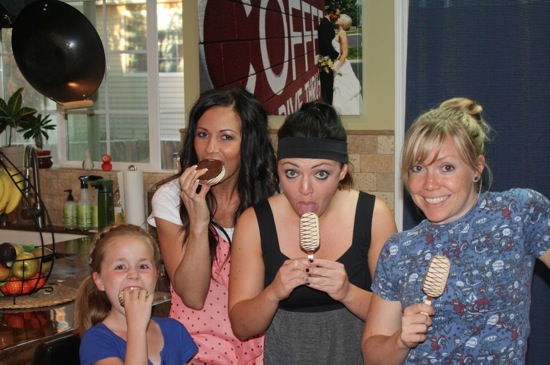 i tried the mocha truffle bar and it was fantastic. i love anything coffee-flavored so i wasn't surprised it was such a hit with my taste buds. it was also a hit in the calorie department–100 calories per bar. can you tell amanda loved it, too?
kerryne and pajha sampled the best of both swirleds ice cream sandwiches which had swirled chocolate and vanilla ice cream sandwiched between one chocolate cookie and one vanilla cookie. it was a tasty combo with a clever name!
skinny cow wants to get everyone involved and they are hosting a sweepstakes! check out their facebook page with more info on their "ladies night in" sweepstakes, where you can enter for a chance to win a prize pack to host a party of your own.  also, there is an instant win game on select skinny cow products which enters you to win a trip to LA for the 25th anniversary screening of dirty dancing. fun!
big thanks to skinny cow for letting us get our groove on with dirty dancing and their new slimited editions treats! it was a good time… but i still can't dance.
Qs~
1. how do you feel about dancing? i want to like it–and i want to be good at it–but i have no idea what i'm doing and just feel so awkward every time i try to bust a move!
2. what activities/classes did you take as a kid? the ONLY thing i did was clog. yep.. so glamorous! i didn't do sports at all and i definitely didn't do any dancing. that must explain why i am pretty horrible at anything requiring any sort of coordination. but i like to try!
xo. janetha g.
As part of the Foodbuzz Tastemaker Program, I received a stipend, DVD, and coupons for free Skinny Cow® product.