hi! happy friday! i am so glad it's the weekend. this week has been a busy one for me both at work (thanks to month-end!) and at home. i have a bunch of random things to share—what else is new? here goes!
dudes.. can you believe it's going to be july on sunday?! time is flying. i decided since june is coming to an end, i better check in with my summer bucket list to see how i'm doing…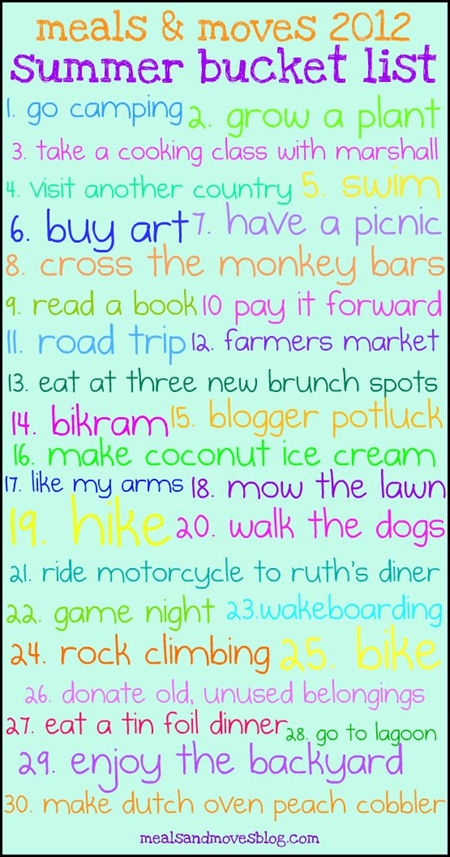 so far i have ticked off the following:
#5: i swam in st. george last weekend
#6: i bought art at the farmers market two weekends ago
#11: i took a road trip last weekend
#12: i've been to the farmers market once so far
#13: i ate at bear paw cafe last weekend—that's one of three new places
#20: i've walked the dogs a few times
#25: i've ridden my bike a few times
#26: i donated two huge bins of clothing, shoes, and purses to charity
not bad for being less than a month into summer! i also have a few things planned. i bought a rock climbing groupon (#24), i booked a cooking class for july 5th (#3), the blogger picnic tomorrow will mark off two (#7 and #15), i leave the country in less than 3 weeks (yay! #4), and i will be going to lagoon in two weeks (#28).
making lists is fun. marking things off of lists is even more fun.

i have really surprised myself on the workout front—i got to the gym in the morning FOUR days this week! i can't go in the mornings on monday, but i went to GPP at 6:30 AM tuesday through today. who am i?! i will say this: i've had a mental battle with myself each and every morning. usually it's my brain that wins the sleep vs. workout battle, but my body beat my brain each and every morning this week. it's SO NICE to get my workout over with in the morning and have my evenings free. i love it so much. and that's why i've been motivated to get up and at 'em all week long.
one other way i have surprised myself was during this morning's workout. it was one i did back on may 4th (just shortly after i started at GPP) and it was a VERY hard workout for me. i did it in katie's garage (i was in colorado for blend retreat) and i remember suffering through it, not able to do all the reps, having to take several breathers, and dropping the weight to half. when i saw the workout come up again for today, i got a little nervous. i decided to start out full speed ahead and told myself i'd drop the weight and reps if i needed to. i ended up making it through the full workout completing all the reps and without dropping the weight. i was super stoked and proud. fitness is fun.
it made me think of molly's quote: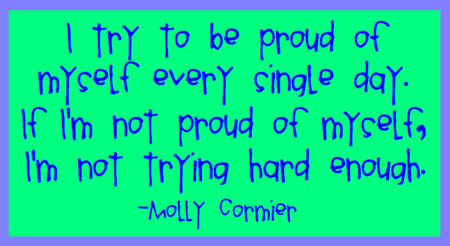 sorry for the redundancy, but i still just love the quote so much!!
moving on to a couple more random bits and pieces floating around in my brain..there are two big events happening tomorrow and i am excited for both of them!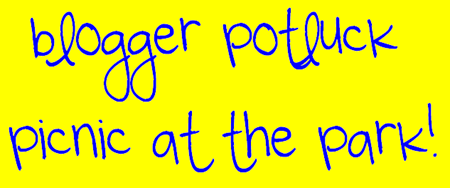 if you live in utah and are reading this, you need to come to the potluck picnic tomorrow! here are the details, in case you missed them:
when: tomorrow! saturday, june 30, at 12 noon.
where: liberty park in SLC (700 east and 1300 south) we are meeting in the southeast quadrant just north of the big pond. there are picnic tables there and hopefully we can snag one.
who: bloggers, blog readers, friends, family.. even dogs! i think penny and randy might be in attendance!
bring: something to share with everyone—we have a lot of desserts so if you have something savory to share that would be ideal.. but anything goes! also bring your own drink. and your camera if you are into that!
what's provided: i will have utensils, napkins, plates, etc.
also, if you would like a link to the spreadsheet that has attendee info along with what people are bringing, let me know and i will shoot you the link. can't wait to meet everyone tomorrow!
and now my final item of business…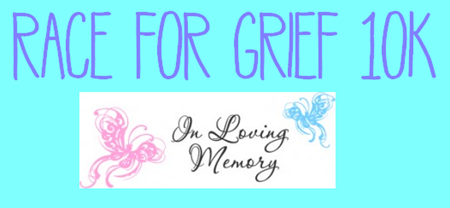 you guys know i hate running.. but tomorrow, i'm running a 10k. yipes, a little scared. but i couldn't say no—it's for a very important reason. long-time readers know that my brother and his wife, lindsay, lost their baby, eddy, when lindsay was 8 months into her pregnancy. this was three years ago—almost to the day.
there is an annual race called the race for grief where everyone gathers to run in memory of all those who have lost a child during pregnancy or an infant. there is a 10k and a 2 mile walk. i am doing the 10k with lindsay. it is located in west bountiful and will be tomorrow at 7:30 AM. if you are local and would like to come participate, you can register the morning of—go to the race site for details.
oddly enough, the last time i ran a 10k (well, the ONLY time i ever did!) was the day after they lost eddy. after running that 10k, i decided i'd never run a 10k ever again. (i've done two dirty dash 10Ks, but those were not races where i ran.. i walked them, so they don't count.) i just can't hang with running that sort of distance. it's tough for me. i know, i know, you marathon runners are laughing.. but 6.2 miles is far in my eyes!
however, this race means a lot to me and my family. i want to be there and i want to participate. i want to do something special to remember my nephew. he will push me through it. i am excited to run for eddy tomorrow. i love him and can't wait to meet him up in heaven one day.
OH. i do have a recipe for peanut butter dark chocolate cookies.. but this post is already real long. i mentioned the recipe on my facebook page and promise i will post the recipe soon.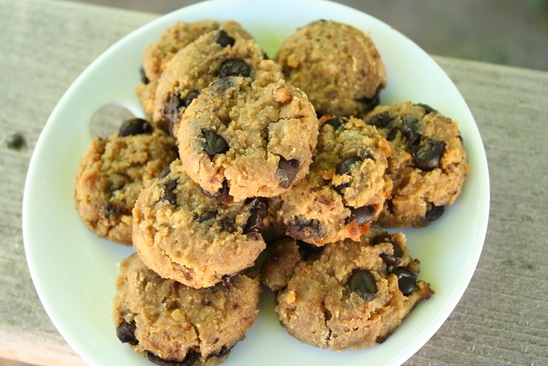 the cookies are vegan, gluten free, and super tasty. they are also super gone.. i shared them with my co-worker-outers at GPP and my co-workers at work today.
ok, that's enough out of me! have a great weekend!
xo. janetha g.