hey, guys! i am hanging out in the hot, hot heat in st. george and las vegas this weekend. my fellow fitfluential ambassador, kodjo, has made up a delicious recipe to share with you all. it's perfect for summer grilling and i can't wait to make the recipe myself!
a little about kodjo…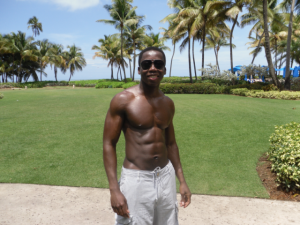 kodjo is a fitness enthusiast turned health blogger. in addition to blogging, kodjo also enjoys eating healthy and working out at home. his wish is to contribute as much as possible to the fight against obesity in america. he recently developed a four-week home workout program to help people exercise in the comfort of their home. check it out if you are interested! you can also find kodjo on twitter @Kodjoworkout. here he is!
****************************
Nothing says comfort food like a burger and fries. However, what are not comforting are the high levels of sodium, fat, and cholesterol contained in the average burger and fries. The patties you get from chain burger restaurants are made with processed ingredients. The majority of these processed foods are laden with sodium. For example, a ¼ pound Whopper contains 970 mg of sodium and 39 grams of fat, and the average Mc Donald's burger boasts 1000 mg of sodium against 40 grams of fat. An order of small fries contains about 160 mg of sodium and 230 grams of fat. If you add a soda to your burger and fries order, you need to ask yourself whether this is truly a value meal or if the health costs/risks are just way too high.
Kids are not spared
According to the Center for Disease Control and Prevention, 1 in 3 U.S. adults has high blood pressure. High blood pressure is a major risk factor for heart disease, stroke, congestive heart failure, and kidney disease. Even more alarming is that kids are developing diseases such as high cholesterol, high blood pressure, and obesity. This trend is directly correlated with kids' consumption of ever increasing amounts of processed foods.
Fast food is not the option
We convenient to pick up the family's food from fast food restaurant's drive-thru (after a long day at work). No doubt time is precious; and no one wants to be stuck in the kitchen for hours cooking a meal for the family. However there are options to prepare healthy easy recipes in almost no time at all.
Use this not that
As an alternative to the chain restaurant burger and fries, you can make your own.  Choose organic ingredients when possible and make your own patties.  Use low fat meats such as organic ground turkey made with 97% lean meat.  Turkey is low in sodium and a great source of niacin and protein and also a great source of omega 3 & 6.  Experiment with seasonings other than salt. Use low calories condiments. And instead of mayo, use organic honey mustard. Switch iceberg lettuce for spinach; it is more nutrient-rich.  Dump the fries all together; instead, use carrot sticks with a low cal organic BBQ dipping sauce.  Carrots have 0 grams of fat, low in sodium and high in fiber.
Processed foods that are high in sodium and calories have a devastating effect on your health and your waistline.  Making healthy choices does not have to mean boring tasteless food.  Be aware of what you put in your body.  The best way to do that is to prepare your own meals.  Experiment with health alternatives to your favorite store bought meals and enjoy.
Organic Jerk Turkey Burger – A Healthier Alternative to Sodium Packed Fast Food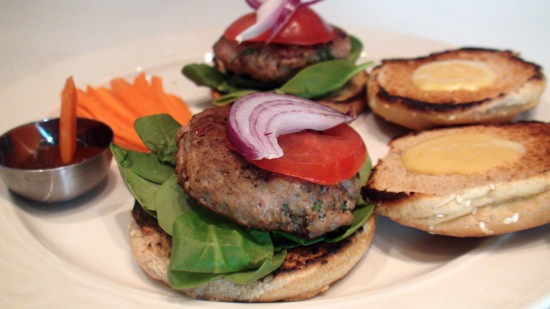 Ingredients:
Organic Whole Wheat Buns
Organic Baby Spinach
Organic Tomatoes
Organic Red Onions
1 Pound Organic Ground Turkey
1 Tablespoon of Jerk Seasoning (to taste)
1 Tablespoon Salt Free Vegetable Seasoning
1 Teaspoon Mustard Powder
¼ Cup Cilantro and Chives
Salt and Pepper to taste
Directions: Blend jerk season, salt free vegetable seasoning, mustard powder, cilantro, chives and salt and pepper into the turkey meat. Mix well. Measure palm full of meat and roll into balls. Place on a sheet of parchment paper.  Repeat until all the meat is used. Cover with another sheet of parchment paper and press lightly until the meat balls resemble patties. In a skillet, coat with extra virgin olive oil and heat on a medium fire.  Once oil is heated, place two patties at a time and cook for 3-4 minutes on each side. Repeat until all patties are cooked, then set aside.
In the same skillet heat buns until toasted on the inside.  To construct your burger place a patty on one side of the bun, add baby spinach, tomato, red onions and top with organic honey mustard.  Cover with the top bun.  Serve with carrot stick and organic BBQ sauce for dipping.
Enjoy!