hey, guys! happy friday to you. this week has been a looong one for me for some reason. funny how sometimes work weeks fly by and others lag and drag. pretty sure it's because the weather has been nicer so it's even harder to be cooped up indoors at my desk.. with no windows.. never to see the light of day. geez, i am so dramatic!
you guys know i am a pinterest fan. remember when i typed that super-detailed how-to post about it? yeah, that was fun. but i go through "pinterest phases" where i completely forget about the site, then when i remember it i will spend a solid hour sucked into the vortex of all things pinteresting.
well, this week i remembered pinterest, and i went crazy. thought i'd share a handful of my pins, just for kicks!
i liked this skirt from j's blog so much that i actually ended up purchasing it! whoops.. guess i probably shouldn't be reading clothing blogs. i definitely don't need more clothes.
i see these ryan gosling "hey girl" things everywhere. more often than not, they make me laugh. this one, especially. speaking of Rx.. i almost Rxed my GPP workout today. only had to scale back on the tricep kickbacks. i am actually pretty proud! getting stronger every day.
this avocado, strawberry, and goat cheese recipe looked sensational! i just wasn't sure if i should pin it to my "sweet eats" or "savory eats" board.. ashley, what do you think?
geez—talk about the truth on that one! i know i have wasted quite a bit of energy wishing my time away when i could have used it to make changes. i need to remember this saying the next time i let a negative thought enter my head.
the tastykitchen.com recipes are always a treat because so many different bloggers contribute! this baked falafel pita caught my eye—and needs to be made in my kitchen ASAP.
everything you ever needed to know, you could learn from a tree!
except for how to make these coconut donuts.. don't think a tree could teach you that one.
speaking of donuts.. the ecard above pretty much sums me & my never-ending recipe making (and eating) up to a T. ha!
see? like this tiramisu bread recipe. i just have to make it. and eat it. and not get fat.
ah, screw it, i will just do this medicine ball workout afterward. it looks super fun, no?!
i have been loving quotes lately. first the one from wednesday and now the one above. love both of them. they are kinda along the same lines.. you have to try if you want ANYTHING in life. another one i like is "you miss 100% of the shots you don't take."
speaking of taking shots… i created a new pinterest board this week. i am a fitfluential ambassador and one of our assignments was to create a fitness bucket list.  this bucket list is going to require trying a LOT.. and not being afraid to fail.
i have my summer bucket list already, but my new fitness bucket list includes things a little more long-term… meaning they won't all be completed by the end of summer!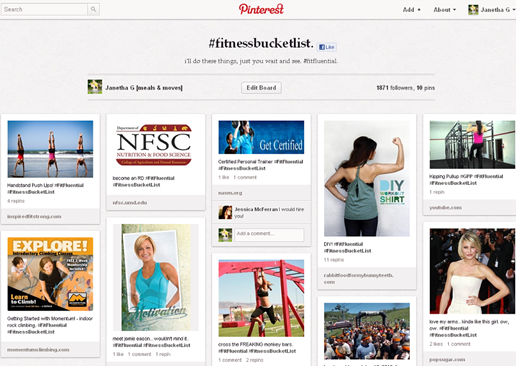 the fitness bucket list includes things more serious and long term, some fit feats, and a few just for fun. i like the broad range included on the list. here are the pins i have so far:
i am excited to add to my list as i think of new fitness goals. i think having small things and big things on the list is KEY. every single goal in life is a big deal—even the little baby goals. it's just as important to achieve small things as you go—this helps build confidence in order to tackle the bigger goals ahead! one step at a time, folks. don't forget it. celebrate the small victories just as you would the big ones.
wow, those thoughts went out on the deep end! that's enough out of me. i am ready for the weekend! i am excited to get to the farmers market, celebrate father's day with my dad & dad-in-law, and spend some time zoning out. oh, and i will probably get up and going with this heart-pumping workout in the morning. we'll see if i wake up!
Qs~
1. what's on YOUR fitness bucket list? big or small (or both!)
2. what's on tap for your weekend?
xo. janetha g.