hey! time to recap the second half of my trip to hood river, oregon.  i was there on thursday, friday, and saturday with my co-workers. you can read the first half here.
i left off on friday morning. after breakfast, crystal, sim, and i went back to the hotel and relaxed for awhile. we wanted to get massages. i made a few calls and  found a spa that could get all three of us in at the same time.  this was actually really hard to do–hood river is a small town and most spas had only one massage therapist!  we booked our appointments at the columbia gorge hotel spa–the largest spa in town.
our appointments weren't until 2:15, so i decided to take advantage of my free time and get a workout in.  i headed to the hotel gym, planning to do friday's GPP workout.  the workout required a 15# dumbbell, and there were zero free weights at the hotel gym. bummer!  the gym was actually quite a letdown with a bike, an elliptical, a treadmill, and a cable weight machine. what can ya do?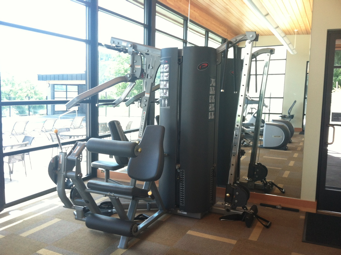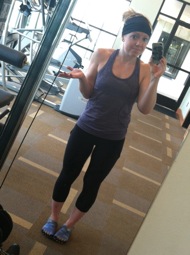 i improvised and was able to adapt the workout using the equipment i had.  here's what i did:
1 minute sprint (9 mph)
15 OH dumbbell press at 40#
15 plank snatch L with cable set to 20#
20 T2T crunches
15 plank snatch R with cable set to 20#
rest 30 seconds
5 rounds total
that workout didn't take long, and to be honest i don't think my adapted version was a very good one.. i didn't feel the burn like i do when i go to GPP. but something is better than nothing, right? right.
i followed up the core workout with some cardio in the form of a fitmixer bootcamp workout–zero to thirty. there wasn't much room in the hotel gym, so i took it out on the pool patio in this little random room. nobody was swimming, so i had the area all to myself–complete with a beautiful view!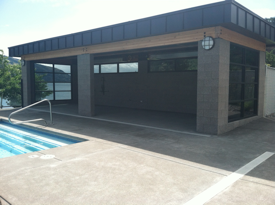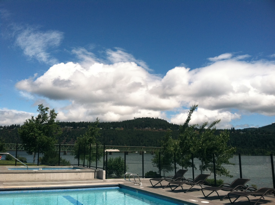 i did ten rounds of the following:
burpees (30 seconds)
squat punches (30 seconds)
butt kicks (30 seconds)
123 heisman (30 seconds)
block shots (30 seconds)
soldier kicks (30 seconds)
the first three rounds were at warm-up pace, the next four gradually got more and more intense, and the final three rounds were all-out effort.  it turned out to be a really stellar sweat session!
i headed back to my room, cleaned up, and headed to town with crystal and sim. it was about noon, so we had two hours to browse the cute shops of hood river.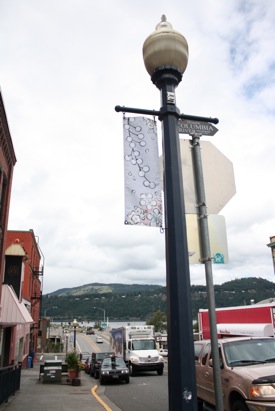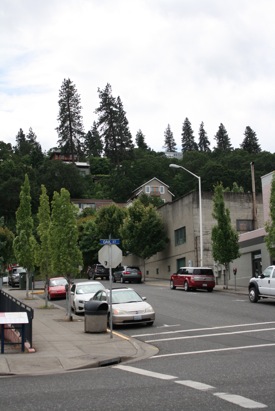 i bought a few knick knacks for myself and for marshall. i also snagged a pair of the new wedges made by toms. super cute, super comfy.  we ran into an adorable dog boutique, so i grabbed the kiddos some fresh baked dog treats. it wouldn't have been right to forget about them!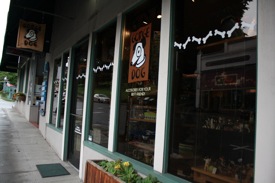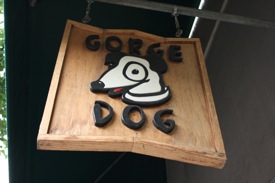 i got a kick out of this sign at the store i bought the shoes at.. what, ice cream isn't food?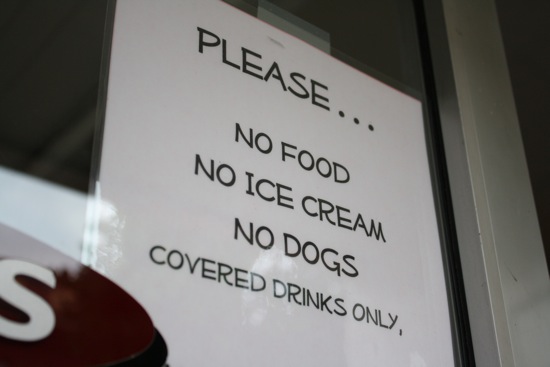 ha!
speaking of ice cream…someone mentioned that mike's ice cream was not to be missed, so i was on a mission! sim and crystal wanted a sandwich, but i wanted to skip straight to the good stuff so i headed to mike's on my own. it was just a tiny little shack, but from the high volume of people eating ice cream in the cold weather, i knew it would be good!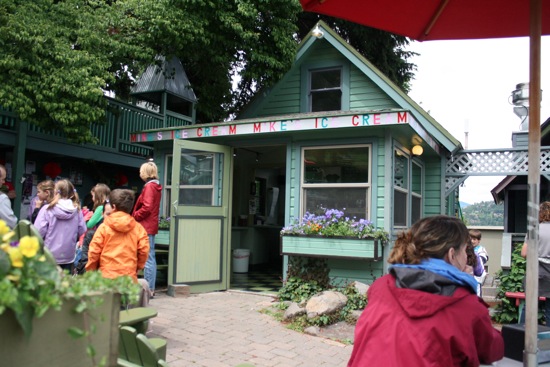 i ordered a double scoop of coconut and vanilla ice cream–my two faves.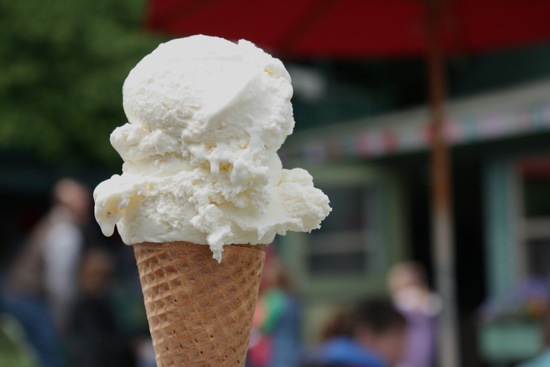 um. yeah. it was flipping fantastic. i mean, i like all ice cream. i am not picky by any means. but mike's ice cream is definitely something to write home (or to blog) about!
it was 2 o'clock, so we headed to the spa at the columbia gorge hotel.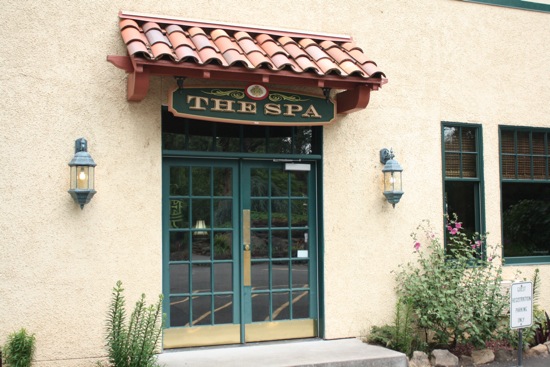 i ended up getting a new-to-me treatment: raindrop therapy with a hot stone massage. my masseuse, rose, was wonderful! she'd been into massage since she was five years old (he mom is a massage therapist, too) and so she had nearly 35 years of practice under her belt. the raindrop therapy was really cool. she dropped essential oils on various spots of my back and then rubbed them in with her hands and the hot stones, then place a warm towel over me so i could "cook"!  the fragrant oils soothed my senses and my skin. the hot stones worked out all my muscle soreness and left me more refreshed than i have been in a long time.  i sure hope i can find a spa that does raindrop therapy here in the SLC!
after our relaxing spa experience we went back to the hotel, cleaned up, and met with the boys so we could enjoy our final night in hood river. we started things off at naked winery for a tasting.
naked is known for their racy labels and they are actually banned from selling their wines in certain (ultra-conservative) states!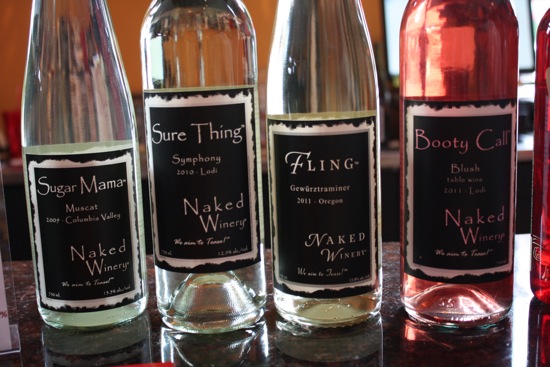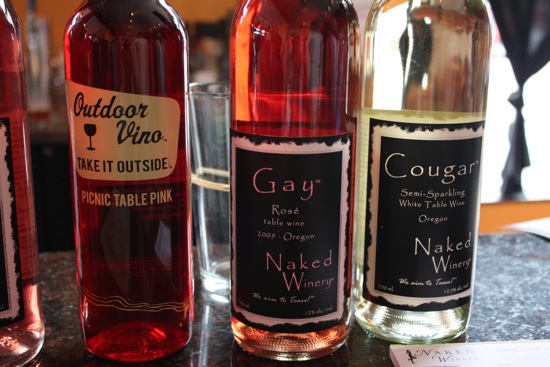 it was only $8 for a tasting–i had never done a wine tasting but that sounded like a bargain to me. i am definitely not a wine connoisseur and had no idea what i was doing, but i enjoyed tasting the naked wines.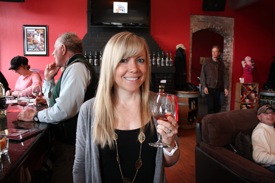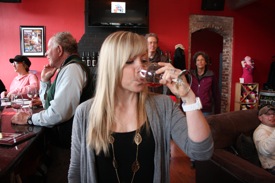 it was hilarious because the bartender made sexual remarks the whole time she was serving us our tastes. it was a lot of fun. well, for those of us who were tasting, i guess…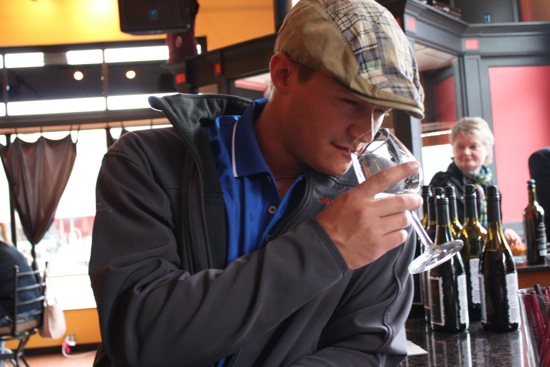 …the others sat nearby and had their phones for entertainment!
i thought the picnic table pink was pretty rad because it comes in a plastic bottle–perfect for outdoor adventures!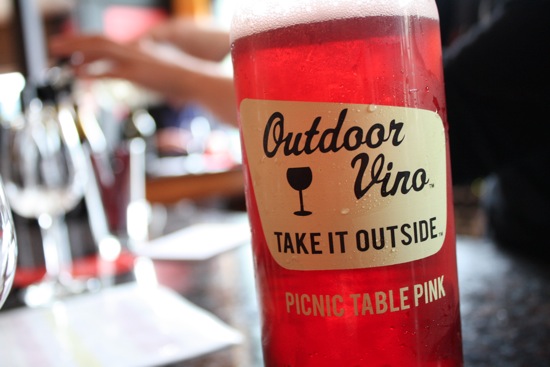 we were able to rate the selections on a piece of paper. i went with a smiley-face rating system.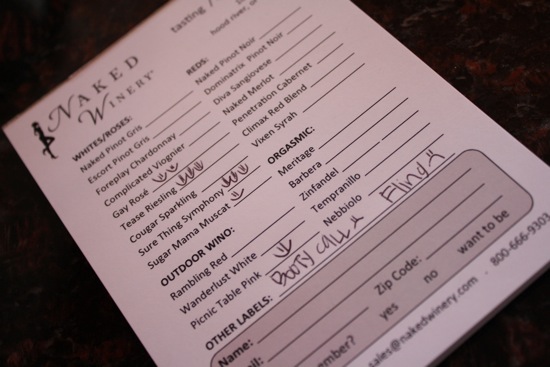 the booty call and fling didn't make the cut.. but i really loved the tease and the sure thing!
naked winery was such a cool place. there were tattoos and photo props that made for a fun-filled experience.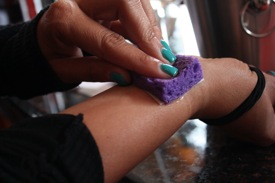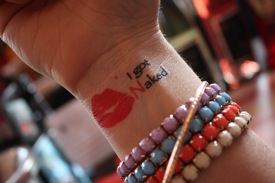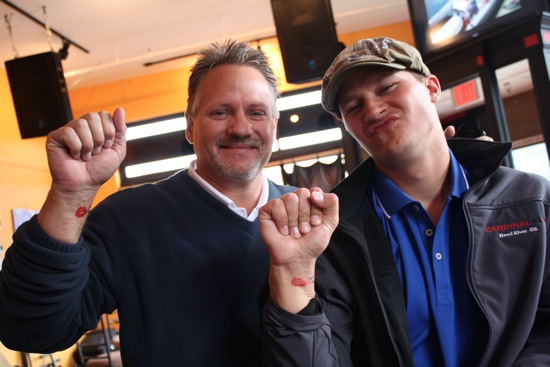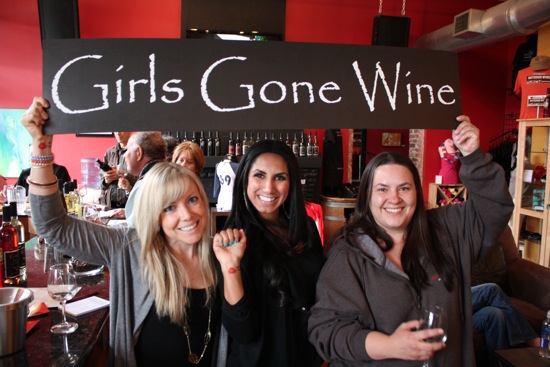 this was the first and ONLY time i will ever say i got naked with my co-workers!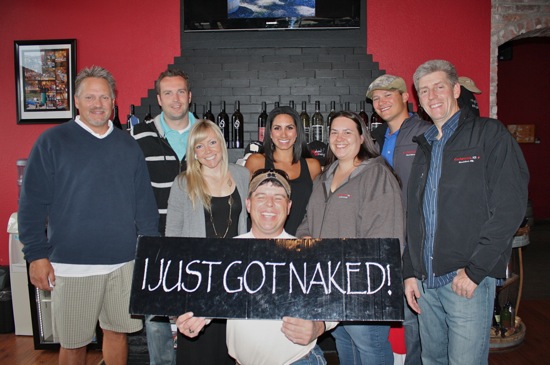 after the winery we strolled up oak street to brian's pourhouse, another restaurant that was recommended to us. it was drizzling rain, but nothing too horrible.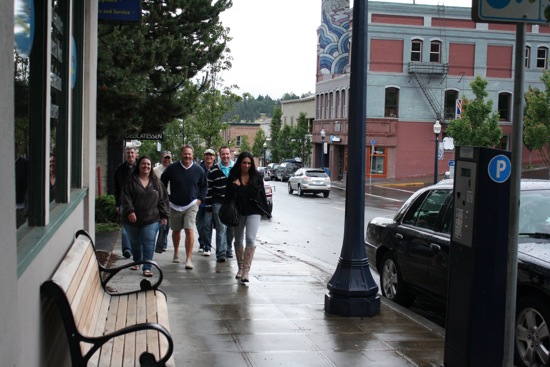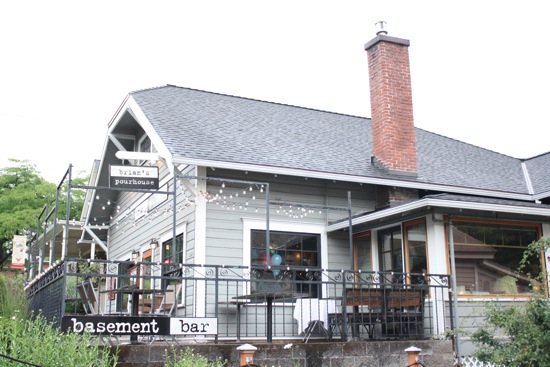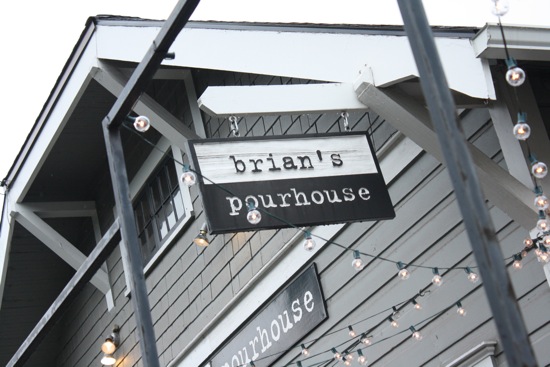 we started with hot rolls with butter, calamari, and fried oysters.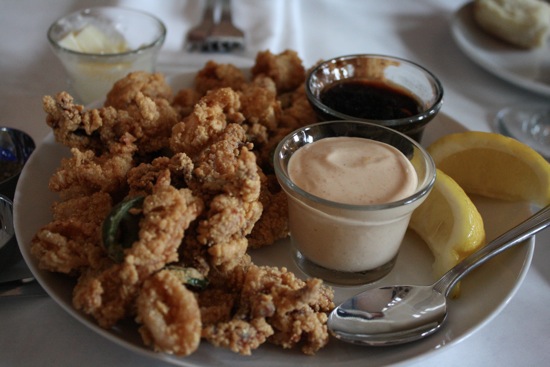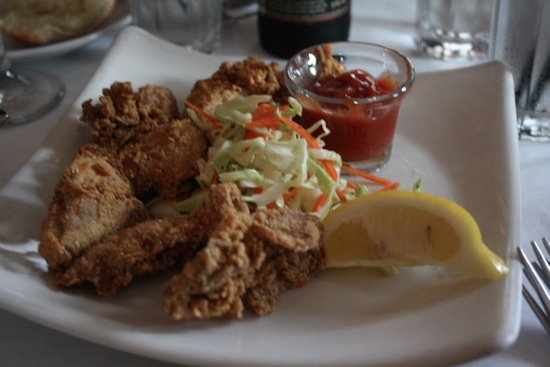 sim shared some of the amazing mushroom parmesan soup. i'd like the recipe to this deliciousness!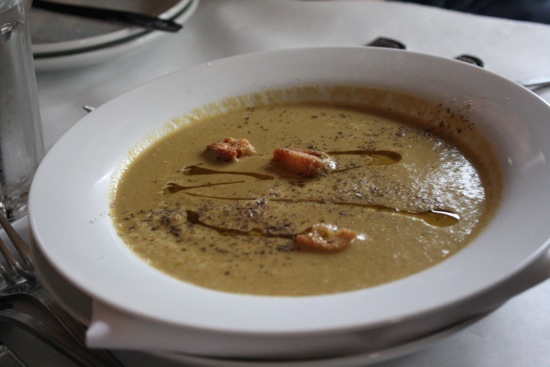 for my entree i ordered the special: draper valley roasted chicken breast served with braised asparagus, house made biscuit, mashed potatoes, and mushroom béchamel. the flaky biscuit soaked up the savory mushroom sauce and the chicken was crisp on the outside and juicy in the middle. perfection on a plate!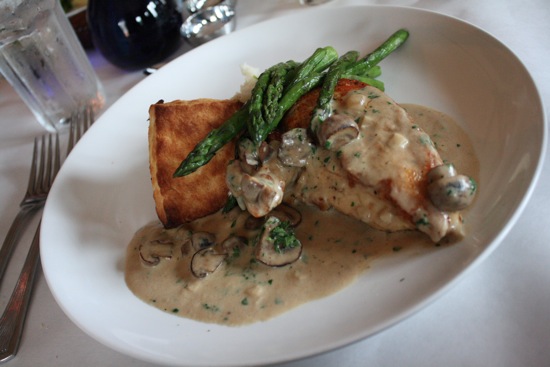 i have to say brian's pourhouse lived up the the hype! the food, ambiance, and service was all spot on.
we walked past mike's ice cream on our way back to the car, so naturally we had to stop for some ice cream… even though it was freezing cold outside and we were all uncomfortably full from dinner. there's always room for ice cream, right?!
i chose the cookie dough and went with a small scoop this time… but also somehow managed to sample the banana, mandarin chocolate, turtle, and strawberry flavors. funny how that works… i am an ice cream monster.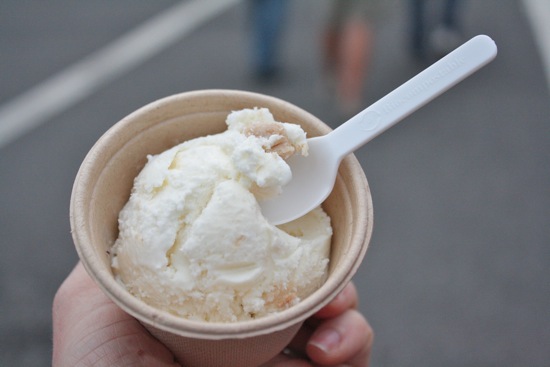 we took a drive up the mountain to enjoy the sunset and our last evening in hood river.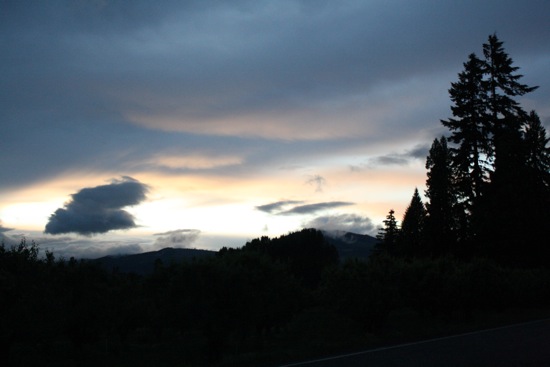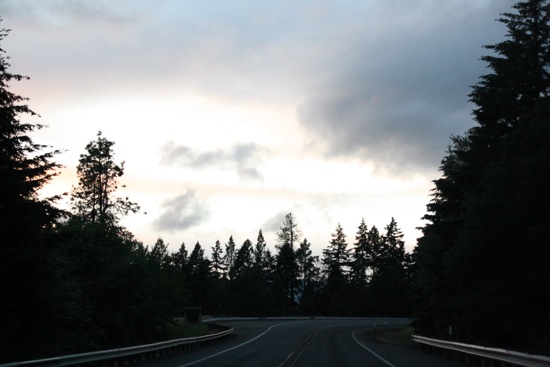 such a pretty place!!
i was BEAT and zonked out at 9:33 PM. yes, precisely. i was going to wake up before breakfast and work out, but that didn't happen. instead, i slept for a solid nine hours. we snagged breakfast from the hotel restaurant, riverside, before heading to the airport. lucky for us, the restaurant (hood river's only waterfront restaurant) is actually a four-star rated eatery and we had free breakfast vouchers!
i started with coffee and soy milk with a side of sweet view.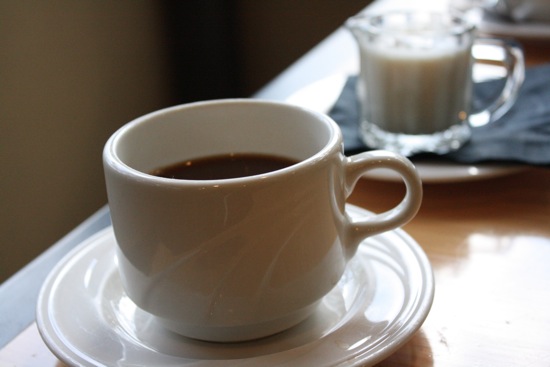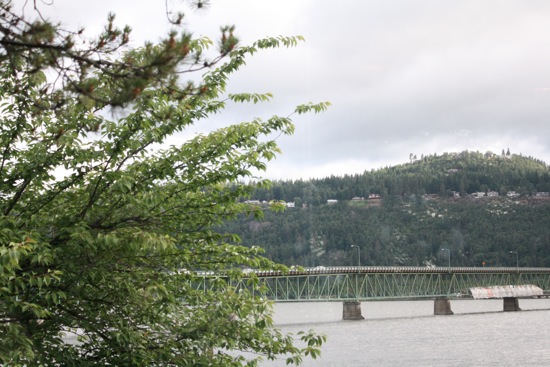 i was pumped when i saw bob's red mill on the menu–they were on of my blend retreat sponsors! go, bob!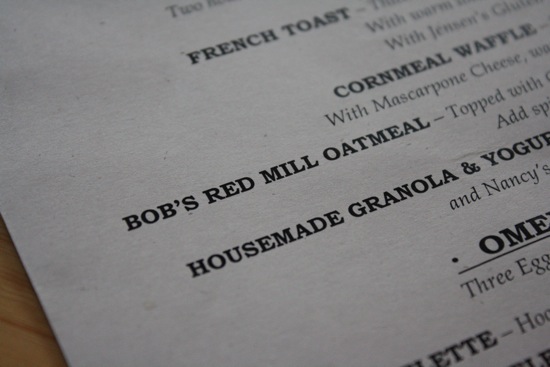 oatmeal sounded good, but the housemade granola bowl sounded better: almonds, coconut, local honey, and organic yogurt.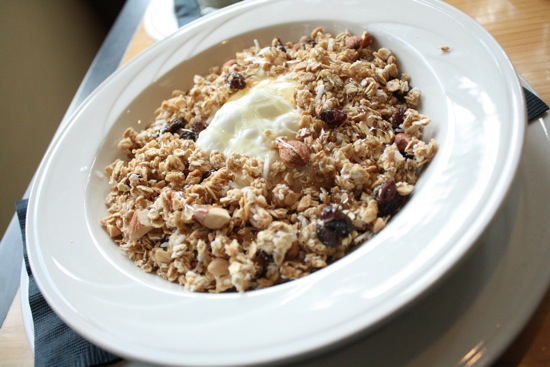 i also had a side of organic egg whites for a protein punch.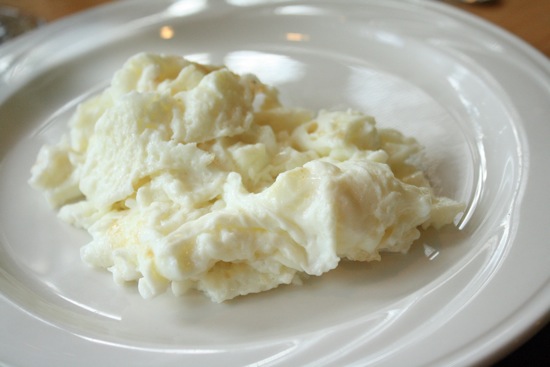 i have to say, i LOVE that all of the restaurants i visited in hood river offered organic, local, and sustainable choices. you don't always see that when traveling, so it was a nice surprise.
after breakfast we headed to the airport, flew home, i took a taxi to my casa (momma b is in costa rica and marshall was at an appointment), and got smothered with kisses from penny and randy. they are the BEST welcoming committee!
special thanks to my boss for taking me on such a rad business trip. i have to say that it was more play than work, and i definitely appreciate the people i work for. i realize how fortunate i am to be employed by such a great company and to work for and with awesome people.
that's all for now! hope you all have a mellow monday.
xo. janetha g.