i'm home! my trip to hood river, oregon was a quick one.. but we fit a LOT in while we were there.
i went to hood river with one of my bosses and six co-workers. in case you are just joining us here on meals & moves, you should know i manage a window company. we get our insulated glass units from cardinal IG, which is located in hood river. we went up there on thursday to tour the facility… and to eat as much delicious food as possible! as it turns out, hood river is a foodie paradise!! 
thursday morning we drove straight from portland international airport to hood river. it was a little over an hour. i had my fitmixer aminos for the beautiful drive. it was rainy and foggy, but still very pretty, and SO GREEN!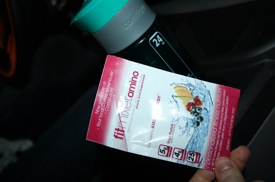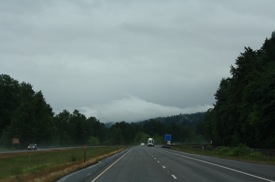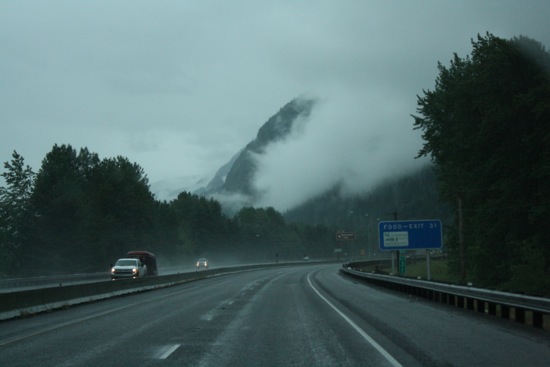 we passed multnomah falls during the drive.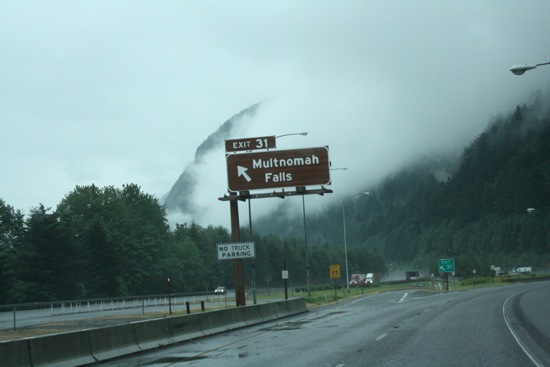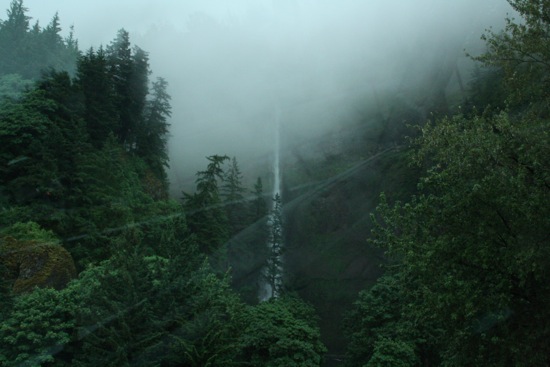 gorgeous. 
we drove straight to cardinal–i have to say, they have a FABULOUS view from their offices.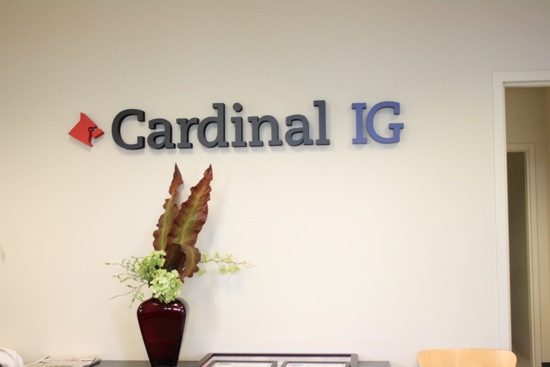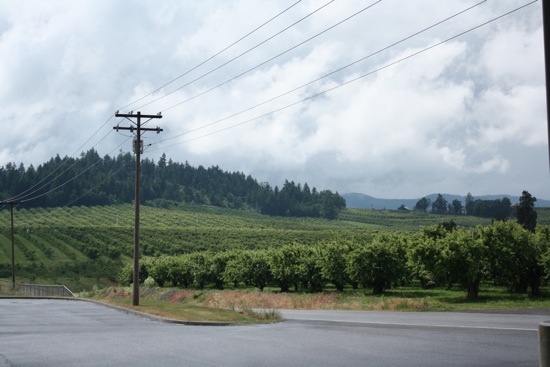 the folks at cardinal had hot coffee and lunch waiting for us.
after meeting and eating, we toured the factory where all the insulated glass is made. it was cool to finally see what happens with the glass before it comes to us in salt lake city.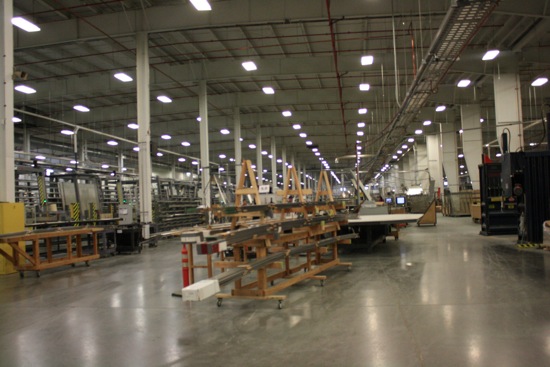 the advanced window product crew!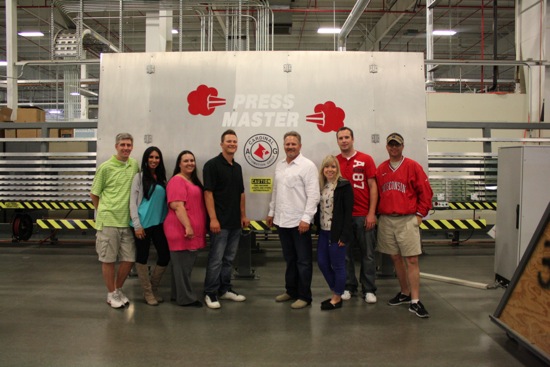 yes, the men i work with are five year olds trapped in adult bodies.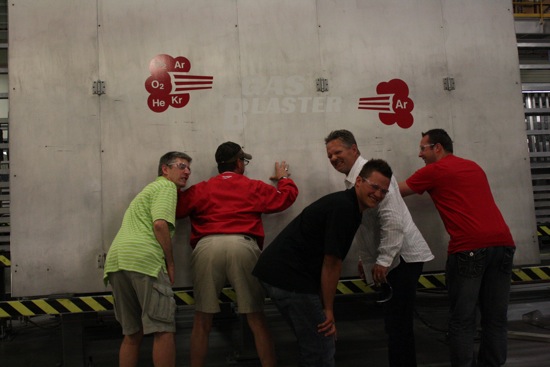 it's hard to see, but that machine is called the "gas blaster".
the factory is so huge! they use these adult-sized tricycles to get around. pretty sweet.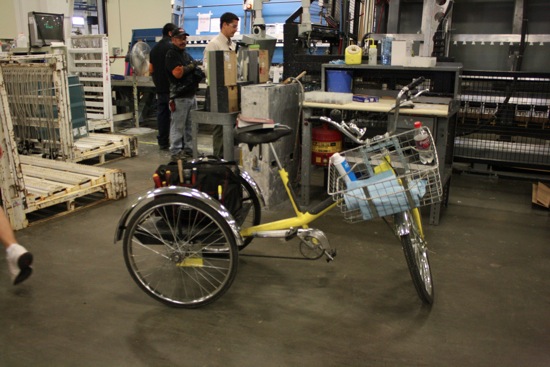 after spending the afternoon at cardinal, we headed to our hotel. we stayed at the hood river inn and it was actually pretty swanky (as deb would say!) with a great view right off the balcony.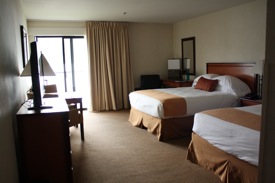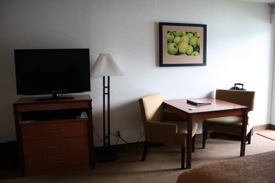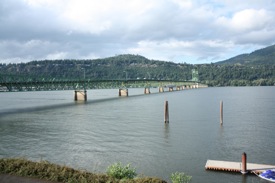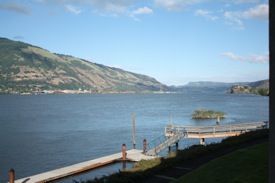 i even found a friend! i spotted him on the jogging trail that went along the riverbank.. but this little chub wasn't jogging–he was munching on something tasty.
thursday night the cardinal reps treated us to dinner at full sail brewery.  a few of you recommended this restaurant so i suggested it right off the bat!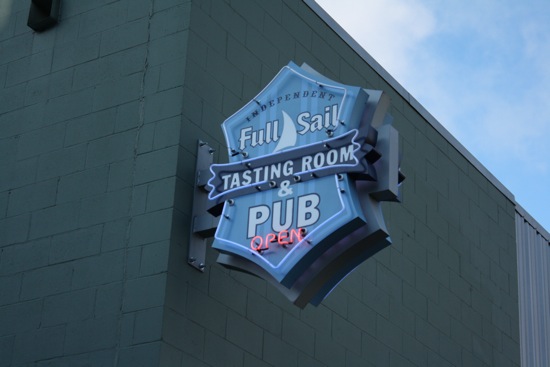 you can't go to a brewery without having a brew! i chose the allman's all mild–a pub exclusive.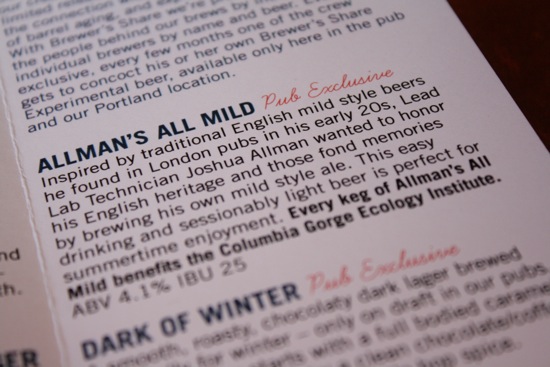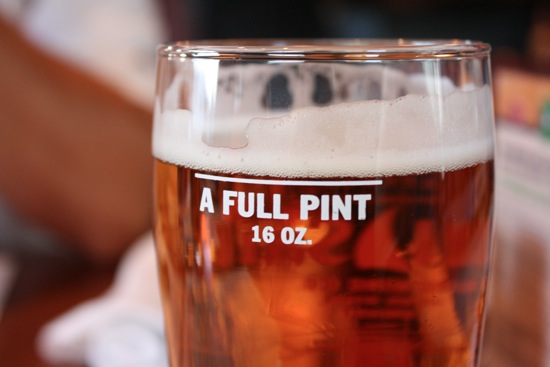 i ordered the hummus plate as a starter. isn't it gorgeous? and it tasted as good as it looks!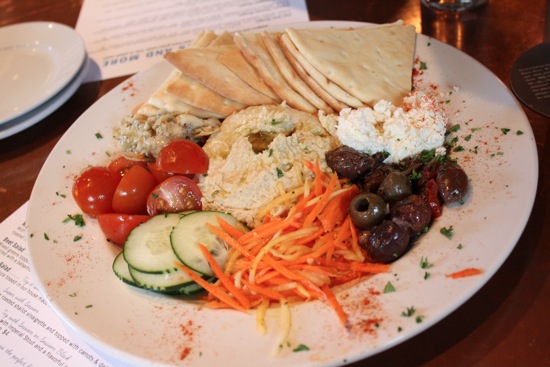 for my entree i went with the chicken caprese sandwich which came with a side salad. 
the balsamic reduction was thick, the pesto was freshly made, and the chicken was perfectly cooked. i LOVED my entree.
i also LOVED every other entree i tried! i am a total sharer, so i stole bites of the salmon beer battered fish (so unique to use salmon!), the lamb gyro with tangy tzatziki, the garlic french fries, and the steak sandwich with sriracha mayo and caramelized onions (which ended up being my FAVORITE bite of the whole entire trip–yes!)
everyone really enjoyed their meals (and their drinks, especially todd there on the right)–i highly suggest full sail brewery if you ever find yourself up that way.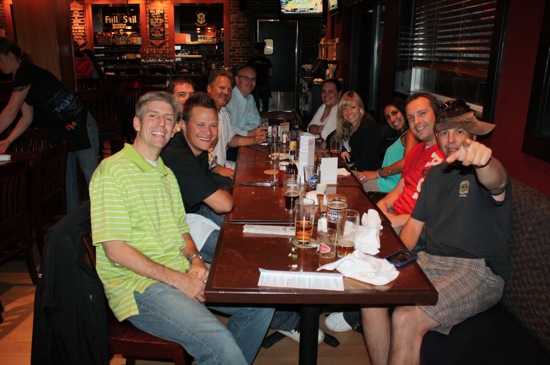 i was exhausted from a day packed with traveling, touring, and eating, so i passed out pretty early. plus, we had an early wake up call so we could join the boys for breakfast before they golfed.
the sunrise on friday was stunning. i was happy to see the rain had gone away and the sunshine reflecting on the water was a beautiful sight.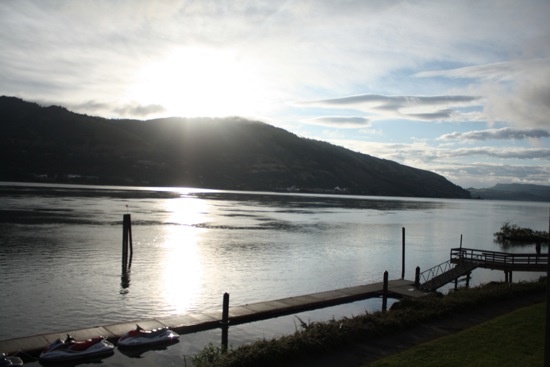 we all headed to egg river cafe for breakfast.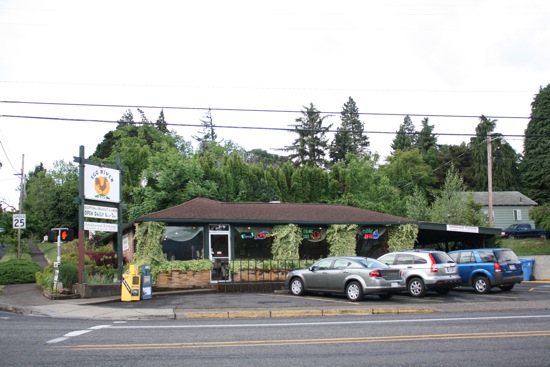 just by looking at the restaurant, i knew it would be a winner. organic eggs, organic coffee, ivy (i love ivy!) and lots of roosters. marshall loves roosters, so i love them through marriage.. haha.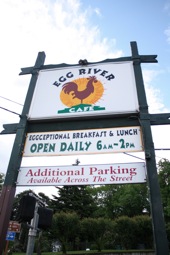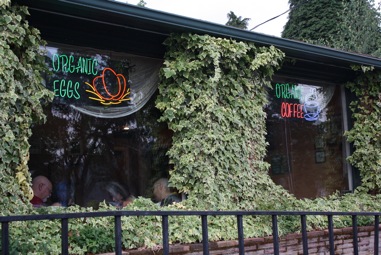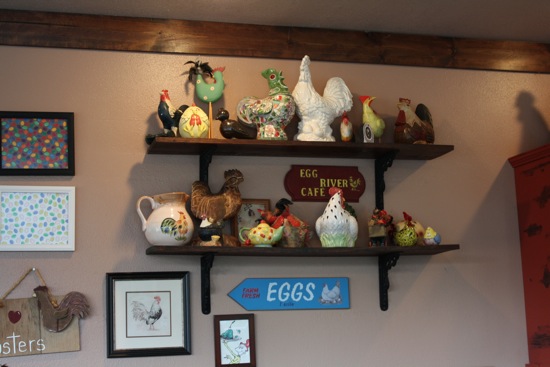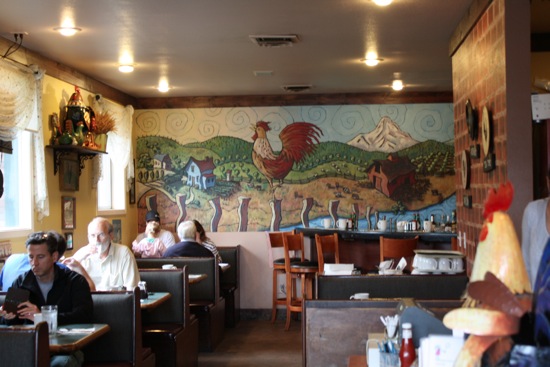 one look at the menu and i was reassured that this restaurant was right up my alley.  food served with love and cold cereal on the menu!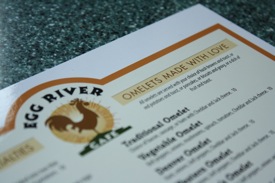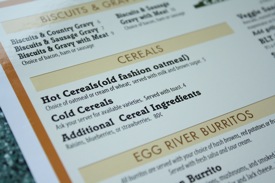 our cardinal rep had been going on and on (AND ON) about the bloody mary at egg river. i had to see what all the fuss was about.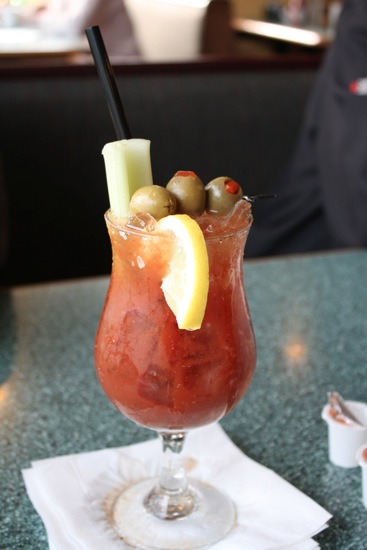 sure enough, this was probably the best bloody mary i've had. i can only think of two others that compare.
i ordered the veggie scramble for breakfast. it came with fresh grapefruit and whole wheat toast. the mushrooms were the best part.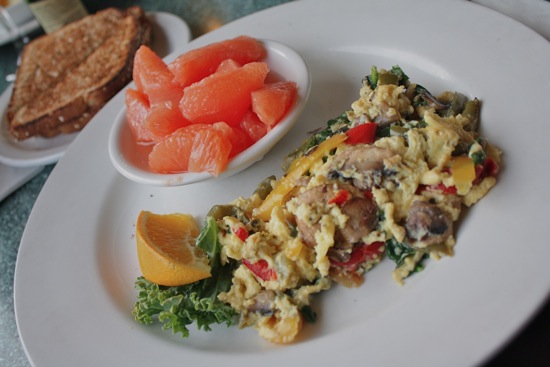 i had to snap a shot of sim's breakfast: croissant french toast with strawberry mascarpone and whipped cream topping. incredible!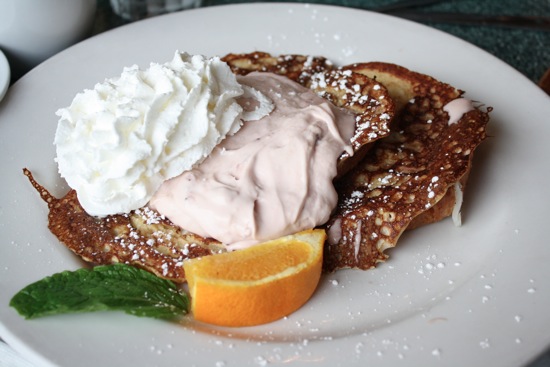 french-toasting (yes, it is a verb) croissants is a really good idea. well, french-toasting ANYTHING is a good idea, right, susan?
after breakfast the three girls headed back to the hotel and the guys went golfing.  we decided to take a load off for a few hours before heading out to explore the town… but i will tell you about that in my next post. this one is long enough, right?
plus, i've got things to do!  i am going to head to gold's and do today's GPP workout, then marshall and i are going to head to the movies tonight. we are seeing prometheus. be back tomorrow with details on the rest of my trip. hope you are all enjoying your weekend!
xo. janetha g.