hello! i am still in oregon. i am probably having fun! at least i hope so… we won't talk about how i missed thrice's farewell concert in SLC last night or how i am missing the first farmers' market tomorrow. nope, we won't!
i don't have a guest post lined up tonight, so i decided to amuse you all with some more of my funny search terms. the first time around was pretty funny.. let's see if i can beat that.
"popchips metabolism miracle": oh my gosh! if eating popchips was all that was required to have a metabolism miracle, then i would be SET. i love those things! they may not reset my metabolism, but they are a healthy snack.
"do probiotics make you pee more?": not that i know of…
"who is penny marshall's husband?": woah! there is a penny marshall? i have a penny and a marshall, but they are not the same person. actually, one is a dog. and they are not married. although penny is so super obsessed with marshall, she'd like to be married to him.
"kick in the groin": no thanks?
"lake tahoe hallucinate mushrooms": sounds like this searcher has quite the vacation planned…
"healthier boob job": cannot help you there. i have no boobs.
"who is the girl you know who would go to jail for this picture?": hahahaha.. this cracks me up. don't even have a comment.
"hardcore sekzi pictures meals and moves": ummmm… uhhh… just, no. no hardcore sekzi pictures here, sorry.
that was funny. how about a few useful answers to some of the frequent searches? apparently people REALLY want to know these things:
"cell phone cover": i got it from society6.com
"fundraiser": in july of 2011, i helped raise nearly $30,000 for my friend, susan, who HAD cancer. yay for the "had".. you can read about it here.
"height and weight": i am 5'1″ and weigh 127 lbs. penny is 29 pounds. randy is 51 pounds. not sure about marshall. we are a healthy family.
"mormon" and "LDS": my family is mormon and they are very active. i was raised and baptized mormon. i do not go to any type of church nor do i practice any organized religion. i stopped going to church at 18. i just think it's important to be a kind, honest person in all paths of life.
"gauged earrings": my ears are stretched to a zero. i buy most of my earrings from peach treats: http://etsy.com/shop/tifthapeach
"fitmixer": i love the stuff! you guys are searching for it like 30 times a day. you can buy it here.
hope that has helped those people who are searching for the answers to those things! and if you ever have a question that you can't find the answer to by creeping on my past posts.. just ask! i am happy to answer anything, any time.
SO.. it's been awhile since i've done the local spotlight. this is a fun way for me to feature local utah bloggers. i have a few lovely ladies to feature today. you don't have to live in utah to enjoy their wonderful blogs!
first up is miles in murray.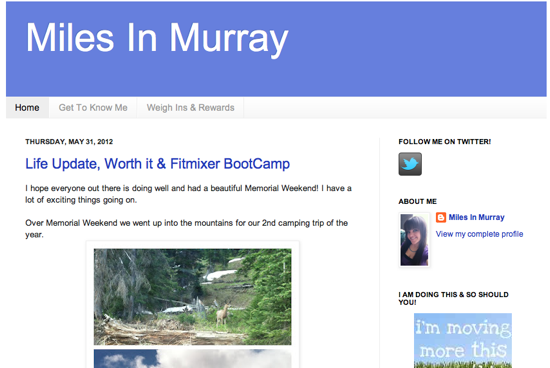 what's your name and where do you live? My name is Tiffani, but I prefer Tiff. I am from Murray, Utah…just a few miles south of the ol' SLC. 

what's your blog all about? I started Miles in Murray to track my running, and fitness goals. However, I lost sight of those goals after an adventurous(and lazy) few months. I am now blogging about dropping my excess weight, battling to get to my goal weight, and my day to day life. With a side of the cutest puppies in the world. 
how long have you been blogging? Miles In Murray was born in January 2011.
what are two NOT TO BE MISSED posts of yours?
finally, what are five things you could NOT live without? My phone, Lip Gloss, Hair Straightener, Coffee, and FRIENDS(The TV Show)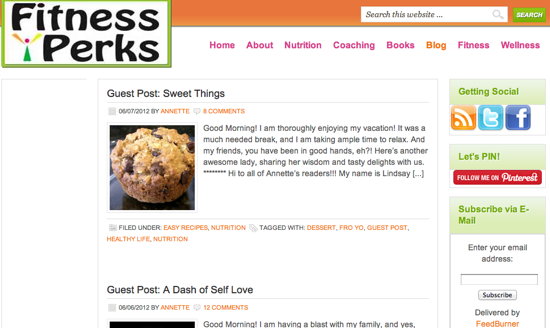 what's your name and where do you live? Annette, Salt Lake City, UTwhat's your blog all about? 
I post about delicious recipes, kick-butt workouts, disordered eating recovery, fitness musings, educational info on all things health and wellness, and much more! I hold my B.S. and M.S. in Exercise Sciences, am a certified wellness & health coach, teach fitness classes all over UT, and I have my very own disordered eating recovery coaching services (Fitness Perks, LLC). I am lucky because my job(s) are exactly what I love to do. It is so incredible to be able to help others achieve their health and wellness goals and improve their lives (and hopefully I inspire others through the blog as I post about those things)!
how long have you been blogging? 1 year 3 months
what are two NOT TO BE MISSED posts of yours?  The True Link Between Body Fat & Protein and Why The Scale Hardly Matters (+ everyone's fav kick-butt workout)
finally, what are five things you could NOT live without? 1. My husband 2. My MacBook Pro 3. teaching BodyPUMP & Zumba 4. my family 5. almonds, Greek yogurt, sweet potatoes, fro yo, and Swiss chocolate :) 
and last, but not least, runnin' late.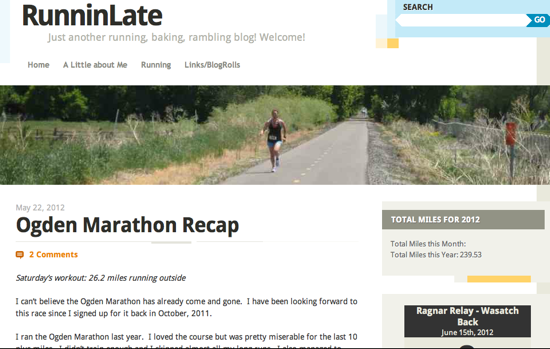 what's your name and where do you live?
My name is Nicole, but my family and friends call me Coley. 
I grew up in Salt Lake City, UT and recently moved to West Haven, UT.  It's been a bit of an adjustment to go from City to Country living.  I miss sidewalks and street lights. 
what's your blog all about? I
My blog is mostly about running.  I also chat about being active and coaching all-star cheerleading.  Every now and then I'll throw in a recipe or random tidbits. 
My blog is where I document my adventures of trying to maintain a healthy active lifestyle.    
how long have you been blogging? I've only been blogging since January of this year.  And, I have to say I LOVE the blogging community.  It's been fun to meet new blogger friends.  I am really hoping Janetha will throw another stellar blog retreat so that I can attend.  Hint hint….  :) (janetha here.. YES! may 2013 for blend retreat!)
what are two NOT TO BE MISSED posts of yours?  
Here are two of my favorite posts/race recaps
http://runninlate.wordpress.com/2012/05/22/ogden-marathon-recap/
http://runninlate.wordpress.com/2012/04/01/antelope-island-buffalo-recap/
finally, what are five things you could NOT live without? 
The Man – read more about him on my blog
The Murphster – the furry love of my life
My blankie – seriously… I am almost thirty and I still sleep with my baby blanket.  I can't believe I am admitting this for everyone to read. Lol
My running shoesgpsipodsportsbras (that's just one… right?!)
My family and friends
************************
thanks to tiff, annette, and coley for participating in the local spotlight! miss some of the past featured bloggers? check out previous spotlights:
if you are a utah blogger and would like to be featured, please shoot me an email. i would love to have you.
in other news.. the utah blogger potluck picnic in the park is OFFICIALLY going to be held on saturday, june 30th at high noon. it will be in liberty park (1300 south 700 east in SLC.) if you want to attend and have not yet contacted me, please do! i will be sending out a mass email in a week or two to finalize everything. i look forward to meeting you all!
have a fabulous weekend! love you all!
Q~
what is the last thing you googled?
xo. janetha g.