hey, friends!
apparently today is national running day, but i didn't celebrate. i don't like to run. and, lucky for me, there was ZERO running in today's GPP workout. thanks, neil.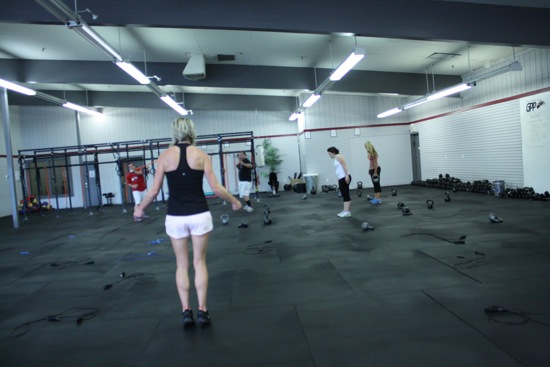 there was a lot of jump roping, though, which was allllmost as fun as running. almost. but really, i had fun doing the side slayer workout.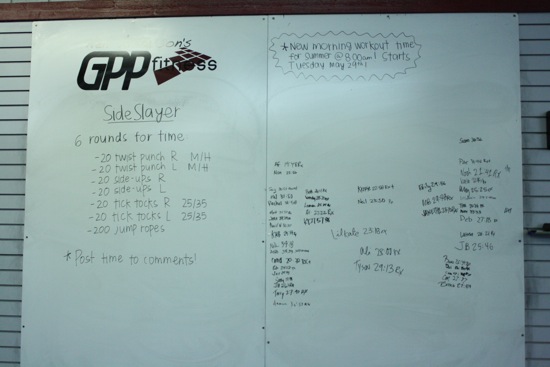 it had a lot of different moves and really hit those obliques! i love doing tick tocks and twist punches.. even though they make me dizzy.. check the post for video demos of those moves. i finished in 23:10 thanks to my workout buddy, lil' kate, pushing me along. you really do work harder when others are there to motivate you. i love it.
i also love that i randomly reconnected with a very, very good friend, monika.  i hadn't seen her in at least five years! she was doing some health scans at GPP (small world!) and we were able to chat after the class.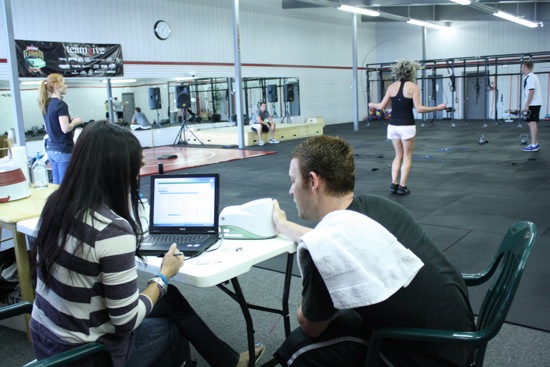 she scanned me–i will talk about that more on another day. i am excited to share what she does with you guys, but i need to learn more first!
i broke in my new le creuset with dinner tonight!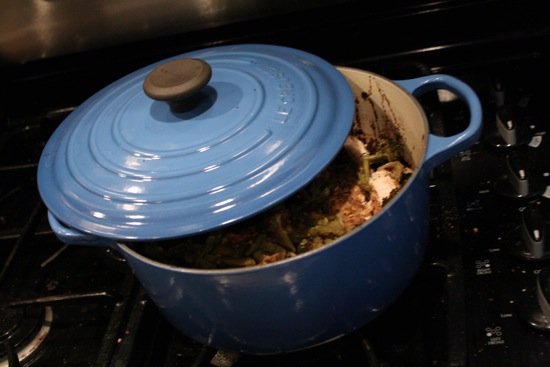 i made up a recipe using chicken, leek, broccoli, asparagus, and two kinds of potatoes.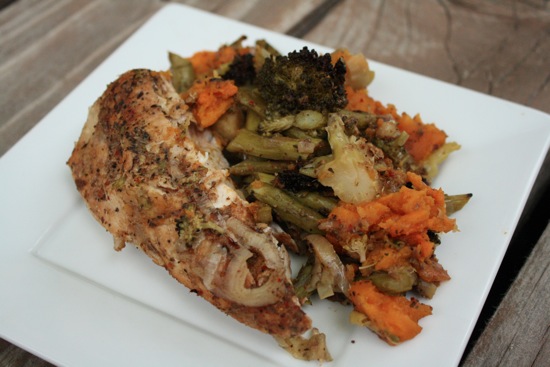 it ended up being delicious (and blogworthy—which is always good, right, ash?) so i will try to type up the recipe sometime soon!
but for now.. i have a list to talk about. the secret is out: i love lists.
my friend and fellow GPPer, ali, recently posted her summer bucket list. i got to thinking about all the things i want to do this summer, and decided to follow her lead and make a bucket list of my own!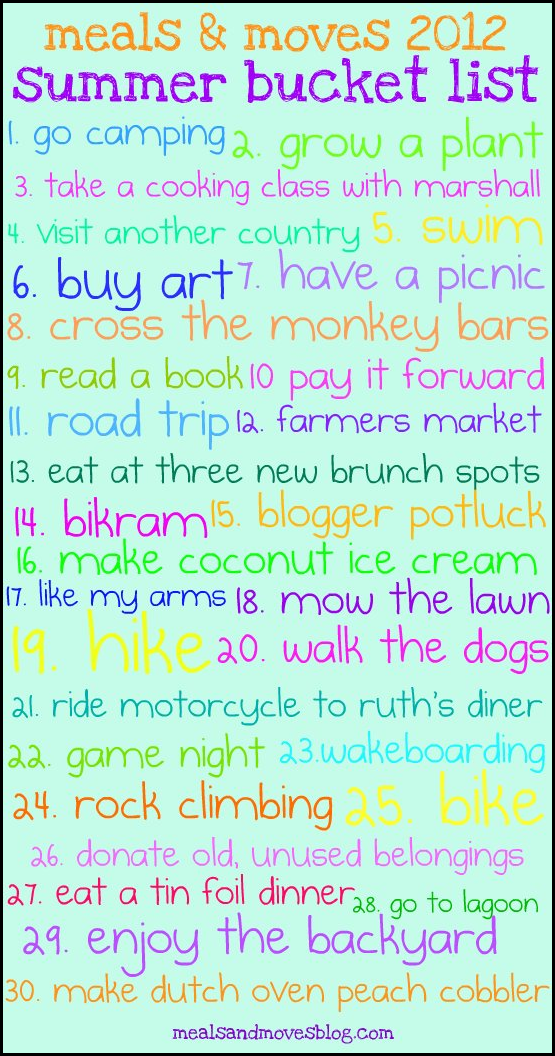 [pinit]
let's talk about it!
1.go camping. we LOVE to camp and enjoy the great outdoors, but last summer we didn't make time for it. i want to head for the hills at least twice this summer. i love everything about camping.. loading up the car, starting a campfire, eating out of the cooler, sleeping in a tent, getting dirty, and—yep—even peeing in a bush. plus, the dogs love it, too!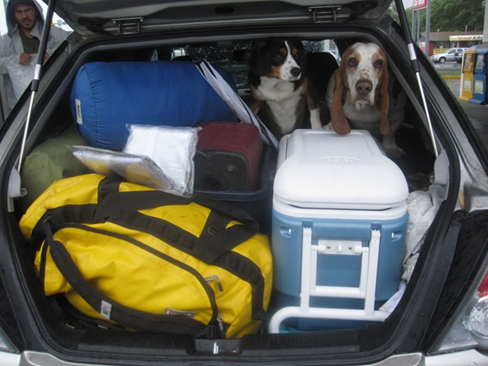 heading to goblin valley, june 2010
2. grow a plant. i kill any and all plants i touch. i don't necessarily want to grow a plant from a seed.. i just want to buy a plant and keep it alive. my thumb is not so green… i need to change that.
3. take a cooking class with marshall. we had a lot of fun taking a cooking class last year and i can't wait to do it again!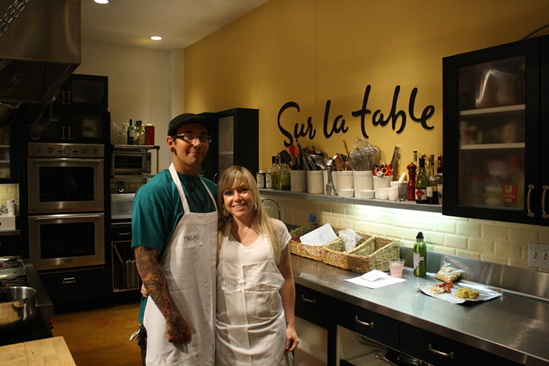 learning to grill, june 2011
4. visit another country. this one will be checked off the list next month when we head to costa rica! cannot wait.
5. swim. or at least spend time at the pool… i thought about it and realized i didn't go swimming ONCE last summer. not ONCE. jessica—i know you go all the time. you better call me and make me go with you!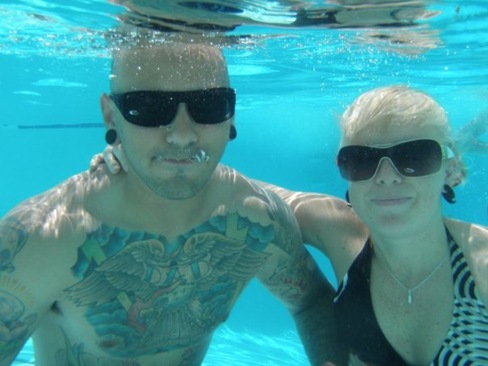 swimming, july 2009
6. buy art. buying artwork for the house is something marshall and i enjoy. hopefully we can find something fun at the arts festival or maybe even in costa rica.
7. have a picnic. complete with basket, blanket, and maybe even ants…
8. cross the monkey bars. okay, this is a big one. actually, this is THE BIGGEST ONE on my whole list. i have never, ever, EVER (in my LIFE) crossed the monkey bars. i can't do it. i promise. i even tried at the dirty dash on saturday.. no dice. i fell. i don't know if it is an upper body strength thing, a coordination thing, or a confidence thing. probably a combo of all three.. and i need to figure out how to nail it. as of right now, i'm convinced i need a miracle for this to happen.
9. read a book. i am not a big book reader. i used to be. not anymore. i did read two and a half books (the millenium series) back at the beginning of the year, then i quit. so my goal for summer is to read one. that's all.. just one.
10. pay it forward. when i am in the starbucks drive through, i try to pay the bill for the person behind me. it's nice.
11. road trip. this one will be marked off the list in a couple weeks! i am going to st. george with kerryne and amanda! can't wait.
12. farmers market. this one will be the easiest! we go almost weekly! it starts this saturday but i'll be out of town. i'm excited to go next weekend, though.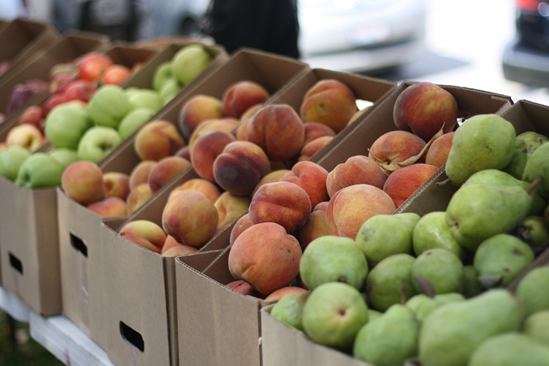 13. eat at three new brunch spots. i have three in mind already! gracie's, em's, and lazy day cafe.
14. bikram. i have not been in over a year! i love bikram and want to get back to going.. i even have a few paid passes to use up, so i really should go!
15. blogger potluck. woo! i cannot wait for the blogger potluck in the park! it is set for june 30th—details to come. if you are a utah blogger and want in on the action, make sure to email me if you haven't yet.
16. make coconut ice cream. i haven't busted out my ice cream maker yet this year! i really enjoy eating coconut ice cream and order it whenever i see it available, so i'd like to try my hand at making it.
17. like my arms. yeah. i hate my arms. hate 'em. they are big and bulky and blah. we all have hangups on our bodies.. and my hangup is on my darn arms. i need to learn to like them. at least a little bit… working on it.
18. mow the lawn. i have never mowed our lawn. i've mowed lawns in the past.. maybe twice or three times in my life. but never at mine and marshall's place. he's the lawn mower. i need to step to the plate and take a turn or two!
19. hike. i love hiking! living in utah, there are hikes everywhere. beautiful ones. and i plan to take lots of them this summer.
20. walk the dogs. i'll be the first to admit that we are lazy dog owners. our dogs go to daycare all day and then laze around on the couch with us at night. they don't get a lot of walks in. one of the things i love to do with marshall, penny, and randy is walk to the nearby park and play together.
21. ride motorcycle to ruth's diner. i love ruth's diner sooo much! when marshall bought his motorcycle, i instantly thought of how great it will be to ride it to sunday brunch at ruth's up emigration canyon.
22. game night. i have been wanting to host a game night with friends since february! this summer i WILL make it happen. games are fun.
23. wakeboarding. this one may be hard to check off the list since i don't have a boat… so if anyone in utah could invite me to go wakeboarding this summer, that would be fab. please and thanks.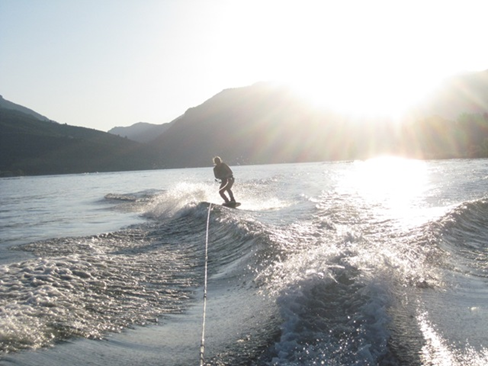 wakeboarding, august 2009
24. rock climbing. when i picked up our packets for the dirty dash last week, i saw this HUGE indoor rock climbing area. it was dope. i told marshall that we MUST go. and we will! this summer!
25. bike. i have already done some biking this season, but i plan to do lots more. i love riding my bike.
riding bikes, june 2008
26. donate old, unused belongings. ahhH! must. purge. things. i have way too much crap for my own good! it's bugging me.
27. eat a tin foil dinner. yum. this will happen when i go camping (see #1) but it should also happen at home. they can easily be made on the grill… or maybe we should just build a fire pit in the backyard!
28. go to lagoon. lagoon is an amusement park here in utah. it's what fun is. no, really, that is their slogan! and we just so happen to be having a company lagoon day in july, so this one will be marked off when we go!
29. enjoy the backyard. our backyard sucks. it is covered with overgrown weeds and dead grass. we don't like to hang out back there. marshall made a few suggestions about starting a garden or making a cement patio with a fire pit (yay, see #27)—whatever we decide will be better than what we have now! we are getting zero use out of the backyard and that's lame.
30. make dutch oven peach cobbler. yesss.. i got that le creuset dutch oven for my birthday, and as soon as i swoop some fresh peaches up (see #12) you better believe i will be making my mom's peach cobbler in that baby!
and there it is.. my summer bucket list. let the fun begin!
Q~ what's on your 2012 summer bucket list? p.s. if you do a post about your bucket list, please let me know so i can link back!
xo. janetha g.