hey, guys! how was your tuesday?
mine started out bright and early—but not as bright and early as i'd aimed for. i wanted to get off work a little early today, so i set my alarm to make it to the 5:45 AM class at GPP. well, the alarms (yes, i set three) went off, 5:45 came and went, and i rolled out of bed at 6:09—barely making it to the 6:30 class. but the important part is that i made it!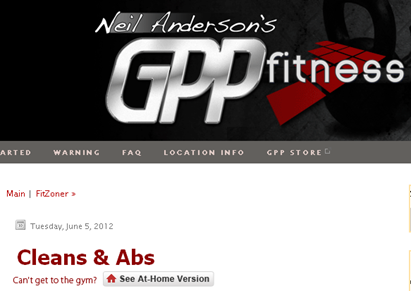 today's workout was challenging in the strength department—it was called cleans & abs and it was just what it sounds like. power cleans with some ab work thrown in. i paired up with a couple lovely ladies and pounded out the sets called for, maxing out at 95#. it was tough, but fun. i am amazed at the ladies who are cleaning 125+ pounds for multiple reps. candice is one of those ladies. she's such an inspiration!
after GPP it was off to work for a fun-filled day at the office. another day, another dollar.. right? at least this week is only a three day work week and then i'm off to oregon. yes, it's on a work trip, but it won't be too much actual work. thanks to all of you who made great suggestions for things to do while in hood river!
after work i had big plans with the girls! specifically my mom, sister suni, and sister in law lindsay.  we had a belated mother's day celebration! momma b treated us to pedicures and dinner. she's so generous!
well, almost everyone got pedicures. i'd made a 4:45 appointment for the four of us, but they were overbooked and understaffed, so i ended up waiting in the chair for a solid hour! the other three were finished with their pedicures (and ready to go eat dinner!) before they even had a technician available to start my pedicure. i said forget it and we peaced out of there. i was slightly annoyed, but sometimes that's just life.
we headed to gourmandise for dinner.  gourmandise is a bakery right downtown that not only has fantastic baked goods—but delicious soups, salads, and sandwiches, too. i have been there several times and it never lets me down.  i love everything they make—from savory to sweet. i even served their tiramisu at the rehearsal dinner before my wedding!
we started with the goat cheese crostini which was topped with caramelized pears and pecans. it was the perfect combination of savory and sweet.
plus, there were four slices and there were four of us! meant to be.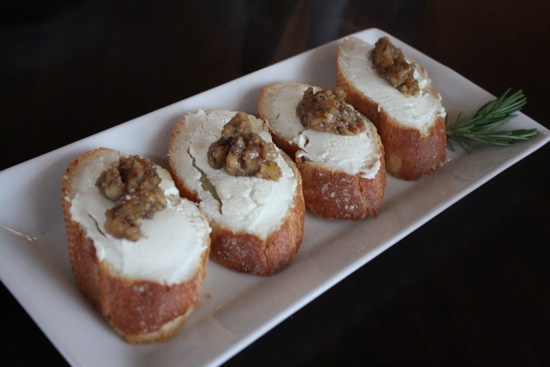 for my entree i selected the cobb salad which was piled high with avocado, herb-roasted chicken breast, crumbled bacon, hard boiled eggs, tomato, cucumber, and bleu cheese. it came with a french vinaigrette dressing and a whole wheat roll.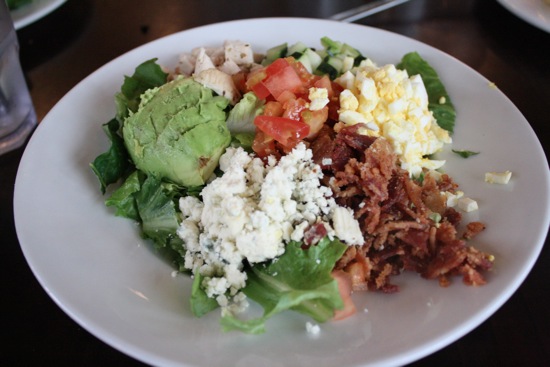 after dinner i snagged marshall some dinner and tiramisu to go and raced home so the poor boy didn't starve to death. (i kid–he can fend for himself, but gourmandise has tasty food!)
and now for my second G–goals! today i wrote a blog post over on the fitmixer bootcamp site (it's private) because we had some homework. our leader, candice, wanted us to set some short- and long-term goals. if you have been reading my blog for awhile, you know i used to be a MAJOR goal setter. i would set a long list of goals each and every month. i am still a very goal-oriented person.. i just don't hold myself to it as much. i also don't write goals down all the time.
i put my thinking cap on and listed some of my goals–both small and large–and i like what i came up with. i thought i would share my lists with all of you! side note–there is proper capitalization on the lists because i promise i type like a normal person outside of my blog ;)
Short-term goals:
Drink 1 gallon of water daily. Match any other beverages consumed ounce-for-ounce with extra water. (So if I have 12 oz of coffee, I have to drink my gallon plus 12 oz of water.)
Get 7 hours of sleep each night. I am usually eeking by with 5 or 6. 8 is ideal, but I will settle with 7.
No mindless snacking when I walk in the door from work. I know we all have that time of day where our snacking is out of control. For some it's before bed, for others it's mid-afternoon. For me it's when I walk in the door from work right around 5PM. At this time I have usually had a snack and it's not quite dinnertime. I won't be hungry AT ALL as I drive home from work, but right when I walk in the door I suddenly feel like I haven't eaten in WEEKS and grab anything I can get my hands on. It's ridiculous and unnecessary. I am going to try chewing gum to stop myself from these snack attacks. Now that I work out in the mornings, this is even worse with so much spare time between when I get home and when I eat dinner!
Long-term goals:
Cut out GMOs from my diet. My husband suggested this and I agree–it's a good goal.
Be happy with my arms (they are my body part I am not a fan of–we all have one!)
Cross the monkey bars.. I have NEVER in my life done this and I have the Tough Mudder in October, scary!
Become a personal trainer/certify to be one.
Take courses to become an RD or at least certified to give some sort of nutritional advice to people. I want to be legit.
you may notice i didn't have any goals on there about weight.  this is because I truly think the number on the scale is a joke after my body fat composition test the other day. well, i already thought it was a joke, but the results from last thursday only drove that thought home further. i weigh more now than i did 4 years ago when i was in the moderately overweight category. the difference now? i have more muscle.. so i weigh more. but i am smaller, tighter, fitter, and happier.
my third and final G is great news!
THAT'S FREAKING RIGHT!!!! trader joe's has officially announced they will be in salt lake city before the end of the year! i am beyond thrilled. i am that girl who takes an extra suitcase to california specifically to tote goods home from trader joe's. and i am always longing for the perishable goods that i can't take home with me. i absolutely, positively cannot put my excitement into words. and yes, i am this excited over a grocery store. it's a big deal, folks.
whelp, those are my 3 Gs for the night.. well.. ACTUALLY, if you count GPP and gourmandise, that's FIVE Gs! you guys know i love alliteration and lists, so this post was a win in my book.
Qs~
1. what are your goals–either short- or long-term? or both!
2. if you could have an endless gift card to ANY store, what store would you pick?xo. janetha g.