today was my last day as a 28 year old! i really packed a lot in to today. grab a snack, this could get lengthy.
things kicked off bright and early when i woke up at 5:30 AM. i cleaned up, threw on my tight-fitting clothing (compression shorts and a sports bra), and headed to peak academy at the university of utah. we had our body composition testing appointments at 7 o'clock, sharp!
not gonna lie, i was a little leery of getting my body fat checked. it had been nearly two and a half years since i weighed myself (and actually knew my weight—the zero scale doesn't count.) i don't know why i have such a weird feeling about knowing my weight, but i do. i don't want it to have an influence on my mood and i truly believe it doesn't matter (as long as i am not too light or too heavy—as in danger zones) so i always preferred not to know. marshall wanted to see where his body fat percentage was (to make sure he's within a healthy range) so i agreed to go with him today.
the bod pod testing is speedy. in less than fifteen minutes we were both done with the whole process!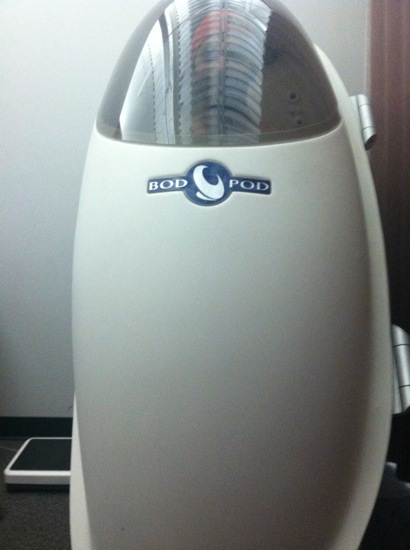 there is a chart that breaks down the percentages into categories ranging from risky (too little fat) to risky (too much fat.)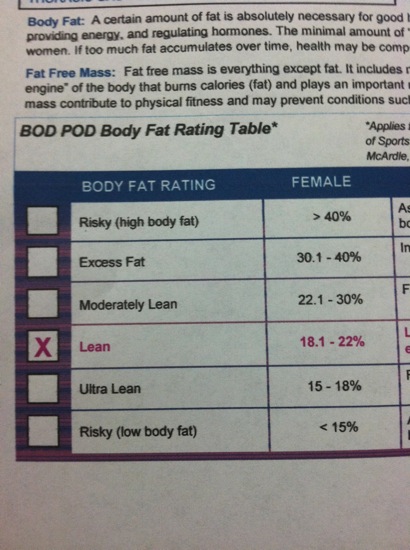 when i got my printout i was happy to see my results—i am at the very top of the "lean" category with 21.9% body fat.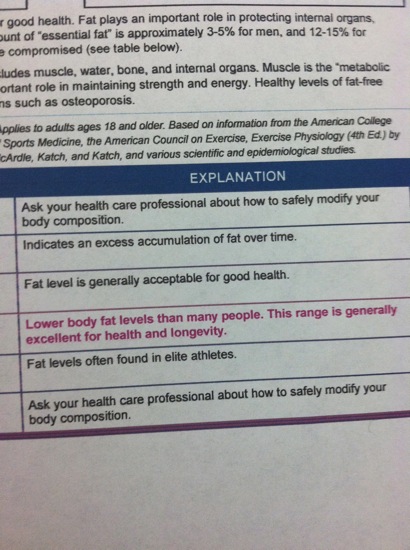 marshall also falls into the "lean" category at 9.1%—the male chart is much different than the female one!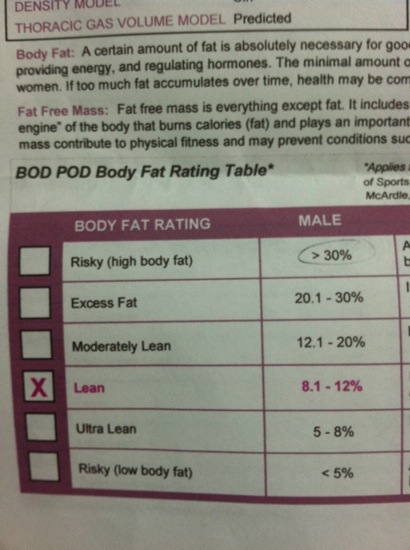 i don't know if i will get my body composition tested again any time soon, but it's comforting to know that i am in a healthy range—not too much fat, not too little.  i haven't been doing anything extreme to get to where i am today, so it's nice to know that i have been maintaining this range easily with 75% clean eating and 5-6 workouts a week.
after the bod pod it was back home to pick up the pups for daycare and to change–ready to face my last day of 28!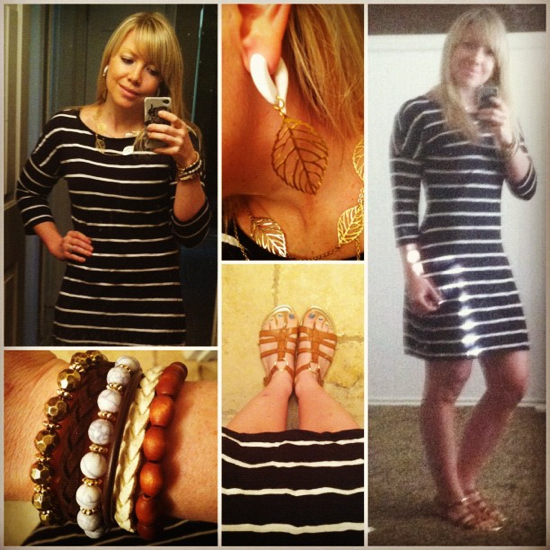 after i dropped the dogs at daycare it was off to work for some of the daily grind. i got a lot done in the first few hours at my office which made lunchtime come quickly. time always flies when i am busy with work things. around 11 i headed to caffe niche with my bosses and co-workers for a pre-birthday lunch. forgive me–i only had my iPhone so the photos are a little rough.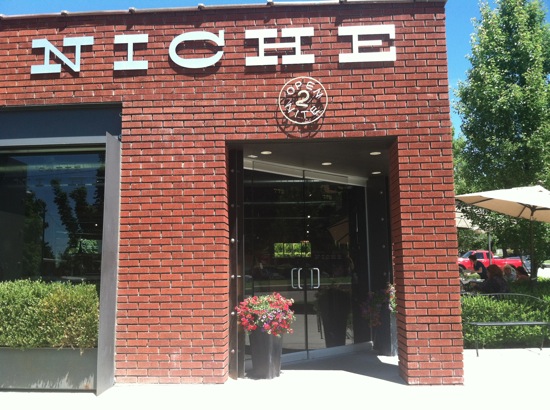 i have had caffe niche on my "must try" list for quite some time now, so i was stoked to finally dine there today. it was a GORGEOUS day, so we sat outside! the menu was packed with so many mouth watering options, it was hard to choose. i finally settled on the thai steak salad but told everyone that i got to try a bite of their meals!!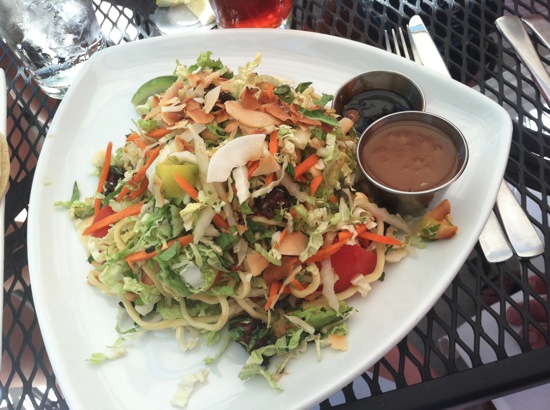 thai marinated hanger steak, noodles, fresh herbs, napa cabbage, toasted coconut, mangoes, avocados, tomatoes, peanuts and thai dressing
kerryne and amanda both ordered the mahi tacos.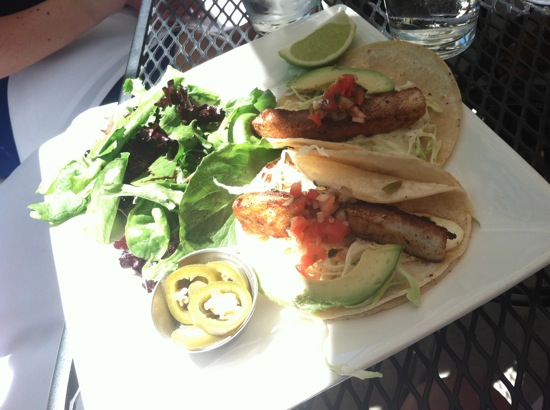 blackened fillet, local corn tortillas, cabbage, pico de gallo, and cilantro lime aioli
i stole a bite of sim's fish sandwich—this is what i almost ordered.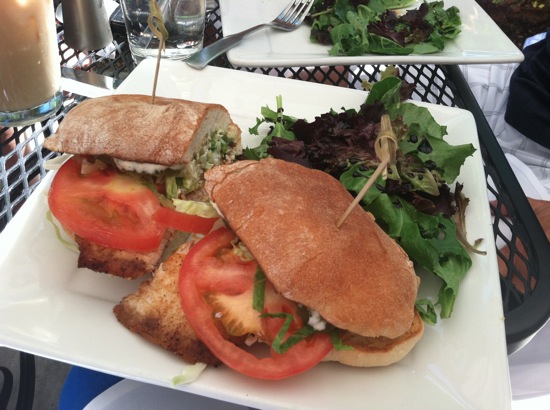 sautéed cajun-seasoned mahi, lettuce, pickles, tomato, red onion, remoulade, ciabatta
my boss, craig, had the elk burger. after tasting it i decided that it is FOR SURE what i will be ordering next time. no doubt about it. so good.
we had to have some dessert! the grapefruit brûlée was unique because it came in a bowl of spun sugar. sim wasn't a huge fan, though, and sent it back and got a HUGE, warm oatmeal cookie instead. it was delicious. i had several bites.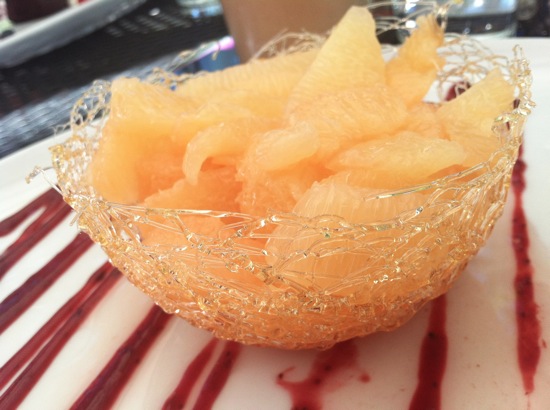 crystal had the chocolate decadence with fresh berries and whipped cream. it was so rich! (mom, you would have loved it!) i also loved the presentation.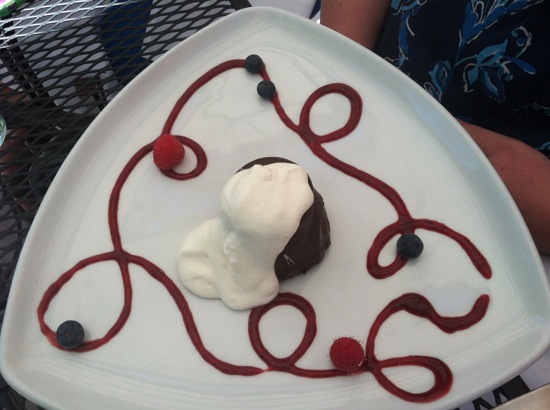 we shared the pastel borracho–a tres leche cake with a hint of rum, whipped cream, toasted coconut, and raspberries.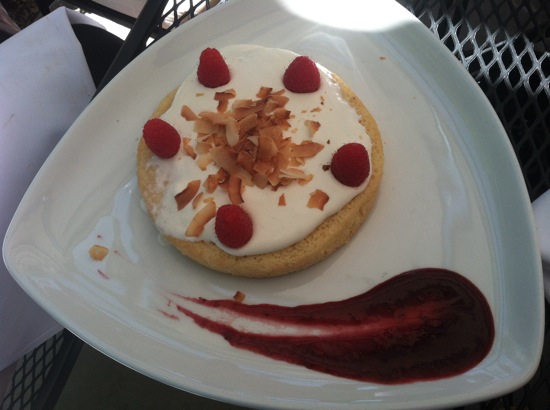 IT WAS SO FREAKING GOOD.
we were so freaking full.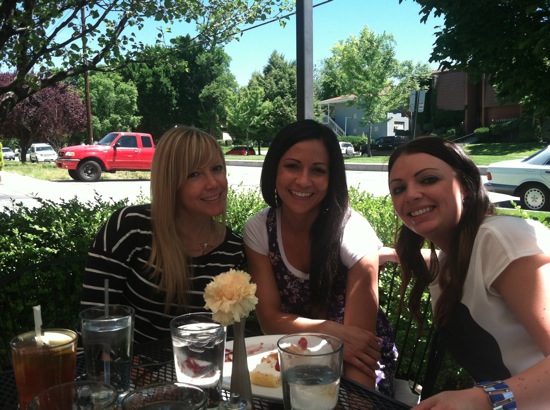 it was a perfect pre-birthday lunch.
after work i had to race out to draper to pick up our team bibs for the dirty dash! the race is on saturday.. super pumped!!!! the sloppy hoes will be getting dirty this weekend!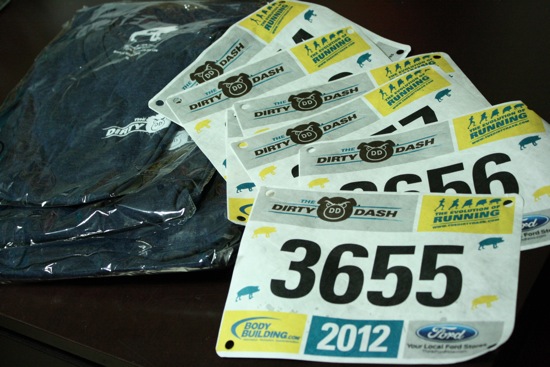 on my way back, i ended up stuck in traffic for an hour! there was an accident. i was on my way to meet shannon for a hike, so i left her hanging for quite awhile. sorry, shannon!  i eventually made it to millcreek canyon and we hiked the pipeline trail with penny and randy. they are great hikers! not very great photo posers, though.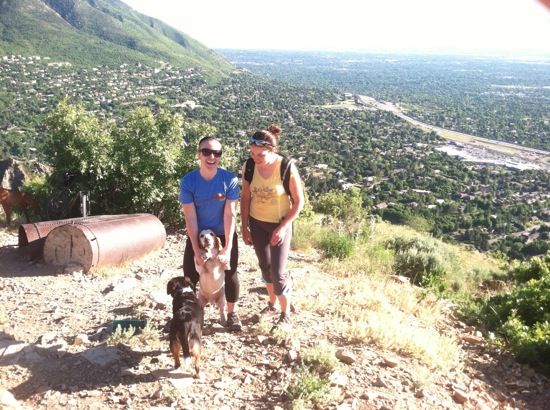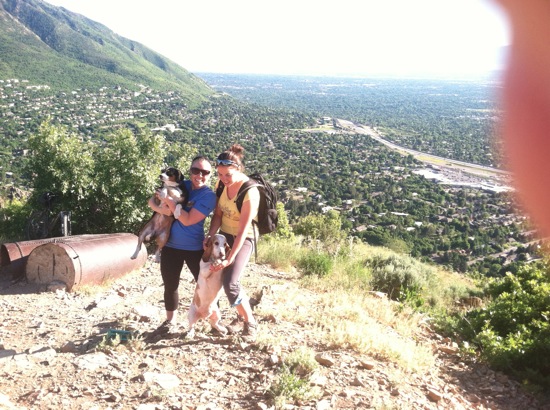 we tried.
it was so fun to finally meet shannon in person after reading her blog for almost three years. we had a good time on the hike! and it also counted as my workout for the day–bonus. i think it was around 5 or 6 miles round trip.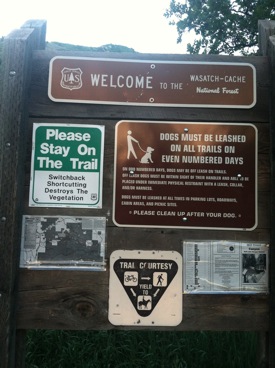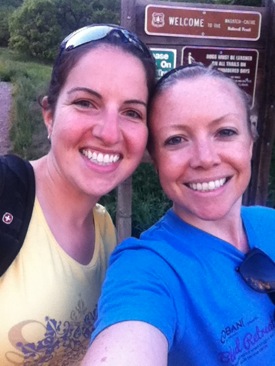 i came home to a couple of fun packages–thanks to chobani and the laughing cow for the fun stuff!
chobani sent all the blend attendees a custom case! i got a mix of strawberry banana, pineapple, mango, and black cherry.
the laughing cow sent me some bagels and a few of their new cream cheeses to try out. the pack also came with an insulated lunch bag (that will come in handy!) and a special gift–OWL PLATES!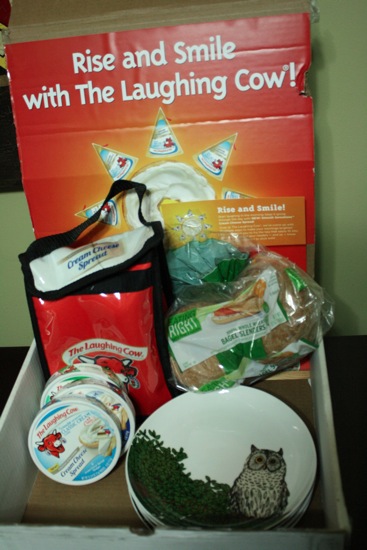 they saw on my pinterest board that i love owls and wanted to personalize the package a bit. thanks, guys! what a fun surprise. i had requested them not to send the strawberry or cinnamon cream cheeses because they contain aspartame, but the plain and garden varieties do not. i look forward to trying them out.
i looked at the clock and realized it was 10 minutes past eight–  i was late for my fitmixer bootcamp conference call! i quickly tuned in and had a nice discussion with all the lovely bootcamp ladies. we talked about how to avoid over-eating at night, the importance of challenging our bodies to new types of movement, and how to genuinely enjoy chocolate lava cake. it was a great call!!
the call was over at 9 PM, so i figured i better get started on making dinner. marshall was just getting home from the gym and suggested spaghetti–something we have almost as often as tacos. we love it! i especially love it because marshall is really good at making spaghetti sauce, so i can turn the kitchen over to him to take charge. ow, ow!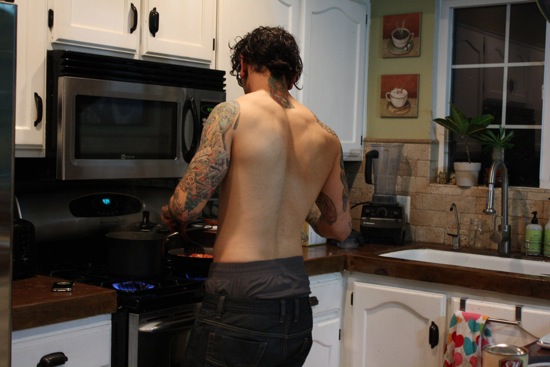 and that, my friends, is where i am right now. about to eat some dinner with that guy–my last meal of the young age of 28! ready to face my 29th year tomorrow.
have a FABULOUS first day of june!!
xo. janetha g.