hey guys!
hope your wednesday has been fabulous. i have had a real busy day, but in a good way. i have been really productive both at work and at home!
since it's a short work week, i have to cram everything from payroll to payables into a shorter time frame. the fact that i am going to lunch with my bosses & co-workers tomorrow for my birthday and again with my mom on friday (which is my actual birthday) only adds to the time crunch and doesn't leave me a lot of time for actual work. not that i'm complaining! just sayin'.
i had a few personal appointments tonight–one with my mom and one with my sister–so between those appointments, work, and my workout, i feel like i have been on the go all day. as a result, this post will be on the snappy side.

today's meals were a typical page out of my book—protein shake for breakfast, a big salad with my latest favorite sesame ginger dressing & pita bread for lunch, snacks consisting of greek yogurt, peppered turkey, carrots, honeycrisp apple slices, trail mix, and rice cakes with sunbutter (NOT all together–that would taste weird…) and to top it all off, we had one of our favorite dinners that we have almost weekly: tacos!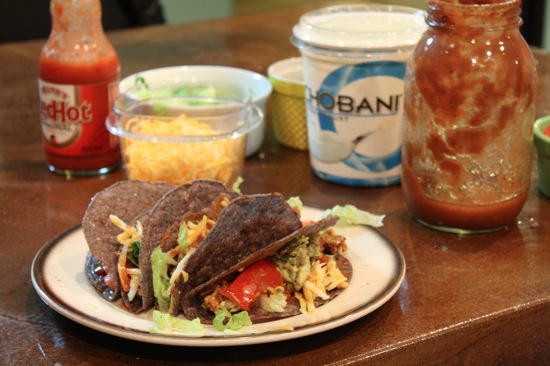 wanna know what time we ate dinner tonight? 10:07 PM. yep. busy day. i'll still make time for dessert, though. i always have to end with something sweet.

today's moves were also typical! after work i swooped up the pups from daycare. i dropped them off at home, changed my clothes, and headed to GPP for this fun lower body tabata workout. it was intense! i was happy it was focused on lower body, though, because my whole upper body has DOMS from monday's & tuesday's workouts. the tabata workout was fun–i think i groaned and sighed super loud after a few of the rounds. that's a sure sign i was giving it my all, right??
i have been doing my fitmixer bootcamp workouts every so often–just not every day. i know i haven't mentioned the bootcamp lately, but i am still going strong!  it is week 3 of the 12-week bootcamp. i haven't been calorie counting too much, but i am keeping my meals clean and getting a workout in six times a week.
sometimes i do the GPP workout, other times i do the fitmixer workout.  there have been a couple occasions where have done both—i opt to do this only if the two workouts combined aren't overkill. like the other day—the GPP workout was lots of strength training moves with some cardio thanks to the quick-paced setup, but the fitmixer workout i did was full of slow, controlled core work—something i have quickly realized i need in my life.
i actually did a workout last night that focused on balance and flexibility and it was EXTREMELY humbling. i lack in those areas! robin (the fitmixer trainer) makes these sort of things look easy…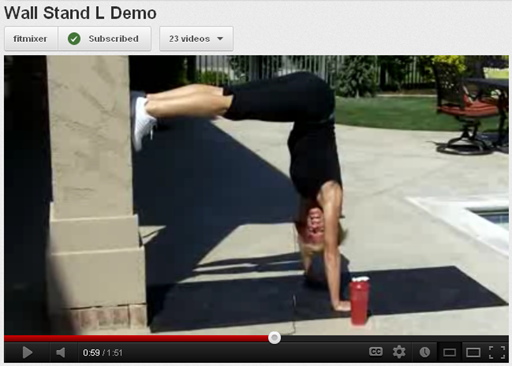 source: fitmixer.com
…but they are NOT easy for me. not at all. when my abilities are put to the test and i can't do half of the things on the workout, it's a wake up call. i am excited to give the workouts my best effort and eventually excel in the areas where i lack. i will be able to touch my toes AND do a handstand SOMEDAY. just not today.
a couple things before i get to the giveaway i mentioned in the title…
wasatch back ragnar spot
my sister is trying to sell her spot for the wasatch back—she can't do it anymore. she is runner 6 on an all-female team. registration is $105. if you are interested in taking her spot or know someone who may be, please contact me!
blogger potluck picnic in the park
i want to meet all the utah bloggers!
i attended a blogger potluck picnic when i was in LA and it was SO fun. i want to bring that fun to utah.
i am organizing a potluck! here are the details:
who's invited: any local utah bloggers AND blog readers–no, you do not have to have a blog to come!
date & time: june 30th at high noon (i've always wanted to say "high noon"–it sounds so much cooler than just noon. yes, i'm weird.)
location: it will be either liberty park or sugarhouse park in SLC–to be announced. leaning toward liberty, there are more tables there.
what to bring: a dish to share—anything goes! salad, side dish, dessert, main dish, small bite, big bite, whatever! also, bring your own beverage. bring your camera, too! and your kids, dog, husband, mom, or dinosaur.
i will supply: plates, utensils, and napkins
RSVP: if you want to come, please email me (mealsandmoves at gmail.com) to RSVP. i will add you to the email to send out all the final details including a list of who is going! we can get a group email going so we all know who is bringing what!
also, spread the word! i know a lot of local bloggers don't read my blog, so if you want to blog about this potluck, please do! i would love to make this a regular thing—maybe every three months or so.
okay, onto the giveaway!
remember a couple weeks ago when i told you about my love for norwex products? well, guess what? meals & moves reader, angie, happens to sell norwex products! and she has generously offered up a giveaway to all of you guys! so rad—love this community.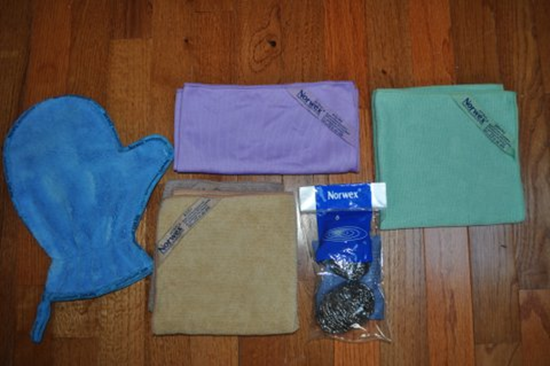 one winner will recieve this awesome norwex starter kit!
here's what you'll get–in angle's words:
Enviro Cloth:  Multipurpose cloth that is good for everyday use.  Can use wet or dry all over your home, work, car etc.  I use this cloth ALL over my house and keep one in my purse and car.
Window/Polishing cloth:  For mirrors, windows, glass, jewelry or any surface you want to have a streak free shine.  I like to clean the surface with the damp enviro cloth first and then dry/polish with this cloth.  Works wonders!  Cleaning windows has never been so easy!
Dusting mitt:  Works great though the whole house but I especially love it for screens, blinds, and ceiling fans.
Body Pack:  (Set of 3)  These remove dirt, oil, and make up from your face as well as give it a gentle exfoliation.  They are perfect for your whole body and are great for kids and pets as well!
Spirinett: (Set of 2) These stainless steel scrubbers are super durable and long-lasting.  Can remove dried or burnt on food from pots and pans amazingly well.  Many people also love them for hard to remove dirt, grime and stains in other areas of the kitchen as well as the bathroom-even the bathtub!
also, included in the package she will have some more detailed information about how and where to use the products and how to clean and care for them.
i will randomly pick a commenter from this post on friday (woo, my birthday!)
also, if you are interested in purchasing norwex items, check out angie's site! you can also email her at any time if you have questions: angiewollan@gmail.com
well, i better head to bed. i am getting my body fat tested with marshall at 7 AM, which means we have to leave the house around 6:30! yikes, that's super early.
oh! and i have a fun hiking date with this girl tomorrow after work—she is in town on vacation and i am SUPER excited to meet her! and she is excited to meet my pups!
have a good one!
xo. janetha g.