hi, guys!
right now i am eating way more trader joe's tempting trail mix than any human should eat (1/4 cup = a serving, my eye!)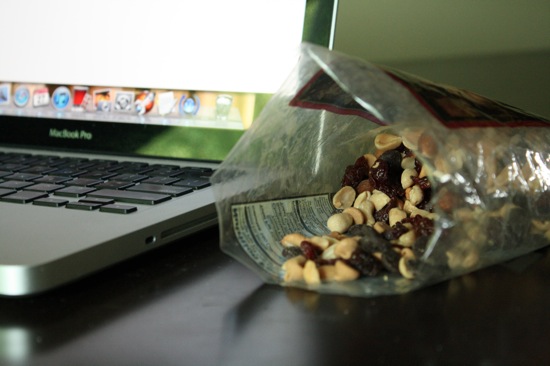 and my two furry friends are at my feet in their "cave"–they love to hang out under the table.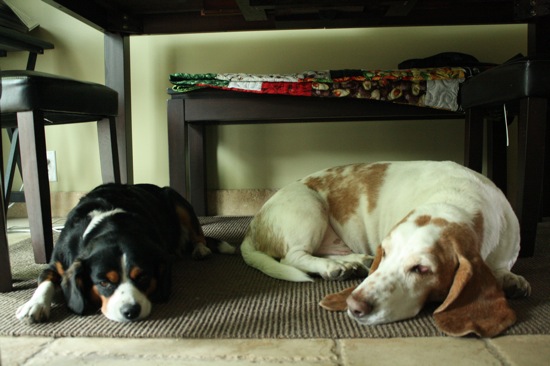 it's sunday afternoon and i thought i would check in since absolutely nothing is going on. no, really. nothing. this has turned out to be the laziest weekend ever–and i am not complaining a bit. it's nice to not have a weekend jam-packed with plans. we have done a few things, but the majority of the weekend has been spent at home.. in bed.. in the kitchen.. or on the couch. lazy days. tomorrow looks just as lazy. it's been raining and cold all weekend, so that gives me a good reason to stay inside and laze around all day. at least that's what i am telling myself.
yesterday was a little less lazy than today. i started my morning at the 8:45 GPP class with kerryne. i know–8:45 on a saturday morning?! who am i?? but i actually had popped out of bed around 7:30 because i went to bed early on friday night and i guess i'm just not used to getting a lot of sleep. i took advantage of the situation and got my workout done early.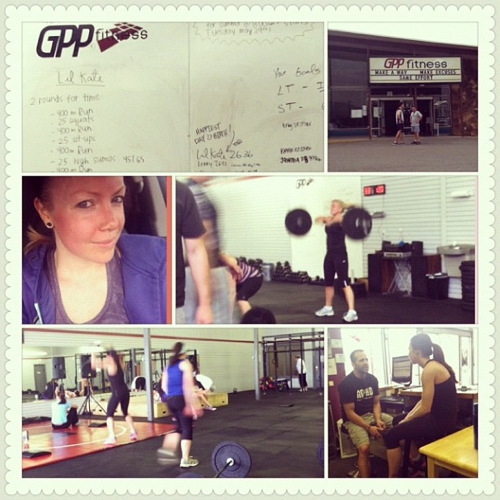 yesterday's workout was called lil' kate because it was lil' kate's birthday! happy birthday, girl!! kate works at GPP and i have had the pleasure of working out with her a few times. she is strong, dedicated, and inspiring. she also likes to run.. so the workout had lots of running. ew. i told neil that my birthday is on friday, so the workout better not have ANY running. ha. i don't love it. but i do love how i feel afterward, so i guess it's good for me every once in awhile.
after my workout i cleaned up quickly so marshall and i could check out a new spot for brunch.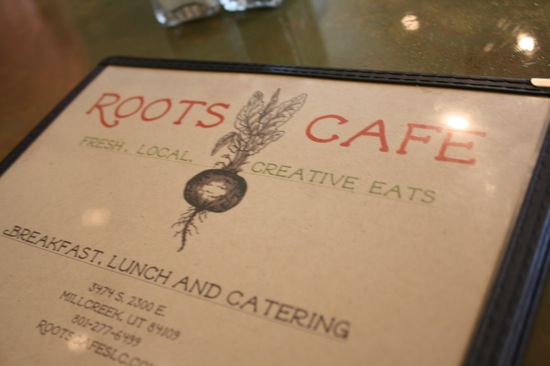 my blog friend/reader suzanne had suggested i try  roots cafe. it's in millcreek and i have absolutely NO idea how i never knew about it before! i thought i was hip to all the hot brunch spots in SLC–guess not!  roots cafe is open for breakfast and lunch, but on the weekend they serve breakfast until 3.  their menu consists of delicious, locally sourced cuisine, specialty coffee and tea, and fresh pressed juices.  marshall and i are all about breakfast food, so we flipped right to that section when we sat down. the breakfast menu is full of all my favorites–huevos rancheros, eggs benedict, and german pancakes. it was hard to decide!
we had fresh orange juice while looking over the menu.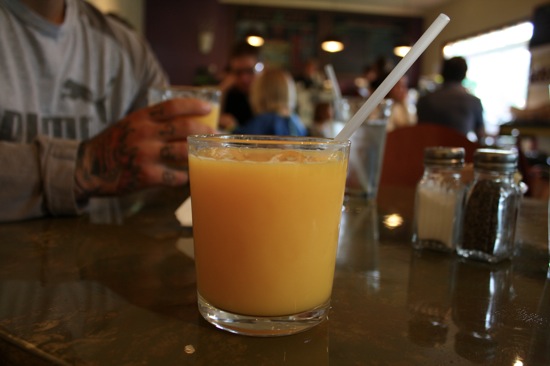 originally i was planning to order the eggs benedict because i'd been salivating over the description when i read the menu online the other day, but then i saw they had a wide selection of omelets that weren't on the online menu. i made a last minute decision and ended up ordering one of them. all omelets came with the tasty house potatoes and toast.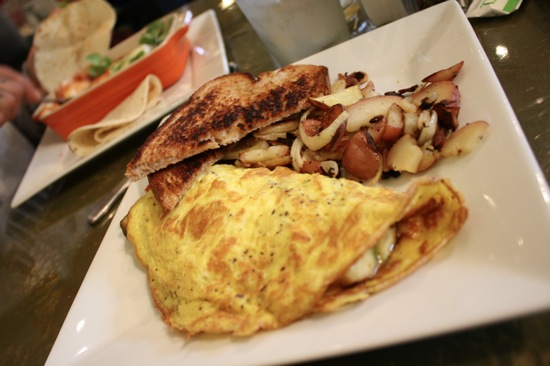 i ordered the garden omelet which was made with three farm fresh eggs and filled with lots of melted cheddar, onion, grilled asparagus, zucchini, yellow squash, red bell pepper, and portabella mushroom.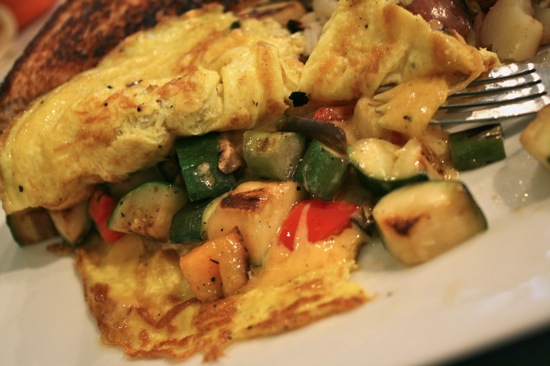 this omelet was incredible. i never make omelets filled with so many veggies at home because it's not very practical to chop up 1/5 of a zucchini or grill two pieces of asparagus–know what i mean?
marshall had the huevos rancheros (over hard) and really enjoyed them.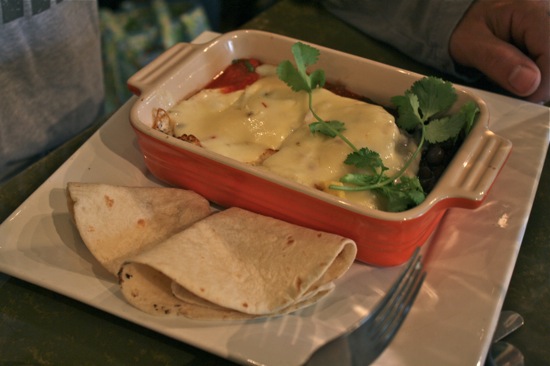 i enjoyed that they came in a mini le creuset casserole dish. what a cute touch! i will say this–marshall's meal was on the small side and he was still hungry when he finished. delicious–no doubt–but the portion could have been bigger.
as we were leaving we ordered some fresh juice to go. there aren't many places in SLC that offer fresh juice, so i make sure to snag one whenever i see it on the menu.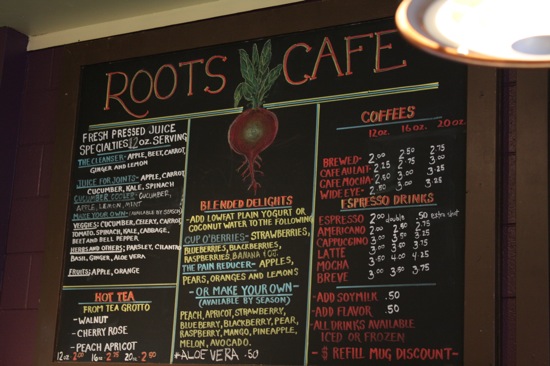 i ordered a juice made with beets, apples, carrots, cucumber, and lemon.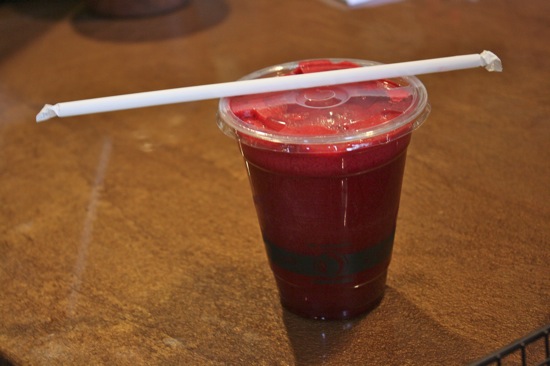 i LOVE beet juice. yes, it tastes kind of like dirt, but in a good way. i wish i wasn't so lazy because i'd definitely make beet juice at home. there's no denying that beets take more effort to juice than something like apples or carrots. so for now, i will have to resort to buying beet juice at overpriced juice bars.
the rest of the saturday was spent at home watching reruns of the family feud. we lead a wild life, folks. we can't be tamed.
you'd think after such a crazy night we wouldn't be able to pull ourselves out of bed until well past noon, but there was a very special event going on this morning! marshall's dad, michael, was celebrating his EIGHTEEN YEARS of sobriety.  we headed to the alcoholics anonymous meeting this morning to offer our support and congratulations. i didn't take any photos at the meeting because that would have been weird, but i did find this classic three-generation photo in my archives! marshall, his dad, and his dad's dad (at my SIL's wedding.)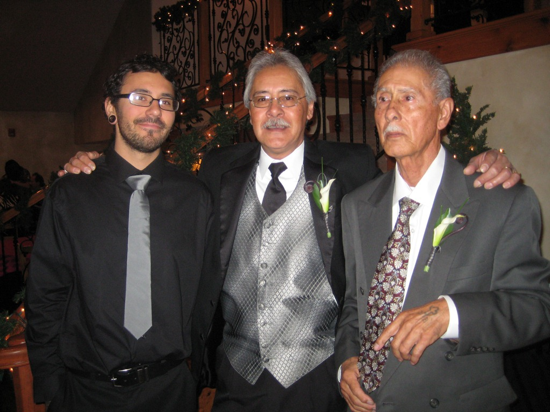 congratulations, michael, you are an amazing man and father!!
that was our excitement for the day.. and now it's back to the couch. although i may attempt to head to a concert with kristen here in a few hours. of monsters and men is playing downtown tonight. i haven't heard many of their songs, but i do like what i have heard. sounds like a good time!
enjoy the rest of your weekend!
xo. janetha g.