hey guys! i have the specialist of the specials post for you today! my best friend, kristen, is guest posting!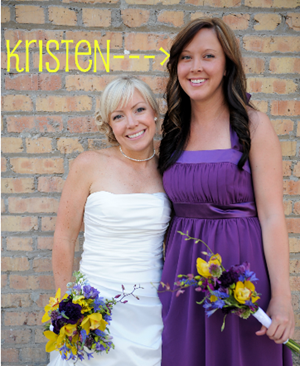 she recently completed jamie eason's livefit 12 week trainer and had stellar results. i begged her to write a post about her experience, and she agreed. that's what friends are for, right?
before i turn the time over, i have to say i am SO proud of kristen. she is one of the hardest working people i know. she is a physical therapist at the hospital and is on her feet all day. her job is physically and mentally taxing. she takes care of three rambunctious pups and one rambunctious boyfriend (well, i dunno if he is, i am just saying that…) and she STILL managed to find the time to dedicate 12 weeks to healthy meal planning, eating, and exercise. i did livefit but i did NOT follow the diet. it was too hard for me! i know that it takes a LOT to stay dedicated to any fitness program, and livefit is no exception. when kris told me she wanted to do livefit and do it by-the-book, i was thrilled. every time i checked in with her i was inspired by her determination, hard work, and progress. what can i say, she's amazing. and i love her.
here she is!!
**********************************
Hey everyone! I recently completed Jamie Eason's LiveFit program and Janetha asked me to write a guest post on my experience. So here goes…
I was feeling completely disgusting and fat and gross and tired and lethargic and depressed and so on and so on. I recognized that it was affecting my attitude and the people closest to me. I decided to do something about it. I talked to my Bestie, Janetha, because as you all know she knows her shit on making healthy changes. She suggested the LiveFit program and sent me the link. I then did what any normal person would do and waited until the holidays, my birthday, Valentine's Day, and my boyfriend's birthday passed, before I got ready to start the program! I said from day 1, that I was going to follow it completely and really dedicate myself to the program. I talked to Rory, my boyfriend, beforehand and told him that I would need his support during the whole 12 weeks. I asked him to not tempt me with unhealthy food and not bring any negativity to the situation. He agreed as long as he could take pictures of me ;) Of course he would offer that. Just like any good boyfriend would do! He was completely on my side throughout the program, encouraged me when I didn't feel like going to the gym, and gave me positive comments often!
I was pretty good about sticking to the program. I did have some slip-ups… A bite of pizza here, too many carbs there… A trip to Vegas here, a bowl of cereal there. But I never cheated a whole day or even a whole meal. I did skip a few workouts, but made up every single one that I missed by switching up my rest days. I am proud and happy to say that I did every single workout that was part of the program.
Here are my before and after pictures. I am pretty embarrassed about the before, but glad that I actually was able to see some good changes with the after pics.
Back: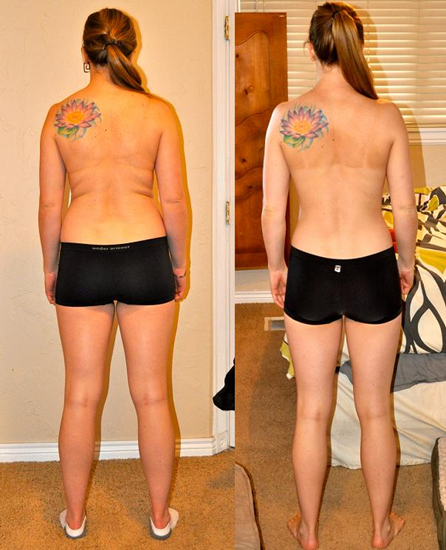 Front:

Right side: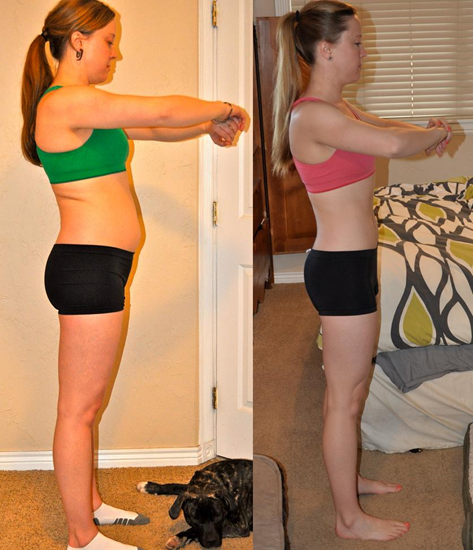 Left side: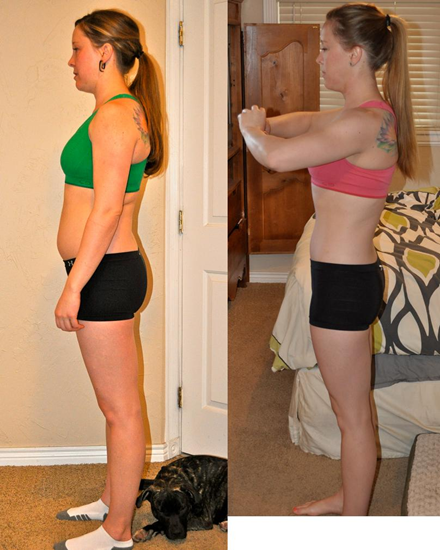 Front again: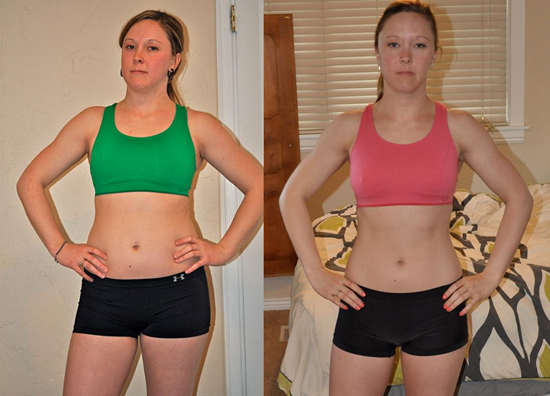 Back again (flexing):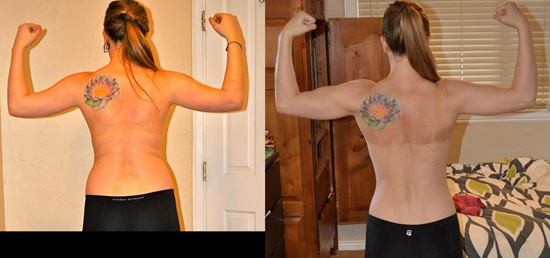 I had my body fat tested before, after 6 weeks, and after completion of the program. Well… the pre testing was actually about 6 months before starting the program. I weighed more (5 lbs more) and know that my body fat had increased in those 6 months. Here are the numbers that were on the report:
| | | | | |
| --- | --- | --- | --- | --- |
| | Before09/27/11 | 6 Weeks04/06/12 | 12 Weeks05/17/12 | Change |
| Weight | 151.821 | 146.968 | 143.260 | -8.561 |
| % Fat | 30.7 | 28.6 | 22.3 | -8.3 |
| Fat free weight | 105.285 | 104.900 | 111.301 | +6.016 |
Because I worked my ass off and I know my before numbers were higher than this, I'm going to round up on my 'changes' and say that I lost about 10 lbs and about 9% body fat. Because that's what I want to do and I can do what I want! :)
Here are some of my thoughts on the program…
What I liked about it:
The progression of workouts- I thought that Jamie did a really good job about building on each week thru the three phases. They get harder as you go, but I felt like I was ready for each jump. Looking ahead at the workouts is intimidating but when I actually completed them, I would say to myself, "that was hard, but it really felt good, and I did it".
Meal plans- they are pretty much spelled out for you. I knew this was going to be the hardest part of the plan for me. Before the program, I ate like crap and ate a lot of it. Even better, I NEVER COOK! I'm not kidding. I had to pretty much buy all the basics for my kitchen when I started the program. I did not even have salt! I did however have flour, baking soda, and brown sugar in my cupboard that was over three years old that moved from three different apartments with me! Don't worry, Janetha told me to throw it away! For real though, the menu was basic and if I can follow and stick to it, anyone can. The only thing is that it gets old if you stick to her suggested items. I was texting Janetha all the time to ask if different meals would fit the program. I also joined the facebook group and used recipes off there. I'm not creative or smart enough in the kitchen to figure those things out on my own!
Phase 3- the last phase was the hardest but I loved feeling the fat melt away! Seriously. So worth it.
What I didn't like about it:
Phase 2- you feel huge in this phase! My arms did not fit in my sweaters and my thighs felt like they were bigger than my waist! It was the worst and I can see this phase making people want to quit. Janetha warned me about this and I knew it would get better once I started phase 3. So I stuck with it and dropped the fat and felt much better.
Knee pain- I have never had knee pain in my life but this program caused it! I'm a physical therapist and know proper technique to avoid increased pressure on the knee joint but it did not prevent the onset of patellar femoral pain. She pretty much does not have you doing any isolated hip abductor, hip rotator, or hip extensor exercises. These are the side butt, saddlebags, and butt musculature. These muscle groups, especially the hip extensors, do assist in a lot of the exercises (lunges, squats, hamstring curls, etc). But the program was really lacking in the hip abductor/rotator area. Research shows that these are the muscle groups that most women are weak in. This weakness contributes to patellar femoral pain, which we are already susceptible to, due to the angle of our wide hips in relation to the knee joint. Additionally, the focus on quad strengthening with heavy lifting causes over powering, changing the joint position when performing power moves like the leg press or weighted single limb squat, which also contributes to patellar femoral pain. I am now starting to focus my leg days on these muscle groups to try and rehab my knees! I feel like an old lady!
Egg whites- they are disgusting and I seriously have to choke them down. I know how good they are for you, so I ate them. I am super lazy and they are really fast and easy, therefore, I ate a lot of them. Gross.
I am really proud of myself for sticking to the program and making the changes that I did. Not only physically, but mentally. Overall, I feel happier and more energetic. One big change that I have also noticed is that my stomach feels a lot better. I have had stomach/GI issues since I was 16. I have had several tests and medications prescribed throughout the years, but always have had continued issues. After starting this program, I noticed that I was not having some of the same problems. They are not all gone but they are better and I know it is because I am eating clean and not feeding my body processed and preserved shit!
Physically, I am not where I want to be yet, but this program was the start to permanent healthy changes in my life. I look forward to continuing to push myself!
Thanks for reading!
Kristen