hey, friends! how was your monday? jam packed with awesome? hope so.
mine wasn't bad, especially for a monday. pretty low key and drama free.. i'll take it!
i decided to document all of today's eats after receiving several requests for me to do it more often. i'll try to do it weekly, but no promises!
monday mornings are tough because i have to be to work at 7 AM. i am not a morning person, so it's tough for me to make it on time ANY day of the week, but mondays are especially rough. i packed my lunch on sunday night and made sure to have easily accessible snacks so i could get out the door on time today. i made it to work at 7:01… dangit, maybe i will be more punctual next week.
i am officially one week into my fitmixer bootcamp.  i have been doing well with eating six times a day, but i haven't been doing great at eating 1300-1400 calories daily.  monday and tuesday i was able to hit the numbers, but wednesday and thursday i was around 1500. friday and saturday were over 2000 calories because i was out having fun and living life.. that's just how it goes. sunday i was able to stay within my calorie goals because i didn't wake up until 1:30 in the afternoon.
anyway, i am not stressing about calories much. i am just focusing on eating every three-ish hours and making sure to get a decent amount of protein. i am also focusing on getting 5-6 workouts in a week. last week i worked out every day except sunday. i am definitely happy with the way my first week of bootcamp went. i am excited for the next 11 weeks—the workouts are fun and new. that's the main reason i signed up for the bootcamp—to get fresh ideas!
rambling complete! onto today's meals & moves.
breakfast: chocolate protein shake @ 8:00 AM.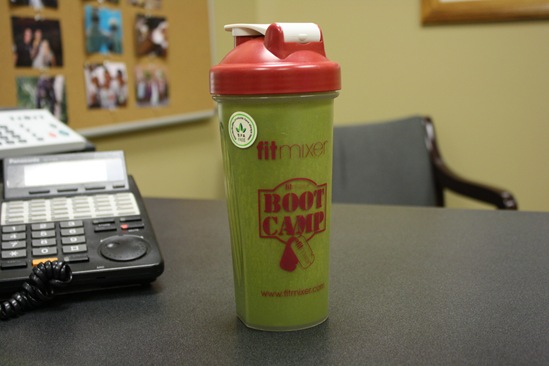 yes, it's chocolate. i know, it's green! spinach is the culprit. i have had a protein shake every work day morning for the past two months or more. they are just too convenient and quick for me NOT to have. plus, they're tasty. this one had two cups of almond coconut milk, a scoop of plant fusion vanilla bean protein powder, ~3 cups of spinach, 1 TB cocoa powder, ice, vanilla bean paste, xanthan gum, and guar gum.
snack: carrots & hummus @ 11 AM.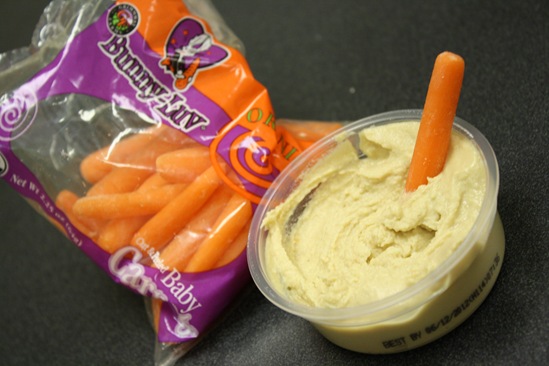 okay, this is not the most environmentally friendly snack, but i am a sucker for convenience. i hope elise doesn't kill me. i bought single-serving carrots and hummus at costco. this is SUCH a simple snack and it's so quick to grab from the fridge in the morning.
lunch: chicken, asparagus, and spinach basil couscous salad @ 1:30 PM.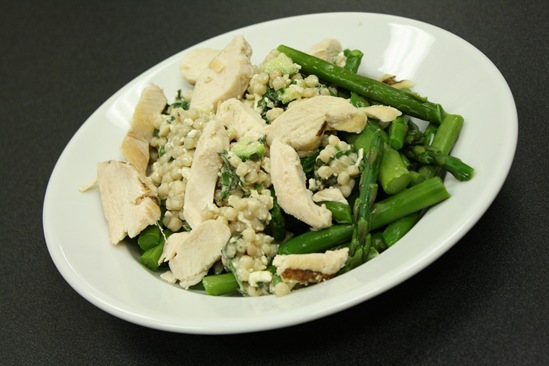 i only had ONE serving of the spinach basil couscous salad leftover because marshall liked it a lot and ate most of it last night. luckily i have lots of the pearl couscous left so i will be making another batch soon! i had leftover asparagus from last night's dinner so i ate that (cold) with the leftover couscous salad and a serving of chicken breast strips. the chicken was just the pre-cooked kind from costco. again, i am a sucker for convenience!
snack: lemon blueberry protein scone @ 4:30 PM.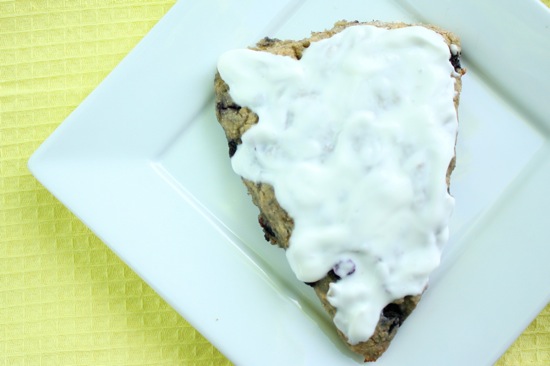 i usually snack my FACE OFF after work. it's purely out of boredom and habit. i am really concentrating on eating a sensible snack between the time i get off work and the time i eat dinner. it's usually a snack PLUS handfuls of nuts, granola, cereal, crackers, or whatever else is close by. it's stupid and needs to stop. that's all there is to it. this bootcamp has definitely made me aware that all my extra, unnecessary calories are consumed after work and before dinner. noted.
to pass the time between getting home and working out, i decided to bake! i haven't baked in awhile and i have been wanting to try my hand at protein scones. these were SO good. 192 calories and 14g protein per scone.. recipe coming soon!
moves: GPP!
oh. my. freaking. crap. this workout was TOUGH. in a good way. it was called hell in a handbasket and i know why. my arms are still jello-like. head over to the GPP site to see my numbers in the comments.
i also filmed my tuesday trainer video tonight–i will update with the link to lindsay's post as soon as it's live! UPDATE! here is the post.
drink: fresh juice @ 6:30 PM.
i came home to some fresh juice that marshall made for me. he is the absolute best! this had kale, spinach, pineapple, celery, and apple. it was just what i needed after a tough workout.
dinner: huevos rancheros @ 8:30 PM.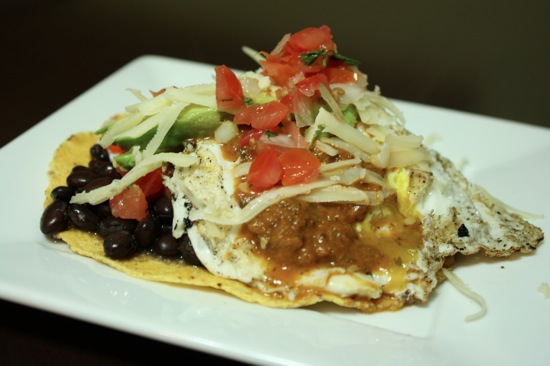 this dinner is always pretty time consuming to make, but it is WELL WORTH the time! so good!  this was a corn tortilla layered with black beans, chobani plain yogurt, avocado, ranchero sauce, an over-easy egg, pico de gallo, and white cheddar. breakfast for dinner perfection on a plate.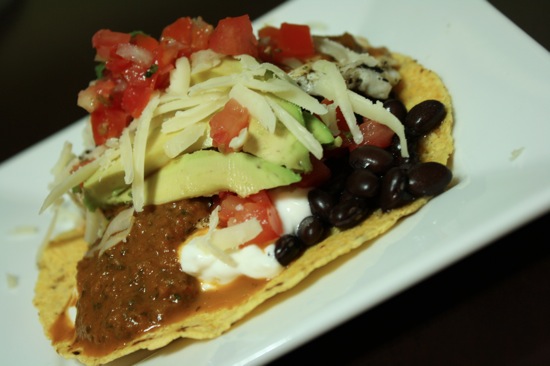 the good part is we have plenty of ranchero sauce leftover, so the next time we want this meal it will be quick and easy!
i haven't had my sixth meal yet, but i already know it will be another one of those lemon blueberry protein scones. they are delicious!
i tallied everything in myfitnesspal.com for the day and came up with the following totals:
1,615 calories
189g carbs
53g fat
121g protein
maybe high on the fat scale, but i am not too worried about it. there was quite a bit of good fat in there from avocado, olive oil, and butter–oh, wait.
i also drank a gallon of water, drank a serving of fitmixer aminos, took a multivitamin, and had a calcium disc. i have quit taking all other supplements—this happened awhile back and i don't think i ever mentioned it. i stopped taking supplements because of my GI issues. i wanted to see if certain ones were bothering my gut. i didn't find that they were, but i also haven't gotten back into the habit of taking them again. i don't view this as a bad thing—clearly i can live without supplements—but i probably should start taking some of them again. namely fish oil and vitamin C, i know i could use more of those two in particular.
this was long. as always, thanks for reading!
Qs~
1. what is your favorite quick snack?
2. what vitamins and/or supplements do you take?
xo. janetha g.