sunday night once again.. these weekends fly by too quickly!
saturday morning started with a fitmixer bootcamp workout called "full house".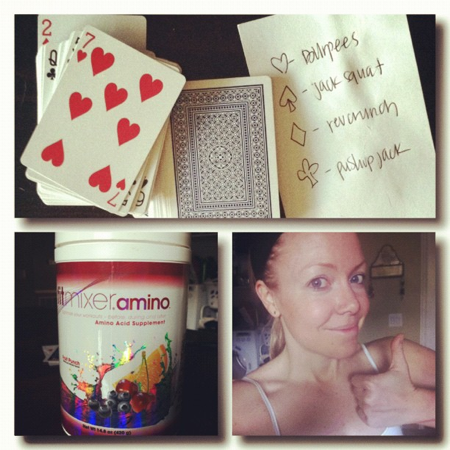 the way it worked was i'd turn a card over and, depending on the suit and the number, i would have to do that many reps of the move the suit represented. face cards were 10 and aces were 11. in the last four cards of the workout, i had to do thirty four burpees in a row!! is that considered bad luck or good luck? depends on how much you like burpees, i guess.
after my workout, i headed to sunshine cafe to meet kerryne and amanda for brunch. i had been there once before with marshall and loved it, so i was happy to go again. i had the garden scramble, coffee, and a huge whole wheat pancake. their pancakes are SO fluffy! they're delicious. after brunch, we all headed to the salon to get pedicures. it was a fun little saturday with the girls!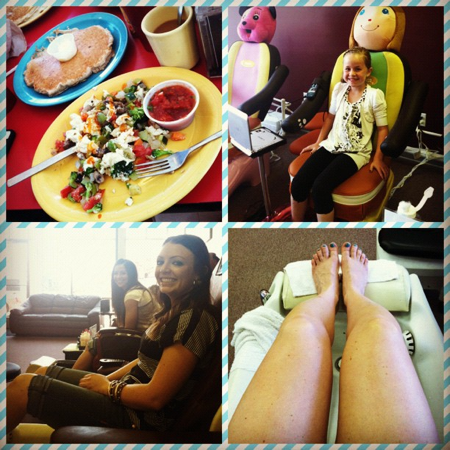 i took a nap saturday afternoon because i knew i'd be up late in wendover.  we were heading there for lindsay's and allie's joint 30th birthday celebration!  after my doze-a-round (as we call it in our house) i got up, ate something, got ready, and hit the road. wendover is about two hours away and we had to make an 8:15 dinner reservation.
kristen and rory rode with me and marshall. we got to wendover promptly at 8:!2–just in time for dinner. we met everyone at the casino's not-so-fancy-but-was-trying-to-be-fancy italian restaurant for, what turned out to be, the longest dinner ever. we didn't expect much since it was wendover (often referred to as the poor man's las vegas) so we didn't let the long, drawn out meal get to us. after a couple hours we had eaten and paid our bill and we were ready to hit the casino!
we made a stop at the room. allie had channelled her inner sandra lee and made jello casserole!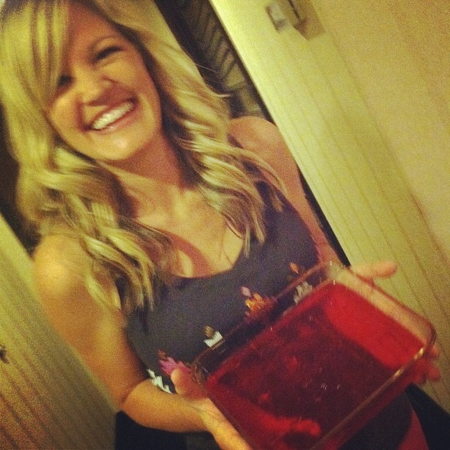 yeah, just like jello shots, but in casserole form.
there was a quick photoshoot on the bed because we do that EVERY time we are in wendover. tradition, folks!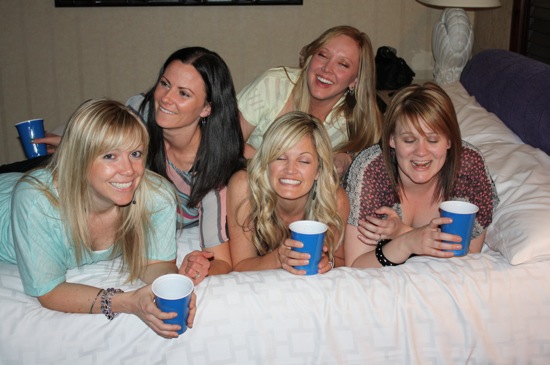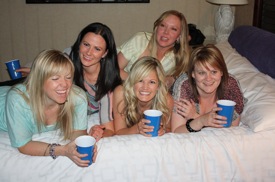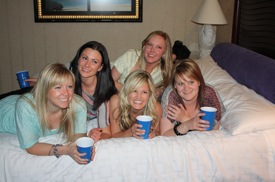 we wandered down to the casino and i immediately lost $5 on the slots. slot machines aren't any fun and they always steal my money!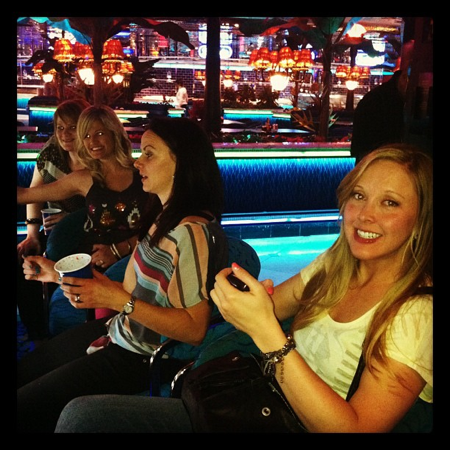 we decided to try our luck at blackjack. we must all have been feeling lucky because i am pretty sure everyone walked away with more money than they started with! i personally kept going up and down and up and down, then walked away with the $5 i'd lost on the slots plus another $3.50–woohoo!
we said goodbye to our friends (we weren't staying the night) and left wendover around 2 AM.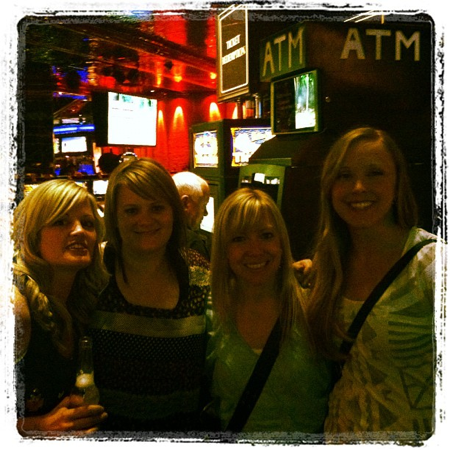 that put us home close to 4 AM, so it's no surprise that i slept in until 1:30 in the afternoon today. good thing i didn't have anything to do this morning!
despite my super late sleep in, i still got a lot done today! i had a couple of gift cards burning a hole in my pocket…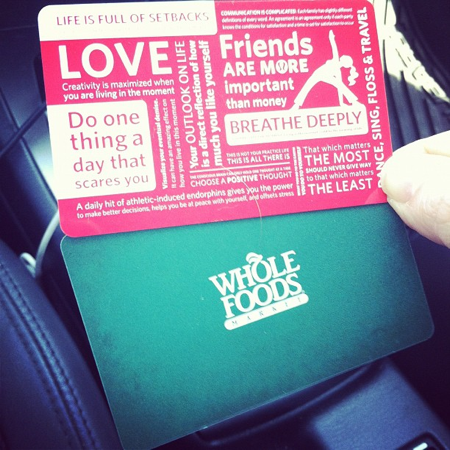 i ended up with more than i should have at lulu–isn't that always the case? i got a skirt and a tank. i also got marshall a pair of shorts.
i zipped over to the living traditions festival to say hi to jessica before heading to whole foods for my grocery shopping. it was a quick hello, but i was so happy to see her face! dang, jess, we should have snapped a photo…
anyway, after our visit i went to whole foods and stocked up on the essentials for the week. here's what our dinner menu looks like:
breakfast, lunches, and snacks will be the same old things.. sandwiches, protein shakes, eggs, oatmeal, cereal, veggies, fruit, hummus… nothing new or exciting!
tonight's dinner, however, was both new AND exciting. for my mouth, anyway. remember that couscous salad
i had at the boulder farmers' market
during blend? well, i keep meaning to recreate it and tonight i finally gave it a shot!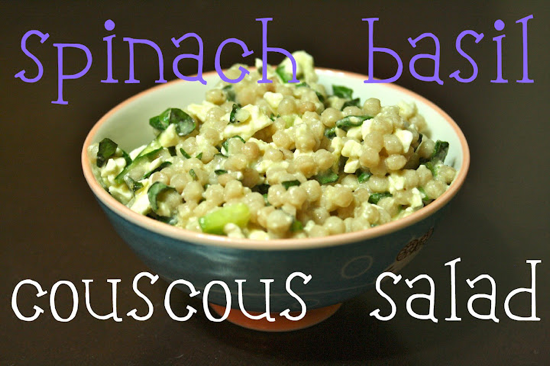 makes six 3/4 cup servings
1 cup whole wheat pearl couscous (measurement before cooking) – i used bob's red mill brand
1 cup spinach, chopped
1/2 cup fresh basil, chopped
1 medium cucumber (or 2 mini) diced small
4 oz fat free feta
1/4 c white balsamic vinegar (can sub regular if you can't find white)
2 TB hummus – i used a hannah's single serving container
1 TB extra virgin olive oil
fresh cracked pepper & sea salt, to taste
cook couscous according to package directions.
combine spinach, basil, and cucumbers in a mixing bowl.
add cooked & cooled couscous and feta.
in a small bowl, whisk together vinegar, hummus, oil, salt, and pepper.
pour mixture over couscous.
mix well, serve immediately.
store leftover salad in the refrigerator in an airtight container.
this makes six 3/4 cup servings. here are the nutritional stats per serving: 158 calories, 23g carbs, 9g protein, 4g fat, 4g fiber, 2g sugar.
step-by-step photo directions:
cook couscous according to package directions.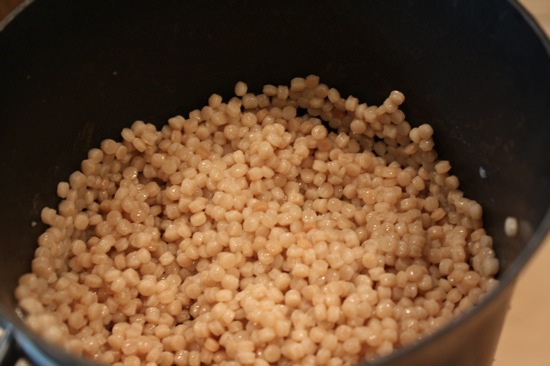 combine spinach, basil, and cucumbers in a mixing bowl.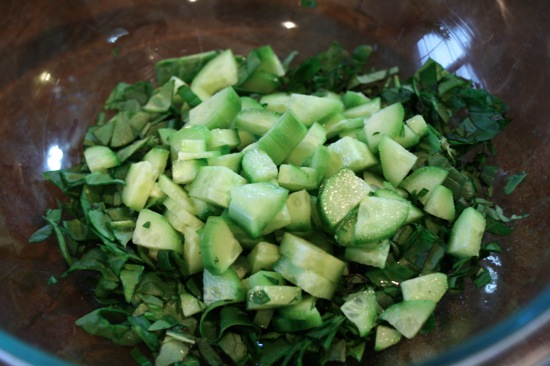 add cooked & cooled couscous and feta.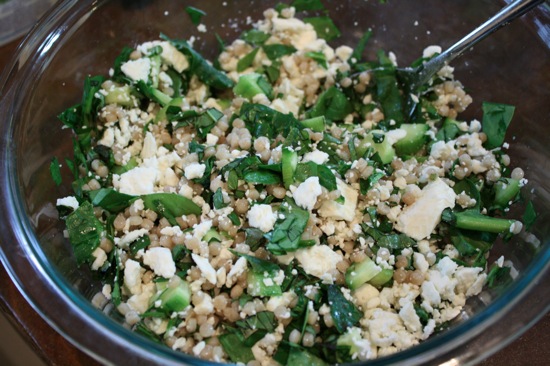 in a small bowl, whisk together vinegar, hummus, oil, salt, and pepper.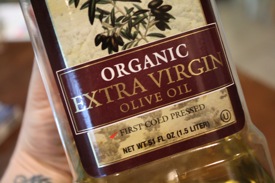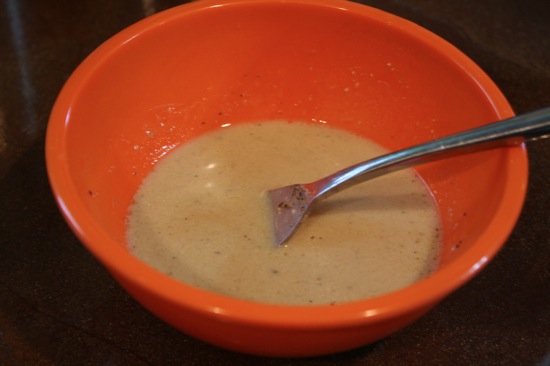 pour mixture over couscous.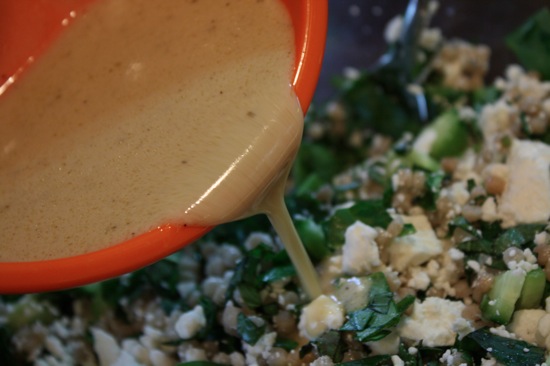 mix well, serve immediately.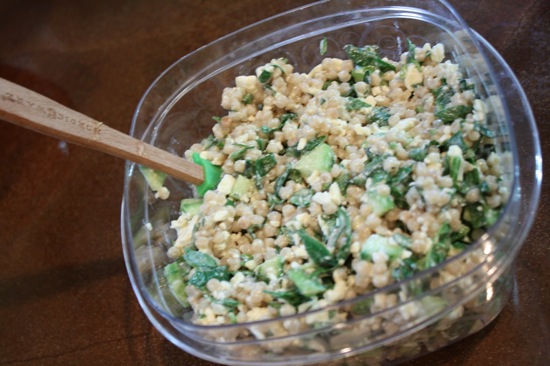 we ate this delicious salad as a side dish in tonight's dinner. the rest of the dinner included sweet balsamic grilled chicken and steamed asparagus.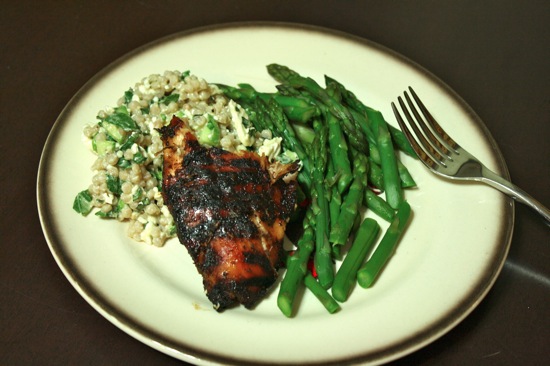 the sweet balsamic grilled chicken was so flavorful and SO easy. to make it, i marinated the chicken in 2 parts balsamic vinegar and 1 part xagave along with some trader joe's 21 seasoning salute. i let it marinate for about three hours and then marshall grilled it.
we shared a fresh, juicy melon for dessert.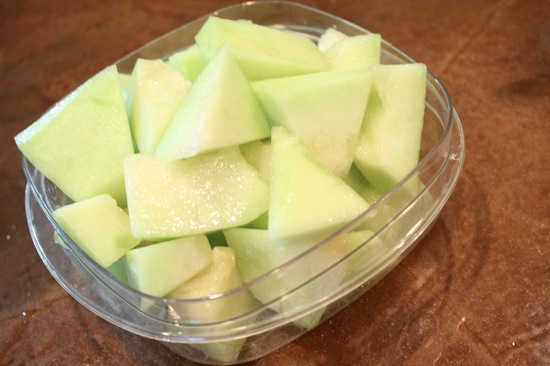 this melon got me sooo excited for the farmers' market to start! only about a month more to wait!
well, we are watching tin tin so i gotta jet so i can give the movie my full attention. hope you have a great start to your week!
Qs~
have you ever tried to recreate a recipe at home from a dish you had when eating out? how did it go?
any weekend highlights to share?
xo. janetha g.