hello!
i know i just posted earlier today, but marshall, penny, and randy are all asleep on the couch and i am wide awake, so here i am. i thought i'd take this spare time to recap salt lake magazine's tastemakers event!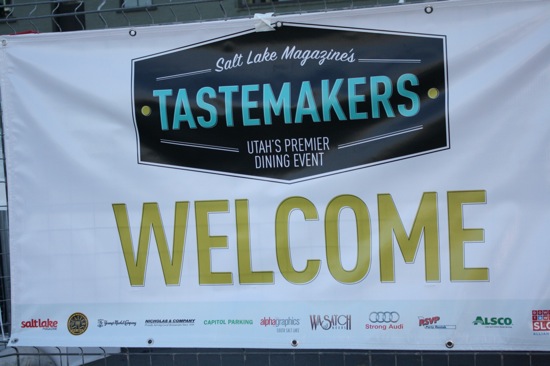 marshall got home from a long day of work today and wasn't feeling like going out (he is still a little sick) but he is a good sport and agreed to be my date despite his tired eyes.
he's handsome, i'm blinking.
this is the first year i've attended the annual event, and it won't be the last. this was a really cool way to try several local restaurants in one clean swoop.  admission was $30 a person for tastes of all participating restaurants. wine and beer were available for $3 for a taste or $5 for a full size glass.
tastemakers is a two day event, but because we missed out last night we had to fill up on everything tonight. we started things off in the pavilion where booths were set up with tasty bites from each participating restaurant. it reminded me a lot of the taste of the nation event i went to back in 2009–just on a smaller scale.
we met up with kristen and rory right when we arrived. we hadn't seen them in weeks so i was really happy they decided to join us!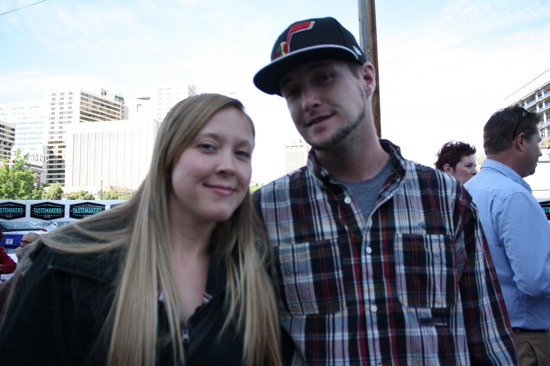 i didn't waste any time grabbing my first few bites. we decided to just go around the pavilion in order so we didn't miss anything.  here are the items we enjoyed (with their respective restaurants listed.)
ichiban sushi: the lotus roll: snow crab, cucumber, avocado sushi layered with yellowtail, salmon, lemon, lime, and ponzu on top.
silver: braised karabuta pork belly, charcroute, apples, and mustard stout.
pagoda: citrus aioli prawns smothered in a sweet, tangy glaze and served with a tart lemon garnish.
garden cafe: proscuitto cannelloni. also: assorted macarons and assorted marshmallows.
the coffee shop at little america: roast turkey sliders with pan gravy and cranberry relish.
bambara: duck confit with roasted ruby and golden beets and black truffle aioli.
ruby river: gorgonzola new york steak.
caffe niche: heirloom radish tea sandwich on a local toasted baguette with european butter and topped with black sea salt.
gracie's: tender pork crown ribs braised in ancho-chili BBQ sauce accompanied by macaroni and cheese.
we couldn't help ourselves and ended  up eating everything there was to offer. well–scratch that–the boys skipped the seafood items because they are not fans, but kristen and i made sure to sample those!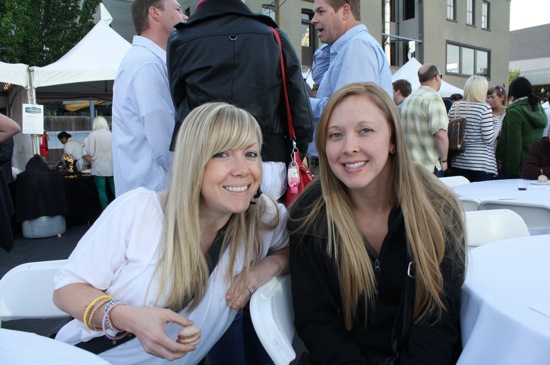 some notable bites…
the pork belly from silver! i have only had pork belly once before (at the foodbuzz festival) and it was not nearly this delicious. pork belly is really fatty and really flavorful. the choucroute (never heard that word) reminded me of sauerkraut.. in fact, maybe that is just a fancy name for sauerkraut because that's exactly what it tasted like.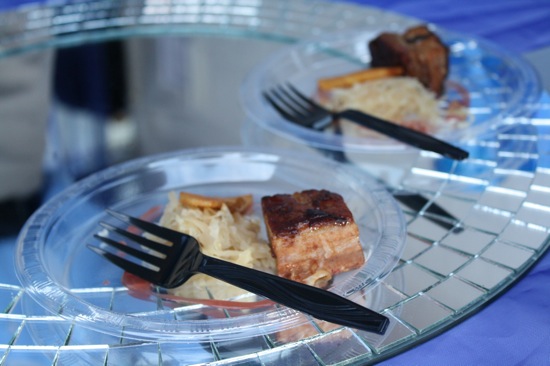 pagoda's prawns were incredible. they serve them as an appetizer at their restaurant, but i wouldn't mind having a whole plate of these for my entree.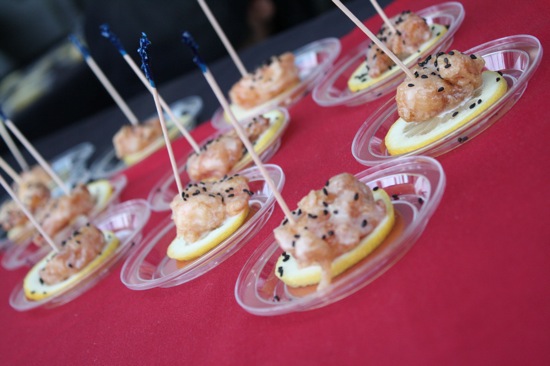 the most unique bite definitely goes to garden cafe with the prosciutto cannelloni! it was thinly sliced prosciutto filled with preserved lemon ricotta cheese and herbs rolled into a cannelloni and served with pickled beech mushrooms, tomato confit, and PARMESAN ICE CREAM. what?!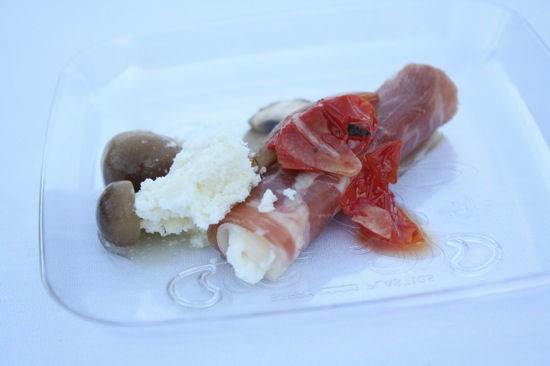 the parmesan ice cream was crazy! it wasn't as cheesy as i'd expected.. but it was definitely cold and creamy. it was not my favorite, but it was very unique. i will give them that!
the only sweet bite on the menu was also from garden cafe–macarons and marshmallows. there was a choice five different macaron flavors and three different marshmallow flavors.  i went with a salted caramel macaron and a vanilla bean marshmallow.
oops–took a bite out of the macaron before remembering to snap a photo. i couldn't wait! it was the perfect balance sweet and salty. that was actually the first macaron i'd ever tried. i have had the coconut balls of heaven that people call macaroons, but not a macaron.  is this one called a french macaron? i think i heard that somewhere, but i could be way off.  anyway…
caffe niche was the spot i was most looking forward to trying because i always hear great things about the place. i was a little bummed that they were only serving bread with butter and radishes, but this bite definitely did not disappoint. i especially loved the black sea salt on top! the reps at caffe niche's booth get the award for the friendliest–that should count for something, right?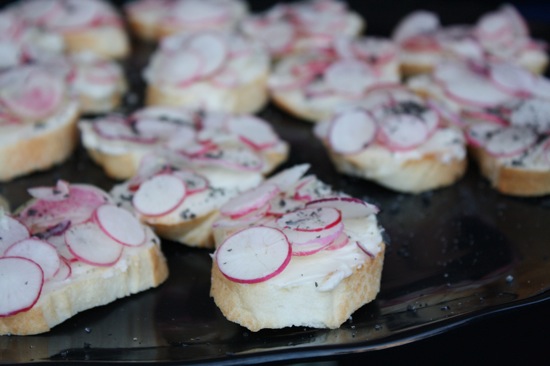 marshall's favorite bite of the evening was the turkey sliders at little america's booth. the chef was shouting about how it's thanksgiving all year 'round! he was awesome.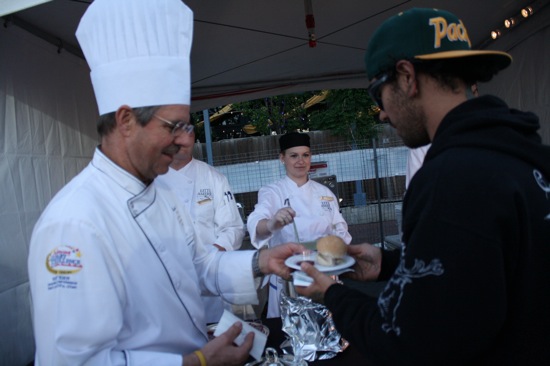 and the sliders were VERY tasty. the chef was right–just like thanksgiving!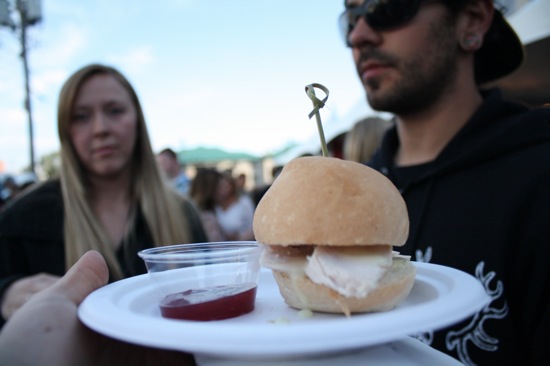 my favorite bite of the night is a toss up between ruby river's gorgonzola steak…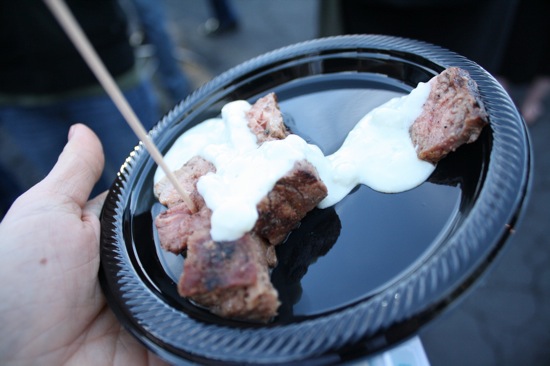 (i know, not the prettiest, but it WAS so dang flavorful. i love gorgonzola!)
…and gracie's ribs with mac & cheese.
the ancho-chile BBQ sauce was ridiculous. i need to find a bottle of that stuff and pour it on everything. or i just need to go to gracie's! word on the street is they also serve brunch and have a $5 creme brûlée french toast. yes, please!
the pavilion ended with a cup of coffee from joffee's coffees.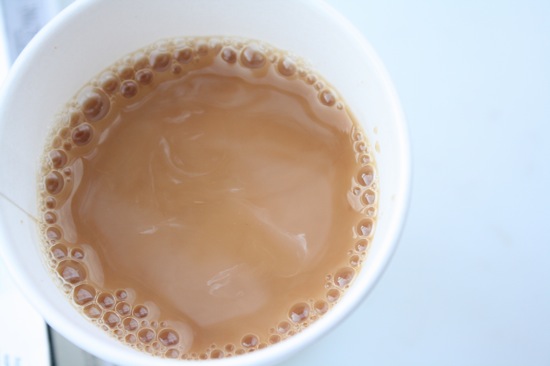 joffee's coffees is a really stand-up company that has partnered with the utah food bank. for every 12 oz bag of coffee sold, they donate a half gallon of milk, a dozen eggs, and a fresh loaf of bread to a family in need. AWESOME.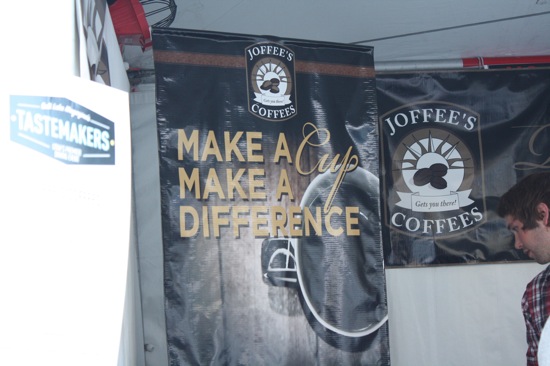 after sipping on our coffee, we wandered out to the streets to partake in a couple more bites on the strolling portion of the event.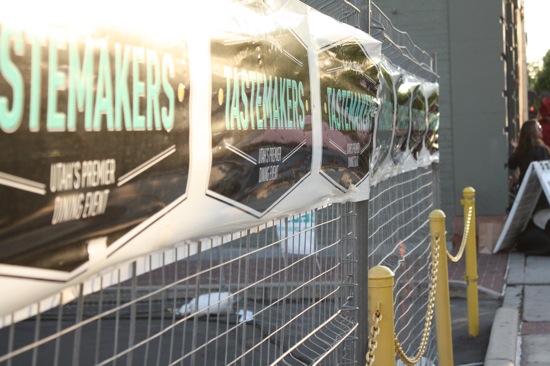 there were eight restaurants participating in the tastemakers stroll. they were all relatively close to the pavilion, but the closest one (squatters) was actually adjacent to the pavilion so we went there first! they were serving up wings & rings!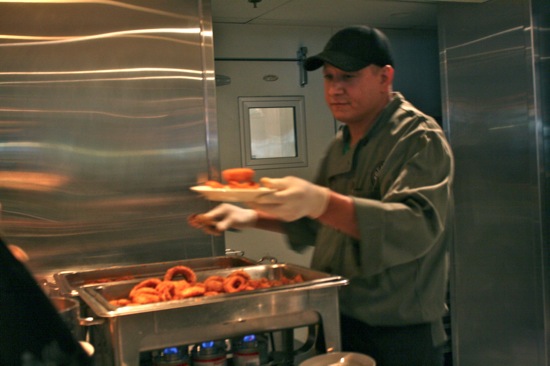 a legendary squatter's buffalo wing served with bleu cheese on a bed of naughty (as they put it!) onion rings and a side of ring sauce.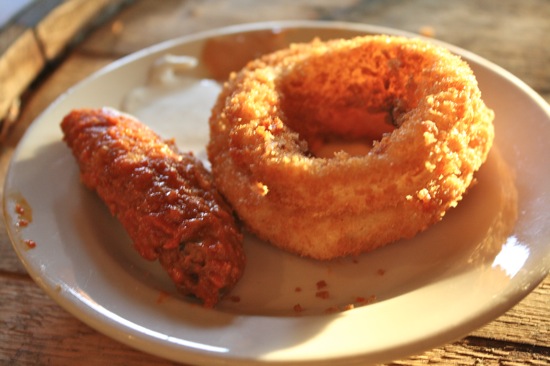 the wing was SPICY hot and the rings were STEAMY hot. we left squatters with both types of hot lingering in our mouths.
by this time we were all pretty freaking full, but we definitely wanted to hit up pallet for their bite. the four of us had gone there before and loved it, so we definitely wanted to try their offering. it happened to be seafood so the boys skipped out, but kristen and i went for it. we made the short stroll from squatter's to pallet. luckily it was a beautiful night.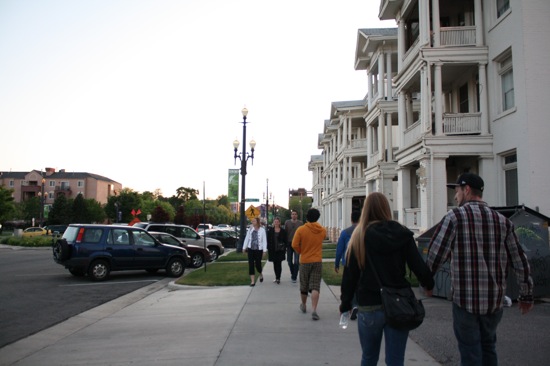 pallet was packed with both regular patrons and tastemaker patrons, so there was a bit of a wait.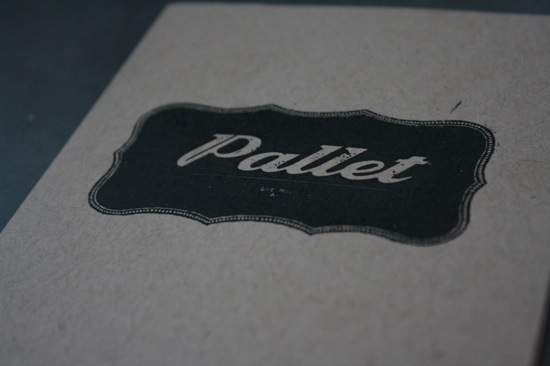 the sautéed scallop topped with bacon and served over utah sweet corn polenta, peppadew pepper, mushrooms, and corn jus was worth the wait.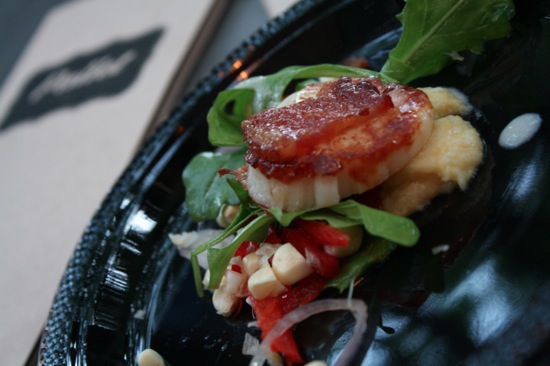 by the time we finished up at pallet, we were so, so full. there were seven more restaurants on the stroll, but four of the seven were offering seafood items and the other three were a bit far from where we were. poor marshall just wanted to go home and eat soup, so we called it a night. i wasn't bummed about missing out on the bites we didn't partake in because i was already so full.  the only thing i wish we'd had a chance to try was caffe molise's marinated grilled chicken breast with artichoke hearts, sun dried tomatoes, and gorgonzola cream sauce. it sounded fanfreakingtastic, so i will have to go there for dinner sometime! i can definitely see why this event is stretched over two days–there is just too much to try in one night!
something cool about the event is each restaurant gave an exclusive offer with the admission ticket, so that $30 was WELL worth it. i am looking forward to visiting each restaurant to redeem the offers that include things like free appetizers, free desserts, 50% off discount, and buy one get one free entrees. seriously–SUCH an awesome deal.
i am so glad i decided to attend the tastemakers event, it was a great time! i can't wait to try the new restaurants i discovered (gracie's brunch is on the top of my list!) and i also can't wait for next year's event!
we came home and even though i was full, i somehow found room for dessert. there's always room, right? right.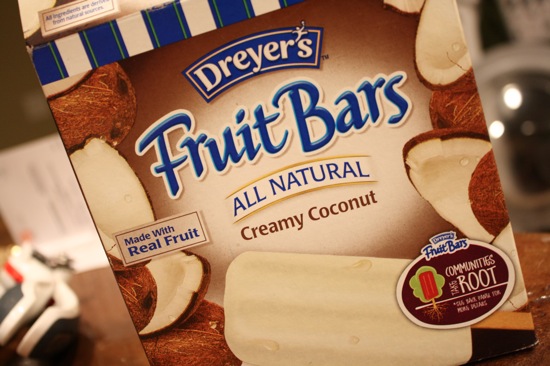 well, it's midnight now, so i better head to bed. i have a brunch & pedicure date with a couple lovely ladies tomorrow at 10. then it's off to wendover (think a really crappy version of las vegas but way closer, click the link to see a post about it) to celebrate a couple of my friends' 30th birthdays!
enjoy your weekend, do something fun!
xo. janetha g.