hello! 
loved hearing all your natural and/or home remedies in the comments of my last post! there are so many things i want to try. also, a few of you said you sell norwex, so if anyone IS interested in buying their products, make sure you check out those comments. if you reply to a comment on my blog, the person you are replying to will get an email notification so you can touch bases!
tonight's post is going to be snappy. i have things to do, people to see, and food to eat!
i started my day bright and early with corrugation–a REALLY fun GPP workout. it took about 15 minutes and then i finished my things off with a booty-blasting core & lower body circuit. the circuit was day four of the fitmixer bootcamp i am participating in. i love the fitmixer workouts because they have provided videos of the workouts every single day, it's so useful! today's workout had lots of flutter kicks, leg lifts, and plank work. by the time i was done with the short 15-minute body weight sesh, my legs and butt were on FIRE! who knew things could burn so much without the use of weights? 
i loved getting my workout done in the morning. i REALLY need to start making a habit of it. i love having the evenings free! but i also love sleeping in. i have a mental battle with myself each and every morning. half of the time my motivated mind makes me get up and go to the gym and the other half my sleepy side wins and i doze for another hour. i wonder if i will have this internal debate every morning for the rest of my life? i hope it will get easier to get up… although i did the insanity DVDs in the morning for a month straight and NEVER got used to it. maybe i am just doomed to never be a morning person.
enough about that–let's move on to my alliterative title! three thrilling thursday things!
1. i found a loophole!
kristen and i have been signed up for the june 2nd dirty dash for awhile now, but our teammates have been dragging their feet on signing up–so it was just the two of us! when our friends finally buckled down and went to register, there was a sad message saying the race was SOLD OUT, even though kristen had reserved 12 spots on our team! darn it.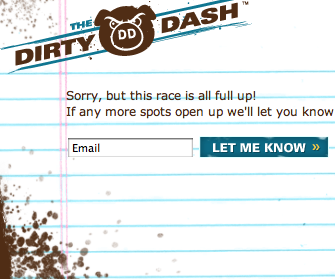 i turned to my good friend google to see if any utah dashers were selling their race registrations so my friends could join our team. well, what do you know, google helped me find a link on the utah running site that took me straight to the page where you can join a team! i thought it was too good to be true, since the race is sold out and there is NO link on the official site to register or join a team, but sure enough–it let me register jessica! and then my friend amanda was able to register, too! it was totally legit. they're in.
i can't wait for the dirty dash. i had SO much fun doing it last year, and this time around it happens to be the day after my birthday! woohoo! i am, without a doubt, THRILLED!
2. chobani loves me, i love chobani!
it's no secret that chobani is my favorite company…ever. it's not only because i love their yogurt–it is because i love THEM. they are kind, generous, thoughtful, inspiring, friendly, and just all around amazing. i came home today to a fun thank you package from the five lovely ladies that were at blend retreat with us.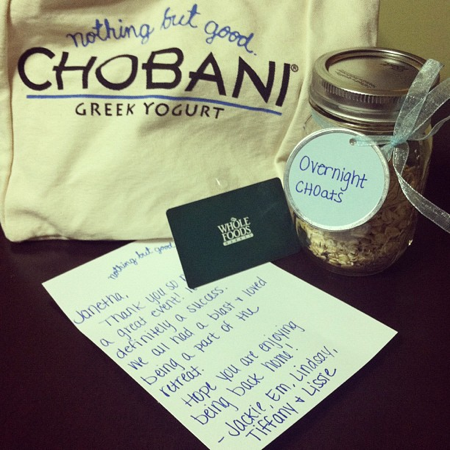 SO thoughtful, SO unnecessary. i can't wait to eat my overnight choats! but i really just can't wait to see these ladies again.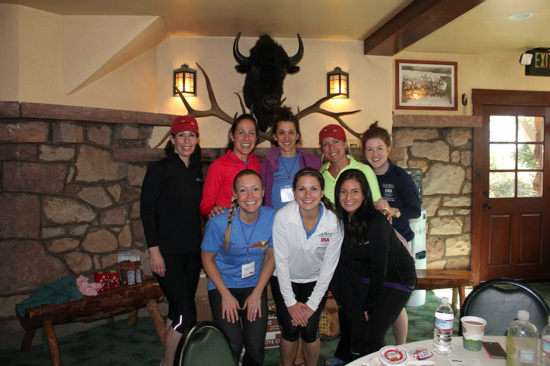 THANK YOU, chobani! i'm THRILLED to be your friend. (and i secretly wish i lived in NYC and worked for you so i could eat at the meatball shop every day…)
3. i am heading to the SLC tastemakers event tonight!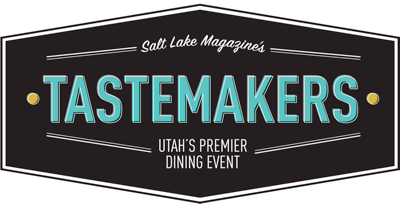 marshall and i are meeting some friends at this event which is both tonight and tomorrow night. there are twenty local restaurants participating in the event and for the cool price of $30 (each–so $60 for me and the mister) we get to sample food from each and every menu! THRILLED.
if you live in SLC and know what is good for you, you should come to the event. it's going to be such an awesome opportunity to try lots of different restaurants all at the same time! and like i said, it is tonight AND tomorrow, so if you can only go one night i definitely think it's still worth the $30. we are going to go both nights–which put a pause on my dinner menu for the rest of the week! oh, and it's safe to say my calorie counting is also on pause during this event. events involving delicious food are meant to be enjoyed–not to worry about how many calories are in each tasty bite. am i right?
well, it's already 6 PM so you know what that means.. i gotta get off the computer and get ready to head to the event! 
yay, friday tomorrow! i, for one, am stoked about that.
Qs~
1. give me one thrilling thing from your thursday.
2. workouts: morning, noon, or night?
xo. janetha g.
p.s. it has been a busy week. okay, a busy past month or so. if you are waiting on an email reply from me… keep waiting, i haven't forgotten you!