i made a video in reply to all the concerned comments i got about my new eating plan with the fitmixer bootcamp. if you care at all about that, watch the video. a LOT of you don't care, which is great. and normal.. since what i eat has nothing to do with our friendship.. ha. so if you aren't interested, skip on down to the post under the vid!
i did have a different post planned today, but to be honest–it's been a very trying day.
i had a very hard day at work. we had to make some big decisions, we had some important meetings, and i had to take care of a lot of things that resulted from all this. it was overwhelming and challenging for me today and will continue to be for a number of weeks, i presume.  to top it off, my AC in my office broke and it was a stuffy, windowless office at 80 degrees all day. ick. when things are so mind-draining at my actual job, it leaves little energy for me to pour into this blog of mine. i am sure you understand. work comes before hobbies.
and you know what else comes before hobbies (and this blog)? marshall. the poor guy woke up VERY sick. thanks to me.. yep, i passed my bug along to him. sad.
so instead of writing up the post i had planned (it was about washing my face, by the way, and i will write it soon) or talking more about meal plans or calories (because in the long run none of that crap even MATTERS and i was way sick of even thinking about that by the end of today so i am glad i filmed that video this morning–because honestly? who gives a shit! there are more important things in life than discussing my meal plan.) i am leaving you with this soup recipe that i made for my sick guy tonight.
we both needed a second helping, we are a couple of sickies. even though i am now on the mend, i still find comfort in chicken noodle soup. who doesn't?!
creamy chicken noodle soup
makes six large servings or eight small servings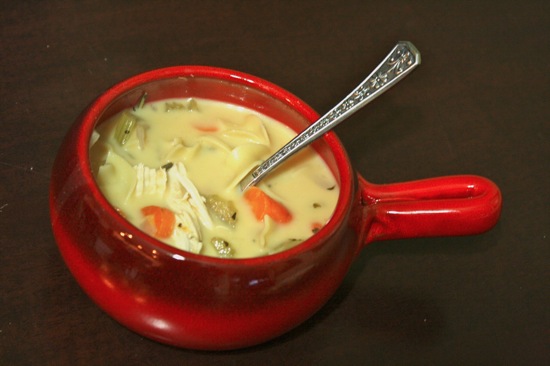 ingredients:
16 oz chicken breast
8 cups low sodium chicken broth
12 oz baby carrots, diced
8 celery stalks, diced
1 red onion, diced
1 bunch of fresh herbs (i used sage, rosemary, and thyme–but will be omitting the rosemary next time because marshall informed me his soup tasted like a christmas tree. oops! noted. i liked the rosemary but it's not for everyone!)
1 TB dried basil
2 dried bay leaves
salt & pepper to taste (about 1 tsp of each for me!)
4 oz wide egg noodles
2 cups water
12 oz can evaporated milk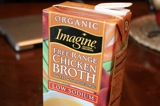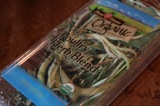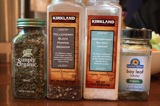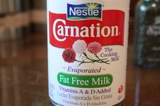 directions: 
put chicken and broth in a large pot and bring to a boil. let chicken cook through, then remove chicken from broth.
meanwhile, dice the veggies.
once you have removed the cooked chicken from the broth, add the veggies and bring to a boil for about 15 minutes–carrots should be soft but not completely done.
meanwhile, shred the cooked chicken with two forks.
add herbs (i left them on the stems) and seasonings and stir.
add noodles and water, bring to a boil.
when noodles have cooked through, add evaporated milk and shredded chicken to the soup.
season with additional salt and pepper if desired.
remove bay leaves and sprigs of fresh herbs before serving.
serve with toast–preferably sourdough in our house!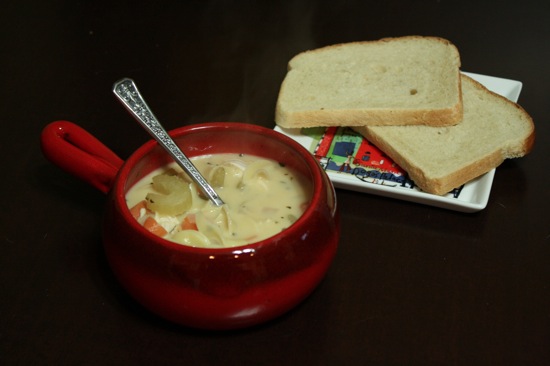 it will make you feel better if you are sick.
so will your basset hound.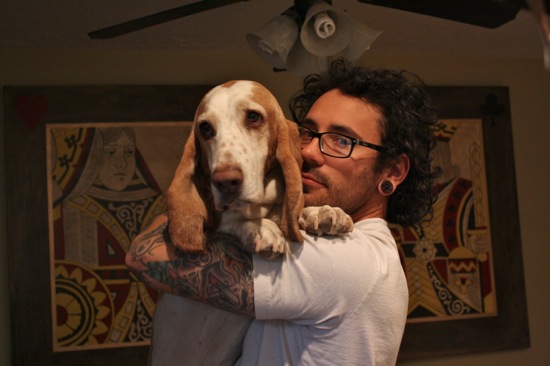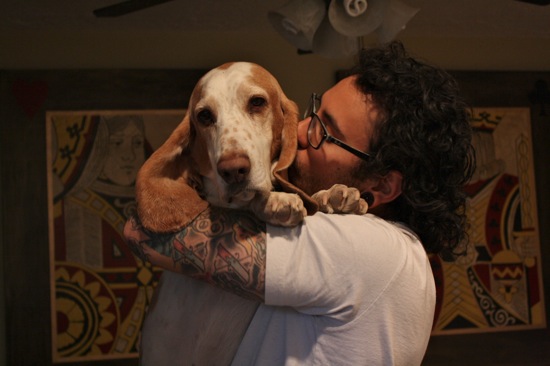 check ya later, alligators.
xo. janetha g.