hello! well, here it is. my final blend retreat recap. i am sure you are all thinking, "it's about flipping time!!" i know, i know.. it is.  here we go!
sunday morning came early since we stayed out late saturday night. but sleeping in was not an option since we had bootcamp led by chobani fit!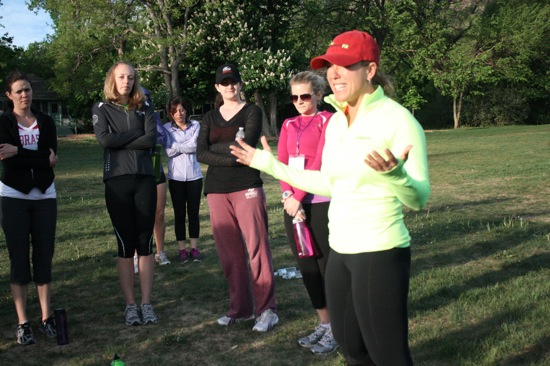 tiffany vandemark–a chobani fit ambassador–led all the blend attendees in a fun, station-style bootcamp. we started with a quick warmup involving lunges, squats, and stretches.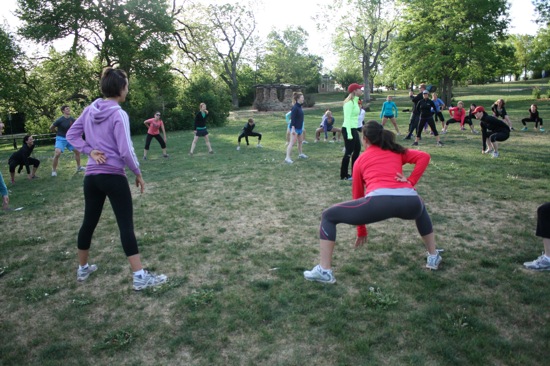 i was so happy to work out with my chobani buddy, emily! we go back. way back. i love this girl. don't judge the photo, we were sleeeeepy!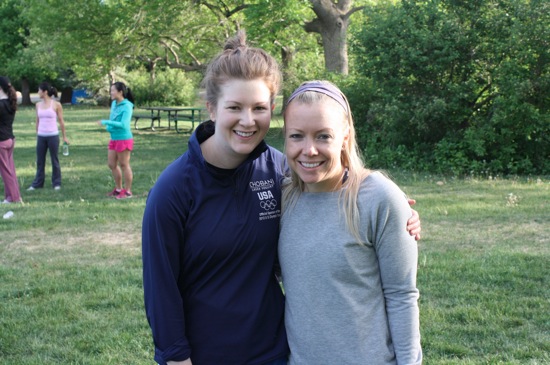 we broke into groups and went through five different circuit stations. each station worked a different part of the body. every exercise was challenging and fun! now that i go to GPP all the time, i am really getting into this group exercise thing.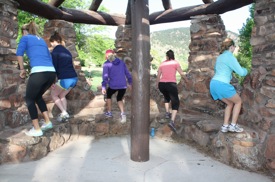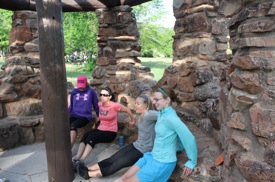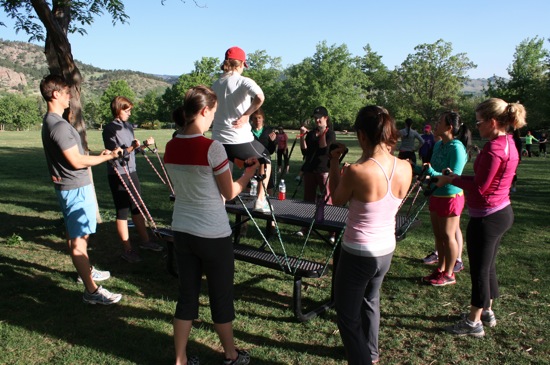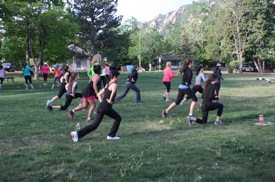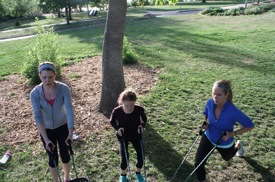 after the fun-filled workout, it was time for breakfast, sponsored by our official sponsor–chobani! 
chobani wanted to sponsor the breakfast following their bootcamp because their yogurt is the perfect post-workout meal. it has a good amount of quality protein balanced with healthy, all natural carbs. you all know i love chobani greek yogurt, so this breakfast situation was fine by me!
chobani had a few other things to choose from for breakfast.
bagels, cream cheese, jam, and nut butters: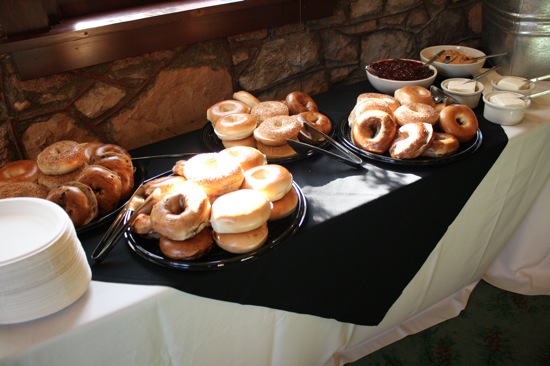 fresh fruit and granola: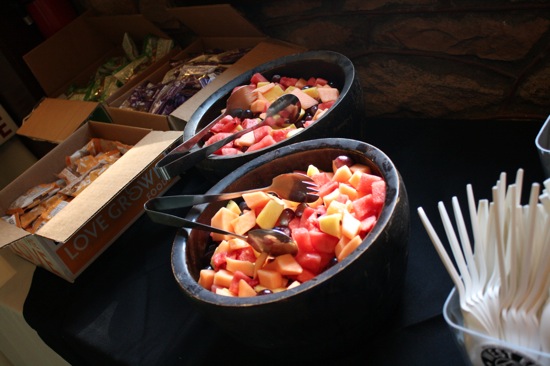 the granola was provided by love grown foods--a colorado local company!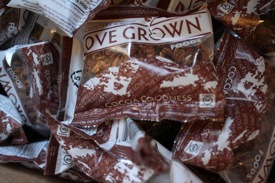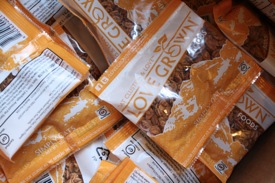 there were also hard boiled eggs and oatmeal. the coffee was provided by green mountain coffee again–love that stuff! there was also cherry juice provided by cheribundi! they had reps present, handing out samples of their delicious cherry juice. i loved the protein juice and hope i can track it down in stores. 
it was hard to pick what to eat for breakfast, so i ended up with a little of everything.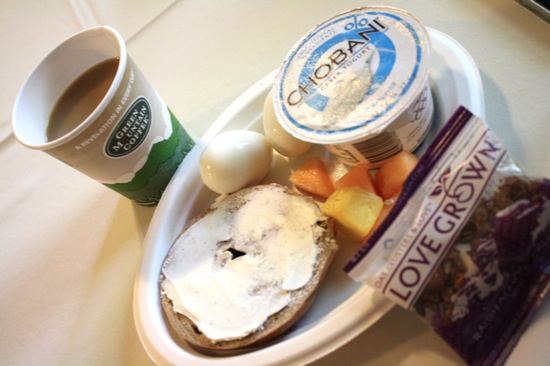 it was sad to think that this was our last meal at blend!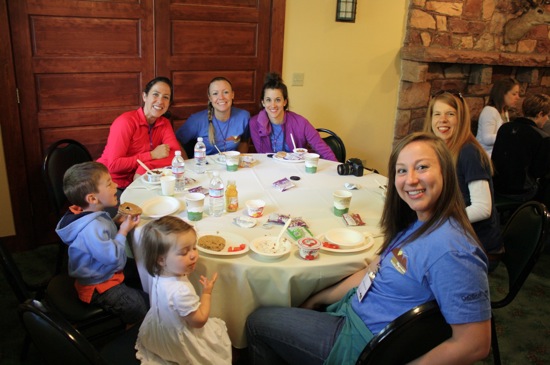 i sat with lindsay & her cute kiddos, katie, sarah, and katy. 
when i got done eating, i went around to snap a few final photos of everyone eating and chatting and enjoying the morning together.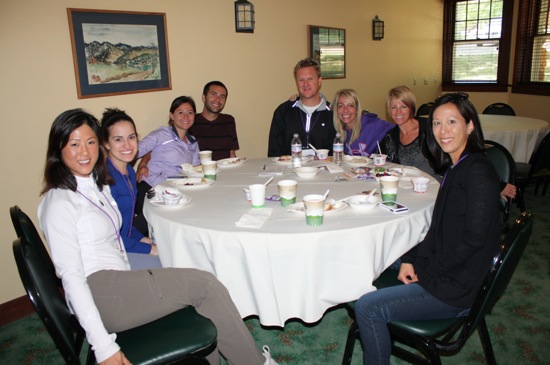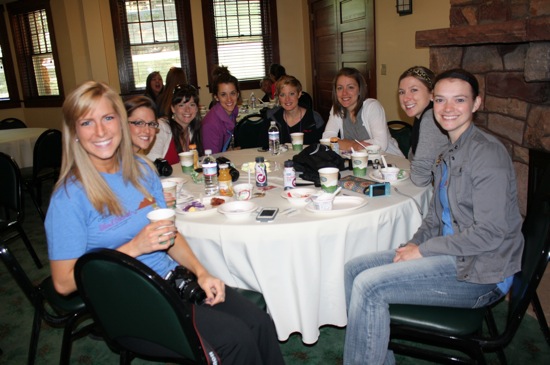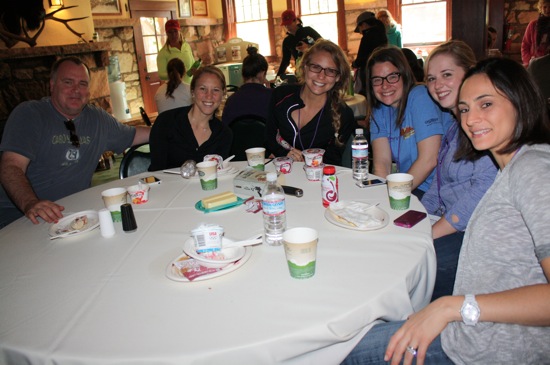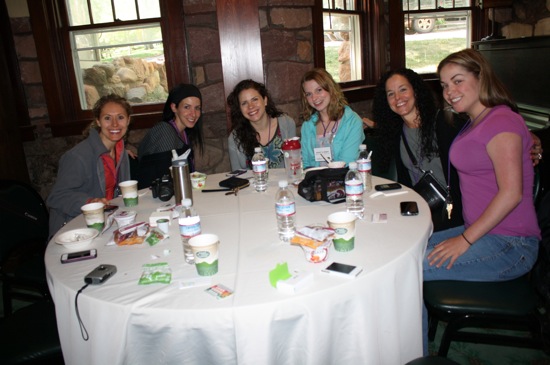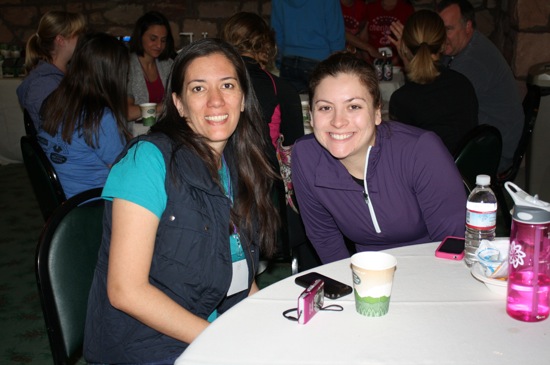 as breakfast wrapped up, we collected papers with attendees' names for the raffle!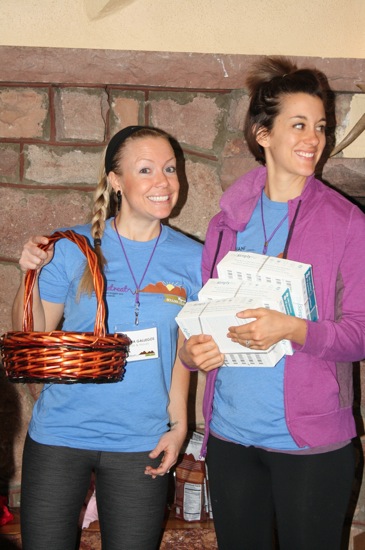 we had a TON of prizes donated by all of our wonderful sponsors and–to our surprise–every single person won a prize!! rad, huh?
checkout was at 11:00 and by the time the raffle was over it was already past 10, so we had to hustle. we did manage to round everyone up for a quick group photo!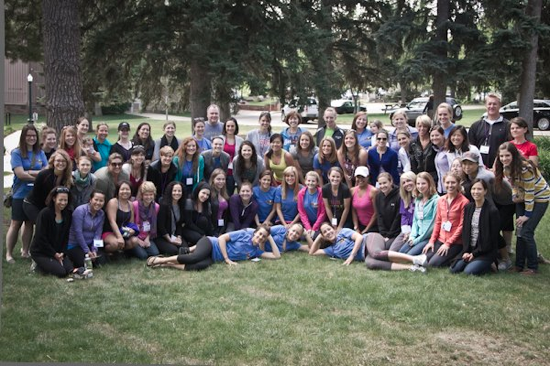 courtesy ashley mclaughlin photography
after this photo, everything is a blur. there were a lot of goodbyes, a mad dash to pack things up, and a quick walk through the missions house to make sure we grabbed all our swag! we congregated out front while people waited for their shuttles to the airport. one by one, everyone left :(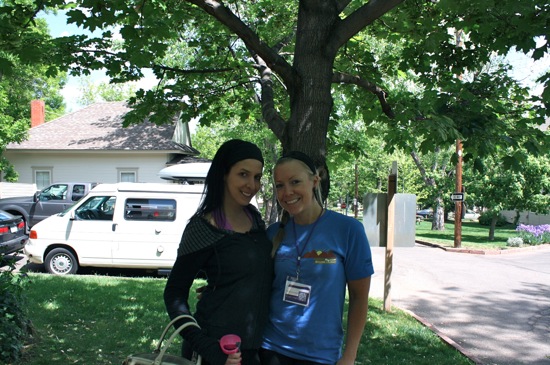 love me some healthy diva :)
the 2012 blend retreat was nothing short of amazing. i still cannot believe that lindsay, katie, and i were able to plan it in such a short time and that it actually HAPPENED. it's crazy! it's amazing! and it could NEVER have happened without our sponsors. all of them were so generous–so thank you, thank you, THANK YOU to all our sponsors. it was REALLY awesome to have four of our sponsors AT the retreat! i hope we have more in attendance next year.
a huge hug to our official sponsor, chobani & chobani fit–it was so fun to have you ladies there!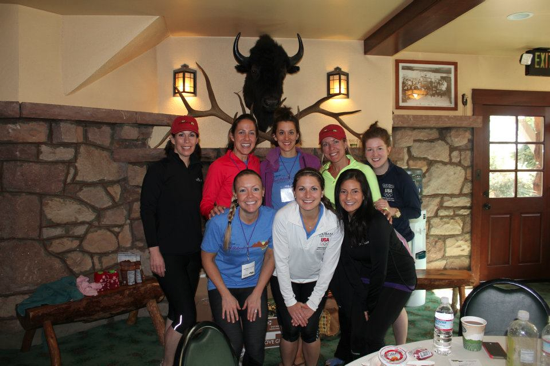 to the fitmixer folks–you guys are a ton of fun and i am SO glad you live in utah!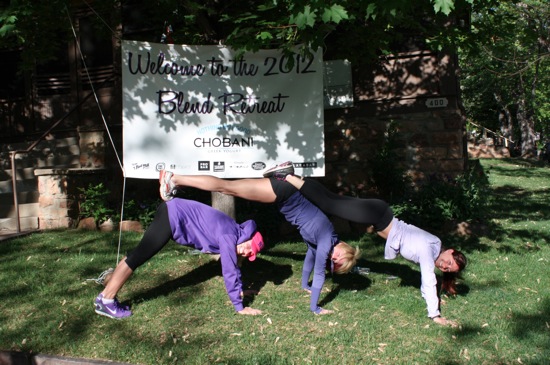 to amy and steve from xagave (don't have a photo of you two?!) thank you for driving all the way from utah to provide saturday's amazing breakfast, hang out with us, and drive my swag home ;) LOVE that you guys are utah locals, too!!
and to core power–thank you for being present at the cocktail party and the hike, it was so fun to interact!
i did stay one more night in denver at katie's place–there was a lot of cleanup and ends to tie up. i am SO glad i stayed the extra day. sunday afternoon was spent wandering pearl street with katie, susan, lindsay & her family. we had the most delicious sushi for lunch!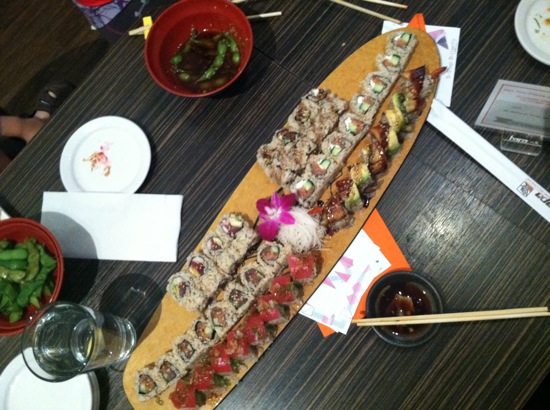 they even made PBJ sushi for the kiddos!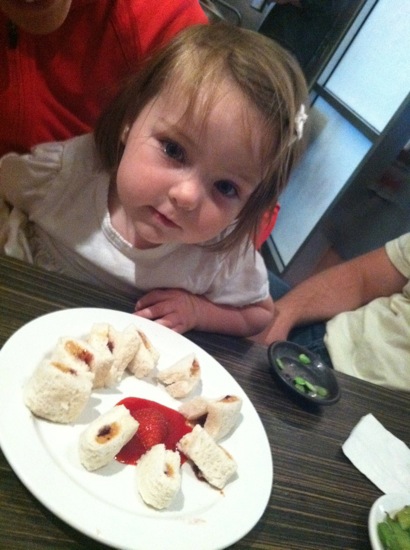 we said our goodbyes to lindsay and her family and then headed back to denver to katie's house. katie, susan, and i were exhausted–but we did manage to make it to sweet tomatoes for dinner. i slept so soundly on sunday night–like a ROCK!
i woke up monday morning and was so happy to NOT be working out! and my lovely hostess, katie, had made strawberry granola pancakes using the blend swag! you can see her recipe here.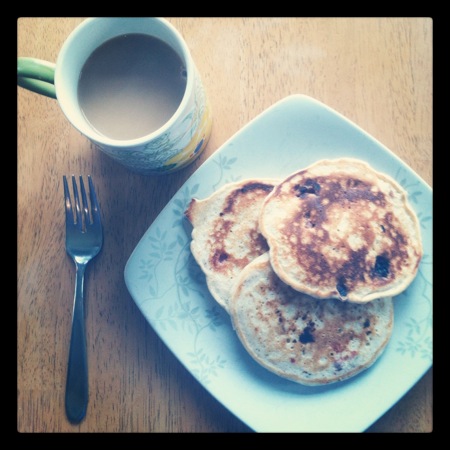 we made a quick stop at the post office to mail swag out to missing attendees and then katie took susan and me to the airport. there was one last goodbye between the three of us and then i was all alone for the first time in a LONG time. i started missing everyone right away! 
i had a fabulous time at the retreat, but i was happy when i saw my mom (she picked me up at the airport) and then when i finally made it to my house and saw marshall, penny, and randy. i missed them like crazy!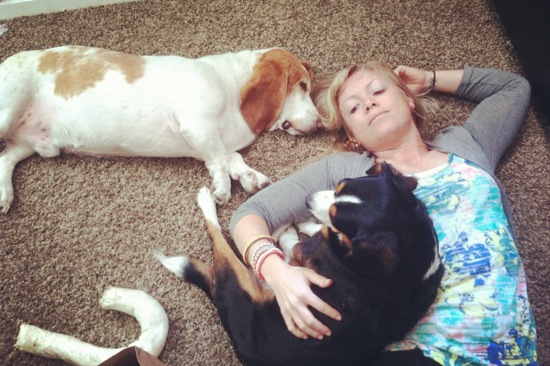 there's no place like home.
but there's also no place like blend retreat. and i CANNOT WAIT to start planning the next one. mark your calendars for may 2013–it is guaranteed to be a wonderful time! hope to see you all there!
xo. janetha g.