hello! well, i woke up with a full-blown sore throat. boo to sickness. i swear, EVERY time i get home from a trip i get sick. i need to work on that whole immune system thing. mine fails. anyway, i can't afford to miss work with all the high drama and catching up going on, so i played through it and had another busy day today. i've decided to give my body a rest and won't be working out until i feel a bit more healthy and functional. i am an expert at rest days! you don't have to twist my arm, i will gladly lounge on the couch all evening and blog about blend.
so, back to blend! i left off on friday night. after a speedy get-ready session in my room, i walked to the dining hall for the cocktail hour. i think we did a pretty nice job cleaning up considering how busy we'd been all day!
the cocktail hour was sponsored by core power.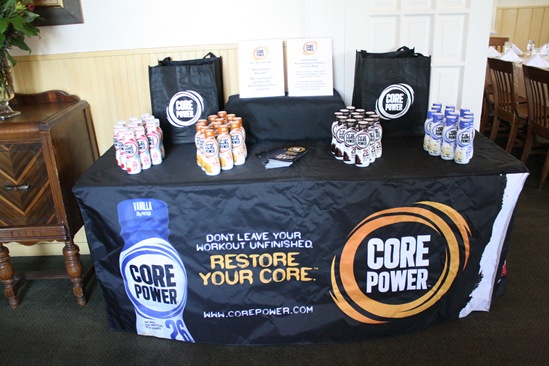 i will be honest, i thought that core power was actually a bar and not a drink until a few days before the retreat. in my defense, they were lindsay's contact, not mine! ha. they had all their delicious flavors of ready-to-drink protein shakes on display along with an enticing offer for all attendees.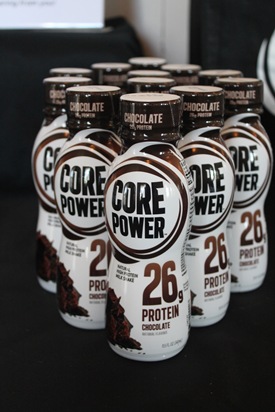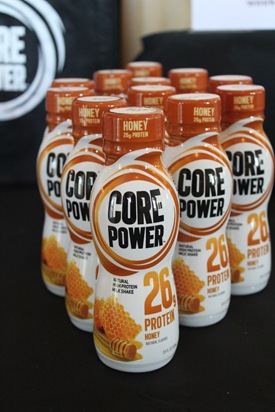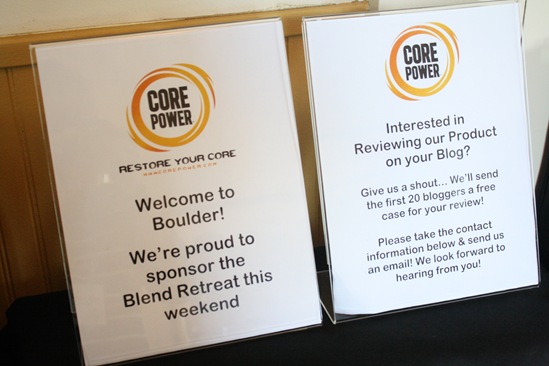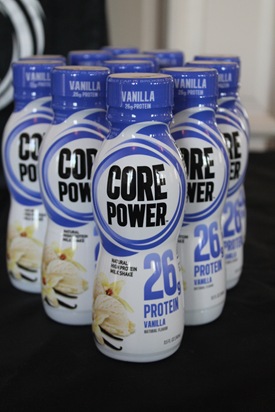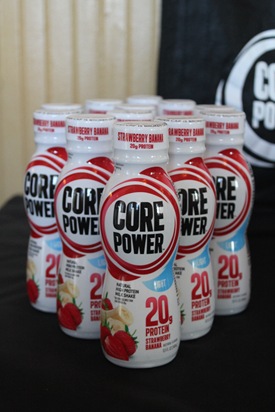 there were also a few hors d'oeuvres for attendees to nibble on before dinner started.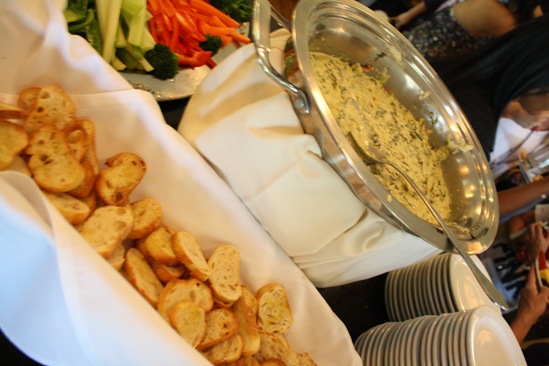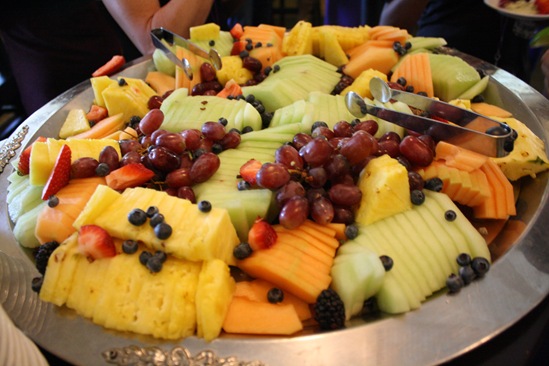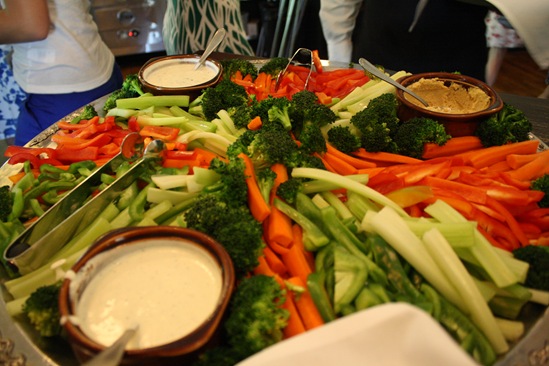 lindsay had a pretty monumental experience—she had her first cocktail in seven years! i guess she was getting the seven year itch and had to scratch it.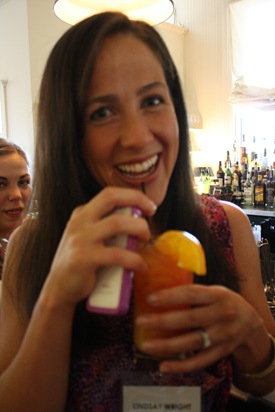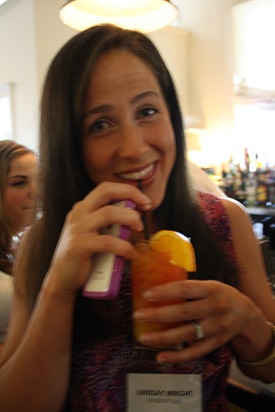 the cocktail hour ZOOMED by. next year it needs to be a cocktail 90 minutes. not as catchy, but way better for face time with new friends!  i did chat with a few folks in the short amount of time.
i finally got to meet heather in person and she is just as fantastic as i'd expected. i stalk her blog regularly. creeper alert.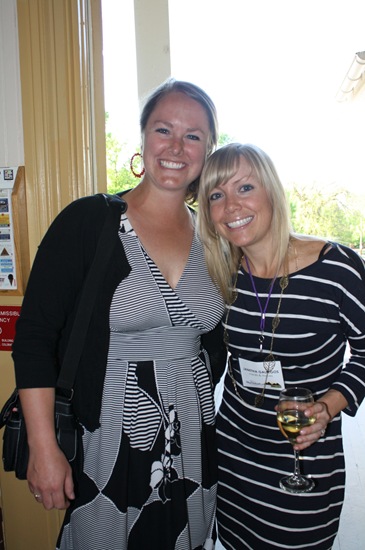 i also visited with ashley and kelsey for a bit. stole this photo from ash's instagram!
i was so excited to see ashley again (met her at foodbuzz awhile back) and to meet kelsey for the first time! she has a pup named penny, too. we were meant to be friends.
i spent the remaining minutes of the cocktail hour talking to alicia and steve from fitmixer, who happen to live RIGHT by me and marshall, are dog-obsessed, love brunch, and own a motorcycle. yes, i can see us having a double date in the very near future!
we all headed to the dining area to sit down for dinner. katie, lindsay, and i stood awkwardly up front an waited for everyone to sit down so we could say a few welcoming words.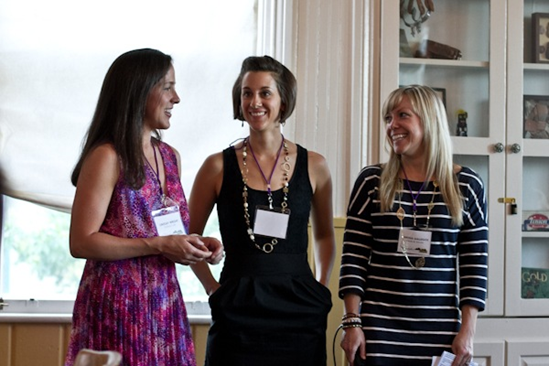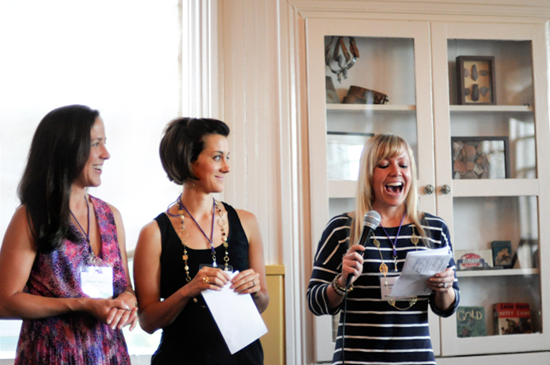 photos courtesy edibleperspective.com & heathersdish.com.
after i thanked our awesome sponsors, linds told a heartfelt tale about how blend came to be, and katie the cake girl gave a shpill about our awesome cupcakes (more on that in a bit), it was time to eat! after eating eggs & toast for lunch and tons of swag (chips, bars, granola) for lunch, all i wanted was a vegetable!! i was ready to eat!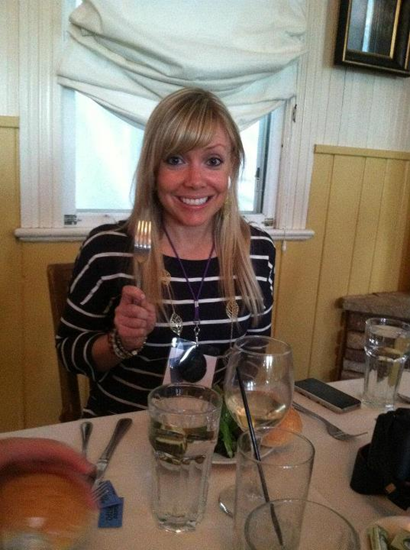 courtesy of lindsay's iphone that's not really a phone.
the meal started with a salad and a roll which i inhaled in probably 73 seconds flat.
i walked around and snapped shots of each table while waiting for the main course.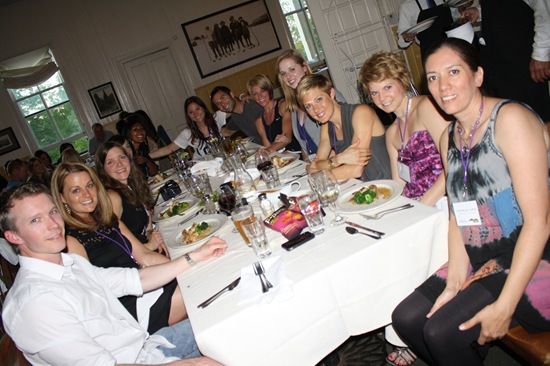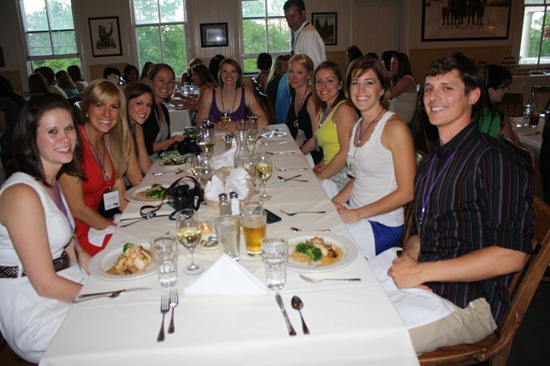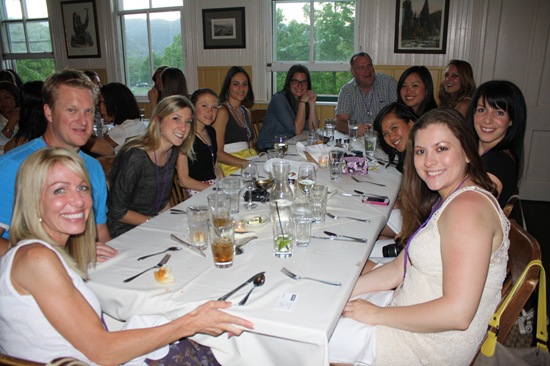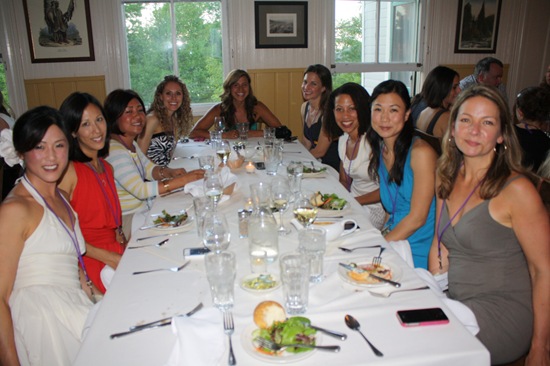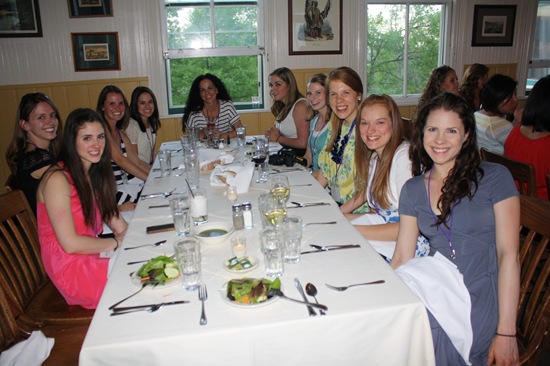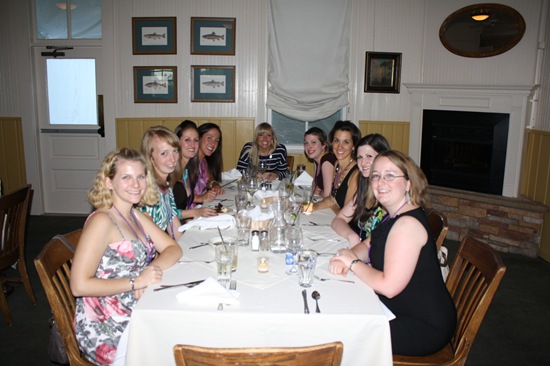 such beautiful people!!
i drank a lot of water between the salad and the main course, but had a hard time getting my glass refilled. i took matters into my own hands on more than one occasion.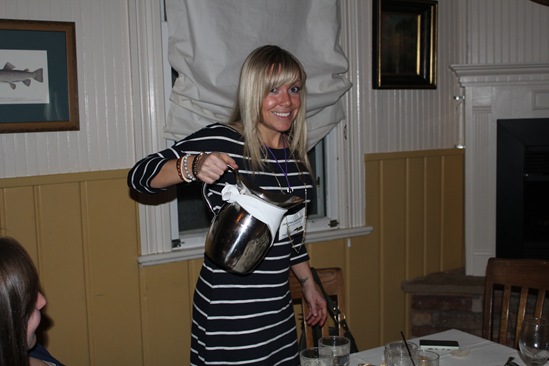 fill 'er up!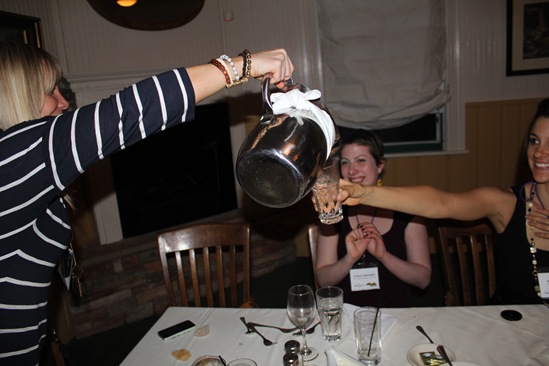 the main course was chicken, quinoa, and broccoli.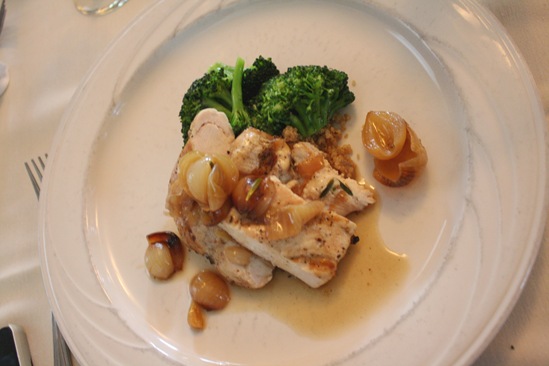 not the best photo, but to be honest (which i always am) it was not the best meal. yep, i said it. this meal was just okay. sure, it tasted good, and i was happy to finally be eating an actual meal, but it wasn't great. i felt like i could have cooked something better myself. i was kind of bummed since i knew the food was one of the main things we wanted to wow people with at the retreat, but we had no control over the situation since the meal had to be provided by chautauqua's kitchen.
the vegan/gluten free option was pasta with marinara, and i hate to say that it was pretty bad. for this being a fancy meal, the dish was far from fancy.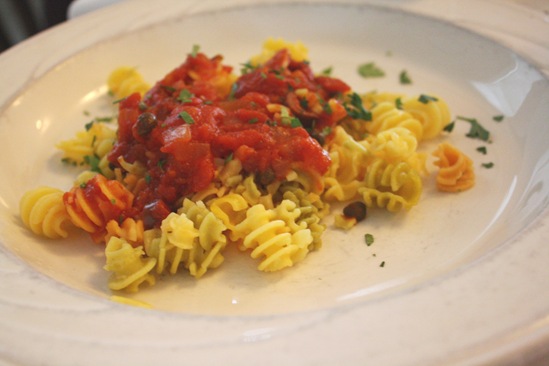 i'll be honest, i felt bad for the vegan and gluten free folks who had this as their dinner. i felt like we let them down with the dish.
but guess what? the dessert TOTALLY made up for any shortcomings the main dishes had.
CUPCAKES!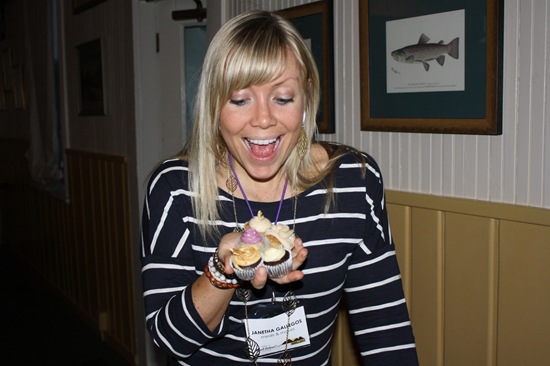 dessert was five flavors of miniature cupcakes made my street fare, a nonprofit bakery that donates all proceeds to the boulder homeless shelter. what an amazing company! and their cupcakes were all ridiculously gourmet.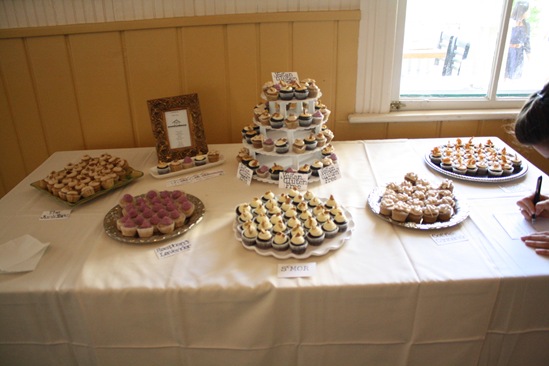 we had the attendees vote on flavors and then linds, katie, and i each picked one. here's what we ended up with: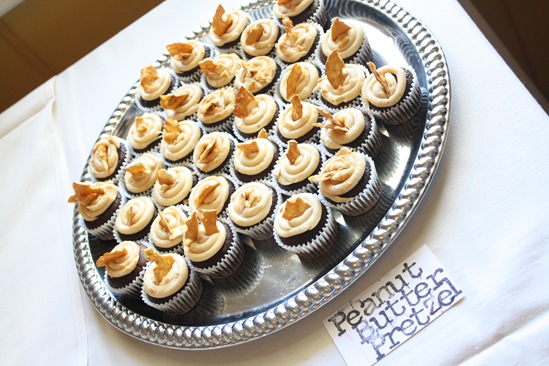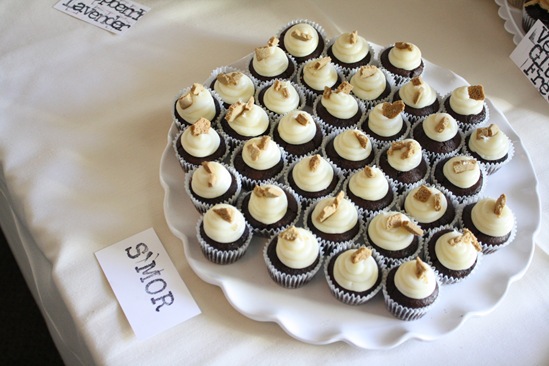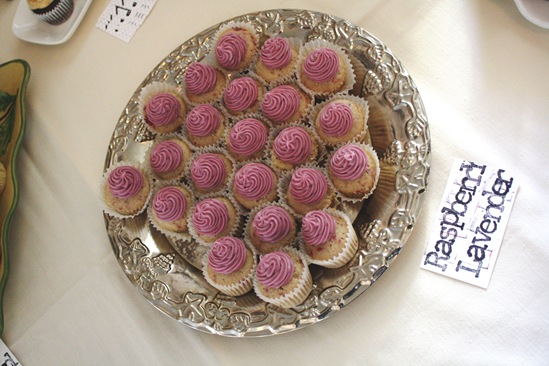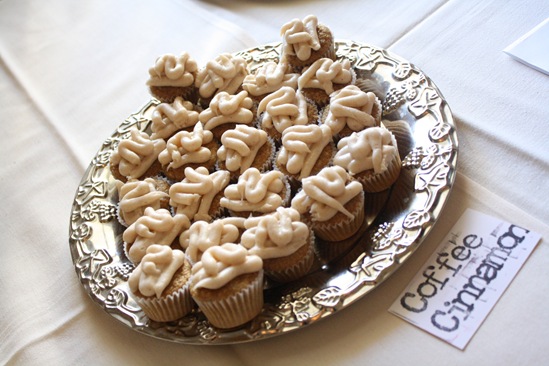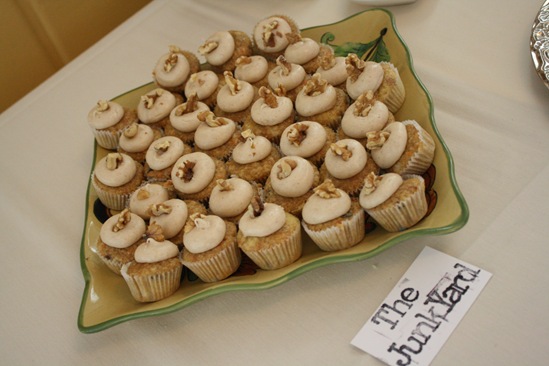 FYI: the junkyard is street fare's version of carrot cake.
the best part is that they were able to make ALL FIVE flavors as a vegan & gluten free version so everyone was able to try everything.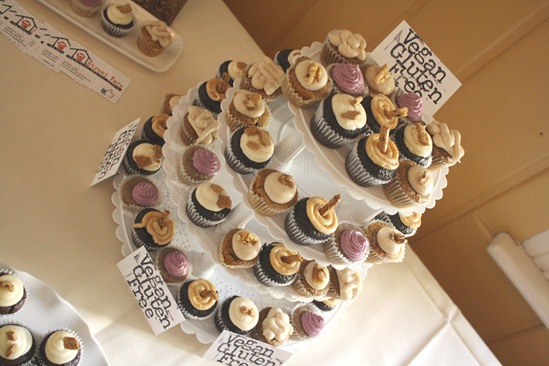 each person only got three cupcakes and there were five flavors, so i paired up with susan and halved each flavor with her so we could try them all. the raspberry lavender was our favorite by far, so we went back for one more of those. delicious!
the cupcakes were definitely the hit of the evening. i am so glad lindsay randomly stumbled upon the bakery at the boulder farmers' market just weeks before the retreat.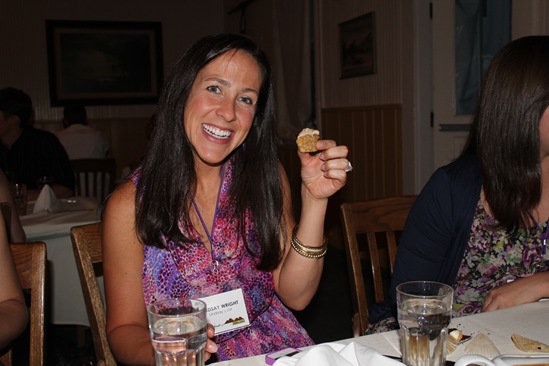 as you can see, calee really, REALLY liked them.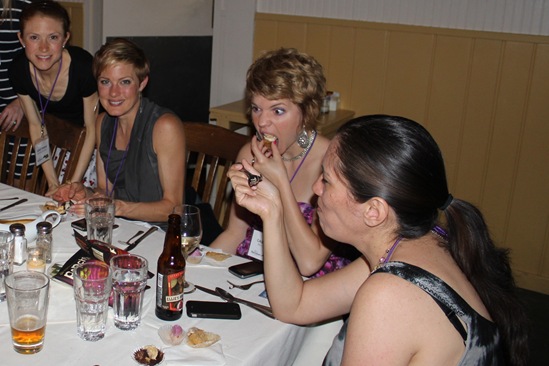 we spent awhile chatting after all the cupcakes had been devoured. it was so fun to mix and mingle with all the lovely ladies i've been virtual friends with for so long!!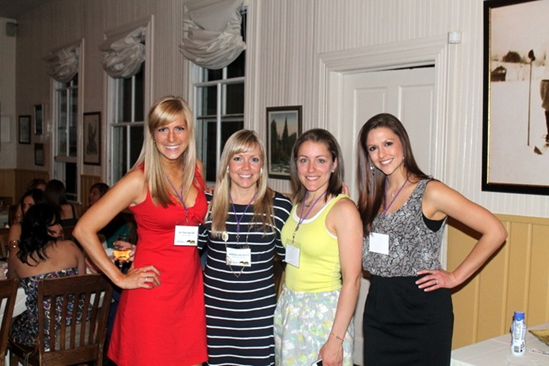 alyssa~moi~ashley~courtney
photo courtesy sweettoothsweetlife.com
i was spent by 10 PM, so i called it a night and zonked out pretty early. this was a good thing, because saturday was jam-packed with a whole lot of action. which, of course, will be covered in my next post.
i realize several of you may be bored with seeing blend retreat recaps on various blogs, but i intend to recap the full weekend janetha-style. this is for selfish reasons, to tell you the truth. i am forgetful, and documenting the weekend in detail will help me remember all the fantastic things that happened! if you are rolling your eyes and just want me to talk about a new recipe, my latest workout (which is nonexistent), or my dogs.. you should probably come back next week when things are back to normal around here. but if you enjoy these recaps, please stay and read my ramblings! thanks for understanding. and thanks for reading!
xo. janetha g.