blend started on friday, but i got to colorado on thursday. there was plenty of prepping to be done before the retreat! lucky for me, katie lives in denver and offered to pick me up from the airport, buy me coffee, feed me lunch, and give me a bath. okay, maybe not that last part, but she's a very hospitable lady!  and, boy, was i glad to finally meet her in person after all these years. katie has been my blog friend since 2009.  
my dear friend susan got into denver the same time i did and we didn't even plan it! perfect timing. we all headed to katie's house and waited for lindsay to get there. lindsay is living in boulder for a month.  rough life… 
while we waited on lindsay, katie fed us grilled cheese sandwiches and carrot sticks. katie's neighbor, tona, has been reading my blog for a long time now and we have become internet friends. she was able to come over thursday afternoon so we could finally meet. it was fantastic and we all chatted nonstop! lindsay eventually arrived and i pounced on her. literally. i was just so excited to finally see linds in the flesh.
aaaand i just realized i have zero photos of any of these events, and i am pretty bummed i didn't snap a shot with tona before she left katie's place. :( 
katie, susan, lindsay, and i headed to the salon for manicures and pedicures. it was nice to get in a little pampering before the wild, nonstop weekend started.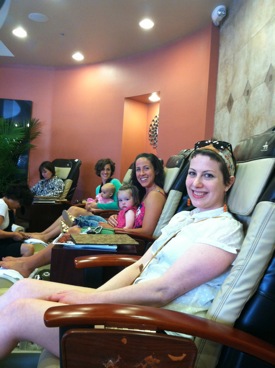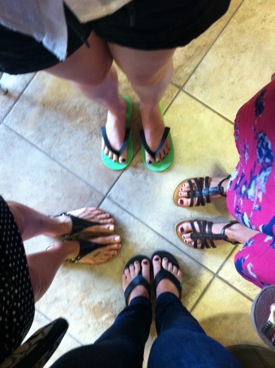 as you can see, katie and linds had their sweet little girls in tow. baby A and clara are both stunning! they are going to drive the boys wild later in life.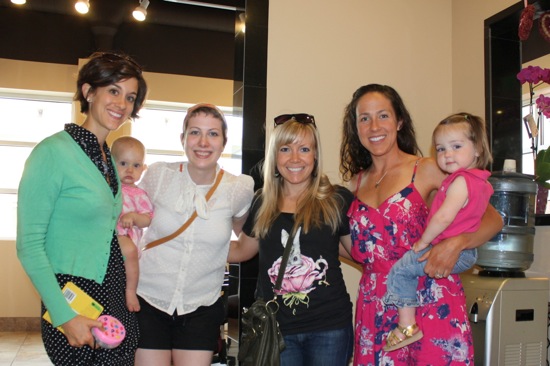 after our pampering session we headed to a nearby mall for a little last minute shopping. lindsay had never been to a forever 21.. ever.. and the one at this mall was ridiculously huge. you can imagine how overwhelming that was for her!  all that shopping made us hungry, so we headed to the white chocolate grill for dinner. i figured i'd be food blogging all weekend, so i skipped snapping shots of dinner. 
believe it or not, i went to bed at 9:30 PM on thursday night! that is probably the earliest i have zonked out in years. it had been a long day and i knew i would need as much energy as possible for the upcoming events.
friday morning i popped out of bed at 6 AM (i actually woke up at 4 AM and then 5 AM before getting up once and for all at 6 AM.. i am not used to getting so much sleep!) katie has a home gym in her garage and i used it to complete the GPP workout of the day. no excuses!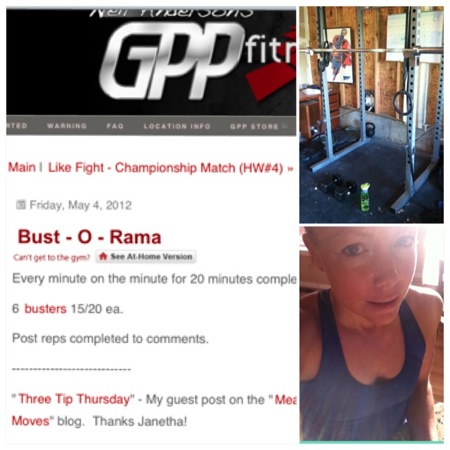 a quick 20 minute workout was the best way to start my day. although by that last round of busters i wanted to head back to bed!!
sweet katie had a tasty breakfast (complete with coffee) ready for me in no time.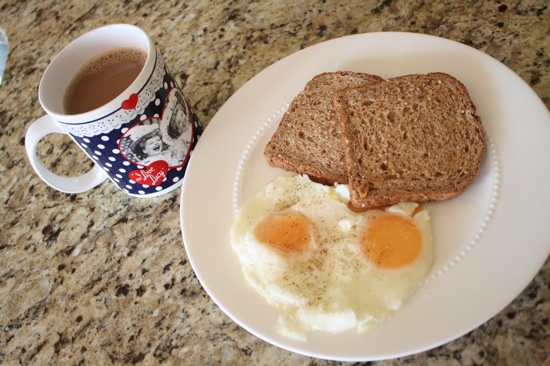 it's official, she makes the BEST eggs. the yolks were cooked to perfection. i am not just being nice.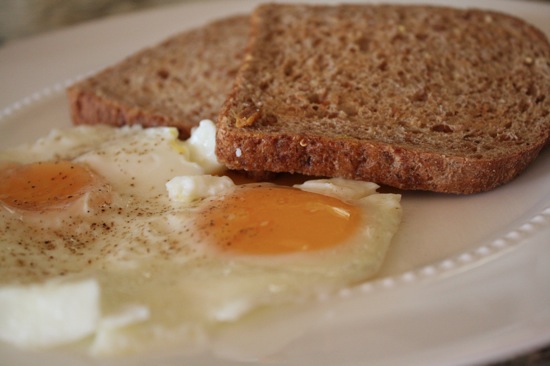 she said the trick is to put a little water in the pan and cover with a lid. this way you cook the whites and the yolks are over-easy and there is no flipping required. i can't wait to try this myself! 
we didn't waste any time after breakfast. we immediately started packing up all the swag to make the journey from denver to boulder.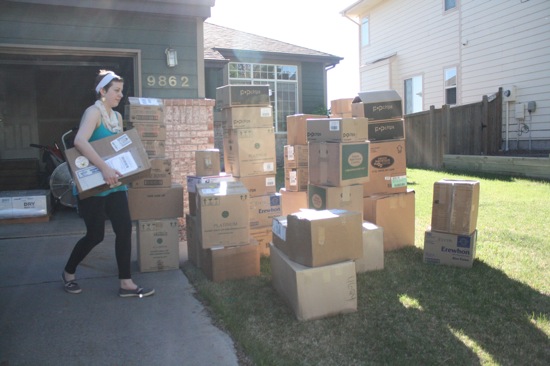 we even recruited baby A to help out!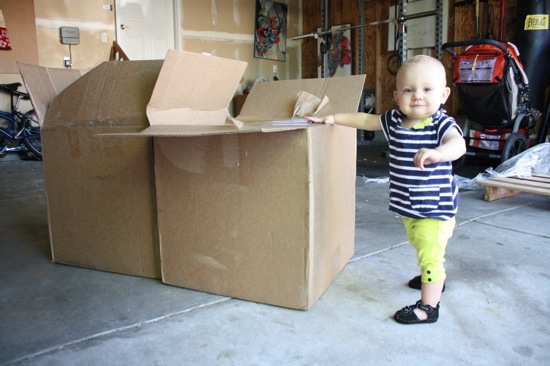 after katie's husband played a little tetris with the boxes of swag, we were off! we made a quick pit stop at costco to stock up on a few items needed for the weekend and then got to our final destination–chautauqua!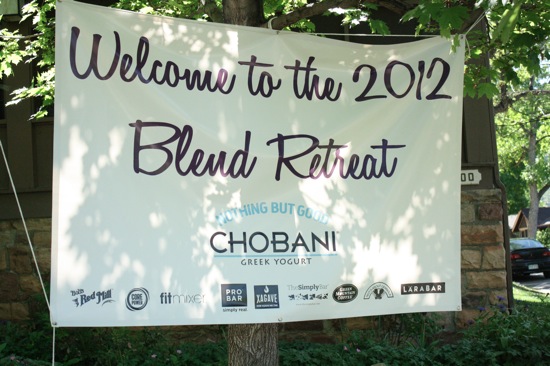 we chose chautauqua as the location for blend because it is made up of several individual cottages. we were all able to have our own little spaces while still being together as a big group. blend headquarters was the missions house–a big lodge with 8 rooms, 9 bathrooms, a kitchen, and a commons area.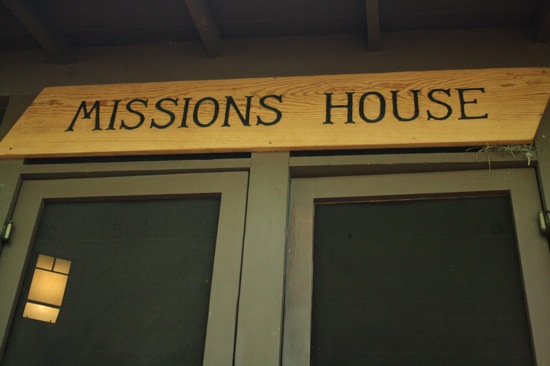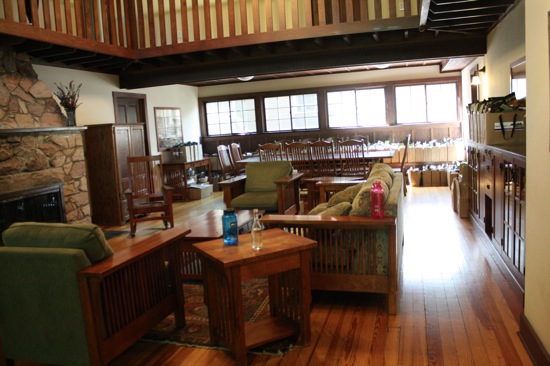 we immediately got to work setting up the headquarters. there were signs to hang, registration details to be worked out, and swag bags to pack.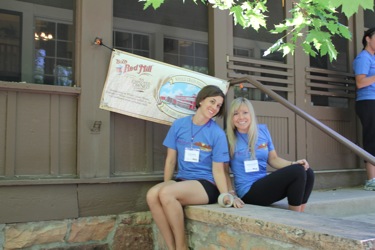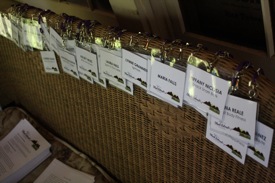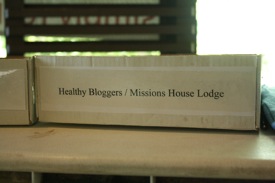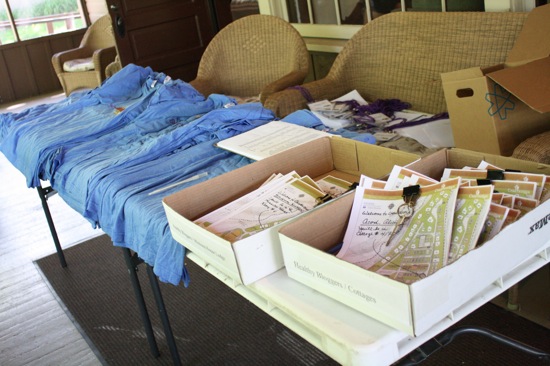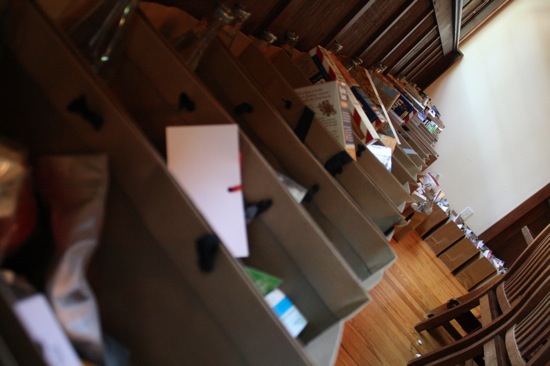 oh. swag bag packing. that was probably the most tedious, chaotic task of the whole weekend! luckily we had a LOT of helpers. it was a madhouse trying to get them put together in time!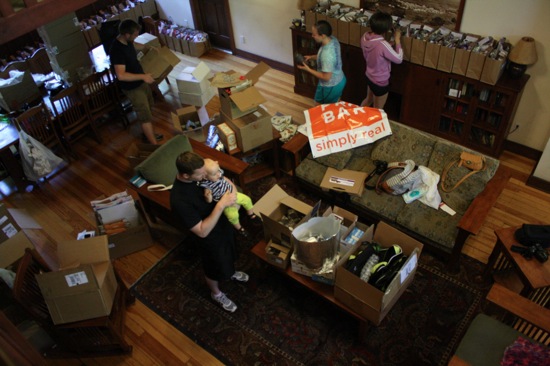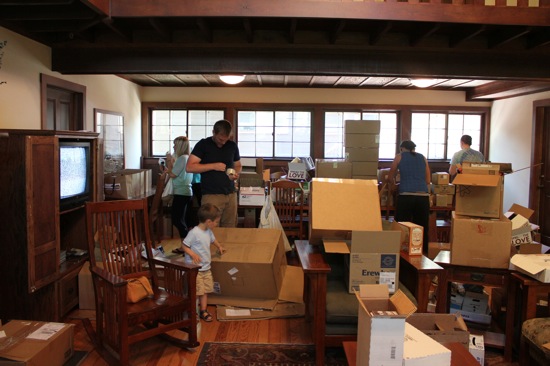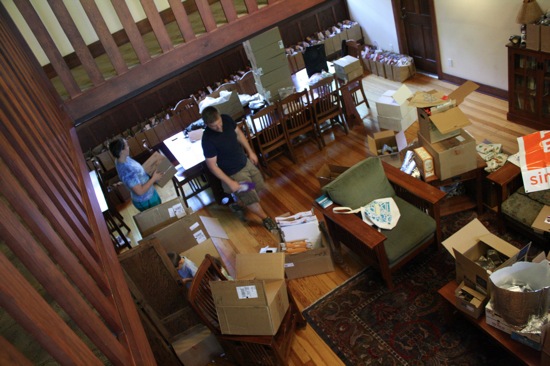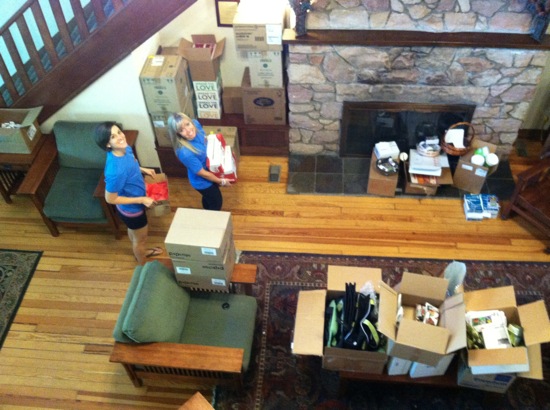 we were actually really surprised with how much swag we ended up with. HUGE thanks to all the sponsors who donated!!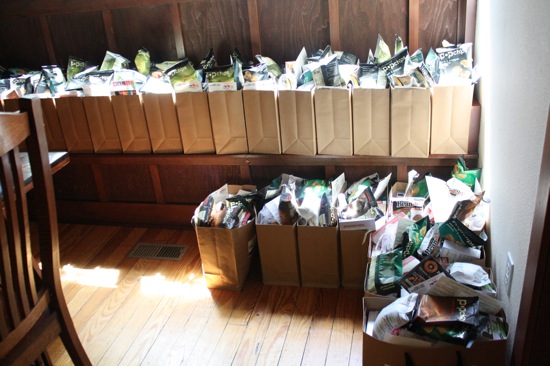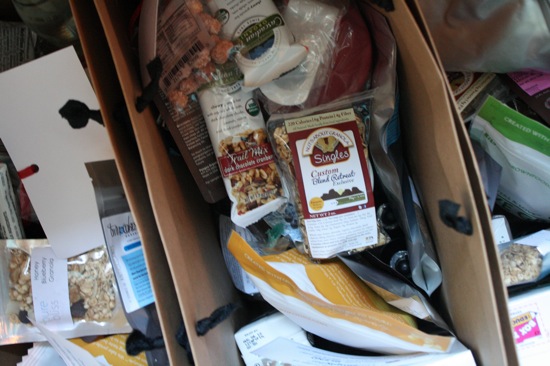 we took a time out and lindsay gave katie & i the CUTEST hand-knit custom-made mug sweaters.. mine had a dumbbell for meals & moves and katie's had a cake for yes i want cake!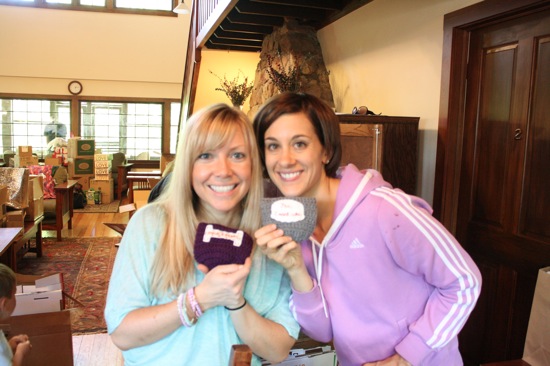 lindsay also snagged me a mini spoon at the boulder farmers' market. i loooove little things!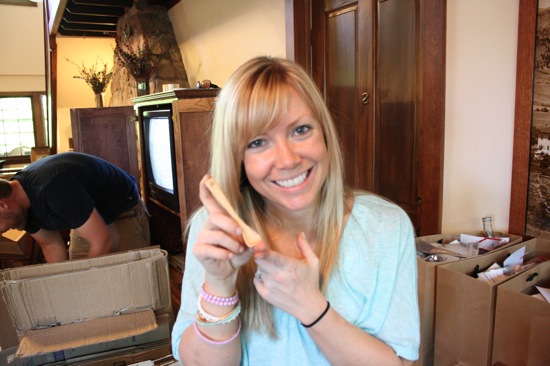 thanks, linds, you're so dang thoughtful.
the afternoon flew by (and i ended up eating swag for lunch–thanks to nuts about granola, the simply bar, twin cakes bakery, popchips, and lush nuts!) and before we knew it, it was time for registration!
i took in a split-second of calm before everyone arrived and was able to capture a beautiful shot of blend headquarters.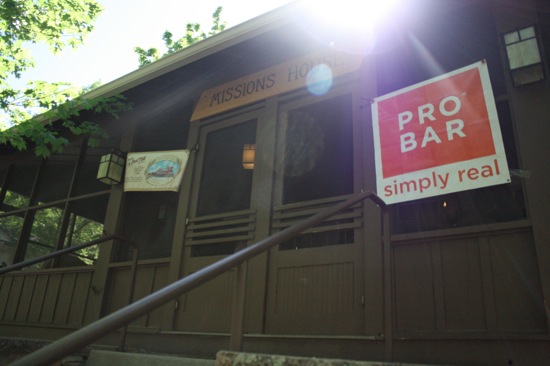 and then.. it was time to work some more!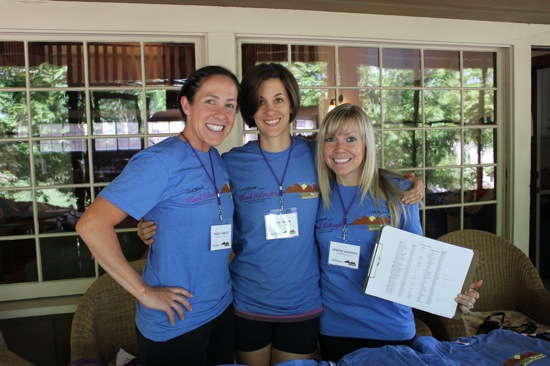 we checked in all the blend attendees between 4 and 5:48.. and then realized that the cocktail hour was starting in 12 minutes so we'd better bust our butts to get ready for the meet & greet and dinner! which, of course, i will be recapping in my next post. because this one is long enough already. 
i think that for blend 2013 i will come a couple days early instead of just one… 
in other news, i feel like crud. i have a sore throat, a headache, and my whole body aches. i think this is due to the combination of traveling, working out more than i am used to, lack of sleep, and having one of the most stressful days EVER back at my day job. that's my story and i'm sticking to it. for some reason, i have the tendency to get sick when i return home from a trip. it's lame. my body needs to get with the program and realize i can't afford to get sick when trying to play catch up. i popped a bunch of vitamin C and am drinking OJ. cross your fingers i wake up feeling better!
xo. janetha g.