hey guys!
this post is going to be on the snappy side because i have lots to do in a little amount of time.. but i didn't want to bail without saying goodbye!
things in meals & moves land are just like christmas today…
just like christmas morning, i woke up super early.
except i didn't get to open presents.. i got to sweat my face off! i went to GPP at 6:30 am AGAIN today. freaking hoo-rah. who am i?
the workout was tough. it's HELLth week at GPP so all the workouts are extra… fun? i was already sore from the first two days of HELLth week, so today's workout was a little tricky to get through, but i did it. those thrusters were almost the death of me! but i love tic tocks and the ski squats, a new-to-me move, were really fun.
just like christmas, i wore new clothes.
when i was a kid, i always loved wearing new clothes on christmas day! i wore some new things today, except santa didn't bring me these clothes.. i bought them myself.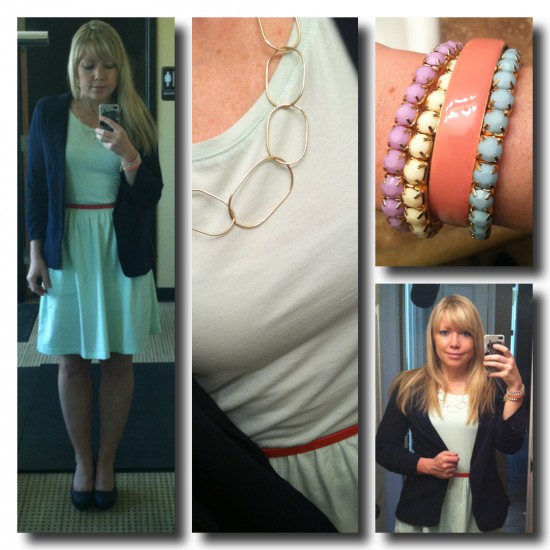 mint dress: h&m
navy wedges: h&m
navy blazer: nordstrom rack (not new)
bracelets: h&m, aldo
necklace: target
coral belt: macy's
just like christmas, i need a tan.
oh, wait, i always need a tan. all year long, not just in december. i am a whitey.
just like christmas, i ate cookies.
these ones. they are delicious. and, like, 120 calories for eight of them. and i don't have a trader joe's, so i ration them and only eat a few at a time. win-win.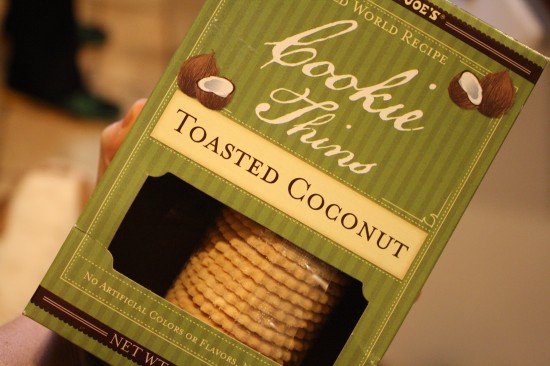 they have a lemon variety that is good, too, but these are the best.
just like christmas, i ate a frittata.
okay, that's not something i do every christmas.. but i did this past christmas and it was good! i have started making frittatas for an easy weeknight meal.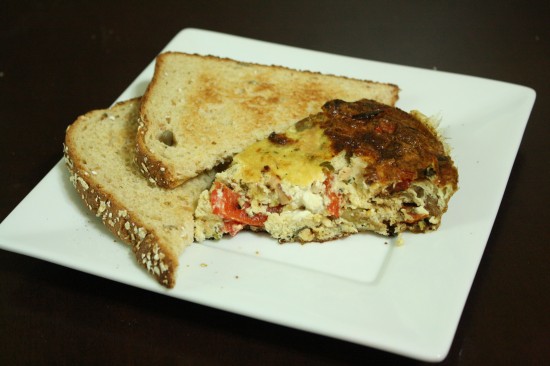 this one had roasted red, purple, and sweet potatoes, red bell pepper, green onion, feta, goat cheese, asiago, garlic, basil, salt, and pepper. whew! lots of good stuff. i smothered it in ketchup after the photo and piled each bite onto the toast. yum.
just like christmas, i got a present.
cards!!! my buddy terry from eyefirst media designed and printed these GORGEOUS cards for me. aren't they fantastic?
the details are what make me the happiest.. like the houndstooth pattern. swoon.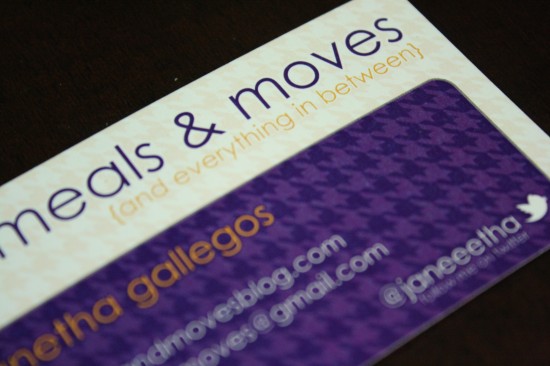 and the scannable QR (quick response) code that allows people to get to this landing page by scanning the box with their phone.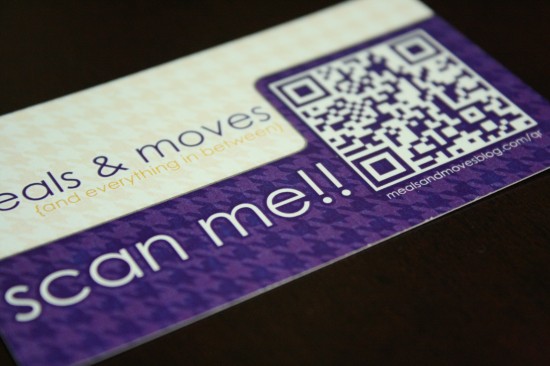 they did a great job!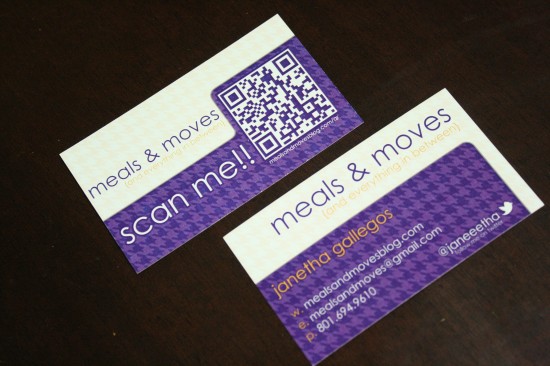 thanks, guys!
eyefirst media is a local company that specializes in several things:
print work (business cards, brochures, etc)
design (logos, blog headers, websites)
photo and video
they are super creative and have a great eye for design. as you can see, they've done a fantastic job with my cards. they've offered all meals & moves readers 25% off their services (just tell them i sent you!) to get started on a project,
contact them using this form
.
oh.. and remember how we were talking about today being just like christmas? i saved the best for last.
just like christmas (eve), i am not going to be able to sleep because I AM SO FLIPPING EXCITED TO GO TO BLEND TOMORROW!
well, technically blend starts friday.. but i fly out in the morning and will finally be meeting katie & lindsay-my blend retreat partners in crime.
i better go pack!
hope to check in at least once while i am in colorado.. but if i don't, just know i'll be back. eventually. maybe.
xo. janetha g.