hello! april is over, now it is may.
SO excited that everyone is pumped up to move more in may. the entries are already rolling in!
i have personally been moving as much as possible today, despite my severe case of DOMS in my hip flexors. thanks a lot, GPP. who new little baby sprints could make me hurt so much? yikes. you guys would be proud, i woke up bright and early this morning and met kerryne at GPP for today's workout… AT 6:30 AM!! i am so bad at morning workouts, but i have a ton to do before i leave for BLEND on thursday, so i had to get it done early. to be honest, i am glad i got the workout out of the way early since the soreness from yesterday really set in this afternoon. i am scared to wake up tomorrow… i wonder if i will be able to move? hmm.
i did make an extra effort at work today to get moving. instead of using the drinking fountain near my office to fill my water bottle, i went downstairs and filled it there (four times—96 ounces of water at work today!) i actually took the stairs a LOT today. usually i let a bunch of paperwork pile up on my desk and then take it downstairs in one trip, but today i took each item piece by piece—making a separate trip up and down the 23 stairs each time.  i ended up with 13 extra trips today which equates to 299 stairs!
i was lucky enough to be featured on two of my favorite blogs today!
check them out! maybe read the cheesecake one, make them, eat them, and then do the workout? yeah.. good plan.
time to recap the last week of adventurous april! i had a ton of entries come in right at the end of the month! can't wait to share. but first, my goofy video:
and now, your adventures! the winners of the THREE custom cases of chobani will be announced at the end of the post.
Jen says: i'm typing one handed because of my april adventure. i adopted my first pet ever, a tiny, bitty ball of fuzz love, a caramel and white kitten named franz who is sleeping in my arms. growing up, my mom vetoed all pets, but now that i'm a (mostly) grown up, i took the pulnge yesterday and now have another living creature with actual needs to be responsible for. talk about adventure! :)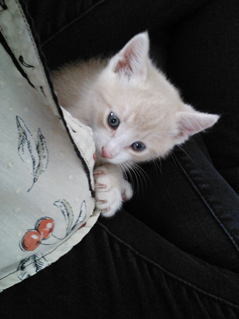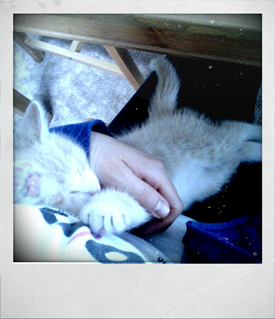 Amanda says: I did a ninja challenge practice race! It was totally nerve wracking, and I think i just tripled my fears for the real thing (which is a 5k with a bunch of "ninja-style" obstacles), but it was SO much fun! We originally thought we only had to do the crazy course 4 times, and when I found out we had to do it 6 times, I thought I would back out and wimp out at #4… but *somehow* I made it to all 6! Gah, I almost wanted to puke after my last burpee, but my goodness, I made it!
Not only did i finish my first race ever, but after I finished, I was so proud of my body for being so awesome and kicking ass in that challenge. For all the days I say terrible things about my legs, all i could do was be so thankful for them for all their awesome work!
Hannah (I LOVE YOUR NAME IT IS A PALINDROME!) says:
#1 Today I went to my first Hot Power Yoga!  I havent done yoga in FOREVER just because its not something I think of but I know I should!  It was awesome.  I feel so stretched out and relaxed right now ! :)
#2 I have been cooking with Shitake Noodles for a substitute for pasta.  tonight I mixed a bowl together of the noodles, asparagus, eggplant and sweet potato all with garlic and sauce! it was awesome and perfect for this rainy day weather!
3  I bought a groupon with some friends to go to Cross fit.  This saturday I am doing the intro class for 3 hours. I am super nervous but excited
4  I had breakfast quinoa with bananas and black cheeries, and almond milk.  It was DELICIOUS (even though i had originally cooked it with garlic.. oops!)
5. I tried some asian snack.. peanut honey crisps. sent to me in a care package!.. it was ok, i was a little nervous because i couldnt read anything on the bag!!
6.  I have begun to drink kombucha more frequently.. although not the best thing for my wallet i have been loving it!!
Tamara says: I cooked with kale! And with wonton wrappers. Both firsts for me! I blogged about it here: http://wildbluewonder.wordpress.com/2012/04/22/tofu-kale-triangles/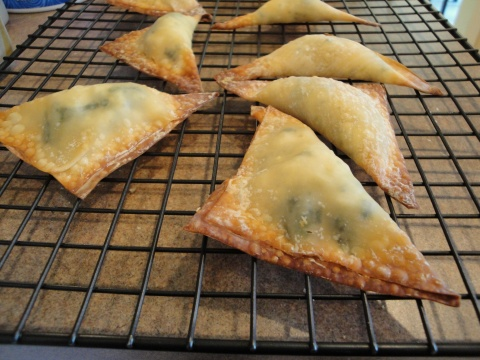 Elaine says: So I finally gave into my fear of touch screen phones and upgraded to an iphone! By day 2, I was ready to go return it and pay the restocking fee, but I've stuck with it and after learning little tricks here and there and having my brother show me some things on it, I'm getting used to it and happy to be rid of my Blackberry.
Also, I was grocery shopping just today and I don't often buy new products, especially at regular price because I hate wasting money and I hate wasting food. That being said, I bought at full price, a bag of KIND Healthy Grains Clusters – Oats and Honey with toasted coconut. OHMYGOSH, I'm in love this! I now want to try their bars too and see how those are.
Sarah says: my adventure for this week was trying a new food. i bought morel mushrooms at the farmers market this weekend and tried them for the first time. i really like mushrooms, so i knew i'd probably like these, but i wasn't prepared for how flavorful they are! i just sauteed them and seasoned with salt and pepper and now they might be one of my new favorite foods! i'm so glad i finally tried them. too bad they're ridiculously expensive! i blogged about it here –> http://www.sarahlearns.com/something-new-morel-mushrooms/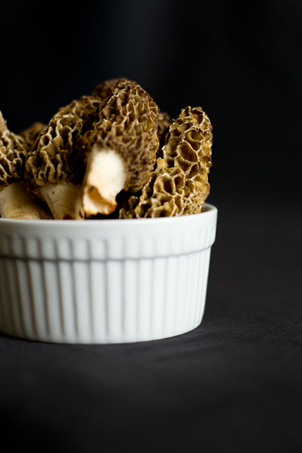 Kimberly says: My first adventure for the week was participating in a clinical trial Monday. I am a healthy control got a blood draw and a typhoid vaccine. They will do another blood draw in 3 weeks. They are hoping they can use this vaccine to monitor B cell function in patients on IgG therapy. Currently, they have to come off therapy for 4 months before they can test their B cell function. I will be getting a $25 gift card after the next blood draw. My next adventure was buying a strappy yoga top online, always daring for a busty lady. Unfortunately, it's a little too busty. You never know unless you try.
Carly says: This week for Adventurous April, I attempted to make strawberry shortcakes for the first time! I've had strawberry shortcakes plenty, but never from scratch. My boyfriend and I even took it a step further and picked the strawberries ourselves from a local farm. I was a little scared to try baking something new (especially because I rarely bake), but they turned out incredible! I'm so happy I did something outside of my cooking comfort zone because now I feel like I've got a good cookout recipe in my back pocket. I blogged about my adventure at: http://soakandsimmer.blogspot.com/2012/04/strawberry-shortcakes.html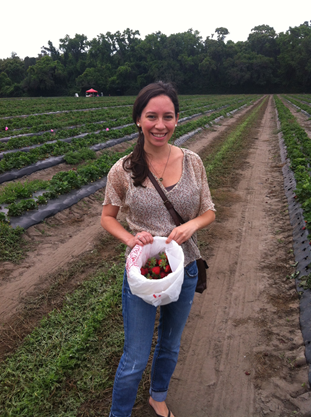 Ash says: This past week made my own veggie burgers for the first time! http://frecklesandspice.com/2012/04/spicy-pinto-portobello-veggie-burgers/ Tried Nordic style sushi! And did my first crowe pose not balancing on my head!!
Allison says: So, my adventure for the week?  Defending my master's thesis project (and passing too!).  It definitely came down to the 11th hour and there were many times when I was convinced I wouldn't get it done in time for graduation but I persevered and it payed off.  The adventerous side of this being that I had to go way outside my comfort zone, learn a whole new field of research, get up and present a year and a half of work in an hour and THEN get grilled with questions for half an hour.  It was a terrifying, exhilarating and gratifying experience.  To top it all of, my entire family and future in laws are coming out from home (Madison,WI…Go Packers!!!) to celebrate me earning my master's of nutrition from the U in 9 days!  Even after all that work and stress… I'm more than ready to take on my next adventure!
Unfortunately I don't have a picture of me defending my research… but I do have a ridiculous picture of how I felt leading up to it!  Hahahaha,  I definitely look and feel MUCH better right now than I did at that moment.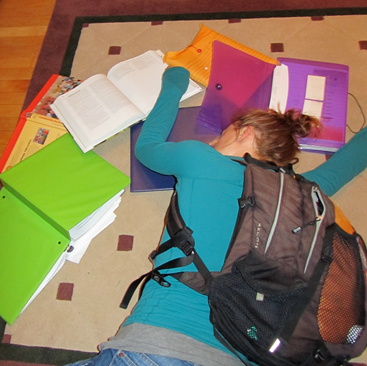 haha, awesome photo, allison!!
Kelsey says: I love Pizza! I have never made my own pizza at home. Today for lunch I decided to try and see what I could make! I used whole wheat Pita, fresh mozzarella, fresh basil and crushed red pepper flakes! Wow…..not only was this easy but delicious! I made a quick side salad to finish off my lunch! Thanks for the inspiration to be adventurous!
Jennifer says: My adventure in April has been planning, building and planting a vegetable garden at our house. I usually kill anything that I plant, but this year I am going for it! Instead of just going and buying random plants and ignoring all the recommendations, I have been researching what will  thrive in Northern California and in mostly sun. I also put reminders in my phone to water the plants (I usually forget, then over water). My husband built the planters and we spent last weekend filling them up. This is a big commitment for someone who has never successfully grown anything ever. But this is something I've always wanted to do so I took the leap!
Lauren says: I have always stuck to shorter races – 5ks, 10ks, and half marathons, so I finally signed up for my first marathon this spring. This past weekend, I hit 20 miles for the first time! I ran with my training buddy and had started a mile ahead of him. I was aiming for 19 miles, but I was feeling great (and 19 is just so close to 20) that I decided to go for the 20. I'm still on a running high 3 days later and feeling confident that I can run the full 26.2 now.
Sarah says: I did a few "new to me" things this week. I'm sure these are things that everyone does on a normal basis, but for me it was definitely "outside of the box". Today at the gym I did deadlifts. I'm deathly scared of these, and straight leg deadlifts. I feel like I'm always doing them wrong, and don't want to be judged, so I always skip them during my live fit workout routines. I need to stop thinking about others and focus on myself when I'm at the gym. Also I made my own granola and cauliflower pizza crust! I'm a OCD and always stick exactly to the recipe, but this week I decided to add a few things, take a few things out, and make the recipe my own. The outcome was DELISH. I'm TOTALLY enjoying my new adventurous self!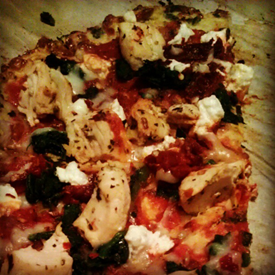 Katy says: My new adventure is I'm starting to bike and I have a new biking partner (my yorkie, Benji). I bought a pet basket for him. I thought you would get a kick out of this photo. It is from Christmas and my dogs were super excited (can't you tell) to pose for this pic. :-) … The other dog is my bulldog Krisco (isn't she cute!)
Natasha says: Not a whole lot of excitement this week except I'm trying to not weigh myself each morning to see what happens.  So far it's been mostly a relief but I still get anxious not knowing (:  We'll see if it goes beyond this week….
Calee says: Just got back from an impromptu lunch workout (inspired by your two-a-day post — I forgot how much I love lunchtime classes!) … I did a class called Yo-Pi. I thought it was going to be Yoga + Pilates … but it was Yoga + Pilates + plyometrics. I typically avoid yoga and pilates because they don't make me sweat, and it's a real embarrasment to be the shortest person in the class and the only one that can't touch her toes — let alone the ground. But, I think I might become a regular. Especially since I decided to go for the last class of the semester … d'oh. I hope they have a summer class! I think after a few weeks I might be able to touch my toes. Maybe. It's never happened before.
Kaylie says: I've wanted to submit this for 3 weeks and I finally got up the courage to show the blogging world my adventure- or leap of faith, I should say. Awhile back, I recorded myself dancing, without thinking anyone would ever see it. Only problem is my sister and boyfriend both found out and showed all of our friends! They've been bugging me to put it up on YouTube for over a year but, until now, I've been too scared to do so.
My adventure this April didn't actually occur this month. It happened about a year ago. You see, I am an EXTREMELY weird dancer- and proud of it when I'm with my friends having a good time! However, one day last year, I wanted to see just how bad I was at dancing. I was cleaning my rooms and the song "Gold Digger" came on. I decided to record myself dancing. Well… my sister found it a few weeks later and showed ALL our friends. I was SO embarrassed! All my friends loved it and tried to convince me to post it on my YouTube channel. I refused because I was too scared. However, my adventure this month was getting up the courage to FINALLY post it on YouTube. If you are one of my friends reading this, I hope you're happy! ;)
Here is the blog link: http://happykaylieplace.com/2012/04/25/my-adventurous-april/ And YouTube: http://youtu.be/ZDbBuXYnxpk?hd=1
Rachel says: I finally found and ordered some fruits and veggies from an organic farm!  I've been wanting to do this for awhile but just kept putting it off (not sure why).  We have a tiny farmer's market in our area in the summer, but I wanted to find something for year round.  And I did!  I ordered a "little fruit" box, and just got it yesterday!  I attached a pic.  So far I've tried the apples, mango and bananas, all are delicious!  Everything looks awesome.  So glad I finally ordered!  http://eatrunrach.blogspot.com/2012/04/suburban-organics.html
Also, this week I've challenged myself to cut out all added/processed sugars and artificial sweeteners.  I've been drinking my coffee without splenda/stevia and making everything from scratch, sans sugar.  So far, so good!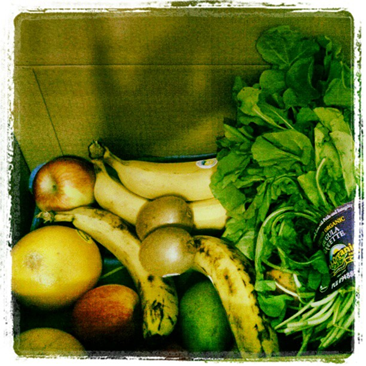 Stacy says: I read on Iowa Girl Eats about using cauliflower as 'rice' – just chop up and place in the food processor for a few pulses and then steam. I tried it last night for a healthy, low carb side dish instead of rice and it was so good. It was nice to try something new instead of always defaulting to spaghetti squash and I can't wait to try it again with some different seasonings!
Sara says: Barre Class: I am an ex collegiate athlete who took up running and lifting after my 4 years and have never looked back.  Exercise classes (other than spin) terrify me because my coordination skills are ridiculous. Yesterday during my lunch break I thought I'd check out Megan's blog since I hadn't read it in forever. Good thing I did or else I would have missed out on this class I've always wanted to try and meeting her lovely self. On my drive there I was more than tempted to turn left and just run at the gym. The hardest part for me is getting there and not psyching myself out.The whole day I was thinking: Adventurous April over and over.  The class was so fun! It reminded me a lot Pilates! Megan was a sweet heart and so fun to be taught by. This was really out of my comfort zone but I am so glad and proud I went!
Carissa says: I made easy healthy garlic mashed cauliflower and posted about it here: http://www.fit2flex.com/2012/04/easy-healthy-garlic-mashed-cauliflower.html
Kat says: I did try (2) new-to-me sushi rolls at my favorite Las Vegas (Henderson area) sushi place, I Love Sushi.  They have crazy, funny, and X-rated names for their rolls.  So, I tried a roll called "Taste Like My X-Girl Friend" and the "I Love Sushi Special".  Both, were very tasty!  I'm happy that I tried them because my new favorite roll, at the I Love Sushi restaurant, is now the "I Love Sushi Special". Go figure! Here's the link to my post: http://balancingkat.com/i-love-sushi/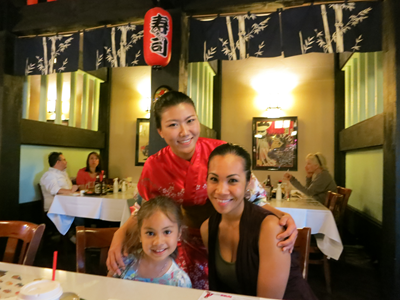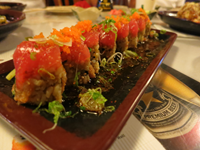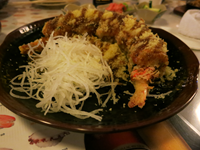 Jess says: Although I live close to many beautiful hiking spots, I am sad to say that I've never been on a hike! *Gasp* I know, shame on me. So believe me when I say that when my friend Morgan (www.lifeafterbagels.com) asked me if I wanted to join her on a hike, I jumped at the chance! It was Adventurous April after all;) We both decided to take side routes on our hike to be a little bit more "adventurous" and decline push-ups were involved ;) I believe in taking every opportunity to get a workout in;) We had a BLAST and I definitely see more hikes in my future! Posted here: http://www.trulyjess.com/?p=888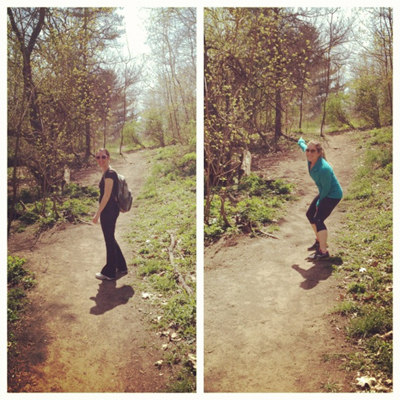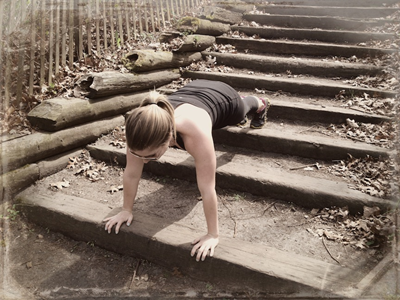 Meggi says: My adventure for April involved a vacation we just went on.  We took a Harley tour of Cozumel which was incredible.  I was super nervous because:
A) my husband owns a 70's Honda vintage bike so the Harley was much more powerful 
B) I have never been faster than 40mph on a motorcycle
The tour was amazing and we got up to 75mph on the highway that goes around the island!  More than anything it reminded me to have faith in my husband and his abilities.  I was just a passenger on the back so everything about the tour was under his control.  I tend to be a control freak about things so just sitting back and relaxing while he was in charge of the tour was amazing and reinforced what I have been working on: Don't try to Control Everything in Life :)  Dirt Roads next to the ocean, Highway, and even a Rain Storm comprised the journey but overall it was one of the most fun and exciting things we have ever done! After that, we did a zip line tour in Honduras where we were over 300ft in the air and swam with wild stingrays in Caymans.  I wasn't apprehensive at all because of the little "ah-ha" moment I had during the motorcycle ride :)
I blogged about it here:  megistentialism.blogspot.com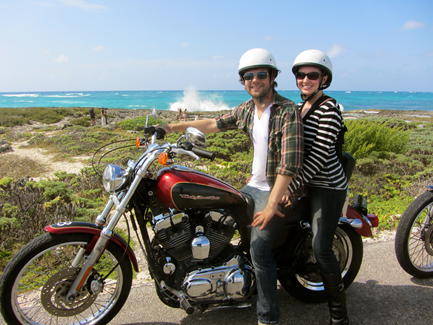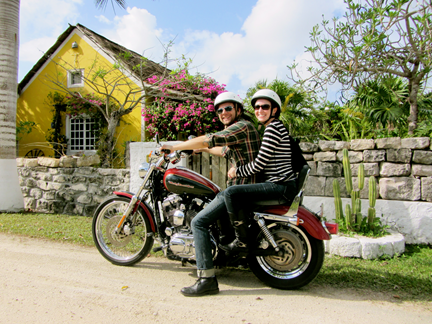 Fox says: First of all, more foray into the world of piercing. I finally sucked it up and got an eyebrow piercing, and detailed the process in great length on my blog: http://fox.tinybike.net/2012/04/piercing-of-eyebrow-and-other-tales.html#!/2012/04/piercing-of-eyebrow-and-other-tales.html. In short. It doesn't hurt at all, I love how it looks, and even the husband is OKAY with it. I should have done this long ago.
Second, Booty-booty-booty shorts purchasing! I have always wanted to wear short-shorts, but my legs are very muscle-y and I'm embarassed to do so. Well, I saw these really cute short shorts at Hot Topic the other day, and I had a birthday coupon, and well… they were going to be mine! So… attached is a picture of my little shorts. Of course, old man weather had to make it like 40 degrees in NY since the day I got them, but you can bet when it warms up I'm wearing them out and I'm going to be okay with the fact that my legs aren't beanpoles, but beanpole legs can't run 6 by 5 minute interval sprints. I also got another pair, but see below in my third adventure for the pic.
Third, sleep hacking! I detail this greatly here: http://fox.tinybike.net/#!/2012/04/free-friday-im-sleep-hacker.html. I've had a lot of trouble sleeping for years and I've developed a bad habit of night snacking that sets me back from my goals. It was time to win against this habit. I'm taking a "from all sides" approach and discussing the battle openly online. We'll see how I hack my sleep in order to feel stronger, do better at work, and keep a svelte figure! Attached is a pic of the three supplements I selected after reading a lot about sleep in a bookstore. Not a vitamin shoppe promo, I swear, it's just next to the bookstore, lol.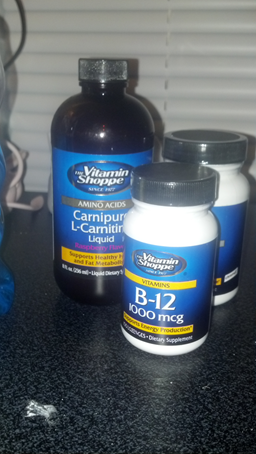 Tamara says: This week I attended a fitness class that was completely outside my comfort zone; Burlesque Bootcamp! It was a fundraiser for a local children's charity and 40 women turned up to bump, grind and strut themselves sweaty! Although we started the evening feeling a bit inhibited, by the end of the class, everyone was laughing and smiling and talking about trying it again next week. I blogged about the event here; http://fitknitchick.com/2012/04/28/burlesque-bootcamp-strut-bump-and-grind-your-way-fit/
Debbie says: This is another eating disorder challenge, two in one month! Another irrational fear of mine is fat. Chocolate, cheese, anything fried. You name it. I can't let myself enjoy it yet. A classmate specially made a few of us chocolate balls. Yes, chocolate coated in chocolate. Not only did I eat it but I let myself ENJOY it. No guilt. It was delicious and it felt great to have a "normal" moment with friends again!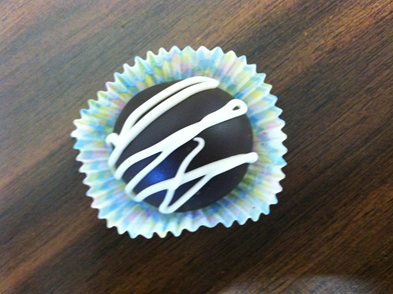 Annette says : I've run several half-marathons and marathons, but had stopped running longer distances in 2010 when I got more into teaching fitness classes. There was a local race happening on Saturday, and I decided to jump in and do it. Well, I completed the SLC Half-Marathon on Saturday in 1:56 with no training other than a run each week (never more than 7.5 miles) over the last 2 years. Crazy, but definitely adventurous!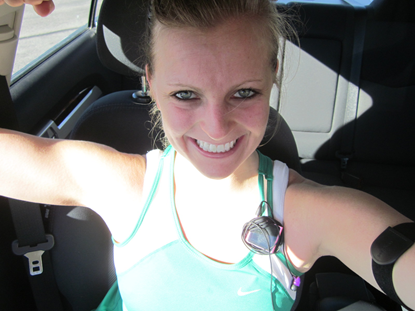 Annette also says: I went out on a limb and tried a new-to-me whey protein powder and now totally love it! Cheers for doing things differently and being adventurous in all areas of life.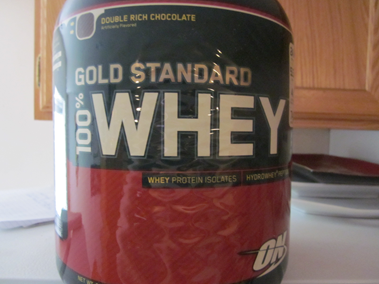 Kimberly says: I was hoping to have more adventures this week but am sidelined by a nasty cold. My first adventure for the week was taking the train down to Chicago for the day. It was quick, convenient, and easy. I will use this over megabus if I need to go down for the day. My second adventure was Ben and Jerry's greek yogurt. I saw a guy try to find the blueberry vanilla graham flavor. He finally found it and sounded thrilled. I asked how it was, and he said,"It's wonderful. I've been waiting all day for this." It did not disappoint. I'm thinking ice cream for breakfast.
Katie says: My big adventure this month was buying a new car!  One Saturday, I decided to start the research process by getting an estimate on my current car and starting to look around and test drive a few different models.  Next thing I knew, I was sitting down at the Volkswagen dealership negotiating my monthly payment and interest rate.  Only 3 days later, I drove away in my new (certified pre-owned) Jetta!  Talk about the ultimate adventure and sense of empowerment! Here's the my post about it: Let's Make a Deal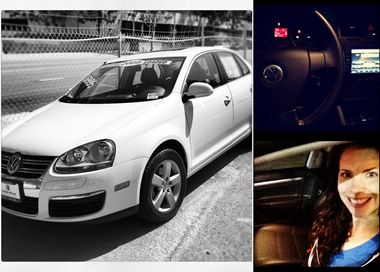 April says: The finale for my Adventurous April is graduating with my master's degree in educational leadership! It has been a two year adventure but every so worth the late nights and stress. I moved from Oregon to Michigan to start my adventure and now that I am graduating, I just have to wait to see what the next leg will look like. Can't wait to see what the future holds.
Kattreena says: My first adventure this week was trying couscous for the first time! I made a batch of peanut butter couscous! Hello! Delicious! :) I know I would enjoy couscous prepared any way, but this sweeter version was so yummy!
Carolyn says: This week – I tried out several new recipes.  The first was banana bread muffin in a mug for my roommate on her birthday!  It certainly smelled good.  Also, I volunteered to cook for a group of 15 students at our weekly food co-op meeting.  Instead of a stew with homemade bread that I LOVE, I decided to go with a different recipe, and am trying my hand at Indian with chana masala – we'll see how it goes tomorrow!  And on a non-food note, I took advantage of our spring weekend and decided to go out with friends on Thursday night (something I would NEVER do), despite having class the next day.  And you know what? I had a blast, and was ready to go for my 8:30 on Friday. A win-win!
Carrie says:
1. Sunday, I went to a spinning class for the first time, with someone I'd only "met" on his blog/twitter. I am way into weight lifting and have never done a group class before, so it was fun to step out of my comfort zone and get bossed around by a really fit lady for 45 minutes. :) Also, it was awesome to meet my friend in person — he and his fiancee did the spinning class in preparation for his wedding, and because this class was the last one they was going to before the wedding, the spin instructor brought his fiancee a "Bride-to-Be" sash and silly headband to wear during the class. So cute!
2. I contacted a tattoo artist to get a third tattoo. Since it's not my first tattoo, that might not seem like it's adventurous, but I was dating someone for five years who wasn't really into tattoos, so that really had a chilling effect on my pursuit of being a part of this art-form. Even after I broke up with the bf in January, I still didn't want to get tattoos because I was worried that the next person I fell in love with wouldn't like tattoos either. But I finally realized that, screw it, it's something I love so I should do it, and if I find the right person they'll overlook the things about me that are less than their ideal, just as I'll do the same for them. Janetha & Marshall are a big inspiration on me for this whole epiphany (though I work in the corporate world, so I won't be rocking a full sleeve any time soon). (P.S., there is a rocking essay on female identity and self-confidence: http://jezebel.com/5904952/for-chrissakes-there-is-nothing-wrong-with-you-a-dating-manifesto It really gets going in the third paragraph).
3. I tried Israeli food for the first time. It was pretty similar to Mediterranean food, but maybe a little heavier. Deeeelicious.
Maren says: I went to a gym in Minneapolis this weekend called Pelicano. We were in teams of two and did three separate circuits! Each circuit included an ab workout you did one set of, a 4-min tabata interval, and a 3 sets of 15 reps of some sort of lift (which usually included upper and lower body together)! The workout lasted about an hour and I was drained! I will definitely be back next time I am in Minneapolis!
Maggie says: This week for Adventurous April I tried a lot of new food adventures. First, I bought a pancake griddle that I've been wanting to have forever and tried a new-to-me recipe- Janetha's Whole Wheat Yogurt Pancakes. They were absolutely delicious and so light and fluffy and just perfect. :) My second adventure was grilling tofu for the first time AND roasting cauliflower for the first time. I always thought I'd hate the texture of tofu but I was wrong! I also always thought cauliflower was a gross/weird version of broccoli but I ended up really liking it as well- I roasted it with garlic, lemon juice, and salt and pepper which gave it a good flavor. Adventurous April really motivated me to step outside of my comfort zone and I definitely plan to keep up with it during the month of May. I attached a picture and blogged about it here: http://runningonfroyo.wordpress.com/2012/04/29/lots-of-foodie-adventures/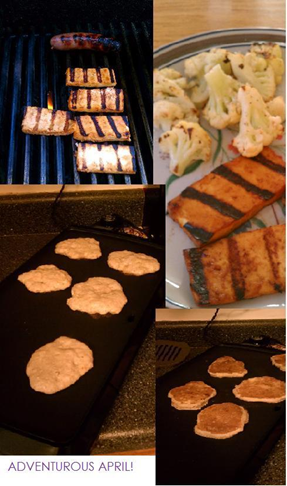 Errign says: I am learning to drive a standard (going pretty well!), tried drinking apple cider vinegar because I heard it's good for you (pretty good mixed with maple syrup), made polenta (yum!), and tried some Tone It Up workouts (so much fun!).  I definitely have stepped a little out of my comfort zone, especially with the whole driving a standard thing, but I'm having fun and that's what counts! Here's my link: http://errign.wordpress.com/2012/04/29/adventurous-april/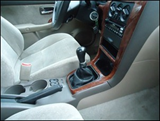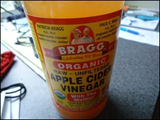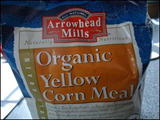 Sara says: Today I am dying my hair. . . I am so nervous. I am going from super blonde to my natural color with just blonde high lights blended. I know this doesn't have to deal with fitness but it does deal with my overall health. I've been feeling low lately and hoping this new hair do will help out! I will have a before and after picture tonight but I wanted to get this in before the end of the day. . . WISH ME LUCK!!
Kathryn says: My first adventure was buying and cooking beef! I never cook my own meat – it scares me that I'll do it wrong, either too much or two little and then be sick or waste my money! But I bought some beef patties and made hamburgers and chopped some up for spaghetti sauce! So easy!
My second adventure was running in a 10 mile race, with no one there to support me! Every race I've done I've either ran it with someone, or had a couple family members there to cheer me on. This weekend I braved the rain, wind and cold weather and went and ran a race by myself and I had a BLAST! I was afraid it would feel lonely at the finish line, but I was too happy to notice!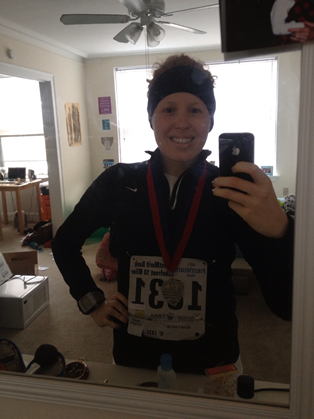 Sarah says: Just wanted to give you my last entry for adventurous april. Because I had a lot of studying to do last week for exams, but adventures were quite tame.  I tried pomegranate and bacon, two foods I have never eaten in my 23 years of existence!  I also made the extra effort to dress up all nice and pretty for uni, even though I was pressed for time with studying. I figured feeling good about how I looked would translate into feeling good about my performance for the exam. Whether or not it actually worked…well we'll just wait and see!!! I also took the initiative to enrol in a photography course. I'm super excited about this one because I want to really improve my snap happy skills. It is a one day workshop focusing on food styling and photography in natural light.  Super pumped!!! Last but not least, I went to a fitness expo and met some of my idols; Alicia Marie and Lindy Olsen. Even got a pic with these lovely ladies.  You can read all about the adventures here…http://the-healthy-diva.com/2012/04/28/adventurous-april-the-final-countdown/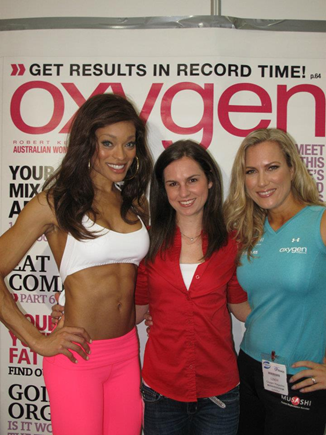 Maria says: I tried my first Vegetarian/Vegan restaurant! I traditional order veggie options at regular restaurants but this was the first time I was able to convince some friends of mine to go to a strictly vegetarian spot. While I found it delicious – I was psyched that even my carnivore friends loved it! I'm on a sugar detox but I can't wait to go back and try the vegan french toast. It looked amazing! http://pappadontpreach.com/2012/04/29/wicked-good-brunch/ I participated in my first Foodie Pen Pal swap! It was great and I'm looking forward to participating every month! http://pappadontpreach.com/2012/04/30/my-first-foodie-pen-pal/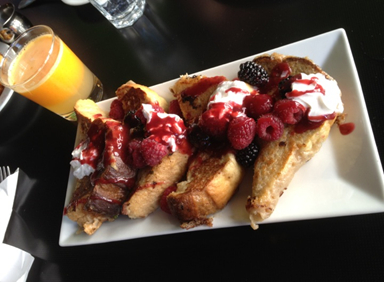 Missy says: One adventure I did was one I'm kicking myself for not doing sooner! I had no clue this was near me. I went on the hiking trails at Bonita Lakes Park. It was a beautiful hidden treasure! I loved it! Hilly and rugged, my rear felt it the next day! Here are a few pics: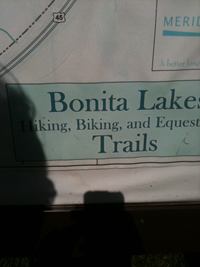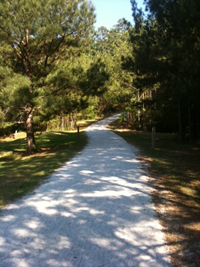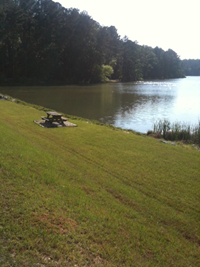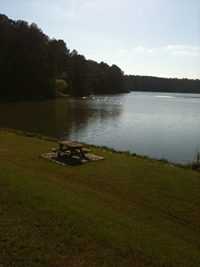 also from Missy: Ok here is another "adventure" I did though I'm ashamed to admit. I finally used my spiralizer that I've had over a year and a half. Once again, I'm kicking myself! It was fun and it turned out great! I added marinara with mozzarella cheese and spices – it rocked!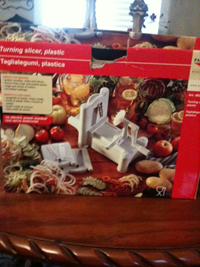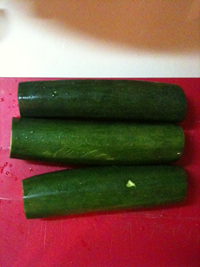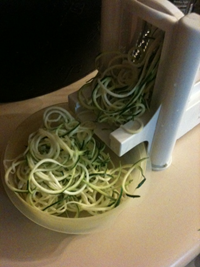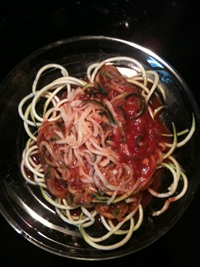 I also roasted some cabbage wedges that I've wanted to do.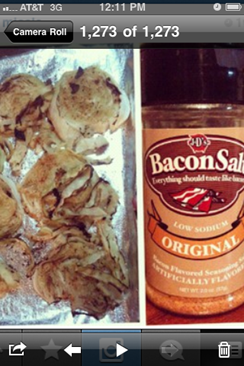 And I finally attempted this kettlebell DVD! Loved! Just gotta get back in shape!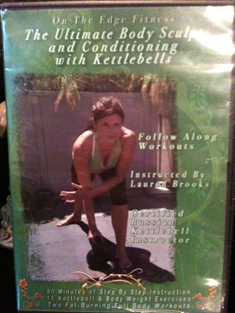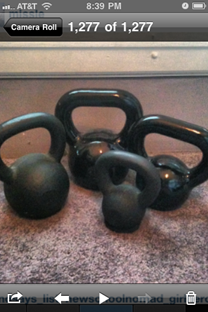 In addition, I have been more assertive with some doctors at work in expressing my opinions on cases. I even told one I felt I was right and he ended up agreeing with me!!!
The only goal I didn't do was to eat savory oatmeal – this southern girl just shrivels at the thought! But I'll muster it up for "Muster up May"!  Lol!!
Thanks for the challenge! I'm so glad I did these things – otherwise I'd never know about the great hiking trails or spiraled noodles or cauliflower pizza!
Amanda says: I got a puppy! She's a 14 week-old boxer-rottweiler mix, and couldn't be sweeter! How's that for crazy, while in the middle of grad school?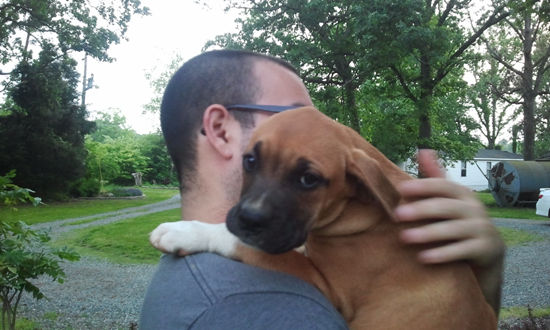 Hélène says: For my last week, I ran a 5k! I had a blast and learnt that I like running races :) Here is a link to my post: http://healthyfrenchie.wordpress.com/2012/04/30/my-first-race/ I also did a recap of all my challenges here: http://healthyfrenchie.wordpress.com/?p=492&preview=true
and i saved the best for last.. since she submitted hers today AND she's my mom, i let it slide.
Momma B says:
1. I decided it was time to dust off the old cruiser and do some riding!  Temps are soaring into the 80's here…. hooray—great biking weather!  So I bought a helmet (can't find my old one) and buying another one was easier.
2.  Ok I am a huge procrastinator. I thought I had handed the complete procrastination gene down to Janetha but apparently I kept its twin!!  I lolligag about most things. So I finally broke out my new teeth whitener I bought at the what a woman wants expo. Happy to announce it really works well!!
3.  I did a GPP workout yesterday, wound up Adventurous April in a big way….and really enjoyed it. Glad that Janetha is always challenging us!!
Thanks for a great experience xoxo!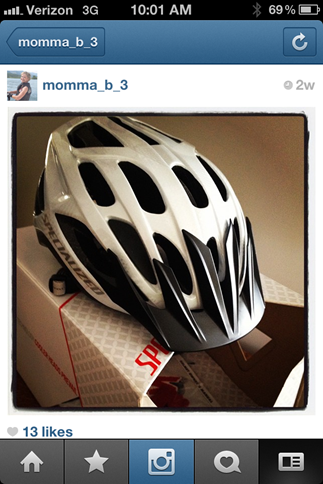 WHEW! see, told you there were a ton of entries. you all inspire me and make me want to try new things on a regular basis! so thank you, thank you, THANK YOU for your participation in adventurous april.
like i said in my video, chobani has generously offered THREE custom case winners instead of one. three times the fun! here are the randomly selected winners:
fox and her booty shorts
kathryn and her beef
jennifer and her garden
congratulations, winners! please use my contact form to send your mailing address and flavor choice(s)!
again, thank you all SO MUCH for participating in adventurous april!
xo. janetha g.