is it really playing hooky from work if your boss is with you? hmm.. probably not. but that's ok, all that matters is i got out of a few hours of work today and it was a good time!
did you know that administrative professionals' day was on wednesday? (it is celebrated on the last wednesday in april each year.) i had no idea, but my boss saw it on the calendar yesterday and felt bad for missing it!  geez, how did they miss it?! i mean, that's understandable.. it's not like it is as big of a holiday as thanksgiving or the fourth of july. lucky for us, they decided to make up for the oversight today.
one of my bosses took me, kerryne, amanda, and crystal (aka all the administrative professionals at my office) to lunch this afternoon.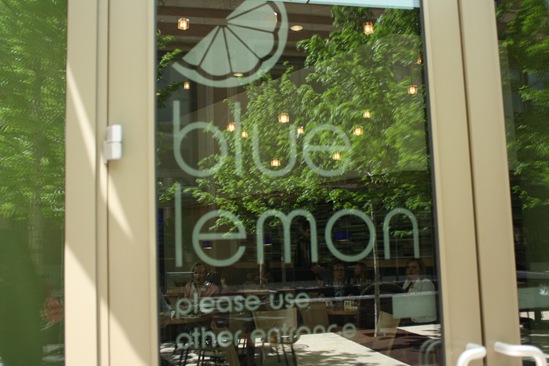 blue lemon is one of my favorite restaurants in salt lake city. i have been there a few times and blogged about it here and here. i spotted a turkey burger on the menu and it said you could swap the ciabatta roll out for a portabella mushroom… or so i thought. when i tried to order that, they said you swap out the turkey burger patty for a portabella—not swap out the ciabatta! duh. i had read the menu wrong. except i was set on my portabella bun, so i asked if they'd be willing to make it that way. guess what? they agreed! i was stoked.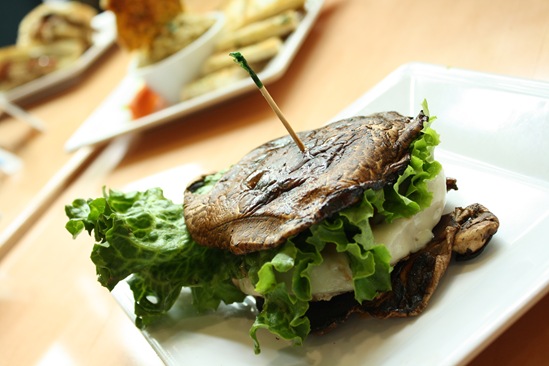 it may not be pretty, but let me tell you, it was INCREDIBLE. the turkey burger was topped in melty smoked mozzarella, lettuce, tomato, sweet red onions, and blue lemon's signature balsamic sauce.
crystal had the artichoke and tomato panini, which i've tried before and LOVED.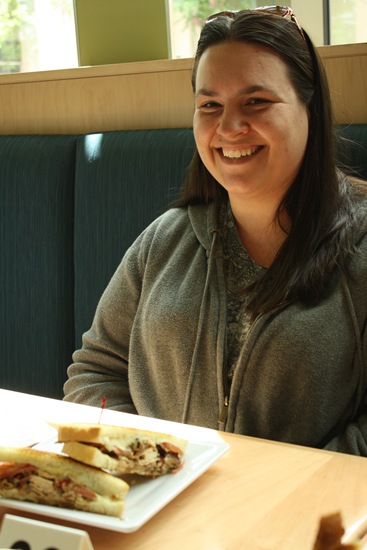 amanda had the grilled balsamic chicken panini, another great pick!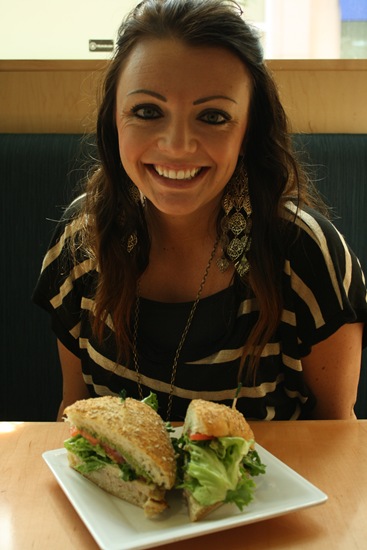 craig had the iron seared salmon.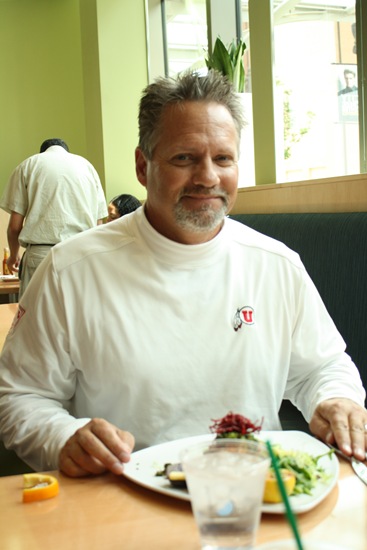 i stole a bite of his salmon. the green sauce was delicious, whatever it was. their menu said "sauce verte"—it's tasty.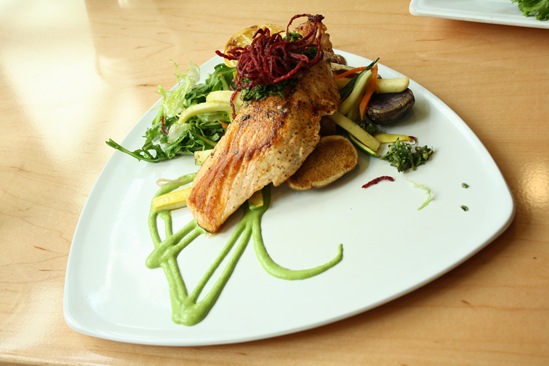 kerryne went with the same portabella turkey burger that i did. it was a delicious mistake!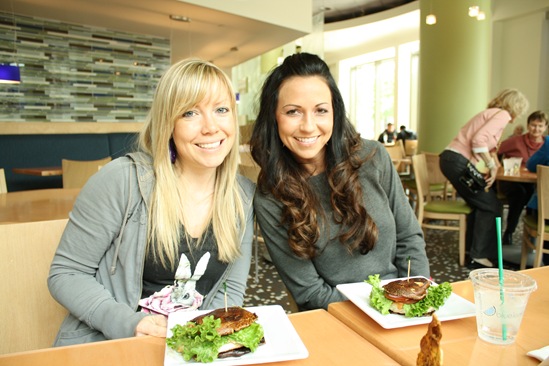 we also shared some hummus, which was served warm. that threw me off for a minute, but it still tasted great.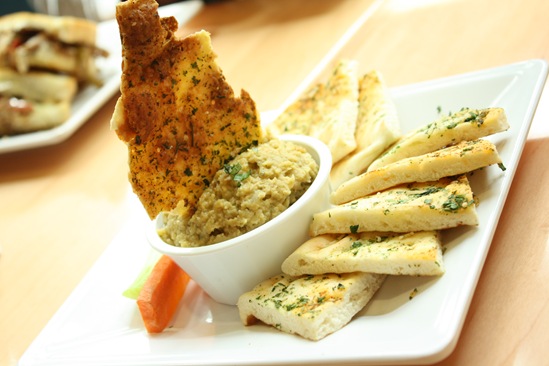 after enjoying our delicious meals, we wandered around city creek. city creek is a new outdoor/indoor mall in salt lake city that opened a month ago. i hadn't visited it yet because i hate crowds.  i was glad to finally check it out today!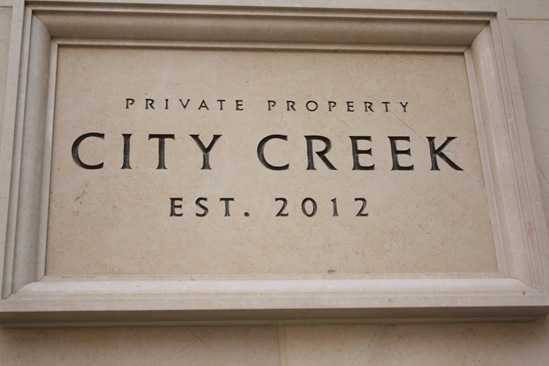 it was really strange to walk around the mall because my favorite mall growing up (crossroads mall) used to be on the land where city creek is now. i basically lived at crossroads mall and even worked there (at zumiez) for a couple years. when the doors closed i was really sad! but at least they have built a nice mall in its place. downtown salt lake city was in serious need of a shopping center like city creek.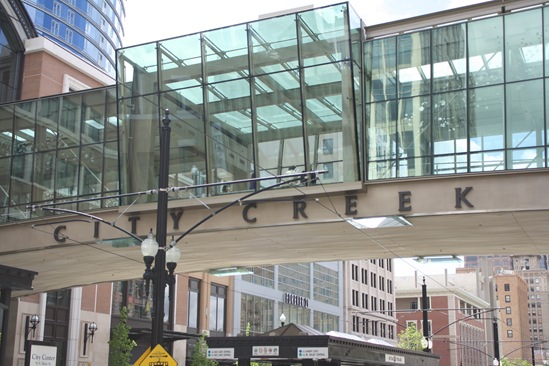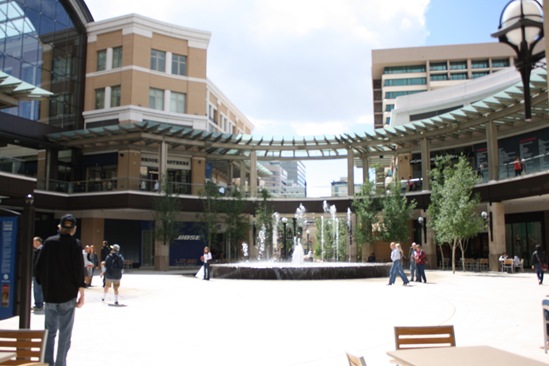 my favorite part? the doggy poop bag dispensers! go figure. but aren't they cute?!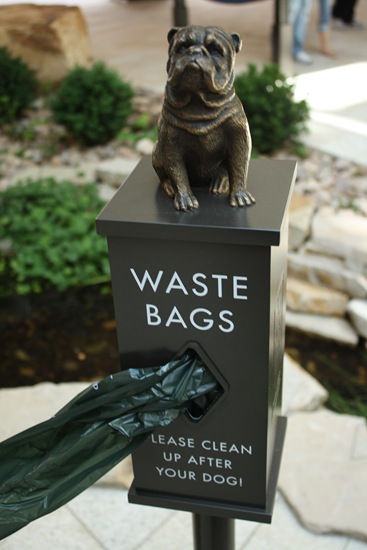 i think it's really cool they allow you to have dogs at the mall. i saw a few sweeties there today.
my boss had said he would buy us each a little something as a token of appreciation for our hard work, but we are shopping-challenged and had a hard time finding anything! i know, you'd think that with the wide variety of stores we would find something, but that wasn't the case this afternoon. crystal did find some fantastic smelling perfume, but the rest of us had no luck finding anything. well, i did have my eye on a michael kors watch, but that was a tad out of the budget.
then kerryne (or was it amanda?) suggested we head over to lululemon, since the three of us basically live in gym clothes. that was an idea i could get behind!
the three of us all got the power vinyasa crop.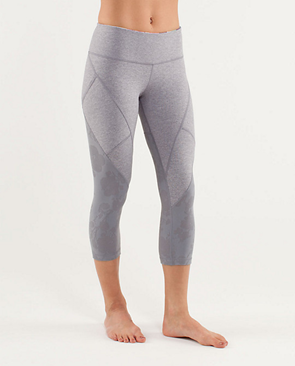 [source: lululemon.com]
we loved the lace detail. well, i did, at least!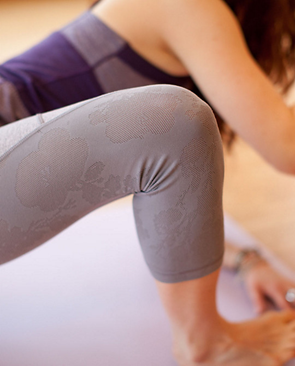 [source: lululemon.com]
and, because i can't help myself at all, i ended up buying a tank top, a headband, and some shorts for marshall. whoops!
i want to give big huge thanks to my boss (and the bosses that weren't there!) for taking us administrative professionals out today! it was a fun afternoon and much appreciated. i have to say, i love my job. not because i deal with windows every day (although that is pretty flipping exciting, folks..yep, as exciting as you can imagine), but because i work FOR and WITH amazing people. love it!
in other news…
i got up this morning and went to GPP! kerryne motivates me to do morning workouts and i am loving the sense of community at GPP. we did this one using a 45# barbell for the first 2 sets and a 65# barbell for the remaining three sets. we split the last part into 500 jump ropes and an 800m run.
adventurous april's final recap will be on tuesday, may 1 instead of the usual sunday recap. you have until monday night (april 30th) to submit your adventures. see the official page for details on how. the random winner will get a custom case of chobani!
the fitmixer boot camp starts in just over two weeks! about two dozen of us are in this together and i can't wait!! to sign up or for more info, go here. you can also email me any questions you might have about the boot camp.
tomorrow is national blueberry pie day.. yum.
that's all i've got for now! excited for a low key weekend. i have a baby shower on sunday, but the rest of the weekend is open. but let's face it, i will probably be using every last minute for finishing touches on blend retreat. a week away! eep!
Qs~
just for fun… what has been your favorite job? and LEAST favorite?
xo. janetha g.