hey guys! i filmed a video for the end of week one of adventurous april.
here is that move i mentioned in the video:
it was fun and i can't wait to challenge my body with other new exercises–both in and out of the gym, like i mentioned in the vid.
so! you guys have seriously impressed me with your adventures! i am excited to share all the submissions with you. i won't waste any more time. let's get to it! (by the way, the week one winner is announced at the end!)
Stephanie @ The New Healthy says: So I totally stepped outside of my comfort zone this week and started an AM boot camp class.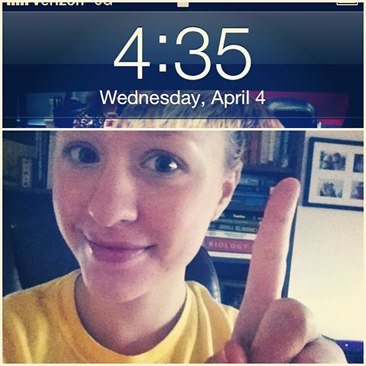 I am not a morning person, so this is a big step for me. Surprisingly, I loved it! It was amazing to get my workout in before 6AM and it's certainly something that I have never done before. I can't believe I'm saying this – but I can't wait to do it again! I blogged about it twice – before (http://www.the-new-healthy.com/2012/04/lunch-prep-vegan-quinoa-veggie-bowls.html) AND after (http://www.the-new-healthy.com/2012/04/make-yourself-proud-proof.html ).
Becca had two adventures: I ate from a food truck – The Grilled Cheeserie – for the first time. They're really popular in Nashville. It was delicious – buttermilk cheddar, bacon and orange apricot marmalade. AND Instead of studying for nursing school this weekend, I went to a cabin in the Smoky Mountains and hiked. It felt good to change from my routine and be out in nature!
Colleen says: My first adventure was grouting a bathroom floor.  This was an adventure borne of funds too limited to pay someone else to do it.  Turns out, it was surprisingly easy!  Here's the end result: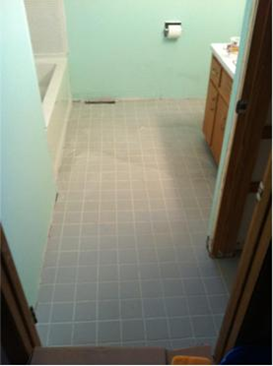 Kerryne @ My Fitness Journey says: Ready for my amazing adventure this week?!? I cooked me up some tofu for the very first time! I sure did, I was terrified, but…. I think I might do it again! I threw it in my salad for lunch and it was delish!
Debbie @ Accidentally Delish says: What I wanted to challenge myself with this week, and longer, is to be more green. We just moved and are in bike riding distance to almost everything. So I want to ride my bike more. Not only is this being more green, but it's a way to be more active and a way to enjoy my community.  It's amazing the small little places you can find when you're not just zooming past them, but actually have the time to observe your surroundings.  This picture was a bike ride to the farmers market with my fiance. We had a wonderful day together!!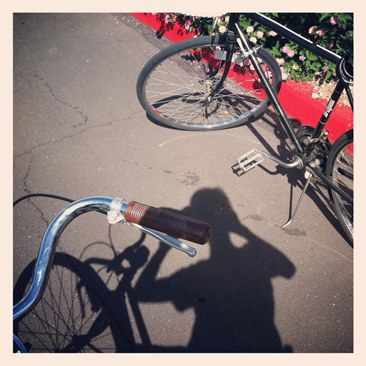 Lauren says: My adventure this morning was trying my first Box Jump in Crossfit class. With a nice 5'2″ stature, I'm always hitting my legs on tables, chairs, and anything else I walk by, and thus I was terrified to do a Box Jump because I was positive that I'd slam my shins at full force…. however, my coach said I had no choice. I stood by a (low) bench, and then just went for it! I almost lost my balance, but managed to survive… and then I did it 24 more times. I felt so accomplished, even though this sounds like such a small task. Knowingly doing even a small thing that has the possibility to hurt me is not always wise, but I realize in this case, I can push my body as long as I can push my mind.
Missy had two adventures.. one good, one bad. The good: I've been wanting to make this crust for a while- but it intimidated me (that whole ricing business) but since you challenged with Adventurous April, I decided to bite the bullet.
My "riced" cauliflower I did in my Ninja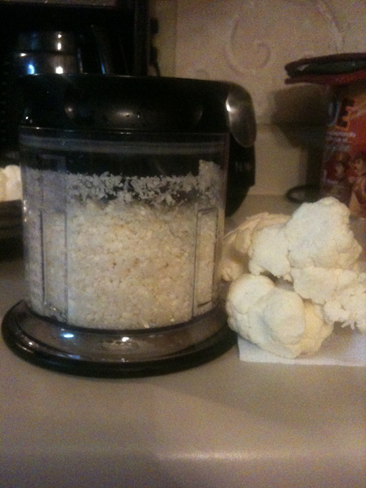 Prebaking & post baked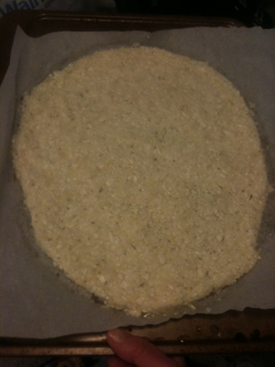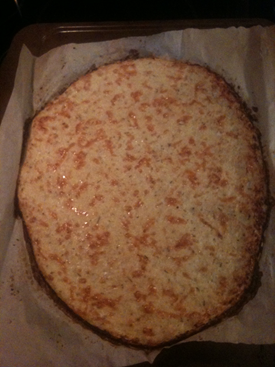 Assembled!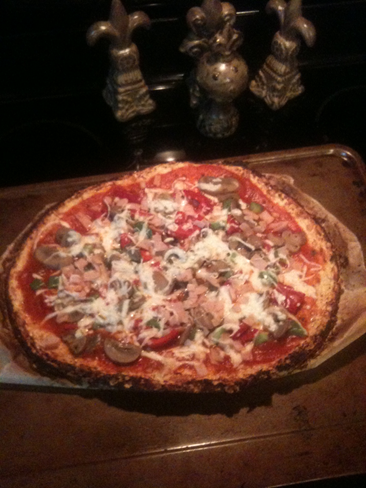 The results: it turned out really delicious! Of course I knew I'd like it since I love cauliflower but it was more sturdy than I thought and they MAY be because …. I learned that I messed up. I mixed my cheese and 3 egg whites with my UNCOOKED riced cauliflower!!! I never microwaved for the 8 minutes. I didn't even realize it til way later. But it turned out great and I'd read where others thought it was flimsy (and it was not like real bread) but I was able to pick up my slice without it falling off or caving.  I also learned it wasn't as scary or time consuming as I thought. I learned to that if I'm gonna make pizza, I better have all the toppings I like on hand! I had to make do with deli turkey, no red onions or black olives. But the fennel seed on top and my new garlic/rosemary spice IN the crust made it divine! I really did enjoy experimenting and I'm gonna make again-this time cooking the cauliflower to see which version I like best!
and the bad: Ok so this one is not a biggie but your pizza protein snack made me remember that I had these from an order last Fall. For some reason I was hesitant to try them. So i went and got them to adventurously eat! Well sadly they were a fail. Too sweet and had this funky aftertaste. They were in date but almost had a rancid twang. Anyhow, I did not enjoy and chunked in garbage! So now onto my next adventure…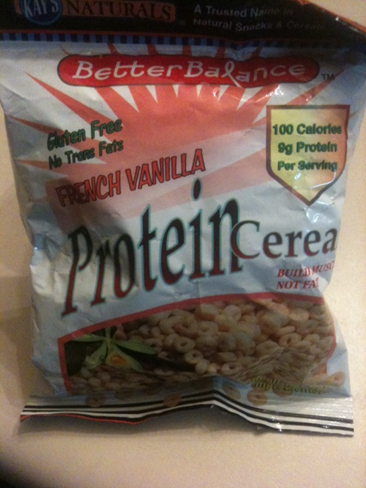 Kalyn says: For this week my adventure was incorporating something I have never done before into my workout routine.  A cardio (hating) girl at heart, I have always wanted to step away from the treadmill and elliptical & try some weight-training, but because I'm not very strong (obviously because I haven't lifted) and I don't really know what I'm doing, I've always been a little afraid and embarrassed to actually do some strength training. However, I knew your challenge was the perfect opportunity to get over my fear.  Although I couldn't lift very much weight or for very many reps, I am proud to say that yesterday I completed a shoulder circuit.  I felt pretty embarrassed with my small weights next to some of the other gym members, but the soreness in my arms and shoulders today makes it all worth it!
Kelly from SheLearnsAsSheGoes.com says: Today… I tried to make a gluten-free, dairy-free, soy-free pizza using cauliflower as a base for the crust, according to this recipe. It felt like an epic failure!
Half the crust wouldn't cook all the way through, but the other half burnt; the pizza sauce I bought was too runny so I had to reduce it (which got sauce ALL over my stovetop); for some reason I was extra absent-minded today so I didn't manage my prep time wisely and it took hours; then to top it all off it looked terrible when we sliced it up. I was so discouraged. But thankfully.. it tasted amazing!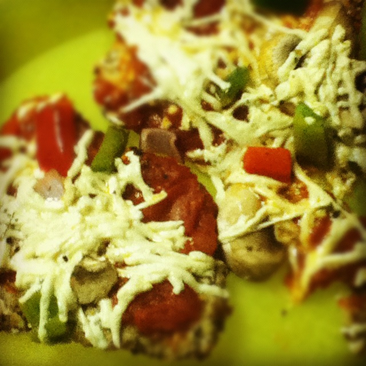 We had to eat it with a fork, but my husband didn't mind and he said it tasted like "real" pizza and much better than he was expecting :) Yay!  So while this adventure was frustrating… in the end, it was rewarding. I've learned from my mistakes and will definitely give it another go.
Kelli also says: My husband and I tried a new dinner group / Bible Study tonight. I was nervous to go because we only knew the couple who invited us. But everyone was super friendly (and not in a fake way) and I had a great time :)
Moving & Munching says: Today, I considered going to a school I never thought I'd stand a chance of getting in to or being able to pay for. I spoke to a representative and decided that I will be sending one of my applications there.
Hayley says: I generally stick to the cardio & group exercise rooms at my gym (though I've only gone to 2 group exercise classes ha! i use the room when it's empty to stretch and do abs/free weights work- maybe next weeks adventure will be a class!) BUT, last night after my run i ventured into the dreaded, meat-head-filled weight room!  i gathered enough courage to try some machines i had never used before (which also led to quite a bit of embarrassment while trying to figure out how to use them, shwoops!)  Since it was a leg day I did a few sets of calf raises (love, will definitely do again), leg presses (boring, will probably stick to squats/wall sits), and this weird machine with a ton of levers/weights that i'm not even positive i know what it was supposed to work and ended up bailing on out of sheer frustration.  oh well, 2 out of 3 isnt bad!
Katy says: Last night was my first dodgeball game! I don't remember playing in elem school… I learned that I can't throw! I thought it would be easy because I play softball but yeah not so much. I did enjoy it, except when I got hit in the head! :-)
Holly says: My submission this week is a new tattoo I got just yesterday. I have attached a picture. Although…it is my fifth tattoo, so maybe it's not THAT adventurous, per se…but what it means to me is still important and hopefully it counts as a submission :) after going through quite a few personal struggles the word Faith holds quite a hefty meaning to me so this tattoo is a symbol of that for myself.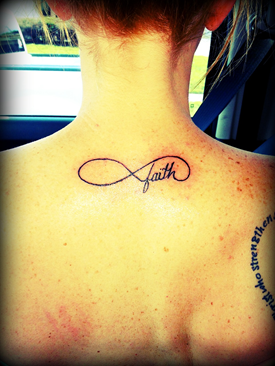 Carrie @ Fueled By Plants says: Today I ran with a run club for the first time. I know that doesn't sound very adventurous, but I'm a huge introvert and I've been working out by myself for seven years! I was really nervous when I signed up, but I had a great time. Only one other runner showed up (the group organizer), but she was so nice and it was great getting to know a new person while doing something fun and active. I learned that I shouldn't be so afraid of meeting new people and I think moving forward I'm going to try and include one running group run each week.
I blogged about my experience here: http://plantfueled.wordpress.com/2012/04/03/adventurous-april-challenge/
Suzanne says: I set my alarm for 6:00am and ACTUALLY GOT UP. I made my husband and myslf a fruit/veggie smoothie. I got things done around the house. I even got dressed and got to work early. This wonderful, positive change of events this morning had a domino effect on the rest of my day. I drank a lot of water. I ate healty. I got a lot done. No one was harmed in this April Challenge. Tomorrow, I am conquering 5:30am spin class. Hopefully, I am keep my urge to kill I usually have at that hour in check.
Meg @ A Dash of Meg says: Well, my adventure was all about basil!! I have had this idea of a basil and strawberry combo before, but much to fearful to try it. I didn't want to "wreck" the strawberry flavour – something I already knew that was so delicious! But, I was ADVENTUROUS and it came out soooooooooo tasty! Blogged about it here: http://adashofmeg.com/2012/04/03/april-adventures-in-the-kitchen-and-the-gym/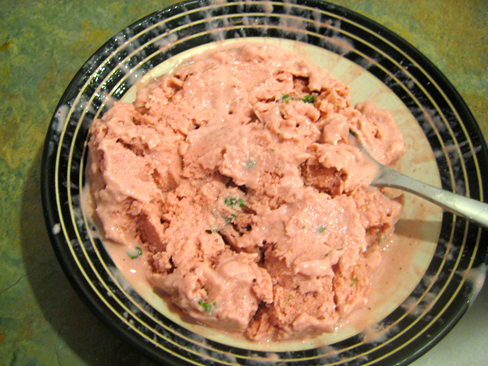 Meg also says: I had a few new adventures! The hunger games – I was skeptical about this movie, but I thought I would be more open minded and take an adventure to go see it tonight (Thursday) I pursued another new recipe involving strawberries and basil! :) Blogged about it here: http://adashofmeg.com/2012/04/05/going-bananas-for-basil/
Marlow @ Gluten Hates Me says: I cooked with fish! As it turns out…I'm still not crazy about fishy fish, but it wasn't bad. Bonus: my husband loved it!
Blogged about it here: http://www.glutenhatesme.com/2012/04/just-little-bit-fishy.html
Haley @ Health Freak College Girl says: So for this week's Adventurous April, I did a few (small) things. I made walnut butter, went to a self serve car wash, and tried a new kombucha flavor. Turns out I loved all of them! Going to the car wash showed me that I'm independent and I just need to go out there and DO it rather than think it. And here's the URL: http://wp.me/p1gxUD-LM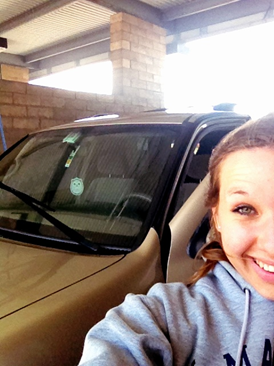 Lisa @ Lisa Lately says: I completed some new challenges this week! I blogged about it here: http://www.lisalately.com/2012/04/wiaw2/ I also tried a new yoga class today and I did enjoy it kind of, but not my favourite style of working out that's for sure. I have learned this past week that I don't need to go balls to the walls in all my workouts, and that i deserve to take a break every once in a while. So while I did not entirely enjoy it, it was a nice change up! And a great stretch that I needed.
Lindsay @ Cotter Crunch says: First, I have been cardio-less for 5 weeks now and embracing YOGA. That is adventurous for me. Although I can run, i shouldn't. And allowing myself to rest for this long has been a MENTAL adventure. One that has made me stronger in the long run. I appreciate movement, all kinds.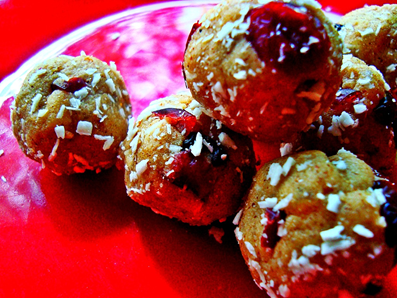 Second, healthy bites decided to be adventurous with a new flavor. Tropical Rum CRAISIN! That's just a whole lot of action right there, eh? I had no idea what i was creating when i made these, but they turned out fabulous. Now, all we need is a big girl drink and a beach. Blogged here: http://www.cottercrunch.com/2012/04/adventurous-bites/
Katie @ Peace Love & Oats says: Haha okay, so this isn't HUGE (actually it's a bit silly), but I eat oatmeal literally every morning for breakfast and today I decided to finally try mixing things up and I made a piece of toast with avocado spread on top (I used to avoid avocado like crazy!), tomato slices, and a fried egg! It was delicious and I'm so glad I finally forced myself out of the breakfast rut and out of my comfort zone!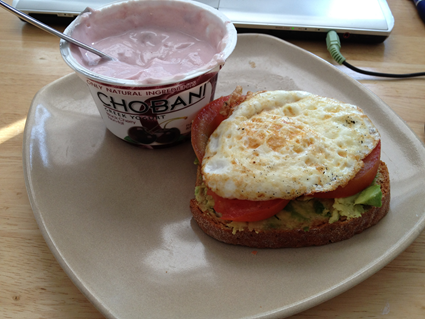 Caroline says: I am introducing bee pollen into my diet.  This past year, I have been battling cancer, which has thus far involved four surgeries and eight rounds of chemotherapy.  I am in remission now, and working to rebuild my body and my health.  I did the tolerance test for it today – increasing the number of granules I was taking sublingually.  I did blog about it at http://bellesmots2000.com/2012/04/05/bee-pollen/ I'll be keeping everyone posted as I continue with this, at this moment all I have as a result is that I like the flavor of the bee pollen itself. :)
Meredith @ Dare You To.. says: I was adventurous this week by taking a Zumba class. I love group classes, but didn't think Zumba would be my thing.  I really enjoyed the first song, but the rest of the class went pretty slowly.  I think I'd enjoy it a lot more if the instructor used music that I know and like.  (I find this to be true of most group classes..)  I did enjoy the dancing, though, and will consider trying another class again!  I was proud of myself for going in and giving it a go! Here's my blog post: http://dareyouto.blogspot.com/2012/04/have-adventure.html
Kathryn says: Well, my story isn't what some might call adventurous, but I was definitely (spelled correctly!) out of my comfort zone. I'm a teacher and my co-worker, who I mentor, told me something about when she was testing a student. I was really surprised and felt what occured was really inappropriate. I usually avoid confrontation, but I had to say something. I told her I felt her test results were invalid. Reading this, it probably doesn't sound very bad. However, I'm from Minnesota where we are raised to be avoiders/nonconfrontational!
Tamara @ Wild Blue Wonder says: I cooked tempeh this week. I have loved it for a long time, but never have cooked it before. It came out really well. Here's my blog post about it !
Griselda says: I went to Trader Joe's yesterday and picked up 3 new things! I was so excited, since I had heard of them but never tried: almond cocoa spread, cookie butter and fancy dates. I have eaten all 3 since bringing them home.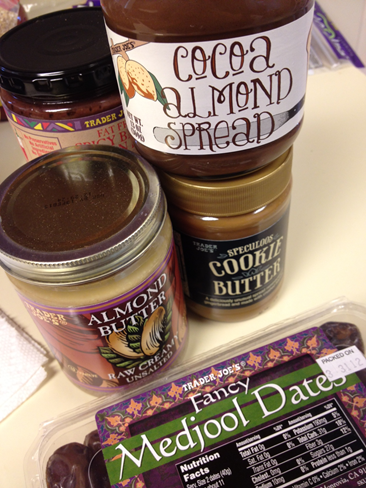 Kim had two adventures: #1 I ate at a restaurant alone for the first time last week. I was at a work conference alone. I always worried it would be awkward, and everyone would be looking at me, thinking I was a loser eating alone. It was fine and no one was looking. I was able to go out the next night and eat alone again. #2 I made it to Trader Joe's for the first time. There was one across the street from the hotel. I was excited to try some of the yummy things the bloggers I read eat. I will definitely have to make it to the closest one here ( ~35 minutes) to stock up.
Kait @ yogabeautylife had a LOT of adventures: · Raw Brussels Sprouts · Probiotics · Pooping with my knees elevated (you totally don't have to share that one haha) · Signing up for Zumba instructor training (!) · TJ's corn pasta · Justin's Chocolate PB  · Brown Rice Tortillas
Calee @ Life+Running also was busy adventuring in the kitchen: I had a culinary adventure of sorts on April 1. The BF likes to play around with food while I'm out. He makes stuff I normally wouldn't eat. So when I taught a patchwork class a couple weekends ago, he made hot wings. But he mistakenly got a bag of drumsticks instead of wings (??). So he froze those and went back for the wings. Normally we do groceries on Saturdays and we go through my Pinterest and pick 1 new recipe to try for dinner, pick out some staple dinners and some lunch / breakfast items.  Long story short, we decided to wing dinners and go through any and all leftovers in the freezer — including those chicken drumsticks. And we picked up a rutabaga. Our CSA share hasn't started yet, and I wanted to get in the spirit of random veggies.  I went on a day-long outdoor excursion (it was almost 90°!) and left Mark to it.  I came home to roasted chicken drumsticks on top of a bed of a bunch of root veggies. Next time, we're adding some sprigs of rosemary and using breasts instead of drumsticks. Glad we got out of our recipe-rut and started going back to making random awesome meals from scratch.
Amy says: The start of my adventurous April is candles. I read a blog where you can make new candles in the leftover ones you have laying around your house. I was intimidate b/c it involved wax, heat and glass-not my cup of tea. However, it is really easy. You have to be patient but in the end, your house will smell wonderful.
Step 1: gather all the unused candle wax.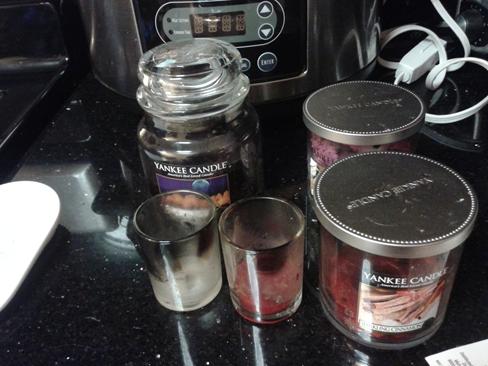 get the wicks in the clean candle holders (you can buy these at Michael's. I had a 40% off coupon for the wicks)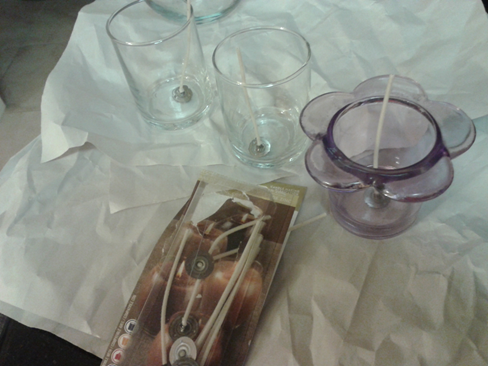 Step 2: in slightly boiled water (I cheated and boiled water in my kettle and then poured it in the sauce pan) watch the wax melt. Do not worry about the wick that is in the old candle as it will not fall in there.
Step 3: Carefully pour the wax in the candle holders you want. Be careful, the jar is hot so some gloves and/or a towel will be needed. Cover you area in newspaper so that wax does not spill on the counter.
Step 4: wait until the wax completely dries and fill it up with other scents and colors.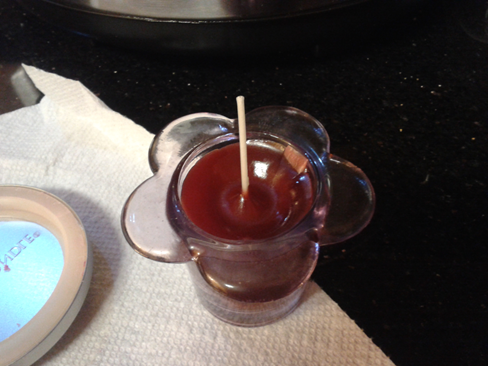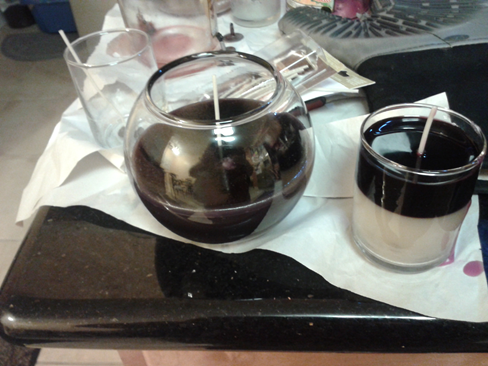 Ta da new candles! For my next adventure-sewing! EEK!
Jessica @ Healthy Dairyland says: So I finally took a golf lesson!! I've always wanted to learn how to golf and I finally did it!!
Sara says: I bought (and tried!) almond butter for the first time. The first way I had it was on a spoon covered with chocolate chips (the best way!). I loved it! I'm so glad that I spent the extra money and tried something new. One thing I really love about it is the ingredient list! I actually laughed when I saw it. Can't get anymore natural than that!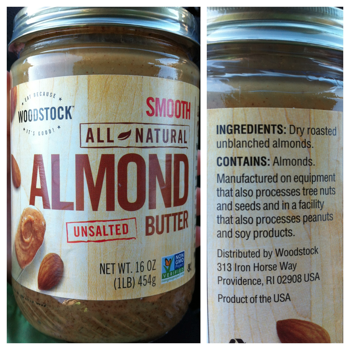 Maria @ Pappa Don't Preach says: This week, I had 2 adventures. The first was my 100 burpee challenge. The second was taking an evening spin class. Definitely out of character for me considering I'm accustomed to my morning workout routine. The biggest thing I've learned about myself so far is that I need to evaluate myself every time I say I can't do something. Generally it's not that I can't, but rather than I don't want to (or am too lazy). I'm now focusing on turning "I can't" into "I will." Thanks for the inspiration girl! Here is a link to my post – http://pappadontpreach.com/2012/04/05/well-hello-adventurous-april/
Destroyed Glory says: Adventure: I had to return a dress I bought at Marshalls but the day before, I had seen Love Grown Foods's granola when I was waiting in line.  I decided against it since I didn't have any yogurt at home and knew I would be constantly eating it.  When I was on line waiting to return my dress, I thought, "Well, this is my first time actually seeing the granola anywhere and although it's on the pricey end, I only live once!"  I chose the Apple Walnut Delight since I don't like sweets (Cocoa Goodness) in the morn, and the other available products didn't seem as exciting as the Apple Walnut Delight!
Results: Really cinnamon-y but I love it.  There aren't enough clusters though!  I only have a small portion left and am trying to keep my hands out of the bag but it's so hard!  I love that there are actual walnuts and dried apple in there.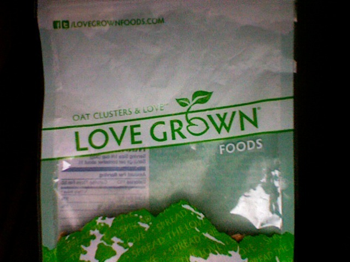 Also from Destroyed Glory: Adventure: After a run yesterday, I decided to get ice cream since Haagen-Dazs is on a 3-day sale at the supermarket that's kind of on my way home.  I really was aiming for a regular chocolate flavor (to share with my grandma since she finds dark chocolate way too bitter) but they didn't have any!  She had said she didn't want any since the weather was too cold to eat it but ice cream is NOT a seasonal food :P
Results: I rarely eat Haagen-Dazs because of the price but the dark chocolate is REALLY rich.  I could only take it in small doses but otherwise, it's good.  There is a lot of sugar than I expected but it doesn't steer me away from it :)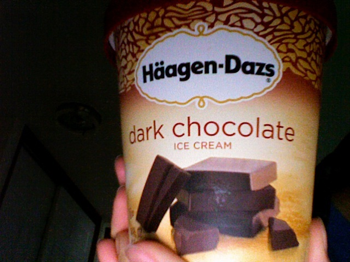 Kristen says: I finally started doing the photo a day. I know, not super adventurous for many but it's one of those "I'll do that one of these days". Who knows, by the end of the month I may finally start blogging…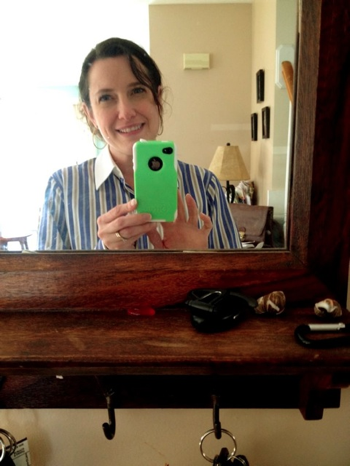 Tamara says: Made butterscotch cream pie – without a mix! 1st time making pudding from scratch! It was a very labor-intensive and time-sensitive process, and as a relatively new blogger there was no way I was going to get pics. I'll send you one of the finished pie if I get a chance tomorrow. Right now I'm going to bed. :D)
WOW! told you guys there were lots of submissions! i loved each and every one.
the random winner of the contigo cold bottle is…*drumroll*…GRISELDA! congratulations, lady. please send me your mailing address ASAP.
remember, there are new prizes every week! for instructions on how to participate and send me your adventures, go here!
well, i am off to deliver momma b's easter basket to her and enjoy easter dinner at my parents' house. have a great night!
xo. janetha g.