hey there! it's friday and my antibiotics are doing their job.. i am feeling lots better! well, i should give some of the credit to you guys for all the get well wishes, thanks for those, but most of the credit goes to the drugs.
well, in case you haven't heard, easter is on sunday. i am sure you noticed the aisles at your grocery store lined with colorful baskets filled with fake grass, plastic eggs, jelly beans, and giant chocolate rabbits. just what we need, another holiday to give people everywhere a reason to eat candy. because halloween and christmas aren't reason enough.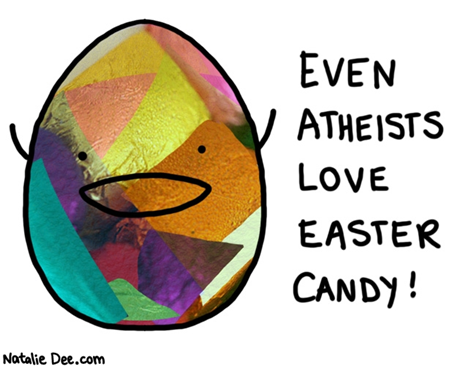 when i was a kid, i was usually more excited about my new dress than i was about the candy. my sisters and i always got a new dresses to wear to church on easter sunday. the dresses were always super stylish. see?
pretty sure momma b sewed this blue number herself. what's with the collar?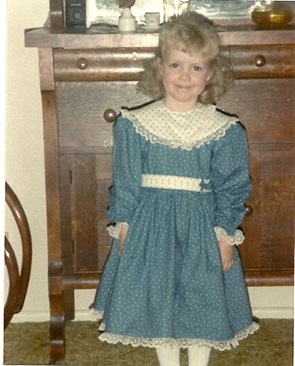 easter 1987 – i was almost four
this fancy number even had easter bunnies ON THE EASTER DRESS. again, what's with the collar? and the large bow?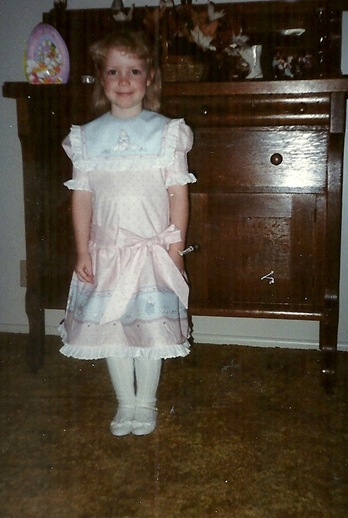 easter 1990(?) – i was almost seven
not sure what my brother got.. a new tie, maybe?
after going to church on easter sunday, we would come home and have the obligatory easter egg hunt in our backyard.

judging by my sister's sweet hair on the left, this had to be from an easter in the 80s.
sometimes the eggs would even find their way to the front porch.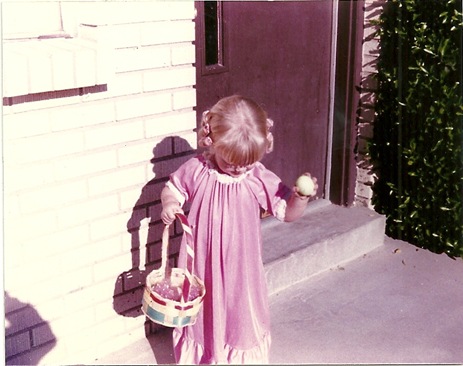 easter 1985 – i was almost 3 and ALWAYS rocked this pink silky nightie.
clearly in 1985 we had the egg hunt before church.. note the pink sponge curlers. i was such a trend setter. pretty sure the photo from 1987 (above) is the result of those sponge curlers…
anyway, some of my friends got to look for those plastic eggs that were filled with candy and quarters.. but not us benson kiddos. we hunted for hard boiled eggs that we'd dyed saturday afternoon so the easter bunny could hide them.
side note: the easter bunny is kiiiinda creepy, no? i saw it snowboarding one time and was definitely creeped out. but not creeped out enough to avoid a photo op, obviously.

snowboarding with allie – easter 2009
anyway, back to the eggs and my childhood. like i said, we would hunt for our hardboiled easter eggs. i was always bitter about this because my friends all got to hunt for candy and money. all i got was a basket of smelly eggs!

"what's with this hardboiled egg nonsense?!" – easter 1985
after finding the eggs (there was always at least one we never, ever found…) we'd take them inside, make deviled eggs, and have our easter dinner. easter dinner ALWAYS included ham, scalloped potatoes, rolls, and the deviled eggs. other menu items would come and go, but these four things were always at easter dinner.
there i go again, straying from my topic (and shifting my focus to food, of course)… i was trying to talk about easter baskets!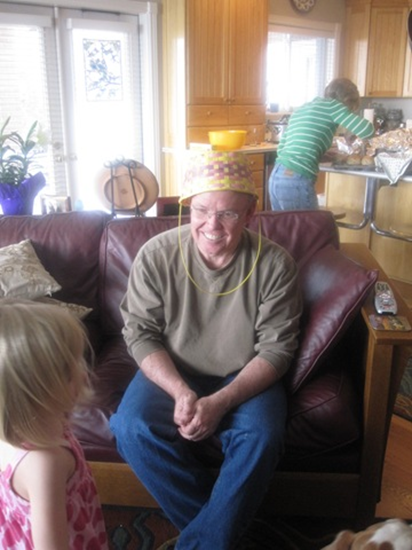 my dad – easter 2010
thanks, dad, for helping me get back on track with this blog post.
as a kid, our easter baskets always included some candy. there would be a chocolate bunny, hershey's kisses, and jelly beans. if we were real lucky there would be a few snickers eggs in there, too. those were my favorite. but in addition to the candy, there were always practical items. like deodorant. or floss. or socks. or silly putty. yes, that's practical!
what i am trying to get at is that our easter baskets didn't revolve around candy like those prepackaged ones at the store. momma b always tried to fill them with other odds and ends and take the focus OFF the candy. i may not have appreciated that at the time, but looking back, she made a wise choice. err—i mean—the easter bunny made a wise choice. right.
these days, we don't hunt for hardboiled eggs anymore. momma b (wait, i mean the easter bunny…) has started the tradition of filling plastic eggs with quarters. no complaints here, i like quarters! and they don't give me cavities. even though the egg hunt has changed, the easter baskets are still always stuffed full with practical items.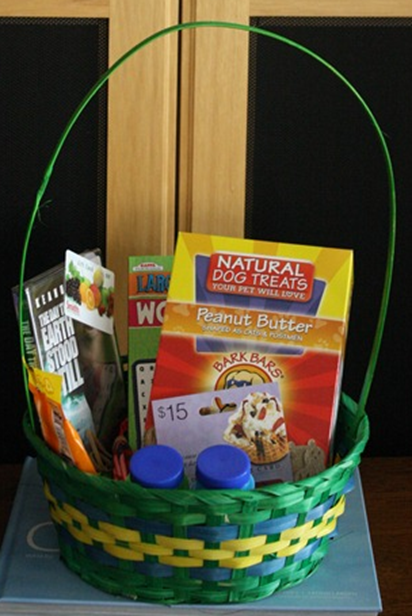 easter basket – easter 2011
like movies. and dog bones. and word search books. and gift cards for groceries… and ice cream. yes, that's practical! marshall and i gave up candy for our 2012 new year's resolution, so there won't be any candy in our basket this year. i can't say i am disappointed, i am not a huge candy lover to begin with. give me ice cream. or cereal.
it's probably better that i won't be eating any candy this sunday, because we've started a new easter tradition that i like to call "eat-as-much-of-the-sugar-loaded-carrot-cake-as-possible-and-then-lick-your-plate".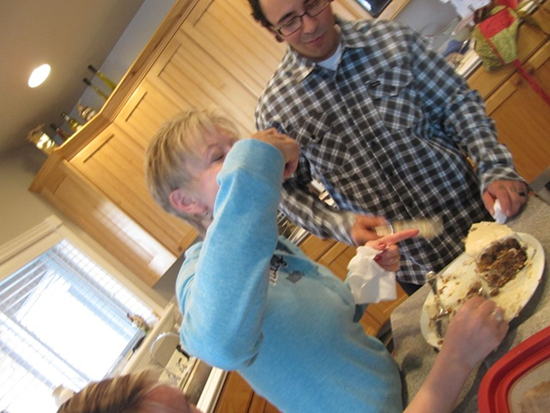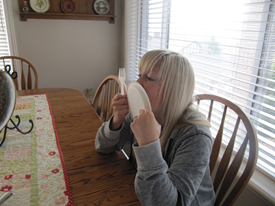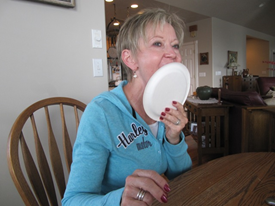 cake monsters – easter 2011
it's a fun tradition.
for the past two years, i have made this carrot cake that is real good. and real bad. good for your tastebuds, bad for your waistline. and probably bad for your teeth, too.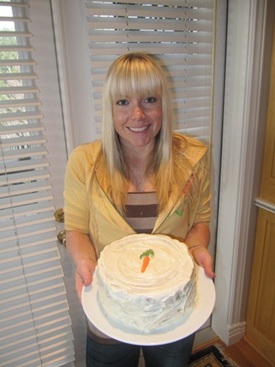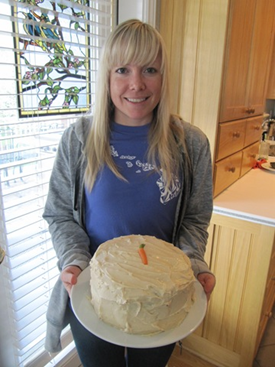 easter 2010, easter 2011
you may remember last year after devouring so much of this carrot cake that i ended up with a killer headache and decided to do a full week of eliminating all types of added sugar completely. yes, it was this cake that did that to me. and yes, i am going to make it again. i never learn. plus, tradition is tradition! right? right.
there i go again.. getting distracted by food. back to the easter basket talk! momma b is ridiculously sweet for always carrying on the tradition and giving each family a easter basket full of awesome stuff. this year, i want to pay her back and give her an easter basket full of fun stuff she can enjoy. (and i told her not to read this post til after easter, so MOM you better not be reading!)
because i plan to feed my entire family a sugar bomb disguised as a cake, i want to keep her easter basket healthy and fit. i have been brainstorming some of the fun, fit items i can fill the basket with and i plan to go shopping for them tomorrow.
here are the things i have in mind!
fitness & healthy food magazines.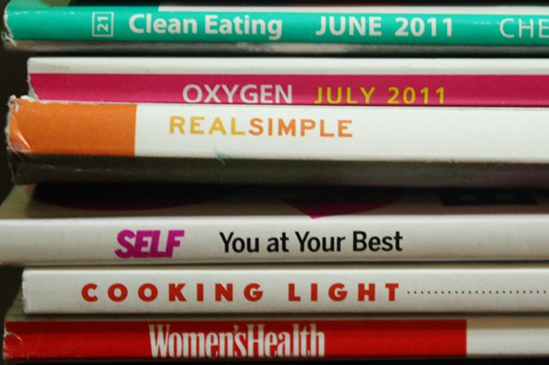 she has a subscription to oxygen, but i plan to get her a few current issues of some other magazines. my favorites (aside from oxygen) are cooking light and women's health.
homemade nut butter.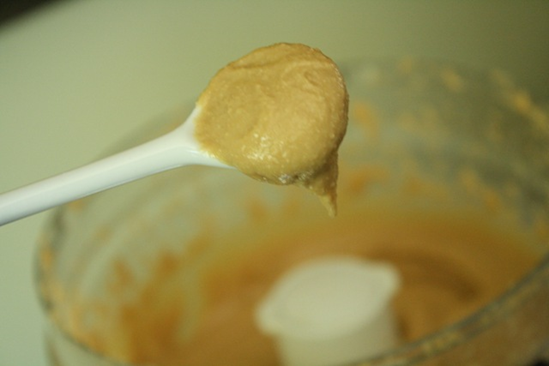 store bought is nice, but homemade is nicer! plus, it's ridiculously easy. i am going to whip up a jar or two of nut butter.. i am thinking of making it fun with at least two kinds of nuts and some maple extract.
popchips.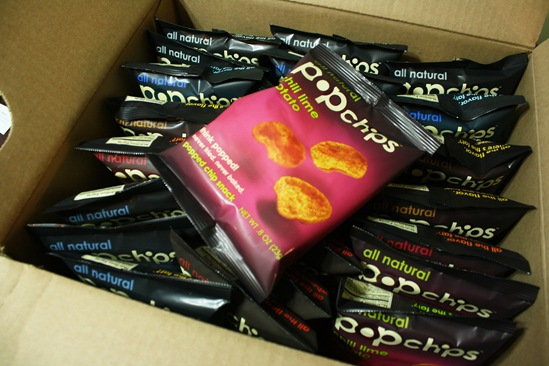 these single-serving bags of chips are a great 100 calorie snack. granted, my dad will probably steal them all from her basket because she LOVES them.. but that's ok, she likes to share.
itunes gift card.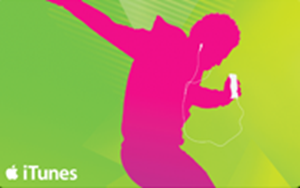 [source: apple.com]
momma b has an ipad, an ipod, an iphone, and an itouch. pretty sure an itunes gift card will come in handy!
individual servings of protein powder.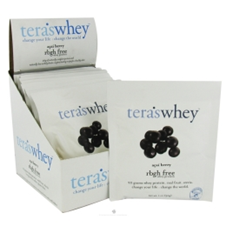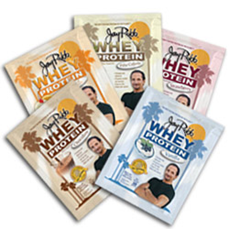 [sources: teraswhey.com, jayrobb.com]
whole foods has lots of different kinds of single-serving protein powders. this is a great way to find a kind you like and a fun filling for an easter basket!
larabars.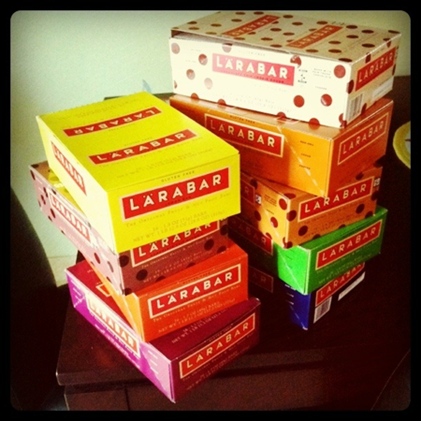 we have lots of these and i gotta get them out of the house so randy doesn't find them again!
adora calcium discs.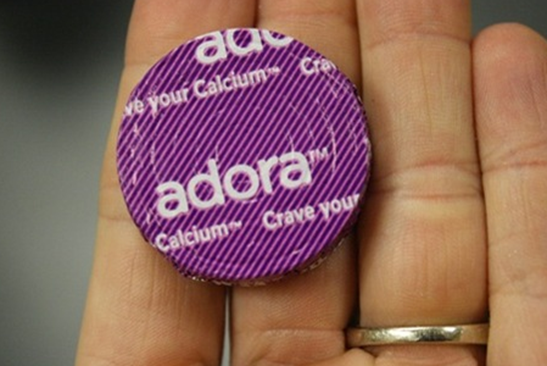 momma b LOVES chocolate, so it wouldn't be right to leave it out completely. i am going to sneak some in with a bag of these dark chocolate calcium discs.
and… of course…
hardboiled eggs!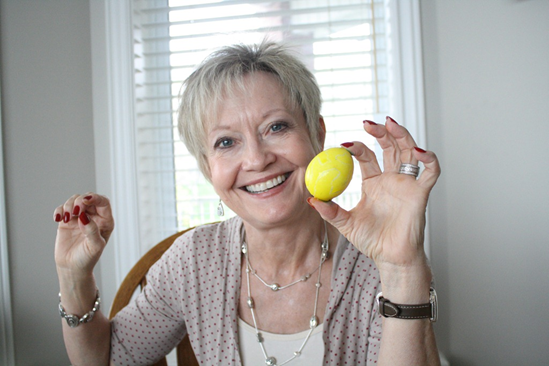 no easter is complete without them!
i am excited to put together this basket for momma b!
hope you all have a great weekend! and if you celebrate easter, hope it's eggcellent. corny jokes are the best, right? hope you cracked (get it? egg? cracked?) a smile at that one.. and if you didn't, there's no way you can't laugh at little old sponge curled janetha g.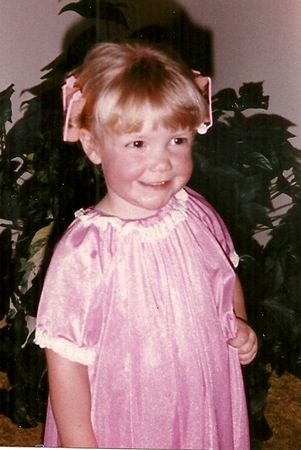 Q~
what would YOU put in a healthier easter basket?
xo. janetha g.