well, this weekend ended up a little different than i initially expected. that doesn't mean it wasn't any less fun, though!
i thought we were heading to the jazz game friday night, but marshall was feeling a little off so he said we should watch it at home with some homemade chicken noodle soup. i wasn't about to complain, because my guts had been hurting all day (for a couple days, in fact) so staying in was fine by me. besides, i didn't get home until 6:30 PM friday night because i was waiting for marshall's car to be finished up at the detail shop.
while i was waiting, i snapped a shot of this apostrophe catastrophe.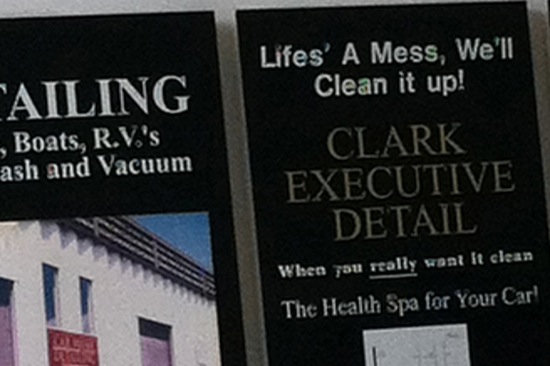 honestly? do people not proof read things before printing them and putting them on display?
anyway, i skipped the gym on friday because a) it was late and b) i felt like crap and c) i had to head to the store for a few chicken noodle soup ingredients… including saltines. i stood in the cracker aisle for about ten minutes, reading label after label, only to learn that every. single. brand. of saltines had partially hydrogenated oil. then it dawned on me that i should check the natural foods section. duh, janetha. i knew they had crackers that were similar to triscuits (kashi) or goldfish (annie's) but i had never noticed saltines. it's a good thing i decided to check, because i found exactly what i was looking for! leave it to annie's to make a saltine without funky ingredients.
i came home and got to work on the soup–i used my turkey noodle soup recipe but subbed in chicken and used better than bouillon paste instead of broth. worked like a charm. by the way, i picked up a jar of that better than bouillon at costco awhile back. it's low sodium, super cheap, and will last awhile. if you go through a lot of stock/broth in your house, i suggest you pick up a jar!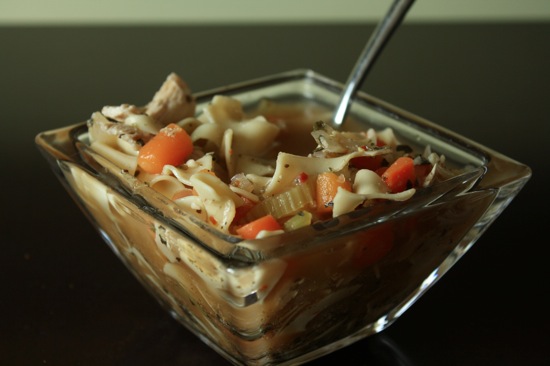 the chicken soup didn't make my guts feel better, but it sure was good. i also happened to pick up this gem at the grocery store friday night..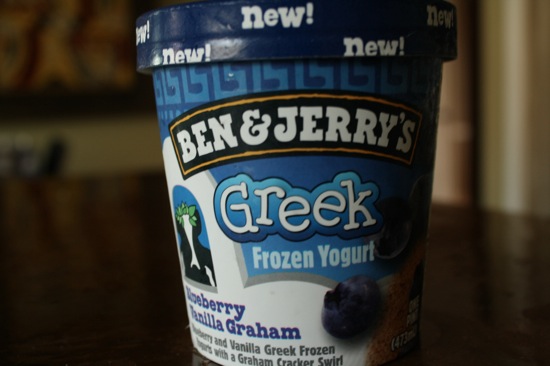 like the soup, this also didn't make my guts feel better, but it sure was good. no, GREAT. tasted exactly like blueberry cheesecake.
most of you guys already know what the majority of my saturday consisted of.. but if you don't, be sure to read this post. there were a lot of guesses on how long my 3.5 mile walk with penny and randy took. the guesses ranged from 45 minutes up to four hours (nice one, jessiker!) but jennie (the gf-gf) came closest with her hour-and-45-minute guess. it took us an hour and 42 minutes! that's an average pace of 2 MPH. i don't think randy will be registering for a marathon any time soon…
after the never-ending walk, i headed to the gym for a shoulder workout. that was fun.. i love the gym on saturdays and sundays because it's super empty. i came home, cleaned up, and left the house again. this time i was headed to costco to stock up on fitmixer for my mom and sister.  you see, fitmixer BCAAs are sold at costco for $9.97.. but they won't be there for much longer. the same size container is nearly $30 regularly, so why not stock up?! marshall and i already have a pantry-full, but my mom and sister are hooked on the stuff so they wanted me to grab a supply for them.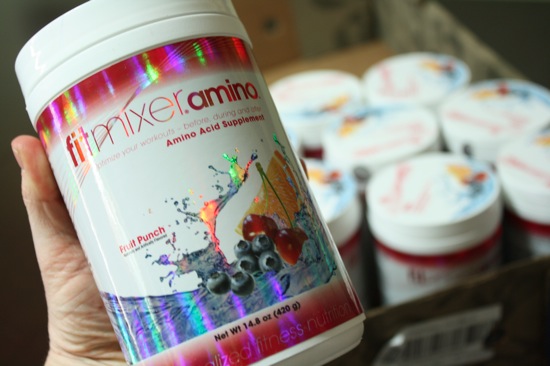 since i was already there, i decided to do my weekly costco shopping. i was on a grocery roll, so i went to the regular grocery store right after to get all my weekly shopping done in one trip. that was actually really nice, it left my sunday open to do things you will read about in a minute. i snagged everything i needed for our standard breakfasts, lunches, and snacks, plus the ingredients needed for this week's dinner plan:
that's the plan.. but things will probably change! they usually do. case in point: we were going to see bob sagat live on saturday night, but i looked like i was 8 months pregnant and my gut was hurting like something fierce. ugh, so sick of my funky gut. marshall suggested we stay in and watch a movie, and i quickly agreed to his plan. sometimes a night in wins. okay, let's be honest, most times. as long as it involves this guy, i am satisfied.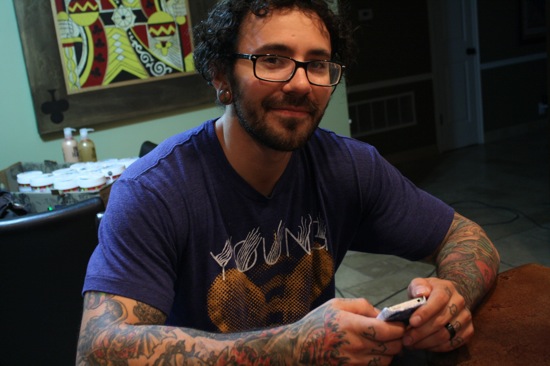 we grabbed hanna from redbox, made a batch of stovetop parmesan garlic popcorn, grabbed some drinks, and settled in on the couch.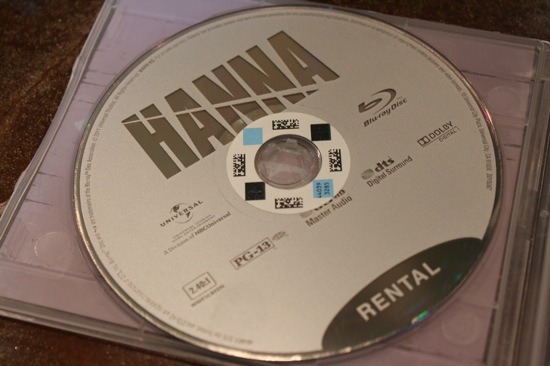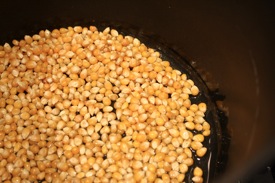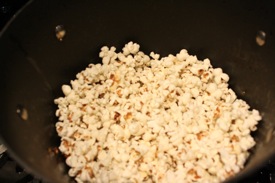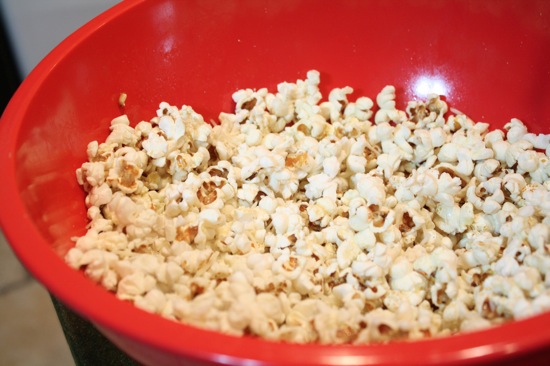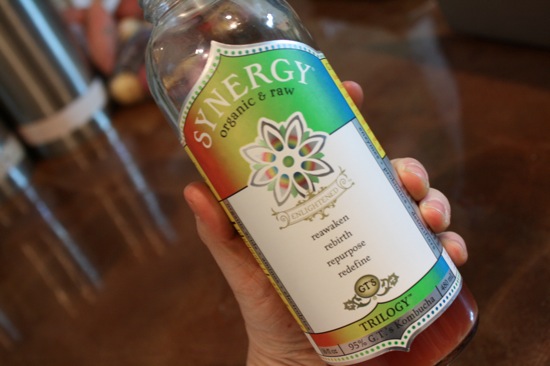 hanna was a really good movie! and eric bana is cute. two thumbs up!
and that brings us to sunday, which involved more changed plans! i woke up at 10:30 (love sunday sleep ins) and had scrambled parmesan eggs, sourdough toast with jam, and coffee for breakfast. i am still having coffee just once a week in hopes to tame my gut pain, but i have been in a lot of pain this past week so clearly it's not the coffee that is the problem. can't wait for my appointment with the motility specialist on friday!
anyway, i headed to the gym for an hour of legs, 25 minutes of the elliptical, and 15 minutes of stretching. i am real proud of myself, i never stretch! i am trying to focus more on stretching this year.. or at least this week.. or at least today. yep.
i came home and was smelly. so were the dogs, thanks to three days in doggy daycare last week. the obvious solution was for all of us to hop in the shower! the best part about bathing the pups is how they act immediately after. it's a riot. they go bonkers when wet.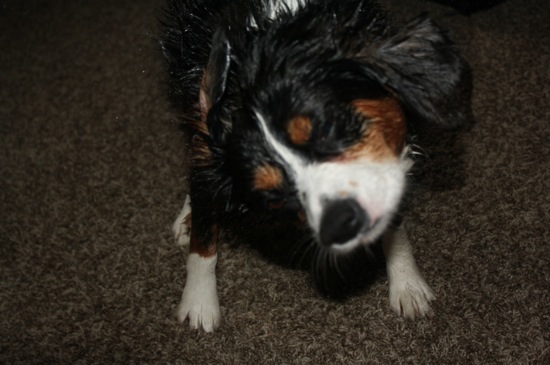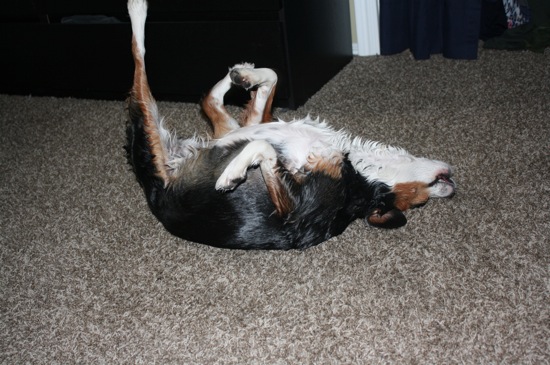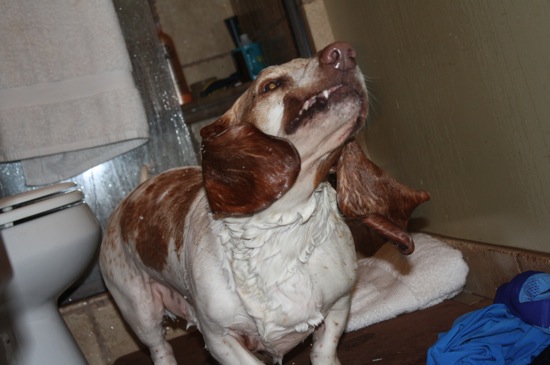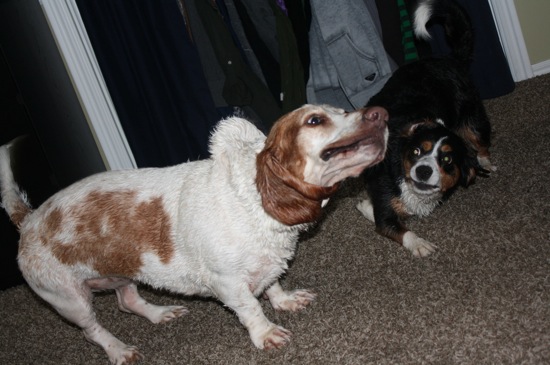 check out that neck skin!
after the shower shenanigans, i whipped up a post-workout protein shake. this one was peanut butter chocolate banana.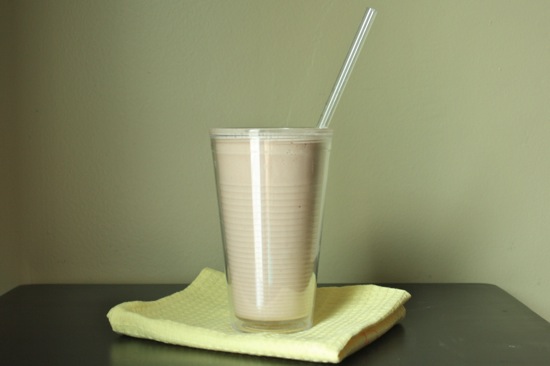 the shake clocked in at 260 calories, 30g protein, 22g carbs, and 7g fat. awesome stats and perfect for refueling the muscles after lifting. the ingredients included 1 cup almond milk, 1 scoop MRM whey chocolate protein powder, 3 TB pasteurized egg whites (for added protein), 1/2 a frozen banana, quite a bit of ice, and 2 TB of PB2.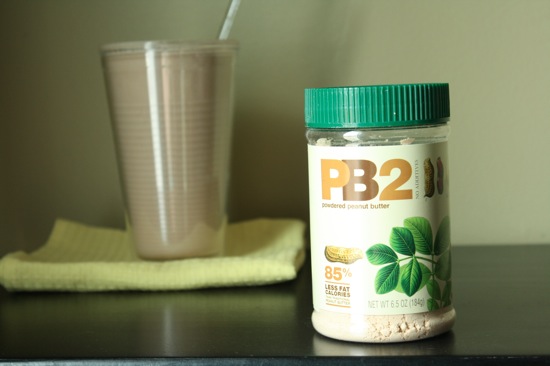 i finally restocked my PB2 stash! i actually hadn't bought any since 2008 and i am happy to have it back in my life. i typically use it in recipes (like baked goods and protein shakes) rather than making it into peanut butter.  it is perfect for adding peanut butter flavor to anything and everything with out the added calories. but to be honest, if i want to have some peanut butter on a piece of toast or in a sandwich, i am going to use actual peanut butter. those are my PB2 thoughts, now you know.
we'd bought tickets to see the hunger games at 4 o'clock today, but it turns out there was a jazz game on at 4. i called the theater and they let me change our tickets to the later showing. this little change of plans led to an earlier dinner around 6 PM. and yes, that is early for us. we usually eat dinner around 9 PM.
i wanted to use the top sirloin i had purchased right away, so we had burgers tonight. i made the ground beef in my food processor and then added garlic and trader joe's 21 seasoning salute to it before forming patties.  i grilled the patties on my indoor cast iron grill and toasted some ezekiel buns. after chopping some veggies for a side salad, dinner was ready!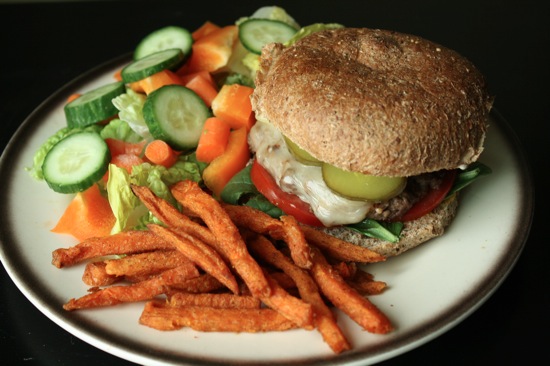 i topped my burger with ketchup, mayo, white cheddar, pickles, tomatoes, avocado, and spinach. fun fact, tomorrow (monday) is national spinach day.
we just finished eating and are biting our nails since the jazz are in TRIPLE overtime. hope we aren't late to the movie!  and i hope they win! i am excited to see the hunger games.. based on what EVERY PERSON I KNOW has said, it should be a good flick!
wow, this was long. sorry about that! thanks for reading. enjoy your monday.
xo. janetha g.