i was recently sent a batch of nuts about granola's feature flavor of the month.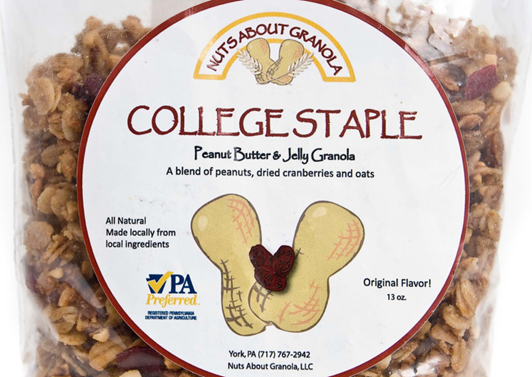 peanut butter & jelly granola! well, it is also referred to as "college staple".. but since i didn't exactly go to much college (unless going community college on and off for seven years to get a two year degree counts) i am going to call this PB&J granola a LIFE staple for me! i grew up eating peanut butter and jam (yes, JAM, not jelly! more specifically: momma b's homemade raspberry jam) sandwiches. or toast. or pancakes. PB&J goes on everything. that's why i knew that this PB&J granola would be a hit in my mouth.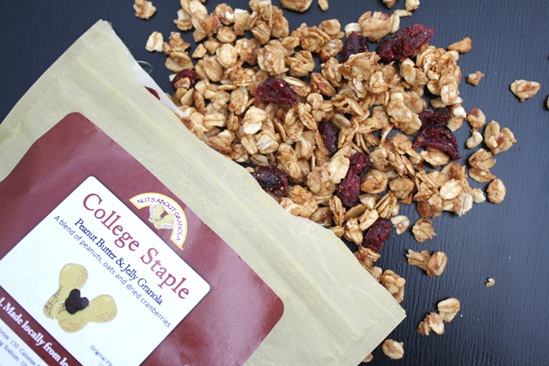 because i can't leave anything alone, i decided to play around with this granola and make a recipe instead of eating it straight from the bag.
okay, okay, you got me. i did eat quite a bit straight from the bag.. but i still wanted to make up a recipe. i had big plans after work yesterday. since i didn't have to blog (thanks to three tip thursday) and daylight was on my side, i decided to whip up a recipe that had been floating around in my brain since first receiving the PB&J granola.
i initially wanted to make PB&J protein bites. my big plan was to use four ingredients.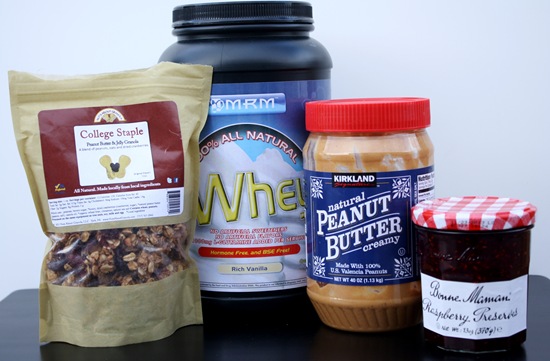 i figured i could mix the granola with protein powder, peanut butter, and jam to create tasty, no bake protein bites. sounds simple enough, right?
i got started and quickly realized that i didn't have nearly enough granola to go around.. so i bulked it up a bit with oat bran. a little extra fiber never hurt, anyway!
once the original four ingredients were mixed with the oat bran, i had a bowl of crumbles. delicious crumbles, but crumbles none the less.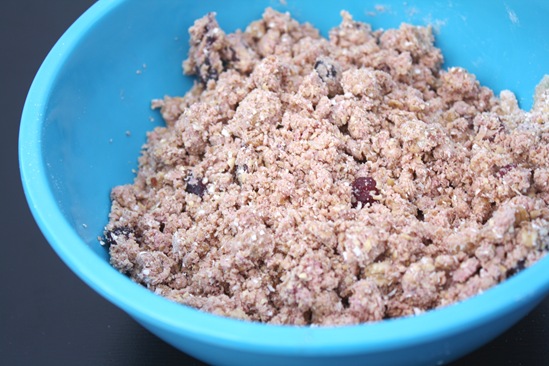 i decided that the recipe needed a little moisture, so i started adding almond milk to the bowl. well, i must have got a tad too heavy-handed, because i ended up with a mixture that was just too runny to form into no bake protein bites. oops.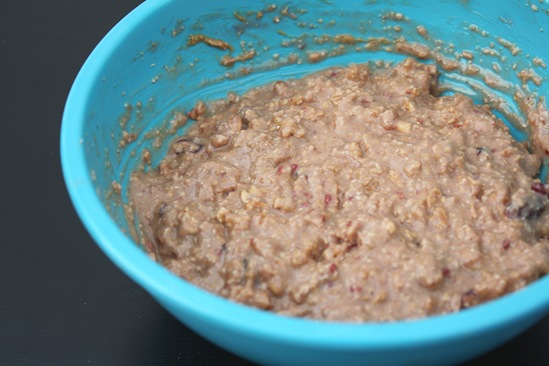 because i wasn't about to waste this delicious batter (how do i know it was delicious? oh, because i kept eating it by the spoonful…) i decided to do what any normal recipe experiementer (made that word up) would do: put it in the oven!
i added an egg, some baking powder, and a pinch of salt to the mixture and decided to bake it into cookies AND bars, to see what would work best.. or if they would both be a disaster.
the cookies went in for 10 minutes and the bars went in for 18.. i was happy to see they both came out looking like something edible! (hey, you never know when it comes to baking.. the oven can be a tricky thing.)
[pinit]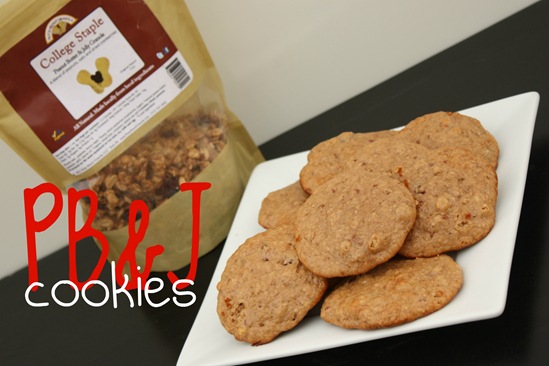 they looked good, but what counts is taste and texture.  i sampled both the cookies and the bars.  much to my (pleasant) surprise, both items turned out SENSATIONAL! we are talking delicious, peanut butter-and-jammy, protein packed bites of amazing.
i love that i didn't have to add any extra sweetener to these. the hit of honey from the granola paired with the all-fruit jam made these treats perfectly sweet.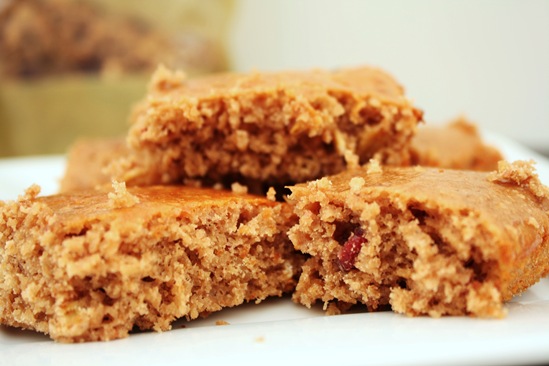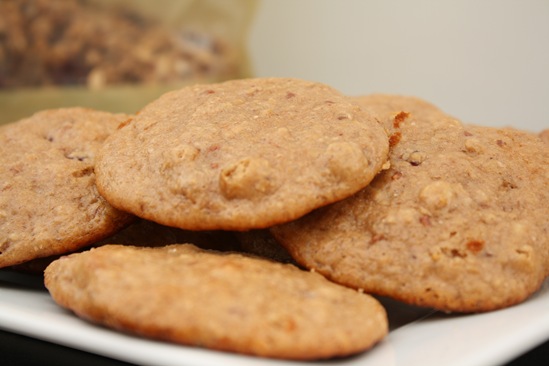 i was really shocked that the random ingredients i combined on a whim created such a soft, cakey texture.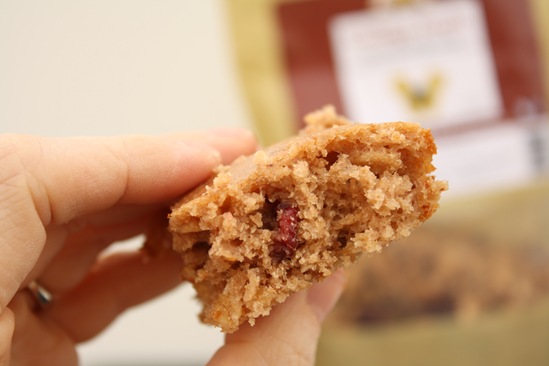 the bits of college staple PB & J granola throughout the bars and cookies were definitely what made the recipe unique.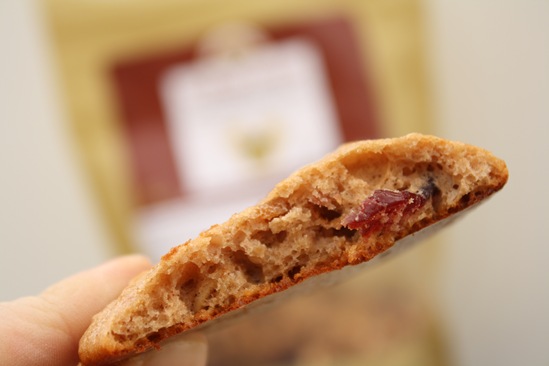 and that, my friends, was my great mistake.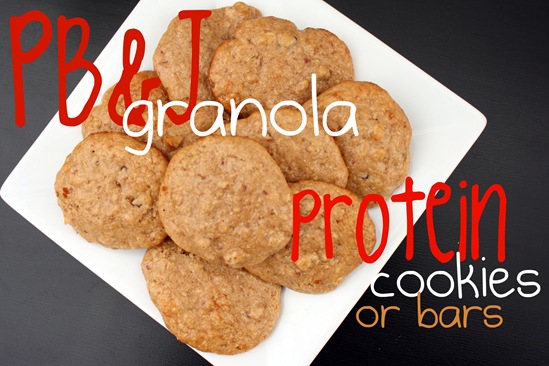 makes 18 cookies/bars
prep time: 5 minutes
bake time: 10-18 minutes
ingredients
3 oz oat bran
2 scoops vanilla protein powder (i used MRM whey)
5 TB creamy peanut butter
5 TB jam or jelly
5 TB almond milk
1 egg
1/2 tsp baking powder
1/8 tsp salt
directions
preheat oven to 350 degrees.
combine granola, oat bran, protein powder, peanut butter, and jam in a bowl. mixture will be crumbly.
slowly add milk to the bowl, mixing while you pour. mixture will be wet.
stir in the egg, mixing well to combine.
finally, sprinkle in baking powder and salt and stir, making sure it is mixed in completely.
for cookies, drop 1 TB balls onto a cookie sheet lined with a silicone mat or sprayed with cooking spray. mixture will spread, don't worry about it.
for bars, pour mixture into an 8" x 8" or 9" x 9" baking dish that has been sprayed with cooking spray.
cookies bake for 10 minutes, bars bake for 15-17 minutes (a toothpick should come out clean.)
let cool before eating. store in an airtight container in the fridge.
nutrition stats based on 18 cookies/bars:
not bad for a treat, right?
my friends at nuts about granola have offered to give away a bag of their college staple peanut butter & jelly granola to one of you.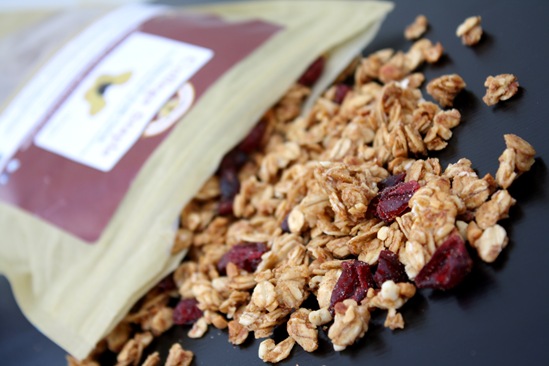 i will pick a random commenter from this post on monday!
i don't know about you guys, but i am super pumped for the weekend! we have lots of plans. we are heading to the jazz game tonight, then to see danny tanner tomorrow! oh, i mean bob sagat.. but he will always be danny tanner to me. can't wait to see him live. i also have a couple workouts lined up, the usual sunday grocery shopping & meal planning, and maybe we will have time to catch the hunger games. although, i wouldn't mind waiting to see it since i hate crowds. it's supposed to be real warm this weekend, so i hope to take the pups to play outside somewhere, and i might even bust out the bike for a bike ride.
what is on your weekend agenda?
xo. janetha g.