monday mornings at my office are always good for a laugh. that has zero to do with the fact that it's 7 AM and 100% to do with the fact that my boss is quite the character. yesterday morning was no different. we were sitting around the round meeting table, as we do, and my boss starts telling a story about how he went to a place called "whole foods" on saturday. i wish i could actually tell you this story rather than type it, because the way he said "whole foods" was fantastic. you'd think he was telling us that he discovered a new planet. anyway, he said he went to whole foods saturday morning and had..
wait for it..
OATMEAL!
yes. that is what he said. "we went to whole foods and got some OATMEAL! did you know they have that?!" he looked at me, very impressed with his discovery.
i looked at him, puzzled, wondering how he had never known about the popular breakfast we all know as oatmeal. turns out he did in fact know oatmeal existed, but this oatmeal was different. it was, as he put it, "thicker and like little round balls."
oh.. that makes sense. he had steel cut oatmeal. which, if you are having it for the first time ever, can be quite the discovery.
it's  fantastic.
i told him he could make the steel cut oats himself, to which he laughed at, telling me he was already planning to drive to whole foods after the meeting so he could get some oatmeal. he usually goes on a donut run every monday morning, so i was pretty happy to hear about his healthy switch—and even happier to see how excited he was about oatmeal. i hope his enthusiasm sticks around.
i got home monday night and told marshall about the latest and greatest of what went on at work that day—which, of course, included the oatmeal story. marshall loves steel cut oats (he gets them at jamba juice all the time!) and said he wished he had them in the mornings. he makes his own old fashioned protein oatmeal each and every morning. sure, old fashioned oats are good, but they don't compare to steel cut oats.
let's take a time out to talk about steel cut oats, shall we?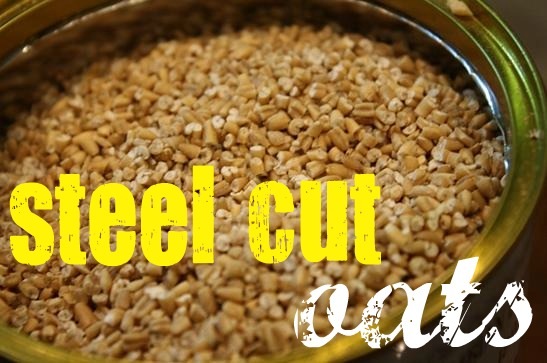 you have probably heard of quick cooking oats and old fashioned (slow cooking) rolled oats.. both are popular breakfast choices. old fashioned oats are less processed than quick oats and this is why they take longer to cook. however, they still have been steamed and rolled flat and most of the bran has been removed. steel cut oats are a less processed version of these two types of oats. because of this, steel cut oats take longer to digest which means you will stay full longer.
aside from the amount of processing, the other big difference between quick oats, old fashioned oats, and steel cut oats is the texture. steel cut oats have a thicker, chewier texture than the other two which are often referred to as mushy.
steel cut oats, in my opinion, are the best option. they are the least processed of the three types i have mentioned and have the best texture. the only downfall is they take the longest amount of time to cook.. but i have a solution for that!
when marshall expressed that he wished he had steel cut oats in the morning, i quickly volunteered to make him steel cut oats for breakfast the next day (today.) since they take nearly an hour to cook, i decided to go the slow cooked route. i did a lot of googling to see what the best oats-to-liquid ratio might be and also the best slow cooking method around. after reading several blog posts and recipe pages, i decided to try out one recipe using two different methods.
i have a little dipper (basically a mini crock pot that is used to warm dip) that i have always thought would be perfect for single servings of oatmeal, so that's the first method that came to mind. i read a few places that the oats came out dry when using this device, so i decided to use the double boiler method in my large crock pot, too. always gotta have a back up plan!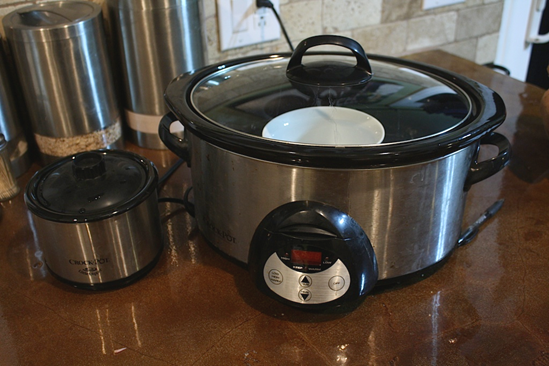 the little dipper method is pretty self-explanatory. for the double boiler method in the large crock pot, i used michelle's method. this was super simple! i grabbed some foil and made a ring for the bowl to sit atop since you're not supposed to place a bowl right on the slow cooker surface (something might break!)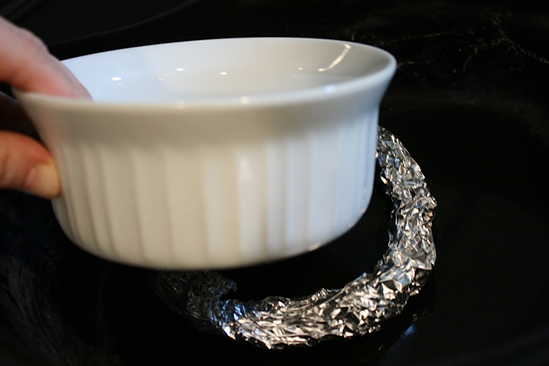 i sprayed both the white bowl and the little dipper container with cooking spray to prevent sticking.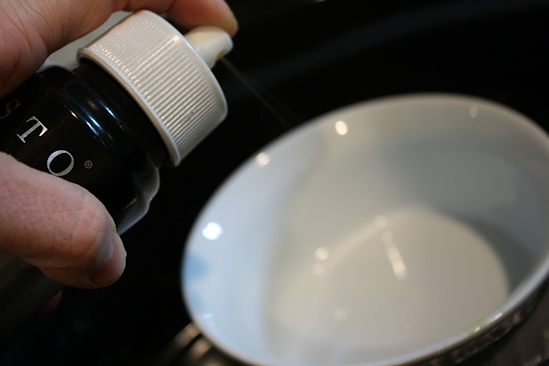 after the two cooking devices were prepped, around 11 PM last night, i pulled out all the key ingredients.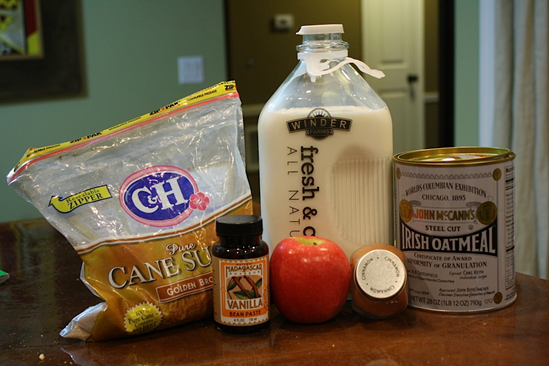 i used oats, milk, vanilla bean paste, a pink lady apple, ground cinnamon, brown sugar, salt, and water. after a whole bunch of reading, i finally came to the conclusion that i should just use the oats-to-liquid ratio that was listed on the oatmeal container. i know, i am a smart one.
i grated the apple, but looking back i think i should have diced it.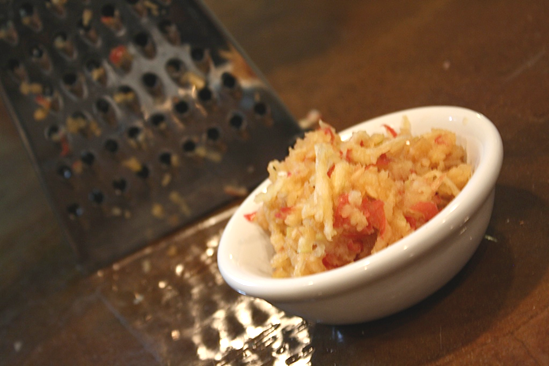 for the double boiler batch, i combined all the ingredients in the bowl (this is an oven-safe bowl.)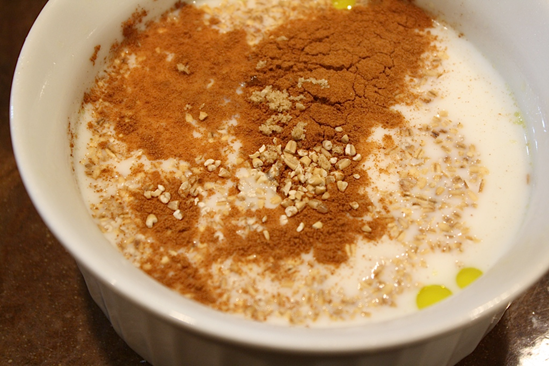 i placed the bowl atop the foil ring, then filled the crock pot with water up to the rim of the bowl.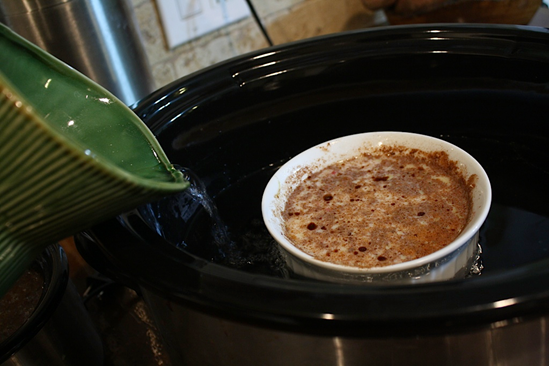 i repeated the ingredient mix and placed it directly into the little dipper.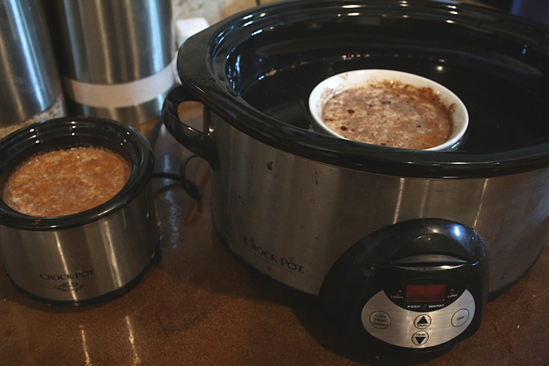 i placed the lids on each pot and said good night!
fast forward eight hours later, and i woke up to two successful servings of steel cut oats!
first, the double boiler batch: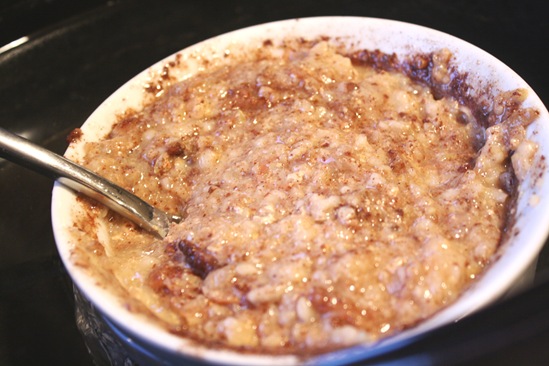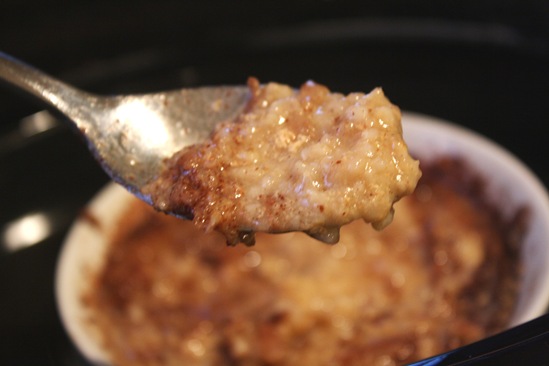 as you can see, these were a tad liquidy.. but the oats were cooked through and had amazing texture.
next, the little dipper batch: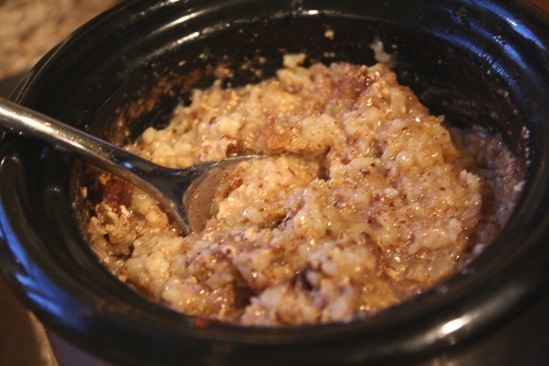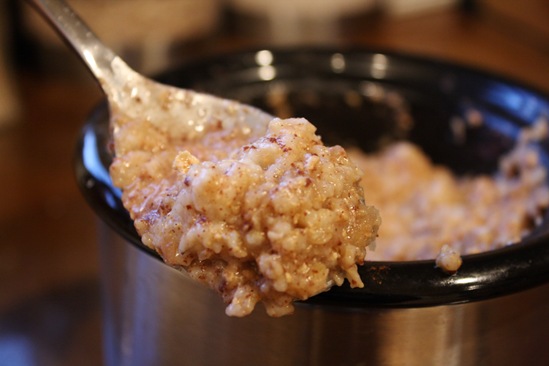 the batch in the little dipper definitely absorbed more liquid and had a chunkier consistency.
i would say that both batches were a huge success! the only downfall of the little dipper version is some of the oats did stick to the container, despite my use of cooking spray. however, i think i prefer the chunkier texture. i am wondering if the double boiler batch cooked a bit longer, it would get chunkier like the little dipper batch. that would be nice, since it creates a lot less mess. something to play around with!
i will leave you with the recipe i used, which can be tweaked according to your taste buds!

makes one serving
prep time: 2 minutes
cook time: 8 hours

ingredients
1/4 c (40 g) steel cut oatmeal
1 cup (8 oz) liquid (i used 1/2 cup whole milk & 1/2 cup water)
1/2 a medium apple, grated or chopped
1 TB brown sugar
1 tsp ground cinnamon
1/2 tsp vanilla bean paste or extract
pinch of salt
optional topping/mix in ideas for the morning: chopped nuts, raisins, vanilla protein powder, additional cinnamon, maple syrup, additional milk, applesauce, ground flax.. okay, the possibilities are endless.
directions
for a 16-oz little dipper slow cooker:
spray container with cooking spray.
combine all ingredients (except morning toppings) and pour into container.
cover with lid.
cook for 8 hours.
top with optional toppings/mix ins and enjoy!
for a larger slow cooker (double boiler method):
create a foil ring with aluminum foil that the base of the serving bowl can sit on.
spray an oven-safe bowl with cooking spray.
combine all ingredients (except morning toppings) and pour into bowl.
set bowl on top of foil ring and fill slow cooker with water up to the rim of the bowl.
cover with lid.
cook on low for 8 hours.
top with optional toppings/mix ins and enjoy!
here are a few other great recipes for slow cooked steel cut oats. they all make larger amounts (steel cut oatmeal is great leftover, unlike other types of oatmeal) but you could always alter the recipes to make a single-serving. i am really excited to experiment with my own various steel cut oat blends!
or you could always go to whole foods, i suppose.
xo. janetha g.