last night marshall and i had my family over for dinner.  this was the second of many potluck-style traveling dinners my family has decided to do once a month so we can hang out more often. the first one was at my brother's house and last night's was at our place.
i was in charge of the main dish, so i made a quadruple batch of my lightened up lasagna.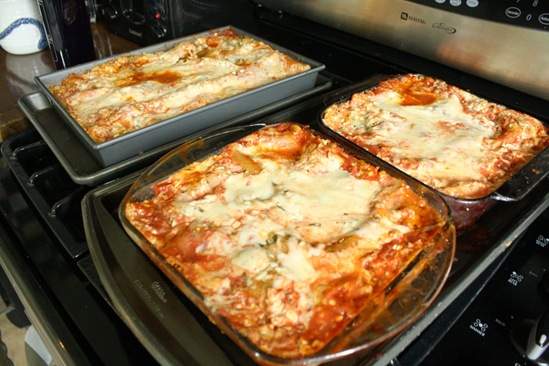 i have to tell you guys about a shortcut! instead of cooking the noodles beforehand, i simply layered the uncooked noodles in the lasagna and they cooked perfectly in the oven. i am sure this is old news to a lot of you, but it was new to me. it worked like a charm and was so much easier than cooking the noodles beforehand!
my sister, suni, was in charge of the bread. she brought fresh baked sourdough and asiago.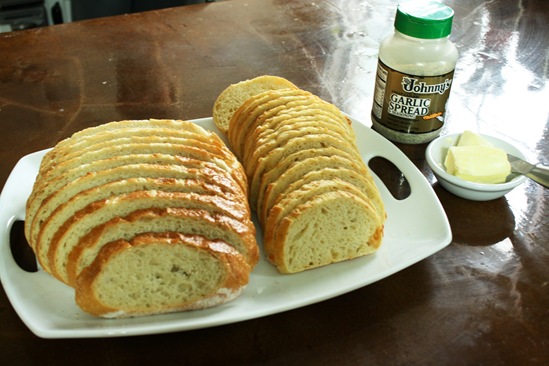 momma b was on salad duty. i don't think she brought enough salad…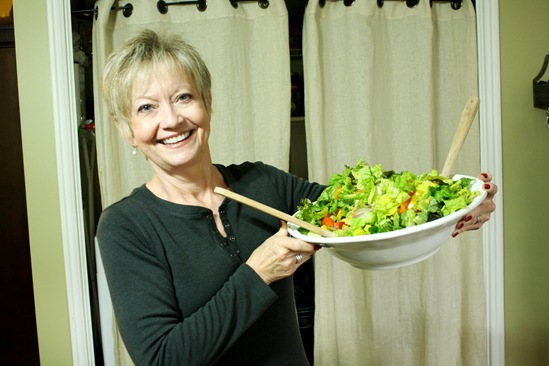 …or enough dressing.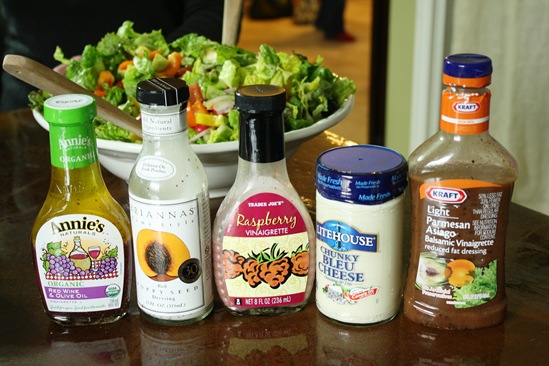 she is an over-achiever. my sister in law, linds, brought dessert. we will get to that in a moment. my other sister, marisa, lives in california and she didn't even bother showing up! geez, what a slacker.
the lasagna had just finished baking when everyone arrived, so we hung out for a bit so it could cool off before eating.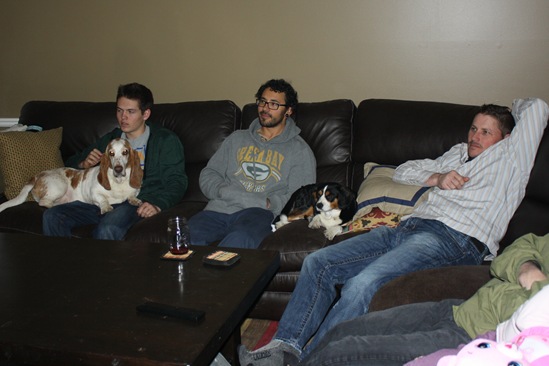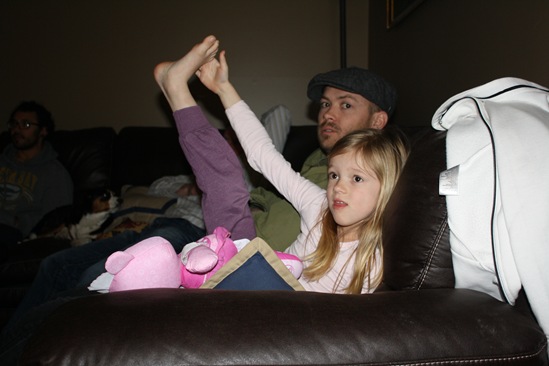 greyson and ben were smacking each other in this photo. cousin love at its best.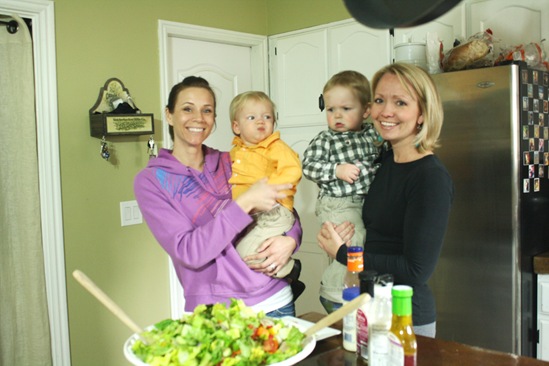 we all sat down to eat in my little kitchen.. almost everyone fit!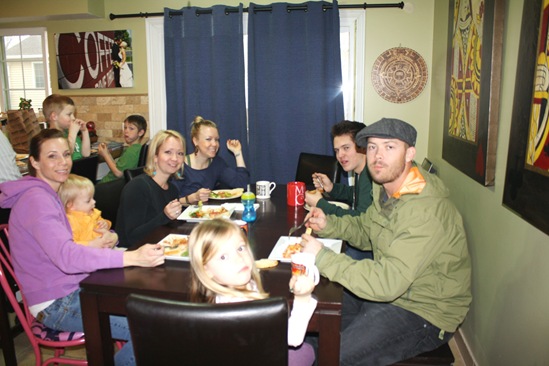 we did have to stick my parents in the living room. marshall joined my mom after my dad finished eating so she wouldn't be all alone. what a guy.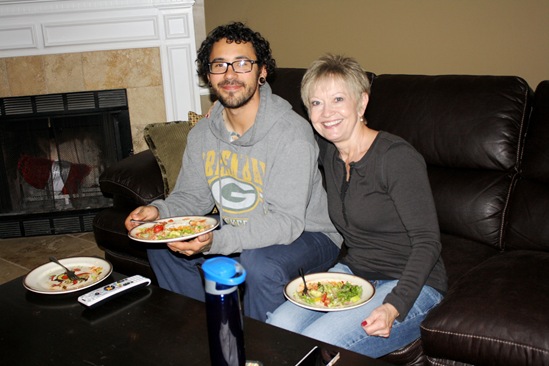 dinner was fabulous! lasagna is such a great meal for big groups. my mom's salad was awesome because of the huge chunks of avocado.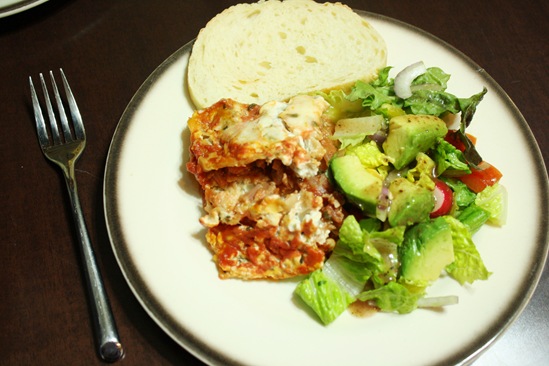 penny and randy had a hard time with all the delicious food surrounding them. so many good smells and nothing for the poor little pups!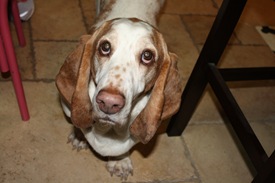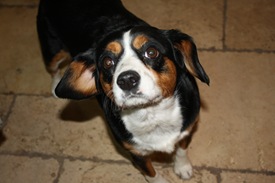 we didn't waste much time before digging into lindsay's dessert.
she made cheesecake sopapillas which she found on pinterest.
um, duh.. where else do people find dessert recipes these days?? especially ones with cream cheese in the ingredient list.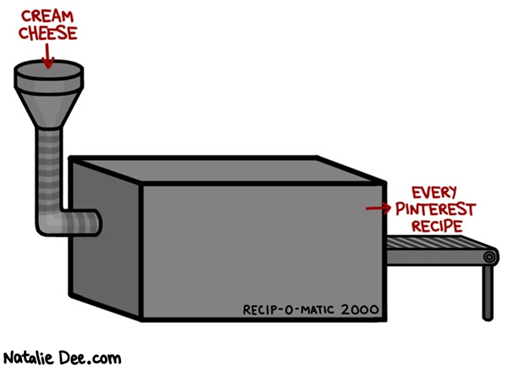 so true.
anyway, back to the bars. are you impressed with how much lindsay's bars look like the original photo?! i am. especially because i know lindsay real well… (love you, linds.)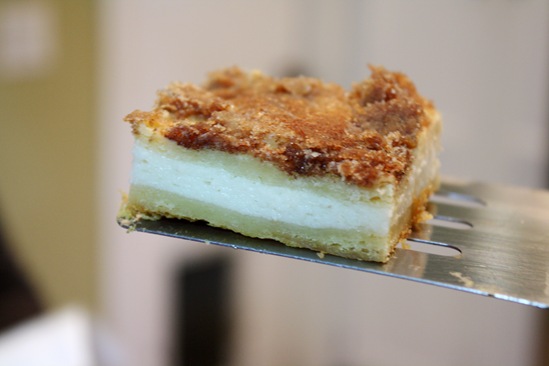 i am going to go ahead and say this was one of the best cream cheese-based desserts i have ever had. in my life.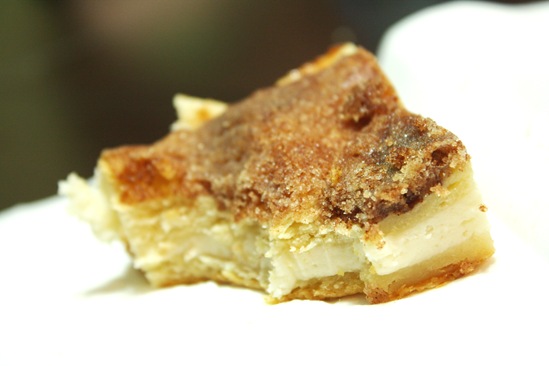 yep, they were that good. and from what lindsay said, they were way easy to make. probably too easy. and probably way too much butter and sugar.. but hey, everything in moderation.
after devouring the cheesecake bars, we all had a sugar high and needed to get some energy out. i kept warning everyone that since marshall and i don't have human kiddos, our house isn't a fun house and my niece and nephews would get super bored.
greyson picked up multiple things around the house in an attempt to entertain himself…
the remote control.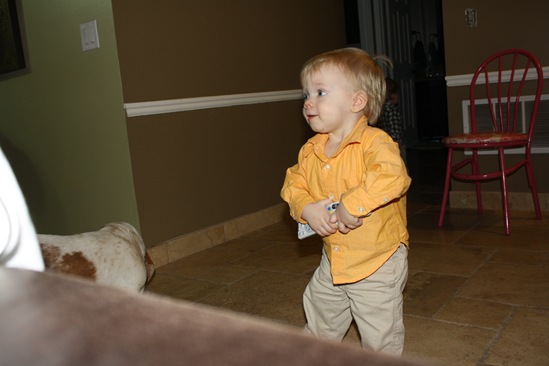 my cell phone.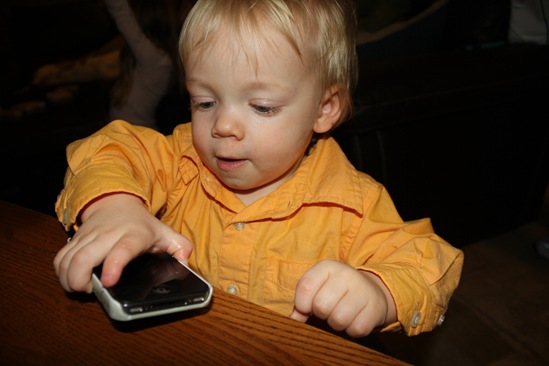 a paper towel.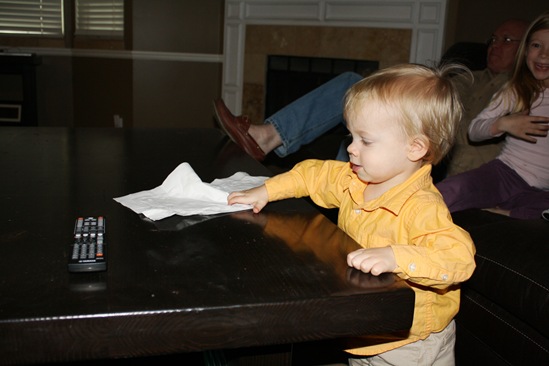 there were only so many paper towels to go around, so the other kids managed to find other entertainment. i suggested we all play a game, and the only game that i had for all ages was jenga. i mean, trivial pursuit isn't great for the one-year-olds. (or for twenty-eight-year-old janetha, for that matter.) after a few tried (and failed) attempts to play the game the way it is meant to be played, the little kiddos just used the blocks to build things. instant entertainment, i tell you.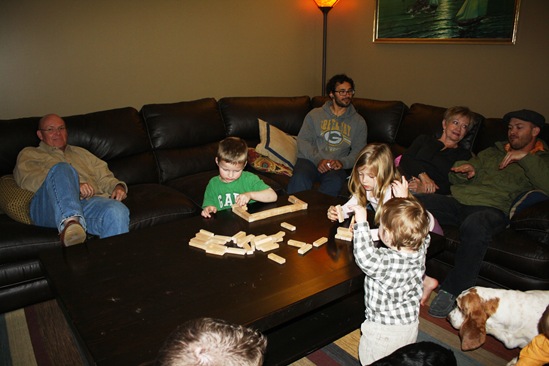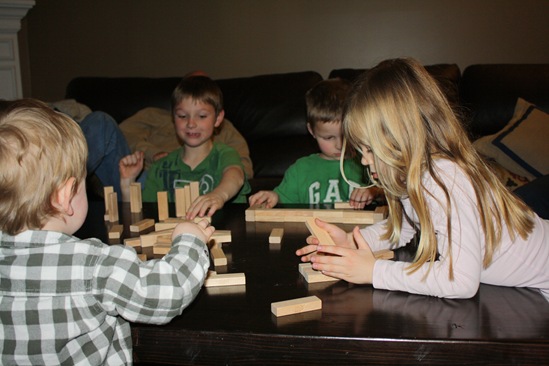 once that got boring, we moved onto bigger and better toys: the pullup bar. that was something we could all play with! and we did. family pullup competitions are all the rage.
marshall didn't want to show everyone up, so he just watched.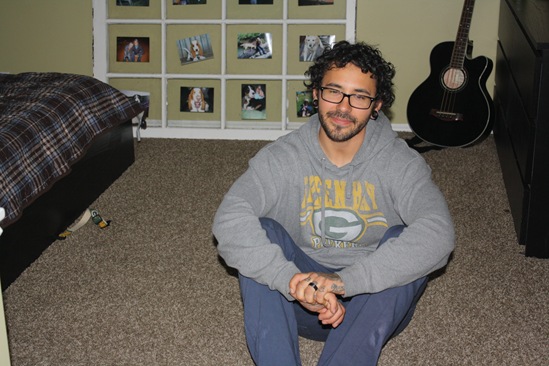 ben & luke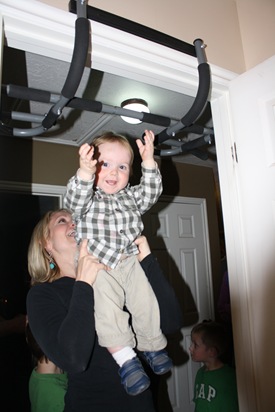 linds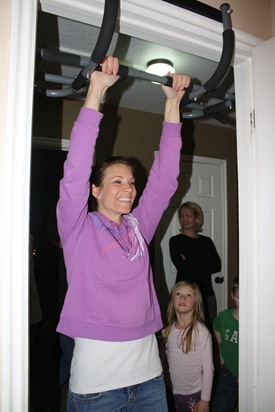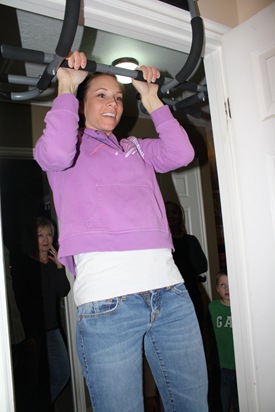 izzy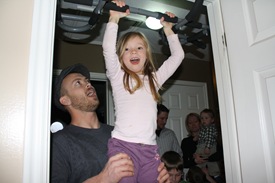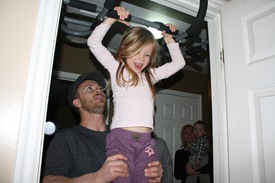 momma b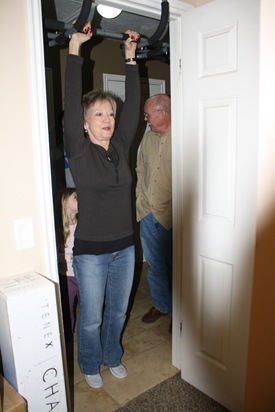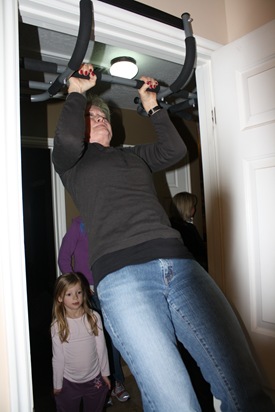 me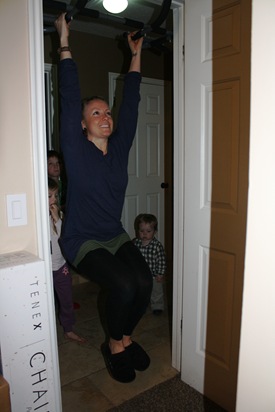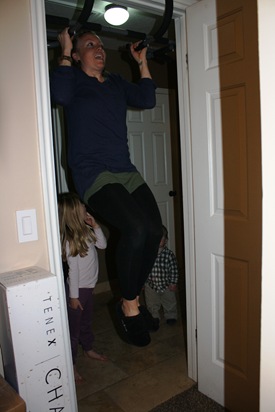 suni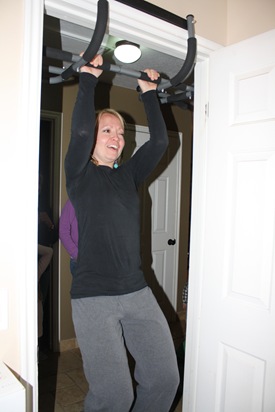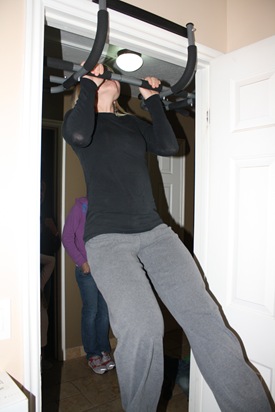 my brother, doug, gets best face award. my nephew, jake, gets runner up.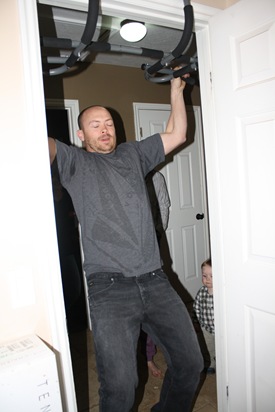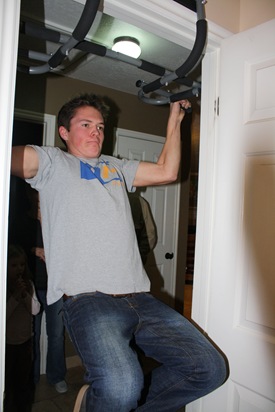 jake and doug also pounded out the most pullups (wide-grip, by the way!) by far.
the pullup shenanigans were pretty exhausting, so everyone left shortly after. i think randy and penny were pretty excited for the party to die down so they could do what they do best… pass out on the couch.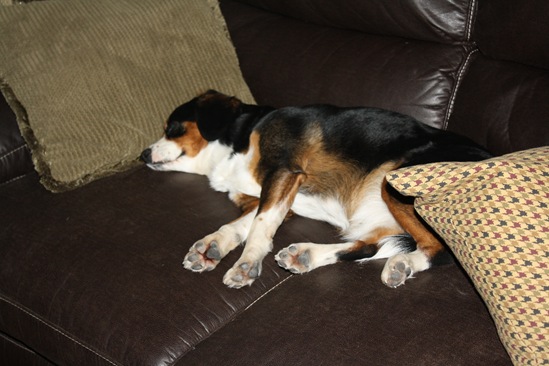 what do you know.. it turns out our house is pretty fun, after all!
one last thing before i go.. i wanted to mention that today marks one year since momma b had her stroke. she had a stroke due to a hole in her heart.  that was the single most frightening day of my life. it was the worst thing i have experienced. my mom lost her memory and didn't know what year it was and couldn't remember something someone said just two minutes before. it was so scary. you can read all about it here.  i can't believe a year has gone by already!
after seeing different specialists, she had the hole repaired with a titanium umbrella.  she is now stronger and healthier than ever! i am so grateful that momma b had her heart fixed.. i would be lost without her. she's my very best friend!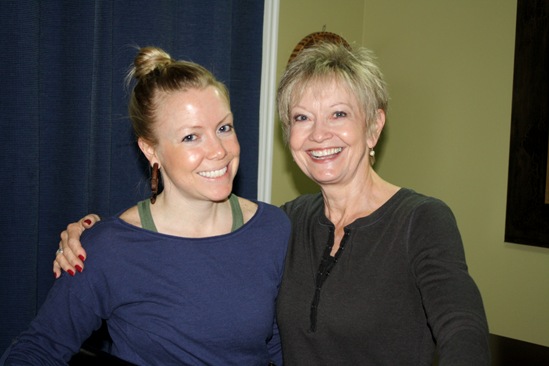 love you, mom :)
don't forget to hug the people you love today! and if they aren't close enough for a hug, give them a call.
xo. janetha g.
p.s. the popchips winner is #316, natalie from the sweets life!