marshall and i went to our friends' lindsay and brandon's last night for some festive st. patrick's day fun!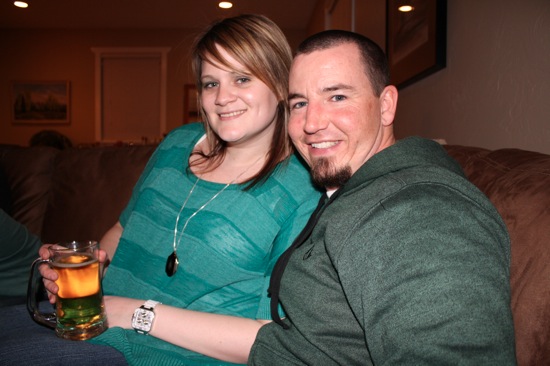 these cute newlyweds were awesome hosts!
we kicked thing off with drinks–GREEN drinks, naturally.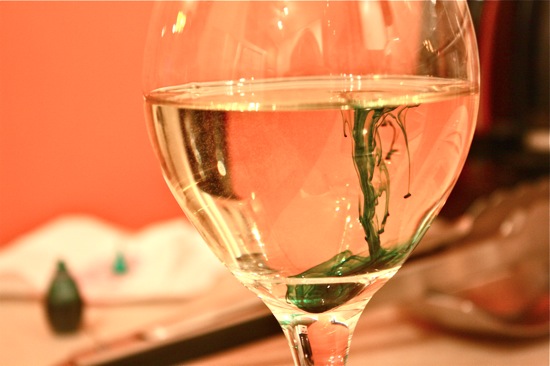 everything is more fun with food coloring. we hung out and chatted while waiting for everyone to arrive.  sage passed out before the party even started.
we had a good laugh because marshall and i happened to be twinners with allie and tyler.. me and allie were both sporting blazers and marshall's and tyler's hoodies were identical. random coincidence.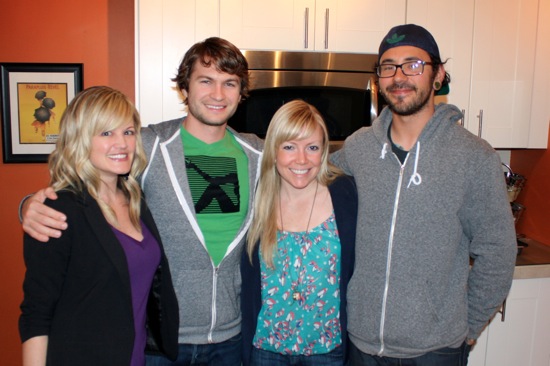 once everyone showed up, we dug into a dinner of chicken tacos. yep–tacos. we skipped traditional irish fare and went for what we all love so much.. mexican.
hey, at least some of the dishes were green!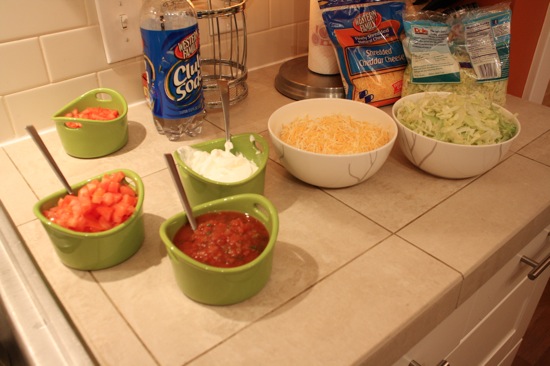 linds made slow cooked chicken using chicken breasts, salsa, and taco seasoning.  it was SO good.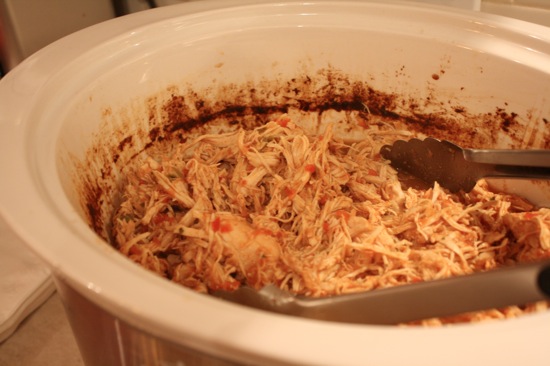 i had two tacos: one with a flour tortilla and one with a corn tortilla.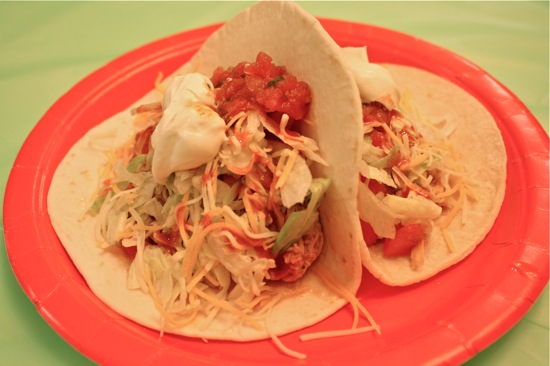 i brought cheesecake brownies for dessert.. and not just any cheesecake brownies, GREEN ones. more fun with food coloring.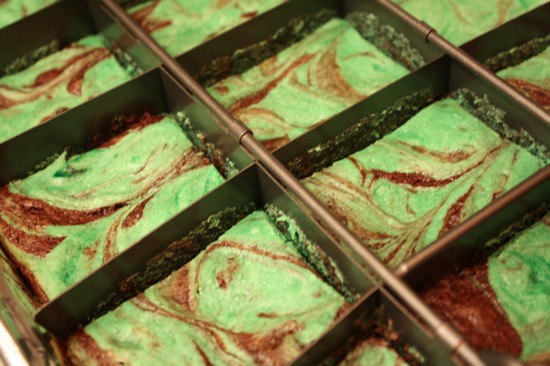 cheesecake brownies
makes one 13″ x 9″ pan
prep time: 10 minutes
bake time: 30 minutes
ingredients
brownie layer:
3/4 cup (1.5 sticks) butter
4 oz (4 squares) unsweetened baker's chocolate
2 cups sugar/evaporated cane juice
3 eggs
1 TB vanilla bean paste/extract
1 cup all purpose flour
cheesecake layer:
8 oz plain cream cheese, softened
1 egg
1/2 cup sugar/evaporated cane juice
1 TB all purpose flour
1 TB vanilla bean paste/extract
optional: food coloring
directions
preheat oven to 350 degrees and spray a 13 x 9 inch baking pan with oil.
in a microwave-safe bowl, melt butter and chocolate together in the microwave, about 90 seconds.
add remaining brownie ingredients, one at a time, mixing well between each ingredient.
pour brownie batter into prepared pan.
in a stand mixer or using a hand mixer, combine all ingredients for cheesecake layer until it is light and fluffy, about 90 seconds.
spoon heaping spoonfuls of cheesecake batter on top of brownie batter in random spots.
using a knife, swirl the cheesecake layer around into the brownie layer making a marbling pattern.
bake for 30-35 minutes. a toothpick should come out clean when inserted into the center of the brownies. edges will be firm but middle will not look done.
let cool completely before eating, store leftover brownies in fridge.. if there are any!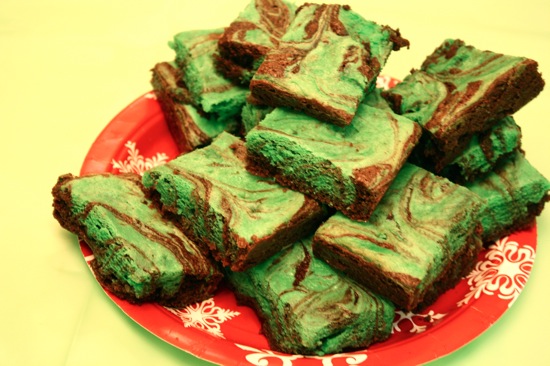 yep, st patrick's day brownies on a christmas plate! festive up in here. the brownies were a hit. they were really tasty and even though they look fancy, they were super simple to make. give them a try!
after eating, we retired to the living room for games!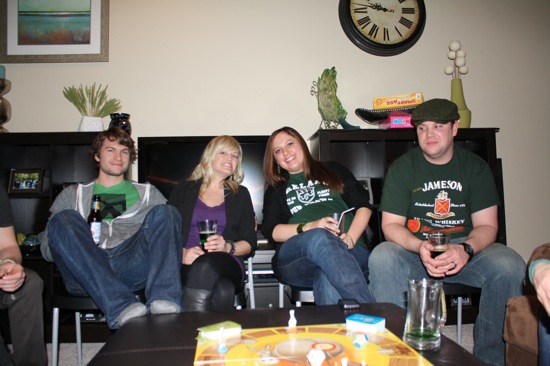 i love games and don't play them nearly enough. we started with one called smart ass.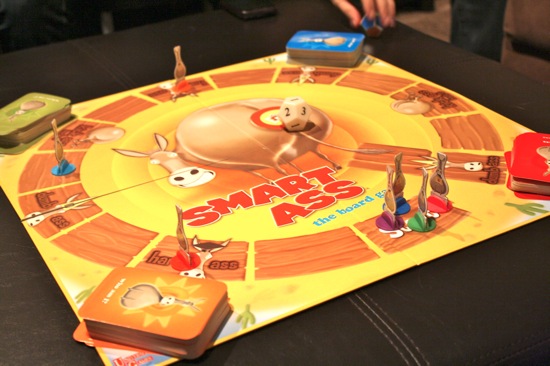 it was a trivia game and each couple was a team. lucky for me, i have a super smart husband.  we took turns reading various trivia cards–some were REALLY hard and our inability to answer the questions had us all laughing.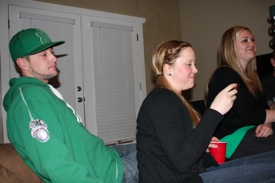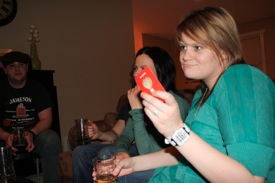 thanks to marshall's brain, we actually were the winners! i rarely win anything, and i never win anything trivia-related, so i basked in that glory for a quick minute before we started a new game.
next up was a couples game called mr. & mrs.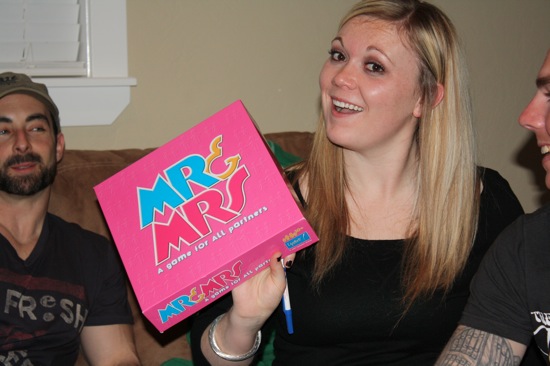 this was similar to the game show the newlywed game. basically we were asked various questions about our significant other and they had to guess our answers.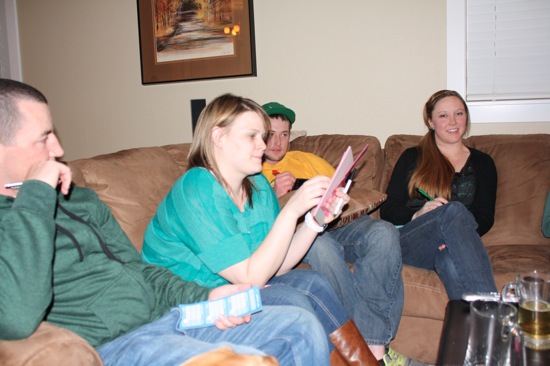 turns out there are more than a few things i don't know about marshall. that's not a big surprise. it was a lot of fun learning about him, though! the game was hilarious and i think i need to go buy it.
the fun winded down around 1 AM–pretty late for us old folks!–and we headed home to the pups.
thanks for having us, lindsay and brandon, it was a blast!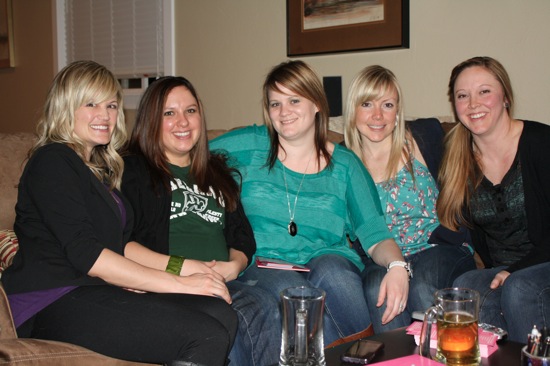 well, i have to go make two big pans of lasagna. it's family dinner night at our place! enjoy the rest of your weekend and have a fun filled monday.
Q~
what's your favorite game?
xo. janetha g.