are you doing your friday dance? i don't/can't/won't even dance but and i am doing mine in my head. i think that whole giving up coffee thing has finally caught up to me this week, i've been more tired than usual. although, that could have something to do with the fact that i have been staying up til 1 AM every night catching up on my turns on draw something.. hmm..
i went to dinner last night! yep, i left my house on a weeknight. that's adventurous for me. there was no special occasion in particular, but i had been trying to get together with my friend lindsay for weeks and we kept canceling on each other for one reason or another. we are busy people! busy being boring, that's for sure. last night we were finally able to nail down a set time to get together for dinner. our friend allie joined us, too. i hadn't seen these ladies since december!
we decided to try a new-to-us (and new-to-salt lake city) restaurant, brio.  word on the street is that it is a chain, but since i'd never been before i was excited to try something new.
we started with a fancy bread basket.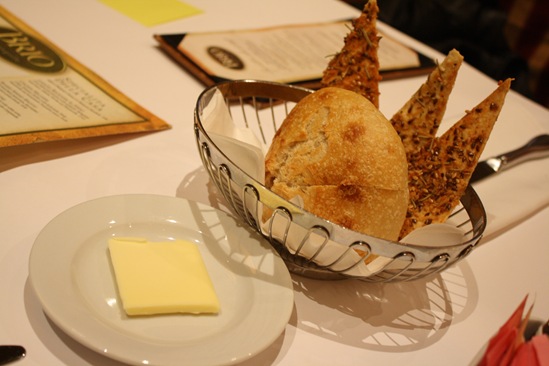 after a glance at the menu and seeing that prices ranged from $15-$30 for entrees, we decided to take advantage of the weeknight dinner deal which was a three-course meal for $20. hey, can't blame a girl for being thrifty.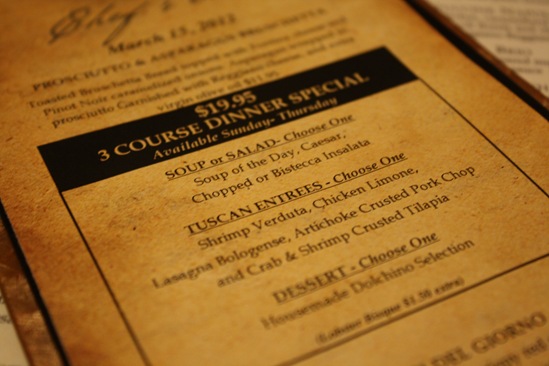 plus, that left money for us to split a bottle of wine.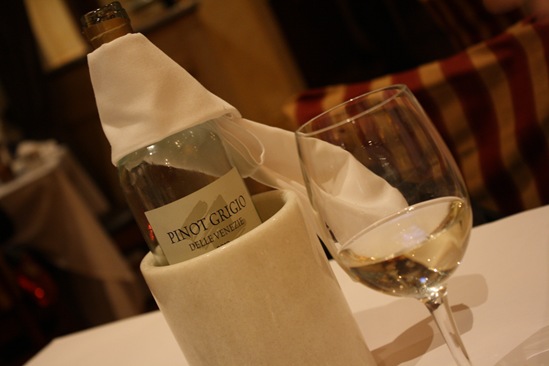 there were a three salad options on the dinner special and we each ordered one of them.
i had the chopped salad.
allie had the bistecca salad, complete with steak knife.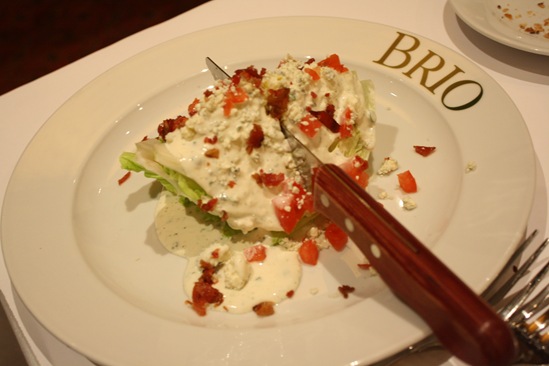 and lindsay had the caesar.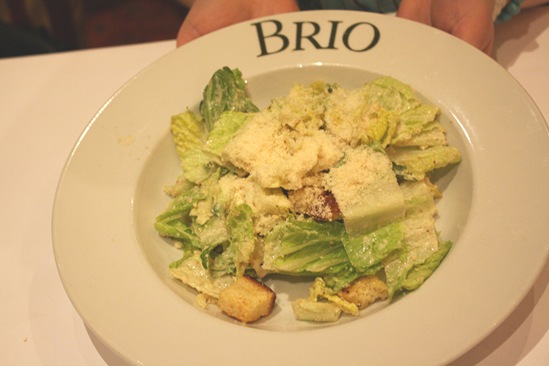 there were five entrees to choose from on the special menu. allie and i went with the shrimp verduta.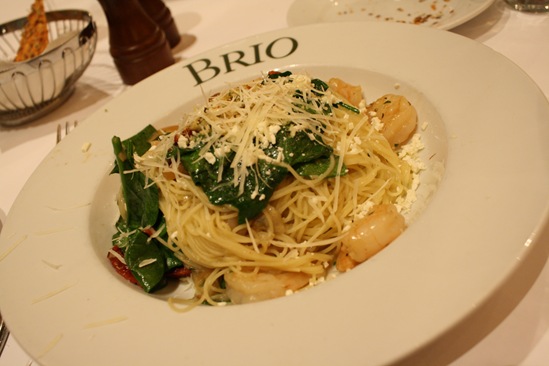 angel hair tossed with shrimp, garlic, sundried tomatoes, roasted artichokes, feta, and spinach, topped with pesto bread crumbs and fresh grated parmesan. it was DELICIOUS.
lindsay had the chicken limone, which is brio's version of chicken piccata. i was surprised to see it come with red sauce. that's a fun little twist!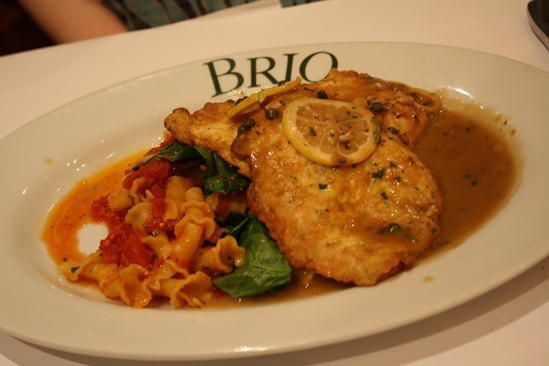 traditional piccata style with white wine, lemon and capers. served campanelle florentine.
the portions were really large (those plates are huge) so none of us finished our entrees. hooray for leftovers! of course, you're never too full for dessert. there is a special compartment set aside in stomachs specifically for sweet treats.
the waiter brought the dessert spread out for us to select from.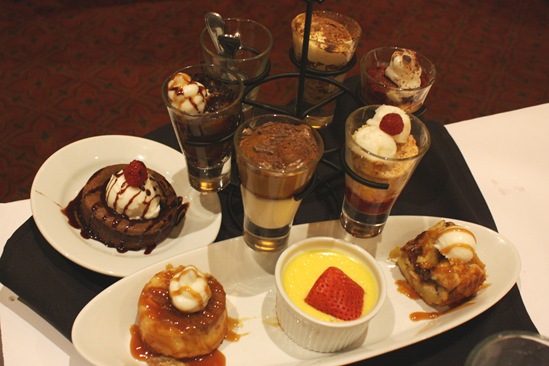 lindsay and allie chose the caramel mascarpone cheesecake.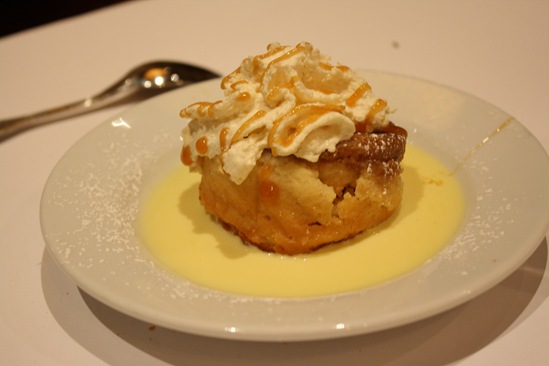 i went with the apple bread pudding topped with vanilla ice cream.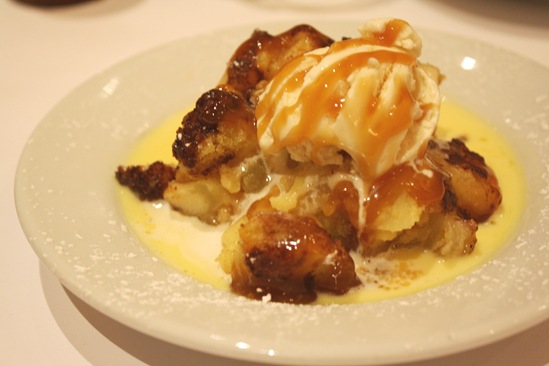 the desserts were the perfect size! not too big, not too small. when we got our bill, the desserts were extra. we were under the impression that they were the third course in the three-course special, so we asked our waiter about it. it turns out, the desserts included in the special were the small shooter desserts (pictured above) but he didn't point that out when we were making our selections. because of this, he happily took the desserts off the bill. i snagged marshall a baby tiramisu to-go, which he ate in about 1.5 bites flat.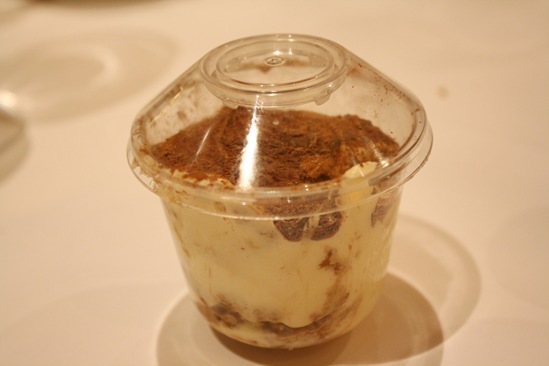 isn't it so cute?! i love mini things.
my experience at brio was wonderful. the service was quick—even though some of the guys were a tad on the uh, odd, side.. one said we were looking "fly"—and the food was really fantastic. i think that if i go again, it will definitely be on a weekday again so i can take advantage of the $20 special, i feel like that was the perfect way to try a little bit of everything without breaking the bank. they also offer a $2.95 bar menu on weekdays that includes a range of items from a burger to ravioli, so that would be fun to check out on the cheap. brio gets two thumbs up!
**************************************************
how about a little blend talk?! i cannot believe that the blogger retreat is less than fifty days away! there is still time for early registration. tickets are $75 right now. check out this post to read everything that comes with a ticket! on april 1st, ticket prices will go up to $100. nope, not april fooling. take advantage of the cheaper rate between now and march 31st!
one of our fabulous sponsors for blend is nuts about granola. i love this company so much. they are ridiculously generous and played a huge role in raising money for susan's chemotherapy in the great fundraising act.  for the retreat, they have generously offered to create a brand new CUSTOM BLEND of granola for BLEND!
oh man. a blend for blend? i love word play.
nuts about granola has created a survey with a plethora of tasty ingredient options. they will be collecting votes between now and april 15th. the ingredients that receive the most votes will be combined to create blend retreat's custom granola blend. the granola will be included in all the swag bags! and, not to worry, if you can't make it to blend retreat, this custom blend will be available for purchase on the nuts about granola website following the retreat.
and now the fun part—and where we need YOUR help. please take a minute and take this survey to help decide what the custom blend will include!!
*please click here for official contest details & privacy policy.
my picks:
nut: pecan
dried fruit: cherry
seed: chia
sweetener: maple syrup
fat: coconut oil
sounds like a tasty blend to me!
remember, anyone can vote! you don't have to be coming to blend to be a part of the fun. however, i really wish you would all come to blend so we could eat chobani and the custom granola blend together. and we could tell scary stories, braid each other's hair, and gush about cute boys. it will be fabulous. please come!
that's all i have for tonight! it's going to be a busy weekend for me. st. patrick's day is tomorrow and i plan to celebrate with something low-key.. nothing like back in 2006…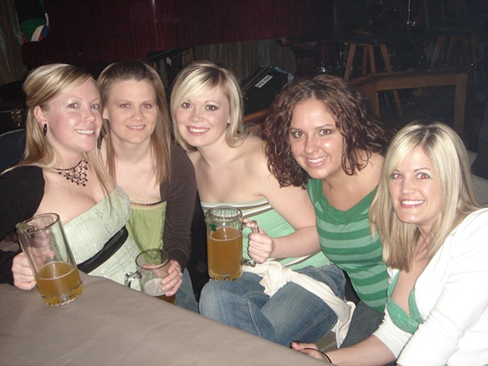 …but i will be sure to wear some green.
and then sunday marshall and i are hosting the monthly traveling family dinner! so that means i will be cleaning my house with every minute there is to spare before the whole fam comes over. but i will try to pop in sometime to catch up with you guys.
Qs~
1. what is your favorite chain restaurant? is that an oxymoron? ha. actually mine is probably chipotle. love that place!
2. any st. patrick's day plans?
xo. janetha g.