i had a party last night.
it was last-minute, but it turned out to be quite the rager. there were so many guests! everyone was there.
oh, did i mention that this party was in my mouth? yeah.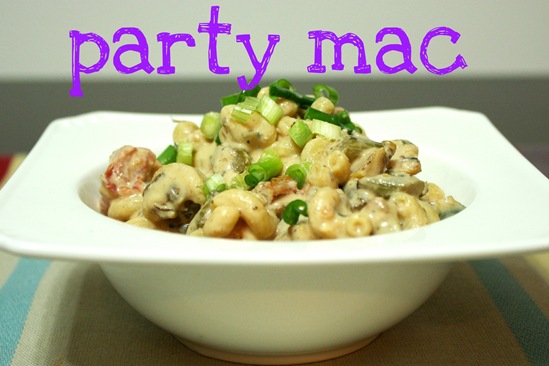 Pin It
mac & cheese is a favorite in our house. i like to put random twists on the classic dish. case in point: healthy mac & cheese, healthy hamburger helper, and four cheese chicken mac.. just to name a few.
last night i wanted to try making mac & cheese using a method i'd read about—cooking the noodles in milk instead of water. i had been meaning to try this for months!
of course i can't make just mac & cheese, so i decided to add in lots of things. and then i dubbed it party mac. everyone was invited.
the hosts, of course, were the milk and the mac.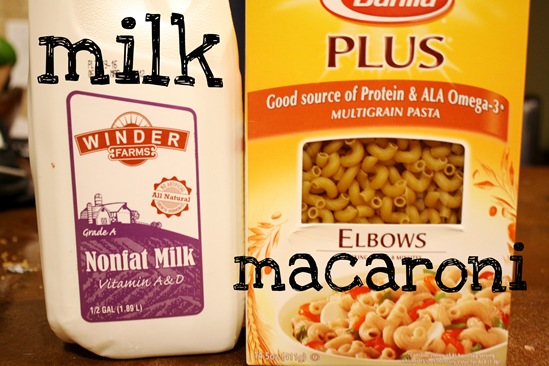 the regulars showed up.. they are always the first to show up when they see macaroni on the menu. typical.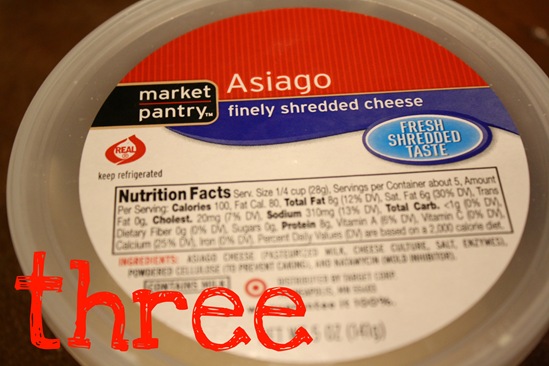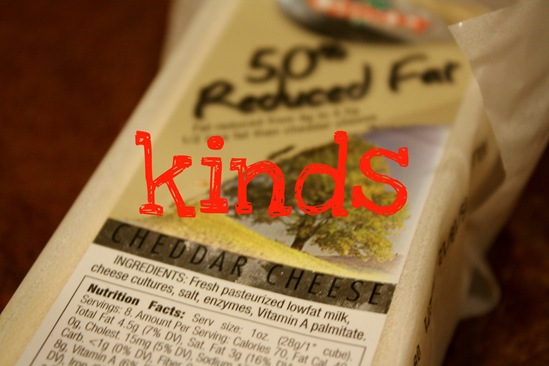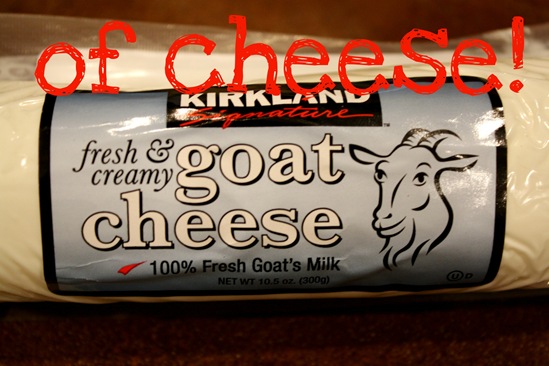 and then there were the random guests that were eager to join in the fun.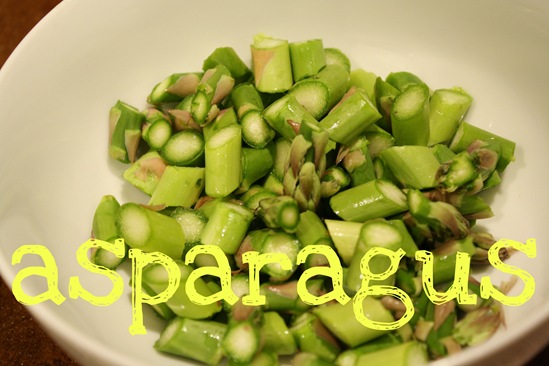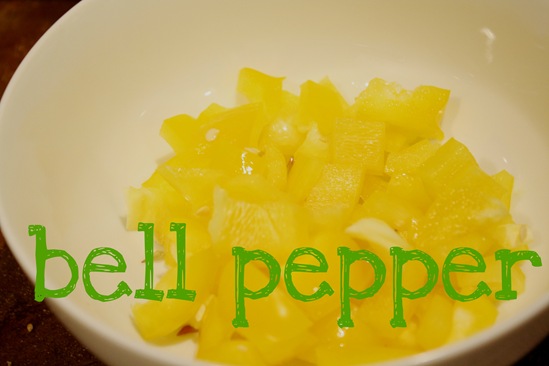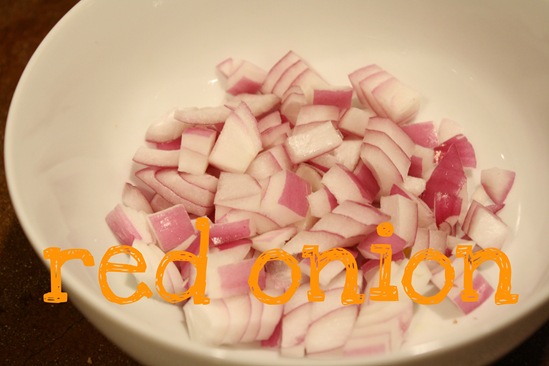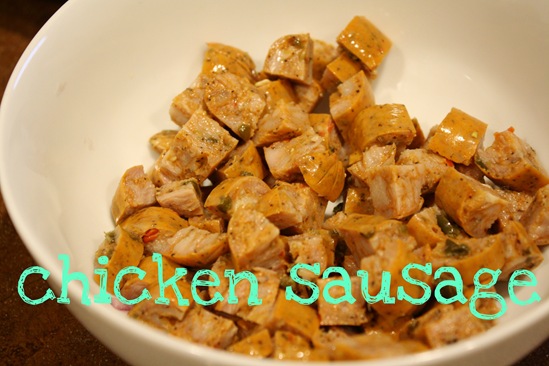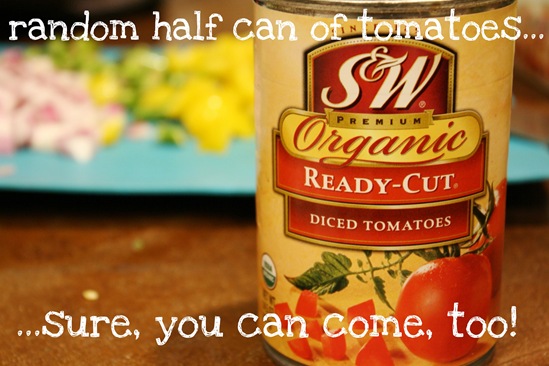 unfortunately, the mushrooms weren't invited. they had to stay behind in the fridge and babysit the grapes.
parties are the perfect place to get sauced up.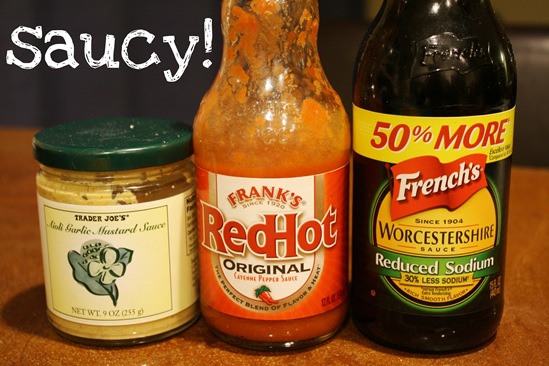 and it's always more fun with a little spice.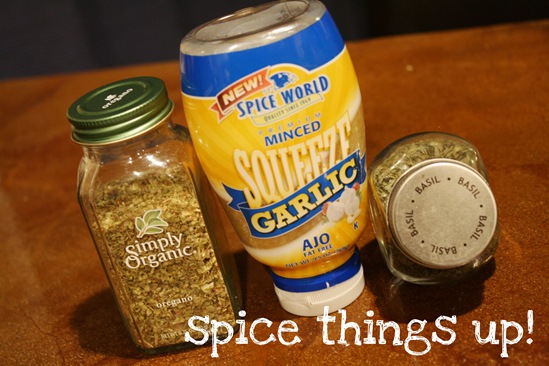 what's a party without dip? i will tell you: no party at all. so we had to invite the ranch.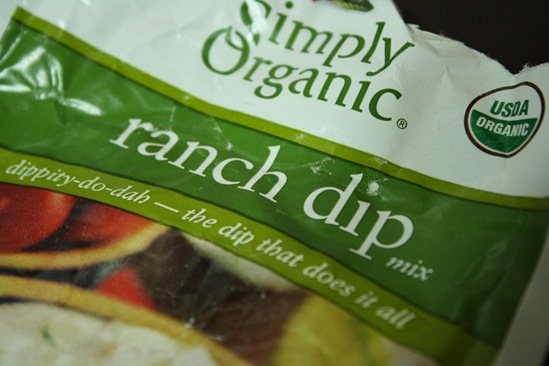 oh, and let's not forget the guest of honor!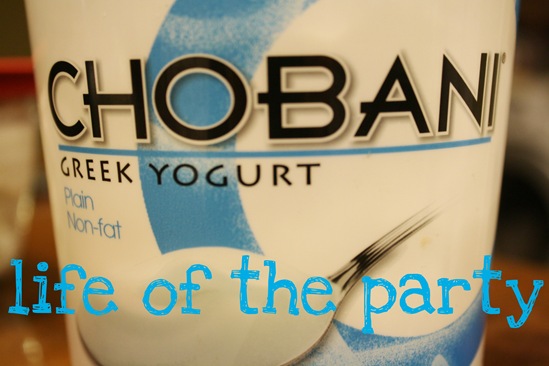 okay.. i think all the guests are accounted for. time to party!
this is how we do it. (name that song.. bonus points if you sang that sentence in your head!)
toss the macaroni and milk in a pot (no, not that kind of pot.. i know this is a party and all, but come on) and turn the heat to medium.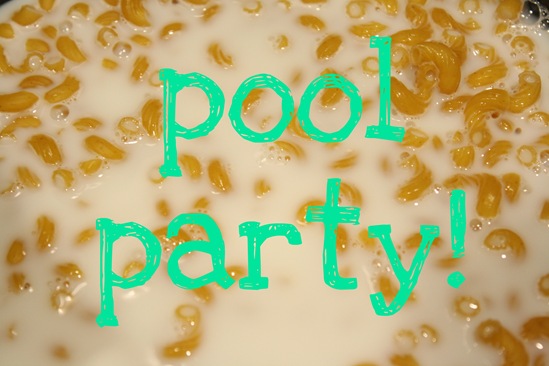 once the milk is simmering, immediately turn the heat to low and add the ranch dip.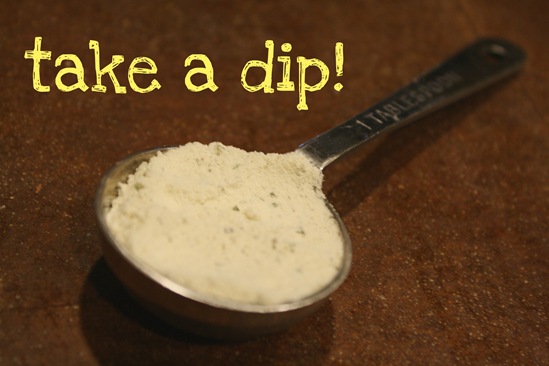 stir to combine, and then make sure you stir the mixture frequently. i can't stress this enough. if you don't stir it, the milk will curdle up. not that i would know from experience or anything…
meanwhile, grab a skillet, put it over medium high heat, and spray it with oil.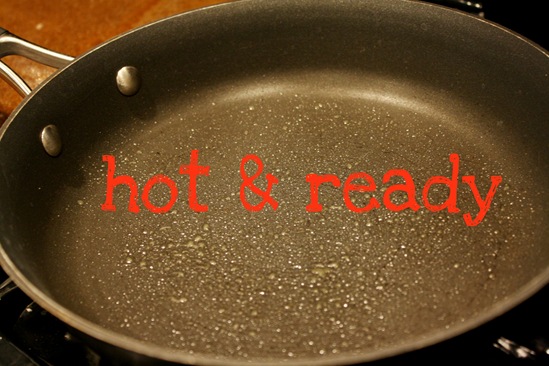 toss in your veggies and sauté for ten minutes.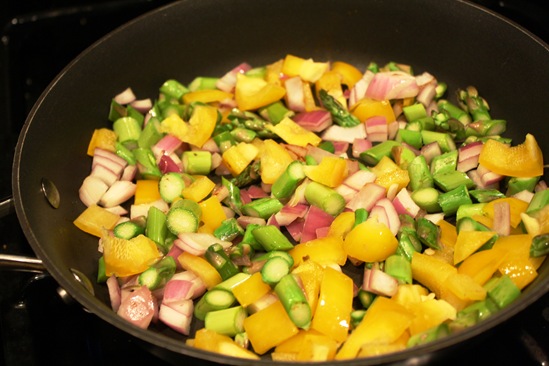 DON'T FORGET TO STIR THE MAC!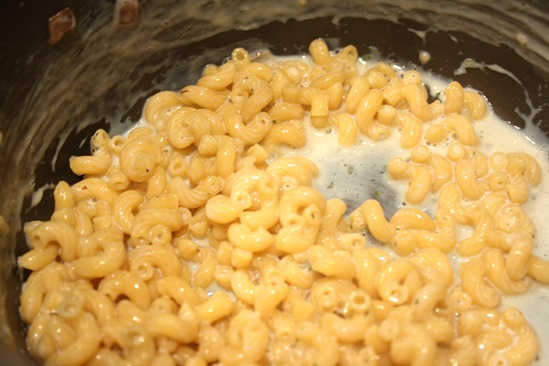 time to add the garlic and sausage, then sauté for another couple minutes.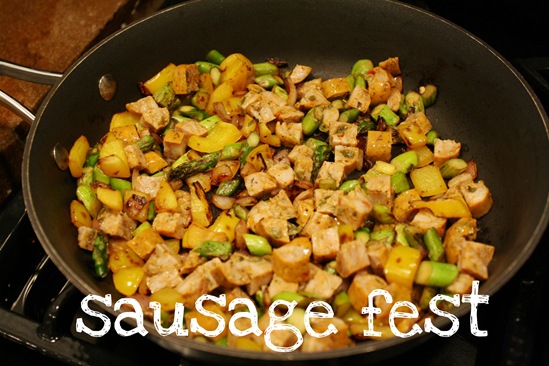 remove from heat and put a lid on it. because hot boxing and parties go hand in hand. (i will forgive you for not getting that joke, mom. actually, it's better if you didn't.)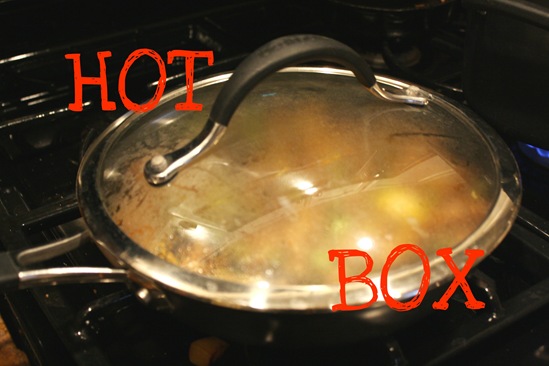 once all the milk has soaked into the noodles, test them out. if they need to be a bit softer, add a splash or two of milk and KEEP STIRRING until the noodles are perfectly plump and tender.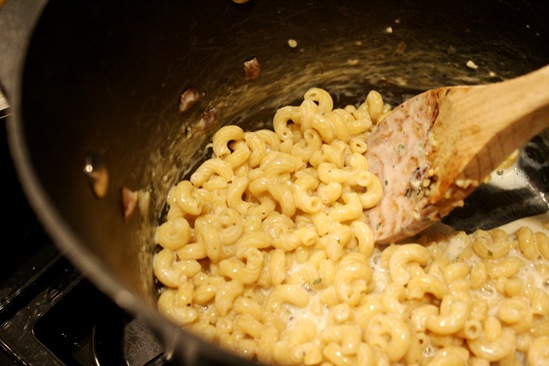 add the cheese, stirring continuously until it is fully melted.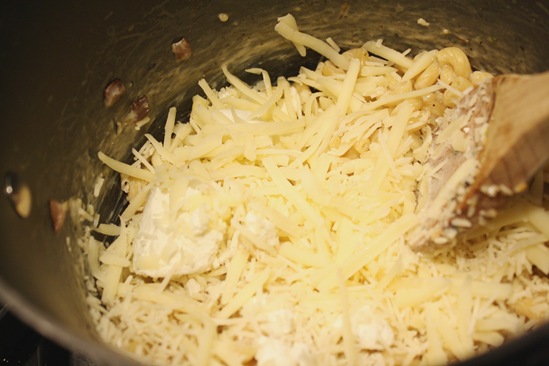 next, stir in the yogurt, hot sauce, mustard, worcestershire sauce, basil, and oregano.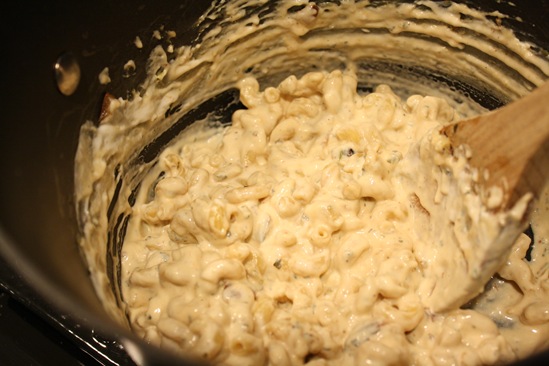 finally, stir in the veggie & sausage mixture and the tomatoes.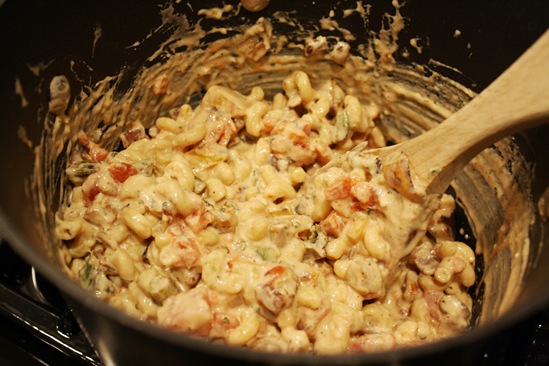 serve immediately! it won't last long.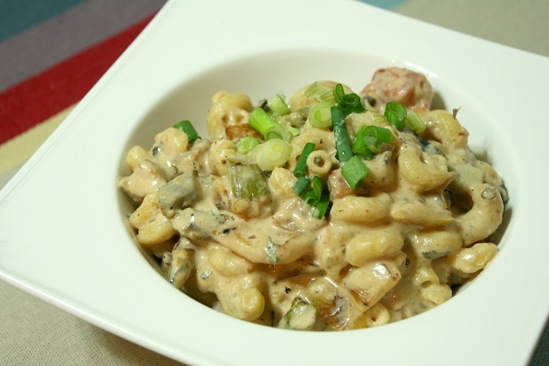 [pinit]
party mac
makes four servings
total time: 30 minutes
ingredients:
4 oz dry elbow macaroni
8 oz + 2-3 TB milk (i used skim)
1 TB ranch dip seasoning
any veggies you have in the fridge. i used:

5 stalks asparagus, diced
1 bell pepper, diced
1/2 red onion, diced
i think broccoli, mushrooms, cauliflower, or peas would all be super good in this!

1 TB minced garlic
2 italian chicken sausage links, diced
cheeses of choice totaling 4 oz. i used:

2 oz reduced fat sharp cheddar
1 oz asiago
1 oz goat cheese

4 oz plain nonfat chobani greek yogurt
1 TB hot sauce
1 TB mustard (i used trader joe's garlic mustard aioli)
1/2 TB worcestershire sauce
1 tsp dried basil
1 tsp dried oregano
1 cup canned diced tomatoes, drained (or use a fresh tomato)
diced green onions or chives for garnish
directions:
combine macaroni and milk in a large pot. place over medium heat and bring to a simmer, then immediately turn to low.
add ranch dip seasoning and stir to combine. stir macaroni very frequently, every minute or so, so the noodles don't clump up.
meanwhile, heat a skillet over medium-high heat and spray with oil. i used olive oil.
add asparagus, bell pepper, and onion. sauté until vegetables soften, about 10 minutes.
stir in garlic and sausage and sauté for two more minutes.
remove skillet from heat and cover with lid until ready to use.
are you still stirring your macaroni?! i hope so. by now, most of the milk should be soaked up into the noodles. taste a noodle, and if it is still a bit hard, add 2-3 TB of milk. keep stirring.
once your noodles are completely soft, stir in the cheeses. stir constantly until all cheese is melted.
add yogurt, hot sauce, mustard, worcestershire sauce, basil, and oregano. stir to combine.
remove pot from heat and stir in the vegetable & sausage mixture and the tomatoes.
garnish with green onions or chives, if desired, and serve immediately.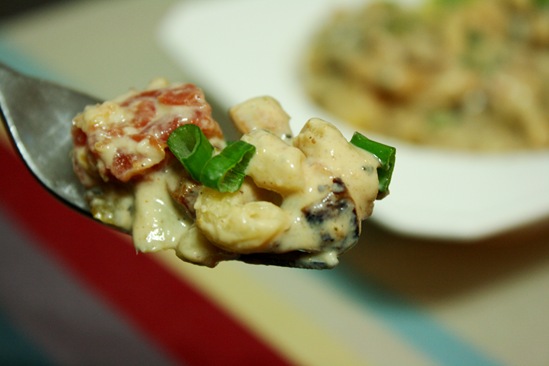 nutrition information per serving based on my ingredients: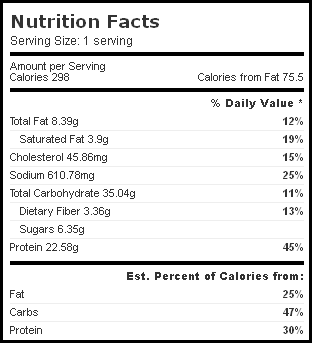 i say this makes four servings, but if i am being honest (and i am!) then it will make one janetha-sized serving and one marshall-sized serving. the boy likes to eat, and this was delicious.. so there were no leftovers in sight. plus, it's friendly enough in the nutritional department that you won't wake up with a food hangover.
in my book, that is a sign of a successful party!
xo. janetha g.