i mentioned that i visited a naturopath on friday, and i want to tell you a little more about my experience.
first of all, the fact that i was able to go see this naturopath was a sign from god.. because her services happened to be on livingsocial (which is exactly like groupon) for a $60 consultation and detox massage instead of the standard $285 fee. uh, yes! sign me up!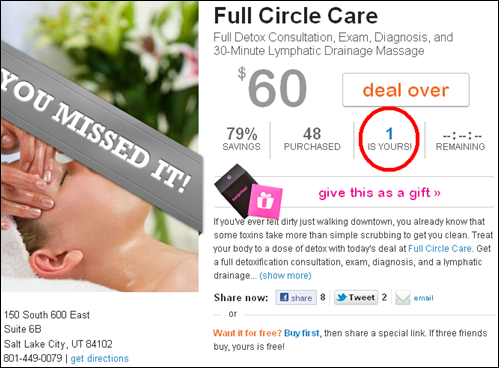 i had been looking at full circle care thanks to a recommendation i got from one of YOU (thanks, samantha!) but wasn't quite ready to spend $300 on a consultation. just a few days later, this deal popped into my email inbox. pretty sure there are mind readers working at those daily deal places.. i mean what are the chances?!
as it turned out, the doctor that performed the consultation and exam was NOT the same doctor i was looking at (leslie peterson) but she practices in the same office as her. i didn't find this out until after buying the deal, but the news didn't bother me. i knew i was going to a reputable professional and—let's face it—you can't beat 79% off. (okay, you can, 100% off would beat it, but that was not happening.)
i immediately booked my appointment, which never happens with me and groupons. case in point: i still have a pedicure voucher that i bought in the middle of last year (expires next month, better get on it) and i have a few vouchers than i let expire before using them. side note: if you want a tip about using expired vouchers, check out this post. anyway, i headed to my appointment on friday with my medical history and health questionnaire in hand.
the doctor, tineke malus, looked over my papers and quickly realized that i am in good health. i eat right, exercise, don't expose myself to harsh chemicals, and brush my teeth twice a day. okay, that last one wasn't on the questionnaire, but i do! i am sure she was puzzled as to why i would book a consultation, so i just hopped right in from the beginning and told her all about my gut woes. pretty sure my long, drawn out, detailed history overwhelmed her. i told her EVERYTHING i have tried and ALL the tests i've had done, along with what i WANT to have done (the motility specialist—i have an appointment for that on march 30th!) and when i finally shut up, she did make a few suggestions regarding my issues (mainly my chronic constipation—she didn't really address the bloating or pain.)
here they are:
dry brush. use a skin brush, always brushing toward the heart, once a day before showering. this is to aid with detoxification, circulation, and digestion.
castor oil. massage about 1/3 cup of castor oil onto my abdomen once a day. this is supposed to act as a laxative to ease constipation. (*after mentioning castor oil on sunday, one of you suggested i try castor oil packs, which i intend to do. thanks, carly!)
deep breathing. dr. malus explained that we rid ourselves of toxins and waste through solid, liquid, and gas. gas includes breath, and deep breathing may be beneficial to digestion. after a quick search, i found this breathing exercise for digestion.
tongue scraping. an ayruvedic healing philosophy has recommended tongue scraping to aid in digestion. dr. malus suggested this twice a day. this makes me wonder if my geographic tongue plays a role in all this. oh, that's something i haven't ever blogged about.. maybe another day.
at-home colonics, alternating hot and cold water. this sounds fun, right?!
magnesium. this is something SEVERAL of you mentioned, so i wasn't surprised to hear it was a suggestion. magnesium plays a role in intestinal muscle function. it is said to relax the muscles and help establish a smoother rhythm. it also attracts water, which in turn can help soften the stool while in the colon.
vitamin c. this is also helpful in stool softening.
eliminate food. there are SO many elimination diets out there, it's mind boggling. dr. malus recommends i try an elimination diet starting with eliminating dairy to see my reaction.
food allergy testing. dr. malus suggests i schedule a food allergy testing appointment to see if my body reacts to any of the 96 things tested and at what level it reacts.
try a 3 day fast–that is, don't eat anything at all (or drink anything except water) for three full days. this would be hard for me. (okay, probably hard for everyone.)
after talking for a very, very long time, it was time for a fun little detox massage. she asked how i felt about needles, which caught me off guard. i had no idea that acupuncture was part of the deal. i was actually stoked because i've always wanted to try it!
first dr. malus checked my blood pressure, throat, ears, and glands. i was surprised that she could tell i had just gotten over a cold. she also could tell that i had DOMS in my chest from the previous day's workout. she definitely is an expert at reading bodies. the massage was very relaxing and consisted of acupuncture in my ears and ankles (to target my large intestine) and acupressure all over my midsection as well as on the back of my neck. the acupressure on my neck was to drain my lymphatic system.
i left with high hopes and plans to schedule a food allergy test, which i am excited to get in and complete so i can see the results. when i got home i felt fine, but as the night progressed i started feeling really, really crappy. i had a pounding headache, was sweating, and felt nauseous. none of these crappy feelings are my typical crappy feelings that i feel on a daily basis (fun!) so i was confused. i ended up falling asleep really early. when i woke up, i still had a pounding headache. i emailed dr. malus and she said that the massage was not intense enough to produce such side effects, but it was possible.
i drank a lot of water, took some ibuprofen, and went back to sleep for a few hours. i felt better when i woke up, but man… that was weird! i imagine it had something to do with the acupressure on the back of my neck, but who knows.
so, that's my naturopath story. i still have one more type of doctor to see—the one who can check my motility issues. that's what i am betting on. my appointment is march 30th.  in the meantime, i am going to try several of the suggestions that dr. malus gave me to see if it helps with anything. it's not going to hurt, that's for sure!
oh, and one more thing while i am on the topic, someone sent me this article about mysterious abdominal pain that turned out to be a parasite. it's worth a read, the more you know the better. thanks, emily!
Qs~ have you seen/would you see a naturopath? what are your thoughts on alternative medicine? how about acupuncture?
xo. janetha g.