saturday was pretty jam-packed. my day started at the gym for a strength session of shoulders & abs. afterward i had to quickly get ready so marshall and i could head to the SLC tattoo convention. the convention is always fun check out, even for someone like me, who isn't into tattoos at all. there were aisles of artists who were not only tattooing, but were also selling beautiful artwork. there were booths selling unique jewelry (ran into my friend tif from peach treats!) and there was even a booth dedicated to tattoo removal. see what i mean? something for everyone.
after wandering around for a bit, we hung out with our friends in their booth.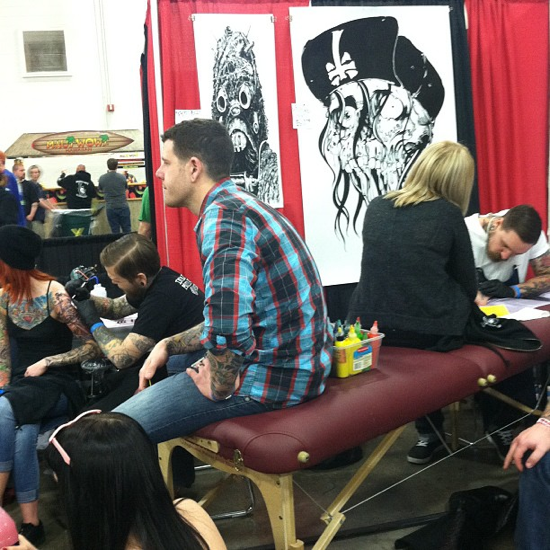 i'll be honest, watching people get tattooed can get pretty boring, lots of standing around. since it was right around dinnertime, marshall and i bailed after about an hour. we joined kristen and rory for dinner at a new spot downtown.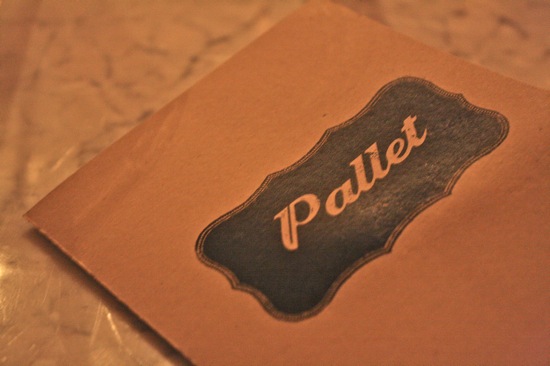 pallet is a new bistro located on 400 west and pierpont avenue in the heart of salt lake city. the reason i'd been anxious to try pallet out is because my friend ashley, who once was the manager at eatery 1025, is the general manager at pallet. ashley knows her stuff and so i knew the restaurant would be incredible.
the name of the restaurant makes me smile, since it's a homophone for palate.. but it was named pallet because the old building was once a loading dock for salt lake's first creamery back in 1901. just thinking about the history in that old building gives me the chills. we didn't really plan our evening beforehand and just decided to head to pallet on a whim. when we walked in the door and realized what a cozy, intimate setting it was, we realized a reservation was probably required.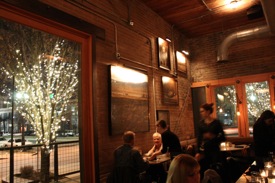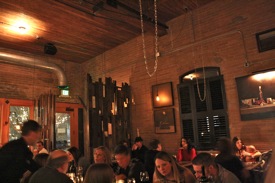 lucky for us ashley greeted us and quickly made arrangements for the four of us to sit at the bar. right as we were sitting down, kristen and i spotted our old high school friend, drew. except he wasn't dining at pallet–he was standing behind the bar. he came right over and greeted us and, to my surprise, informed us that he was the owner! they don't call this place small lake city for nothing–it truly is such a small world.
to make an already small world even smaller, the head chef, buzz, happens to be another high school friend's little brother and the pastry chef, jeff, is buzz's friend.. everyone is from mine and kristen's high school. and, coincidentally, drew's wife, ashley, happened to be enjoying dinner when we got there. ashley went to high school with us TOO, so it was a full-fledged high school reunion. it was quite a pleasant surprise!
after chatting with drew a bit, i learned that he had the same no-chain policy that i have. chain restaurants, that is. when traveling, i refuse to go to a restaurant that i can visit at home. what's the point?! i was stoked when i learned that drew feels the same way. he is passionate about food and wanted to open a restaurant that had delicious food, a fantastic atmosphere, and exceptional service. and with that, pallet was born. i couldn't be happier about it, SLC needs more restaurants like this.
i browsed the menu for way too long (i am so bad at making decisions!) and i finally selected the seared scallops. i figured that whatever i picked was going to be delicious, and i rarely order scallops because they always come out rubbery or tasteless (or both!)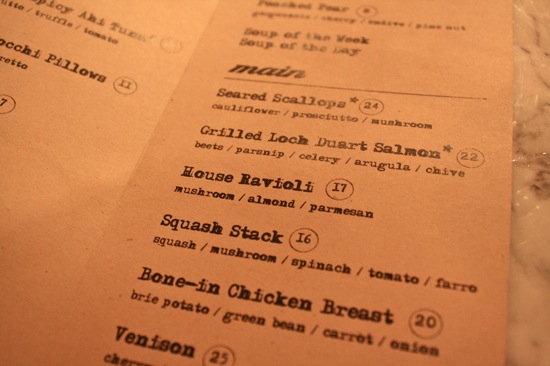 while waiting for our entrees, we snacked on complimentary grapes and i enjoyed a glass of pinot grigio.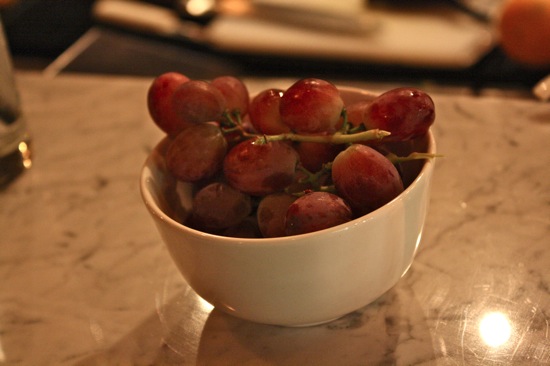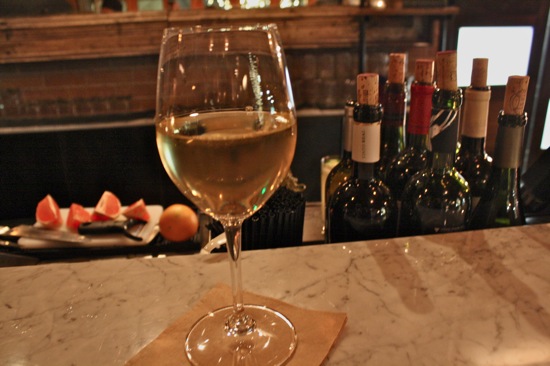 i knew i'd made the right choice when the scallops came out.. they looked perfectly cooked! plus, they were huge.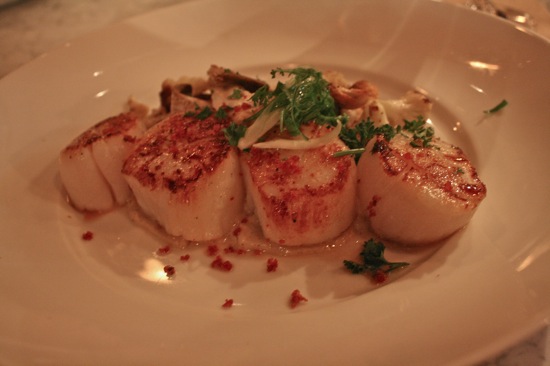 they were served alongside a mix of wild mushrooms and cauliflower. there was a flavorful parsnip puree beneath the scallops that was most likely laced with something–i had to contain myself from licking my plate. come on, i'm a lady. i asked drew where he got his seafood and i was happy to hear that the majority of it comes from aquarius fish–yep, my friend's fish market i love so much.
i had to pass on dessert because i was already full, but i had to snap a photo of the toasted marshmallow description:
POP ROCKS?! on a dessert! i know. i have to get that next time. or the warm oatmeal walnut shortbread. wow.
pallet also serves lunch and will be open in the spring/summer for brunch. it is conveniently located less than a block from the farmers market, so i can't wait to head there this summer for brunch followed by our usual farmers market run. it's going to be saturday perfection.
if you live in the SLC or anywhere near it, i highly suggest you check out pallet. not because i know the folks, but because it's delicious and you won't be disappointed. you can check them out on facebook if you want to read more or see more photos. oh and if you do go there, do yourself a favor and make a reservation.
while saturday's dinner was incredible and gourmet and fancy.. tonight's was the complete opposite. i had a horrible, terrible, no good, very bad day and it was a tomato soup & grilled cheese kind of night.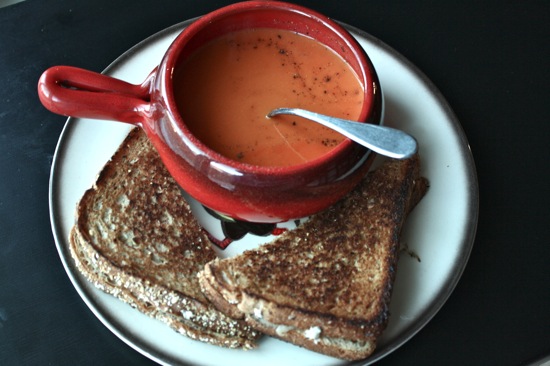 on the upside, i did fill the grilled cheese with a little bit of fancy: goat cheese, sharp white cheddar, pepperer turkey, and hot & sweet mustard. it was fabulous, actually.
in other news, the fab folks at larabar have offered to give one lucky winner four larabars. head to my facebook page to enter.
now if you'll excuse me, i have to go clean up the tomato soup that overflowed on the stove. yeah, told you it's been one of those days.
Q~
what type of restaurant did you dine at last? what did you order?
xo. janetha g.