hello! hard to believe it's already sunday night.. must be that pesky lost hour catching up to me.
i just got done eating dinner and decided to bust out a quick post before marshall and i head to the movies. we are going to see john carter. and we are going to take a bag of grapes.. our favorite sneaky movie snack.
i did my usual grocery store + costco run today, a favorite sunday activity. today's venture was extra exciting because i ran into my best friend kristen & her boyfriend rory at costco and then i ran into my friends janelle, steph & her little guy anakin at whole foods. fun stuff!
i bought the same old, same old staples while shopping.  for those of you who are creeps (like me) and care to know what groceries i stocked up on.. here's a comprehensive list of lists.
fresh produce: apples, oranges, bananas, grapes, blueberries, onions, avocados, limes, cilantro, asparagus, cucumbers, tomatoes, a jalepeño, and mushrooms.
protein & dairy: chicken breasts, peppered turkey lunch meat, black forest ham lunch meat, chicken sausage, feta, goat cheese, cheddar, cottage cheese, greek yogurt, skim milk, almond milk (okay, it's not dairy but whatevs.)
bread & cereal: sourdough bread, sprouted baguettes, cinnamon raisin bagels, mini wheat cereal, bran flakes, shredded spoonfuls, love crunch carrot cake granola.
drinks: ready to drink protein shakes, naked juice blue machine (x2 bottles), POM juice, kombucha.
other stuff: guar gum, xathan gum, cuban seasoning, french fry seasoning, a tea ball, canned tomatoes, tortilla chips, fruit leather, sunflower seed butter, green beans for the dogs, dog food, a griddle, probiotics, castor oil, a dry brush, and a $5 donation to the hungry.
there are a few new things among all those same old, same olds that i just listed. i thought i'd show you my new finds!
probiotics, castor oil, and a dry brush.
all from whole foods.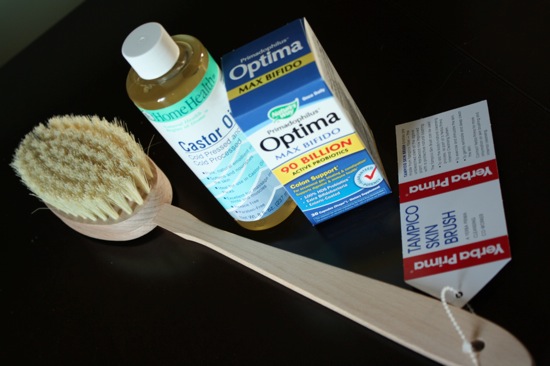 i went to a naturopath on friday (promise i will post about it later this week) and she suggested the castor oil and dry brush–which i already had been wanting. i am just about out of probiotics so i am trying a new brand (partially because it was on sale and partially because it said "colon support" on the box. i am a sucker.)
reduced fat cabot cheese.
from whole foods.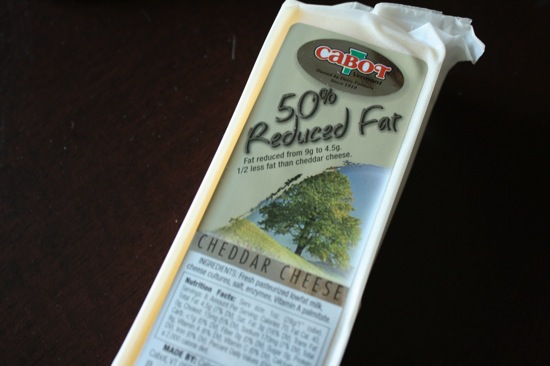 i have been meaning to pick this cheese up for awhile now, but it's only at whole foods (as far as i know) so i am glad i finally made it there to grab this cheese. i will be using it for a recipe later this week.
dave's killer bread peace bomb sprouted baguette.
from costco.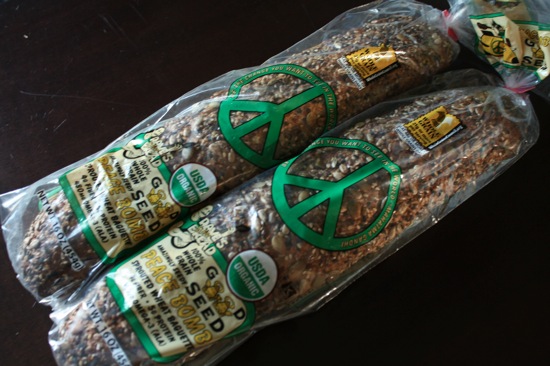 dave's killer bread was having a road show at costco and they were sampling this baguette. i have been buying and loving dave's killer sandwich bread for a long time, so i was excited to try another DKB product. check out the natural, organic ingredients: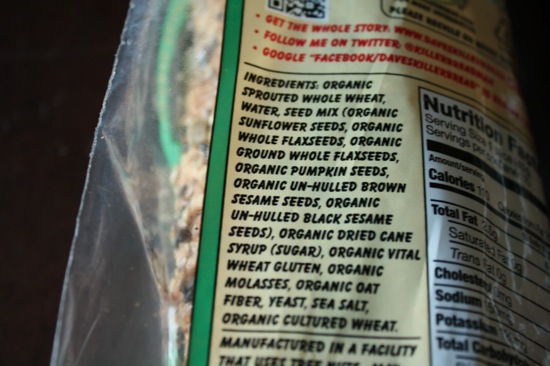 unfortunately this particular variety of DKB won't be available for purchase after the road show, but hopefully costco will decide to carry it in the future.
cracked wheat sourdough.
from costco.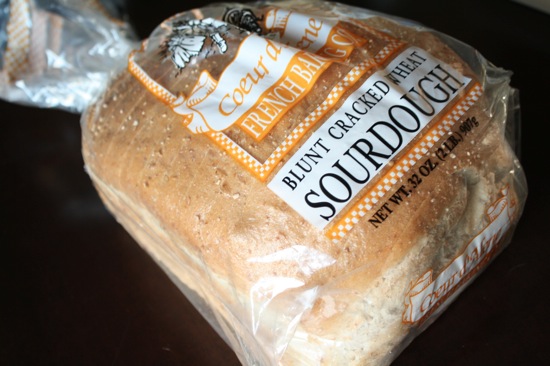 marshall is still on his sourdough kick and it's become his crusade to find the best buyable sourdough in town. this is the fifth or sixth kind we have tried.. i love that it's cracked wheat! i wish i could find some sourdough wheat like the one that is sold at trader joe's. or i just wish utah would get a trader joe's…
cereals.
both from whole foods.
no grocery trip is complete without spending at least ten minutes looking at cereal. this is totally normal behavior. i picked a couple new-to-me, fiber-packed varieties today. i really love three sisters cereals (i reviewed them in the past) and was pleased as punch (what the hell does that saying mean, anyway? is punch typically really pleased? does punch have feelings??) when i saw they have an unfrosted mini wheat cereal. i wanted a no-sugar-added bran flake cereal, but couldn't find one. this arrowhead mills brand had the least amount of sugar on the shelf, so i went with it.
chicken breakfast sausage.
from whole foods.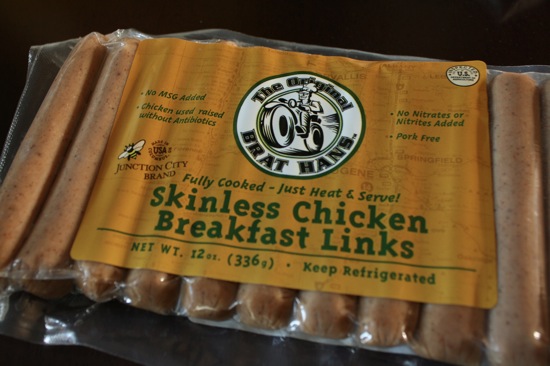 since breakfast for dinner was on the menu, i wanted to pick up either bacon or sausage. marshall voted sausage so this is what i went with. it has awesome stats: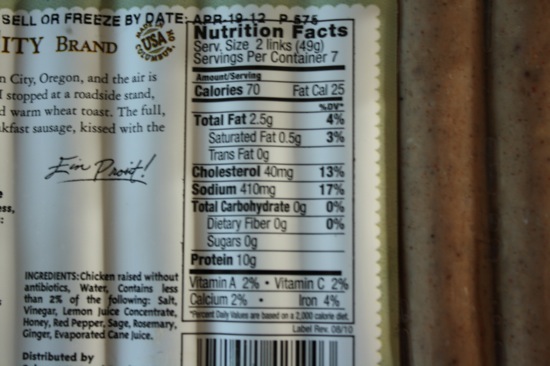 a tad high in sodium, but all in all it's a great alternative to traditional pork sausage links.
cuban & french fry seasonings.
from cali's natural foods market.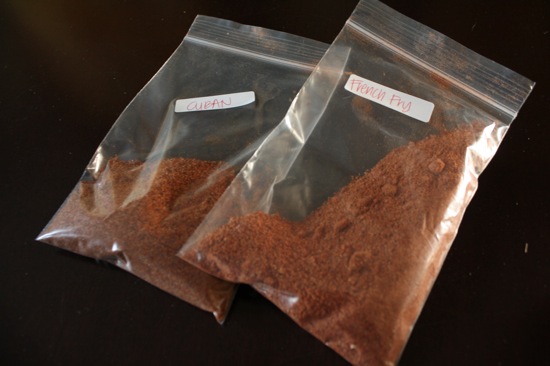 i ran out of the gums so i had to head to cali's to grab some. i spotted these two bulk seasonings so i decided to try them out.  by the way.. if you live in the SLC and need xanthan & guar gum for cheap, head to cali's market on 1700 south and about 350 west.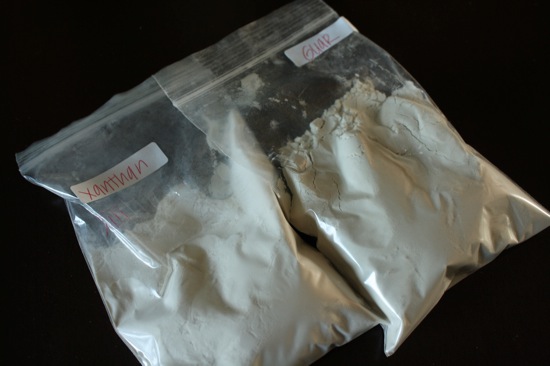 they also have a huge selection of other bulk items including spices, teas, grains, flours, noodles, beans.. the list goes on.
tea ball.
from cali's natural foods market.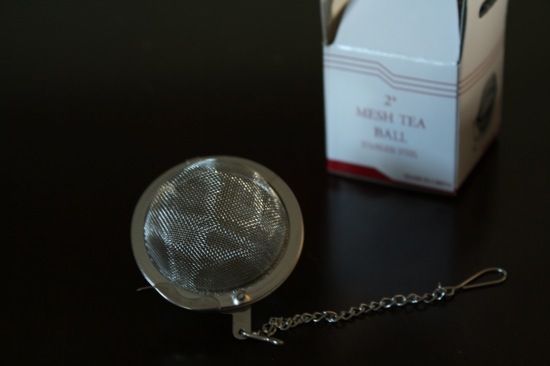 not much to say.. this looked pretty convenient, so i bought it.
stove top grill/griddle.
from costco.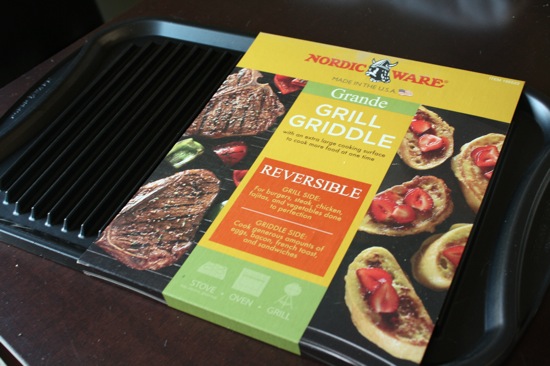 i always wander up and down the kitchen gadget aisles of costco to see if there are any new items small enough to fit in my crowded kitchen. last week i got a digital food scale, and this week i spotted this reversible grill/griddle. it goes right on top of the stove burners and is way more convenient than my plug-in griddle. plus, flip it over and it's instagrill! ready for indoor burgers. added bonus? made in the USA. oh, and it was only $25. bargain.
for tonight's breakfast for dinner, i used several of the new items! namely the griddle, the sausage, the sourdough, and the french fry seasoning. i left the castor oil out, figured that wouldn't really go well…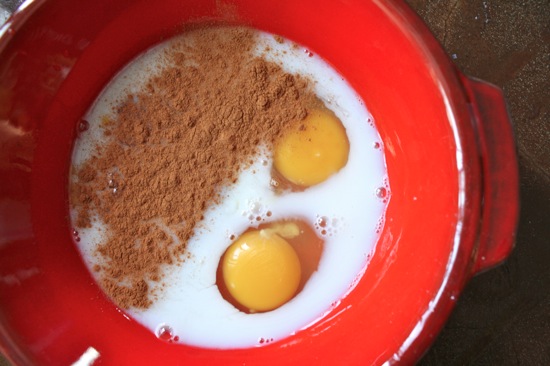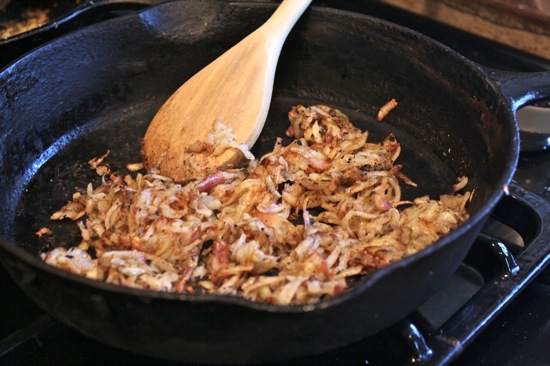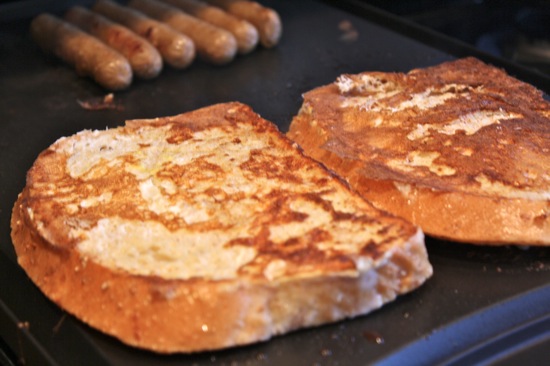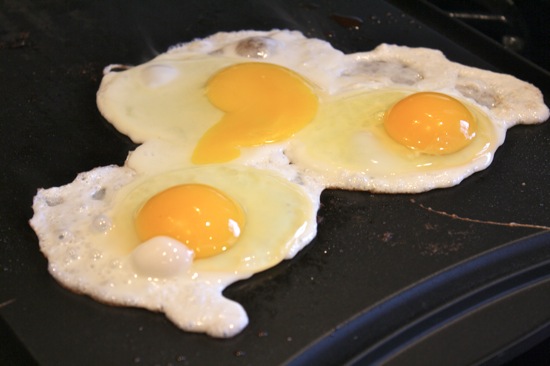 tada!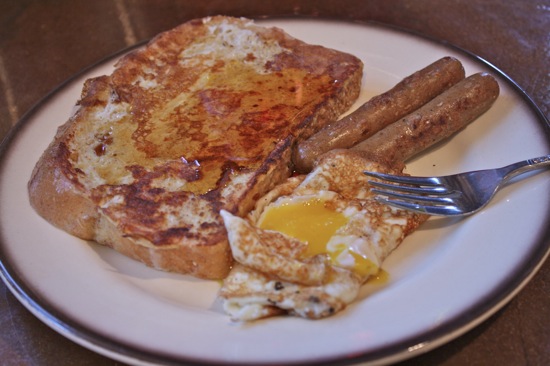 yeah, my plate is missing the hash browns. i used the french fry seasoning on them and it turns out it was REAL spicy.. and not that tasty. oh well, you win some, you lose some. the rest of the meal was absolutely delicious. that chicken sausage is awesome and i will definitely be buying it again. the sourdough french toast (topped with maple syrup) tasted great alongside the runny egg–the best kind of egg to eat with french toast to allow yolk dipping.
well, gotta head out to catch the movie. enjoy your monday!
xo. janetha g.