hello and welcome to another sunday night. or, chances are it is already monday by the time you read this. so welcome to a new work week!
my weekend was basically uneventful, but it seems like i still have a lot to tell you about. i am not surprised, since i could probably ramble a good 500 words about something as boring as watching paint dry. here are a few things from my weekend.
saturdays are awesome because i get to sleep in, eat late, and go to a nearly empty gym. after eating a savory breakfast of eggs and a toasted whole wheat bagel with cream cheese, i needed something sweet. i went with half of a banana smeared with peanut butter.. that i'd made friday night with my vitamix. FYI: when it comes to making peanut butter, using the food processor is way more efficient than using the vitamix. this has 100% to do with trying to get the peanut butter out of the container it was made in.
anyway, after my savory breakfast with a sweet ending, i headed to the gym for some shoulders and abs.  my workout consisted of ten different moves, three sets of each.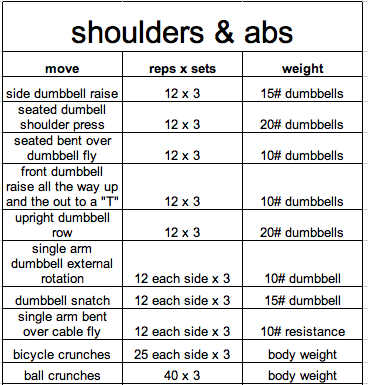 [pinit]
i finished with 20 minutes on the elliptical because i am trying to be good about doing cardio (it's the worst thing ever.)
let's see, what else went on on saturday? (i just sat here staring blankly at my computer screen, thinking REAL hard about what i did after the gym. oh man, my memory is the worst thing ever.. even worse than cardio. i did finally remember what we did!)
we headed to the credit union to grab some information so we can refinance our vehicle loans. i have never refinanced anything in my life, but with rates at 2.59% and our current loans at 6.49% and 4.25%, we are crazy not to. and it's actually a really painless process! we will be saving hundreds of dollars a month with our new APR.. but we are still going to make payments as though we are still on our current APR so more money goes toward the principal amounts. that'll help get both mine and marshall's cars paid off quicker. we also pay a little extra principal on our home mortgage each month.. but that one is going to take a wee bit longer to whittle down. ha.
saturday night i had plans to go have a few drinks at a friend's house.. but then when that plan turned into my girlfriends hitting the club to go dancing, i had to opt out. i didn't like to go dancing when i was in my prime (i HATE dancing).. so now that i am old and boring, i for sure won't be hitting the dance floor any time soon. or ever. not even at my best friend's wedding (don't hate me for that, kristen.. you know i can't dance!)
instead of making a fool of myself at the club, i opted to stay home and bake cookies.. because i am a grandma and grandmas like to bake. or so i am told. i have seven (well, had seven, now i have six) 16 oz bags of trader joe's tempting trail mix.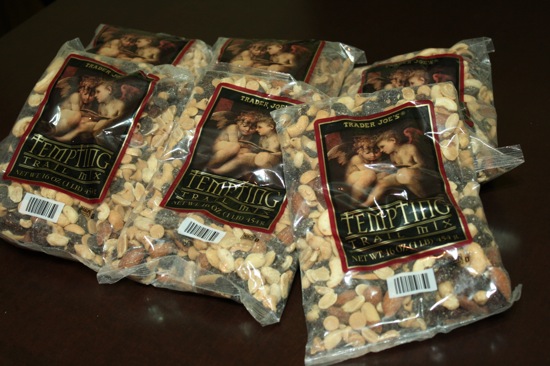 let's take a time out from the baking talk so i can tell you WHY i have so many bags of this stuff. once upon a time in october, i was in LA and bought marshall a couple 4 oz bags of tempting trail mix at trader joe's. fast forward to february 17th when he actually decided to TRY this trail mix. not sure what took him so long, but he ate those two 4 oz bags in no time flat. as he was polishing off the last crumbs, he said that we HAD to have more and to send a plea out to my readers for 10 bags of trail mix. so i did.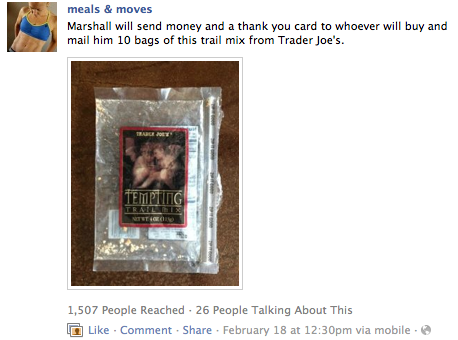 lucky for marshall, several of you offered to send ten bags of trail mix! so thoughtful of you all. i took andrea up on her offer and said thankyouverymuch! when andrea told me that it was fifty-something dollars for the trail mix, i was surprised. the little 4 oz bags were only like $1.29. i had her grab some almond meal, too, but there was no way that it could have added up to that much money.  oh, except she got ten SIXTEEN oz bags! i had no idea that this size of bag existed! all i could do was laugh, because 160 ounces of trail mix is such an enormous amount. awesome.
it's a good thing we did get so much, though, because in less than 24 hours marshall ate an entire bag of the stuff! man, talk about tempting. he took two bags for his lunchbox to eat while working and i opened a bag to keep in the pantry. i kept sneaking handful after handful–i couldn't stop going back for more! so on saturday night i decided to put the remaining 12 oz of the open bag into a batch of cookies.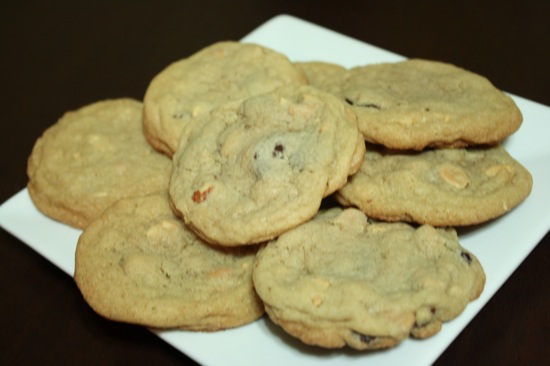 i used my favorite cookie recipe and just replaced the chocolate chips with the trail mix. this made for a perfect cookie–the trail mix has cashews, almonds, peanuts, dried cherries, peanut butter chips, and chocolate chips. umm. yeah. they were as good as you'd think. and i ate about three cookies in dough form, then another two when they were done baking (with a mug of skim milk for dunking.) the batch made 30 cookies, so luckily marshall's friends were there to eat most of them and we only have 8 left. well, we had nine but i ate one for breakfast…
i am sure we will be out of the trail mix again soon.. i actually really want to use a bag of it to make cait's tempting nut butter.. how cool is that idea?!
ohhkay.. what else? shall we move onto today? yes, let's.
marshall and i woke up and both wanted to head to the gym. i wanted to do the elliptical again because my whole body was sore from my leg workout the other day and my shoulders/abs workout i already mentioned. i needed to take it easy! marshall said he wanted to work out for a little over an hour, so i decided to ride with him so we didn't have to take two cars. i figured i would do some cardio and then maybe stretch a bit until he was done with his chest/tris workout. (i never devote time to stretching. like, EVER. i am bad. i also cannot touch my toes.)
i hopped on the elliptical and started doing my thing. i get really bored really easily, so i had a lot of entertainment on hand. i started out by watching about 15 minutes of ensino man because it was on TV. not sure why i ever loved that movie so much.. or why i was so into pauly shore, for that matter. anyway, that got old, so i turned to my iPad and read a couple chapters out of the girl who kicked the hornet's nest. i am about 200 pages in and loving it. i did eventually tire of that, so i turned to my iPhone and played a few rousing rounds of draw something–i am officially addicted to this game and am neglecting all my other games.. so if you are waiting for me to go on words with friends.. that's why i haven't. i checked instagram. i checked facebook. i checked twitter. i cleaned out my entire text message inbox (and sent a few texts to this girl) and deleted old contacts that i didn't need anymore.
i did all that, and marshall still hadn't come to get me. i had been on the elliptical for NINETY FIVE MINUTES when he finally came to get me. holy geez. that was, by far, the longest cardio session of my life. of my entire life, folks! in all my almost 29 years (yikes) i have never had a cardio session that lasted that long. HOW do people run half marathons? how? they don't even have iPads and iPhones and TVs to entertain them. and now my knees hurt. i just don't get how people do that sort of thing regularly. it is not for me.
moving on..
i cleaned up quickly and we headed to salt lake city for some much needed brunch. it was a glorious day with not a cloud in the sky!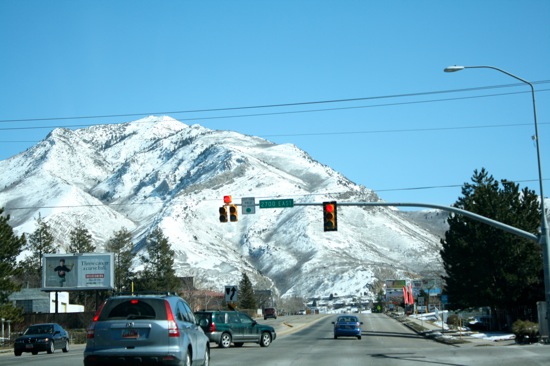 we met marshall's friends at one of our favorite spots: millcreek cafe.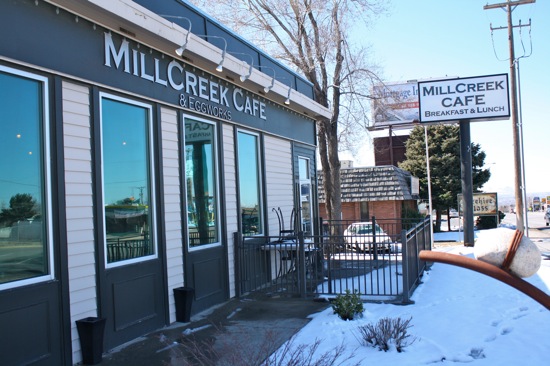 it was so warm that we were able to wait outside and bask in the sun until our table was ready.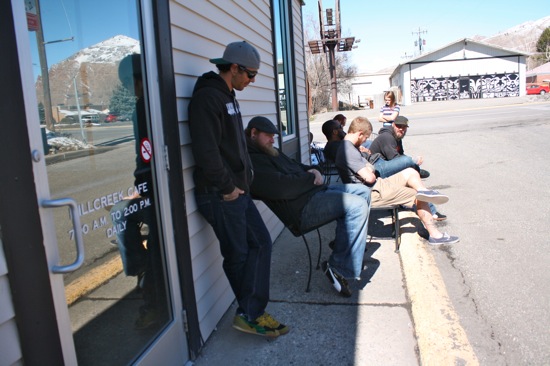 i sprang for a coffee today, i hadn't had one since last sunday. i decided that coffee will be a sunday thing for me.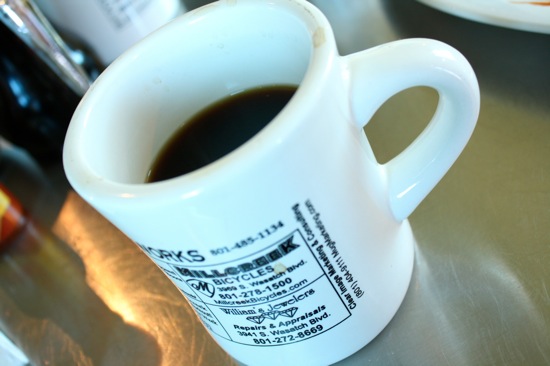 i ordered a scramble that had three eggs, cheddar jack, mushrooms, spinach, and onions. it came with a side of pico, hashbrowns, and wheat toast.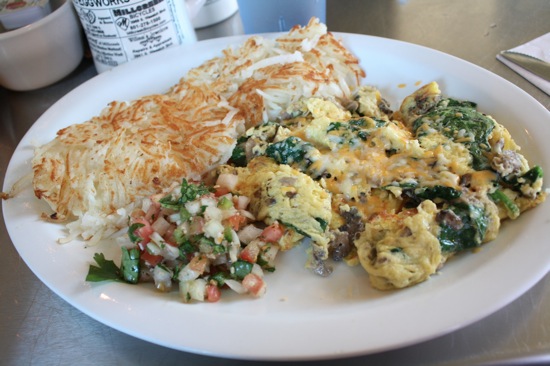 i wanted something sweet, too, so marshall and i decided to split an order of french toast with fruit and whipped cream. excellent idea, marshall. that's why i married you. so i could have someone to split french toast with.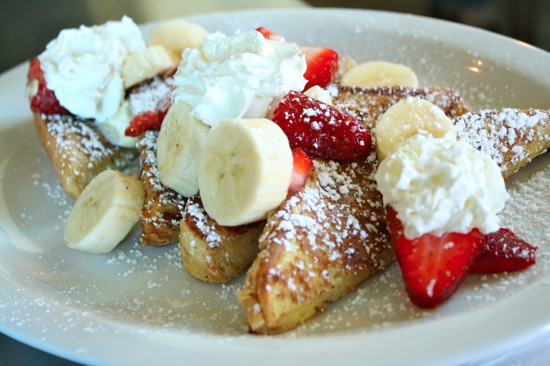 marshall is a growing boy, so he also ordered a scone to go with his meal. a utah scone is not the same kind of scone the rest of the world has. a utah scone is fried dough and typically comes with honey butter. and i stole half.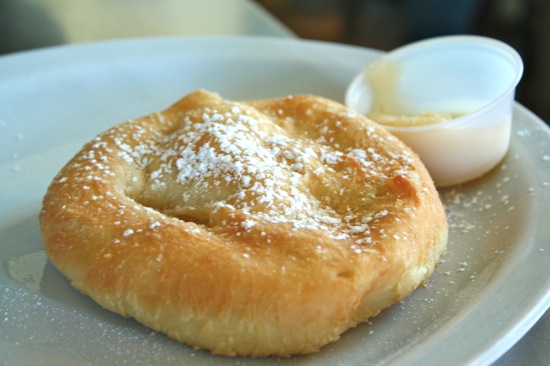 after an hour of brunching, we paid our bill and headed downtown for some grocery shopping.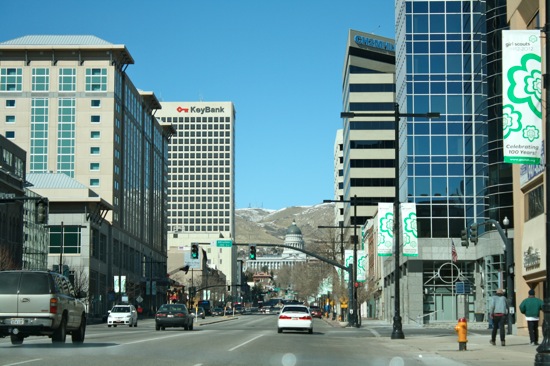 the new harmon's recently opened on state street and first south.  it's huge!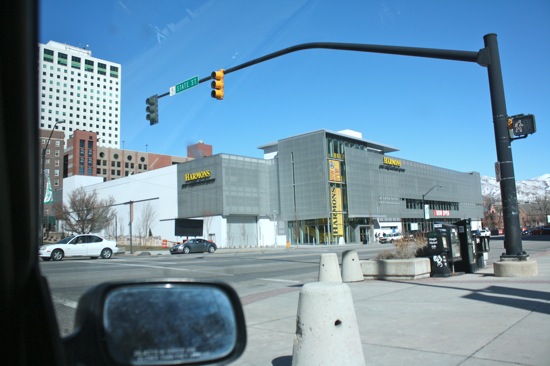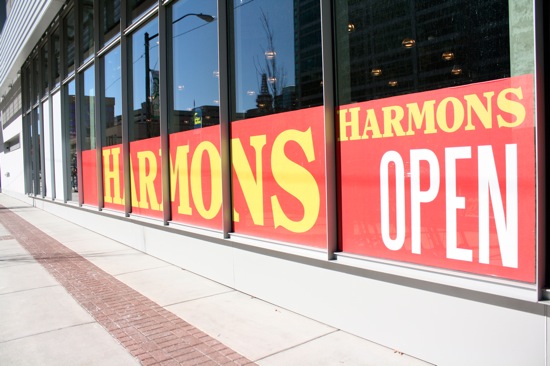 i couldn't wait to check it out. some girls get excited about the new lululemon or nordstrom opening.. i get excited about a grocery store. fact.
it was huge and awesome and RIDICULOUSLY crowded. marshall was with me so i didn't get to walk up and down every single aisle and spend two solid hours there like i would have done on my own, but that's okay, i still fully enjoyed the experience. and probably saved a lot of money since i didn't wander aimlessly for hours.
once we got home i headed right back out for my weekly costco run.. i left marshall at home for this one and got my every-aisle-strolling therapy in at costco. in addition to my weekly staples (produce, yogurt, eggs, bread) i ended up finding an awesome digital food scale for only $18 and some handy dandy applesauce-to-go packs. there are always fun, new things at costco!
i worked up an appetite with all that aisle-strolling, so i made dinner right when i walked in the door. i made this cheesy lasagna soup which i found through rachel's blog.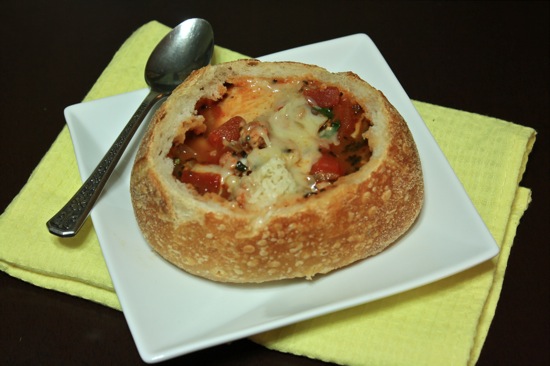 [pinit]
i followed the recipe for the most part, except i used chicken sausage instead of pork and used cottage cheese instead of ricotta. i also took the author's advice and cooked the noodles separately and added them in to the finished product. we had picked up some sourdough bread bowls at harmon's so i served the soup in those.. excellent choice.
the best part about this soup was the cheesy yum–with a name like cheesy yum, you know it's going to be good!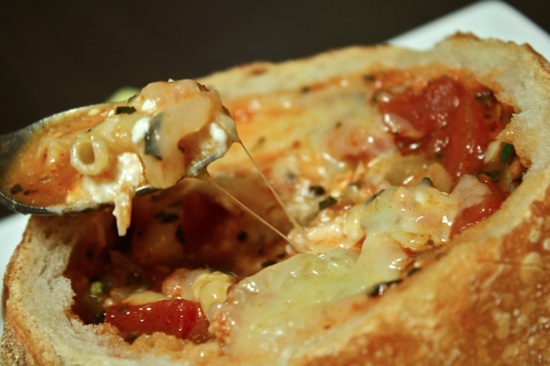 it was a great dinner and we have plenty of leftovers for lunch.
here are the rest of the dinners in this week's lineup:
should be good!
wow. i sure managed to ramble my face off about a whole lot of nothing.
what was your weekend highlight?
xo. janetha g.