things have been a little bit too serious around these parts lately with all this GI talk. how about a little random bits about life lately and a really delicious recipe? yeah, that sounds good to me!
did you know les schwab fixes flat tires for free?
i didn't.. until yesterday. i had a bunch of people at work tell me that my rear passenger tire was looking awfully low.. and when i went outside to leave for the day, it was pretty much flat. i did have enough air to make it to the nearest tire store, les schwab. i handed over my keys and sat in the waiting room (playing my latest obsession, draw something) and about 20 minutes later they called my name. they handed me a receipt and said i was good to go. i was caught off guard, because they didn't ask for any money. apparently repairing a flat tire is a courtesy service they do for anyone who comes in! so, next time you have a flat, go there.
life in the gym…or not.
i haven't talked much about my "moves" lately because, well, i haven't been moving a lot. i will be honest, i have been skipping the gym way more than i should lately. i could pile on excuses like i was sick, it was snowing, my belly hurt, or it was a tuesday.. but the truth is, i've just been lazy.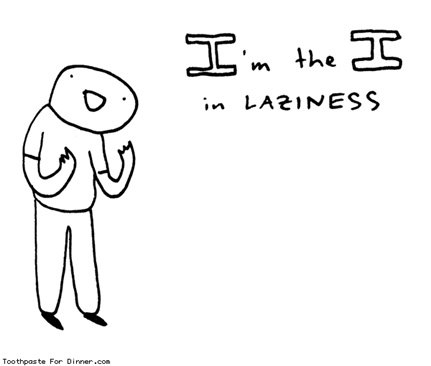 haha yep. that's me! i have made it to the gym 3 or 4 times a week lately. when i HAVE been at the gym, i've been loosely following the phase 1 livefit workouts with a few other moves thrown in for fun.
here's yesterday's lower body workout that has me walking funny today: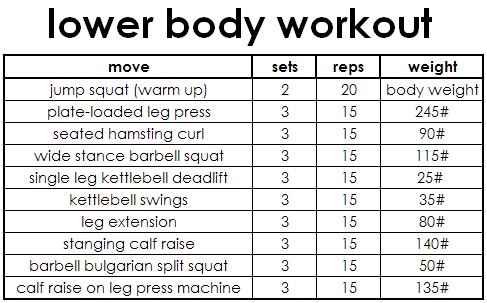 [pinit]
this took about 50 minutes total.. it was fun, i kind of miss making up my own routines and really need to jump back into that again. i got so used to following a workout routine when i did livefit. my creative juices aren't flowing as well as they used to!
doggy daycare is amazing.
penny and randy went to daycare on tuesday, wednesday, and thursday. it is wearing them OUT! they come home and only get off the couch to pee. it's very strange (in a good way!) to not have them begging while i cook dinner or going stir crazy because it's too cold out for a walk.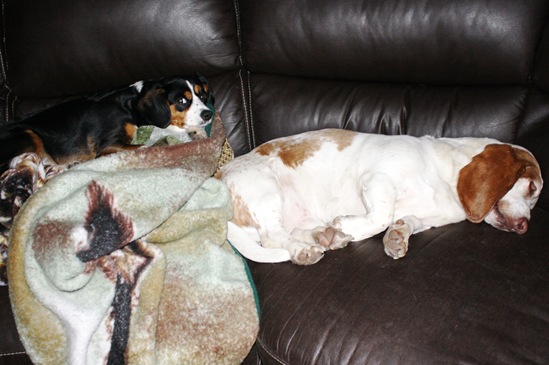 i am pumped, because yesterday when i picked them up from daycare (after getting my flat fixed) the owner told me they have a deal for two-dog-families that they don't advertise. i quickly took him up on the offer and now instead of daycare being $23.50 a day, it is only $18.50 a day.. for BOTH dogs. talk about a steal! i am so happy they make it so affordable, because i could really get used to this new behavior…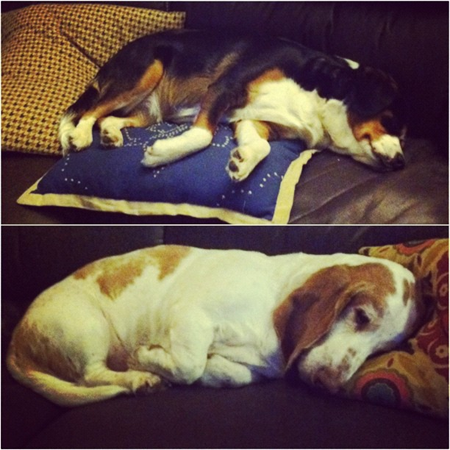 a first for me.
last night, at 10:13 PM, i decided to make rice pudding. i had all the ingredients and had promised marshall i would make it weeks ago, but never got around to it. 10:13 PM on a thursday is the perfect time to make rice pudding!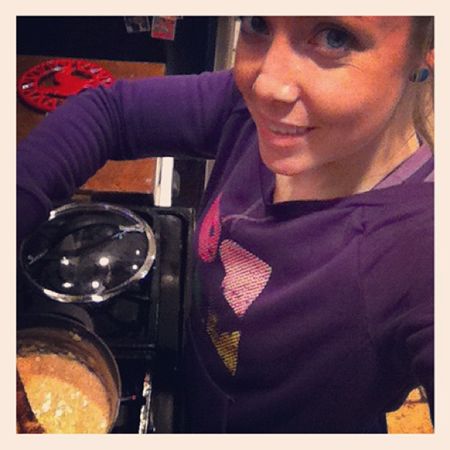 it wasn't done cooking until a bit past 11, but the end result was definitely worth the wait.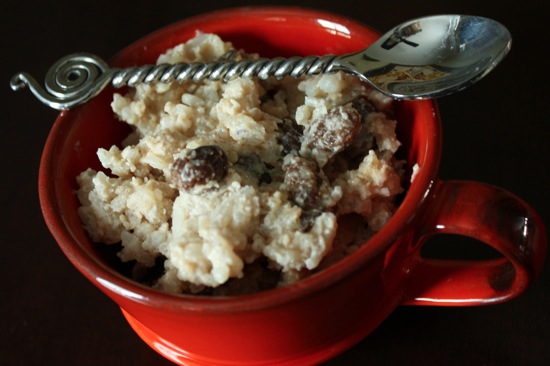 i followed this recipe except i tripled it and added about 1 1/2 T of ground cinnamon. it's not health food, but boy, is it delicious.
i'm nominated.
i was surprised to see that meals & moves has been nominated for "best healthy eating blog" in fitness mag's blog awards.
not sure who nominated me, but thanks to whoever did! i am in good company with lots of fellow blogging friends, and you can vote for as many people as you want. if you want to vote, head on over.
time for soup!
i have had nicole's italian wedding soup recipe on my menu agenda for a few weeks, and i finally decided to make it last night. the only problem was that her blog was down, so i couldn't access the recipe!  this set me into a momentary panic.. i mean, i'd never made italian wedding soup myself! i'd also never been to an italian wedding! (still haven't, for the record.) but, we needed dinner. it was already 8:07 PM! i figured i could wing it and it would probably turn out pretty alright.
it did.
actually, it turned out way better than pretty alright! marshall liked it so much that he said "put it on the menu"—yes, the menu of our imaginary restaurant that we WILL have one day.
even better? we were filling our faces with soup at 8:42. yes, this soup is that quick.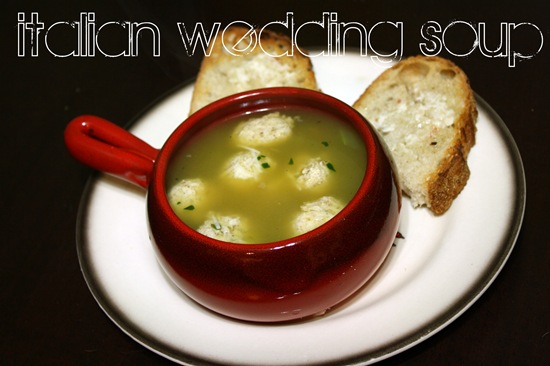 total time: 30 minutes, makes four entree-sized servings or six side dish-sized servings
inspired by nicole's recipe
[pinit]
ingredients
for the soup:
2 quarts low sodium chicken broth
15-20 baby carrots
10 celery stalks
1 T dried basil
1 T dried oregano
1 T dried parsley
4 oz pasta of choice (i used whole wheat elbow macaroni)
2 cups spinach, chopped fine
salt & pepper, to taste
for the meatballs:
16 oz boneless, skinless chicken breasts (could sub turkey, beef, or pork)
1/2 of a medium red onion
2 cloves garlic (or 2 t jarred garlic)
1/2 cup bread crumbs (i toasted a whole wheat hamburger bun and tossed it in the food processor)
2 eggs
1 T seasoning blend of choice (i like kirkland's no salt organic seasoning blend from costco or trader joe's 21 seasoning salute)
1 t salt
1/2 t pepper
optional:
grated parmesan
toasted bread
directions
*if you don't have a food processor, you can simply chop everything by hand and mix in a bowl!
pour chicken broth into a large pot and heat over high heat.
place celery and carrots in a food processor and pulse until the vegetables are finely chopped. if you don't have a processor, you can do this by hand.
add carrots, celery, basil, oregano, and parsley to the broth. bring to a boil.
meanwhile, place chicken breasts in a food processor and process until chicken is ground. you can opt to purchase pre-ground chicken, if you want.
remove chicken from food processor and set aside. place red onion, garlic, and bread crumbs (or toasted bread, in my case) in the food processor and process until everything is chopped up fine and mixed well.
place chicken back in processor, add eggs, seasoning, salt, and pepper. process until everything is combined.
using a 1" scoop (or your hands) form meatballs and place on a sheet of foil or baking sheet. you should get about 36 meatballs from the mixture.
once your broth has started boiling, add the meatballs and pasta to the broth. bring back to a boil and cook until noodles are tender and meatballs are cooked through, about 8-10 minutes.
remove from heat. stir in spinach and add salt and pepper, to taste.
serve immediately with a sprinkle of parmesan cheese and a couple slices of toasted & buttered sourdough bread. entirely optional, but encouraged!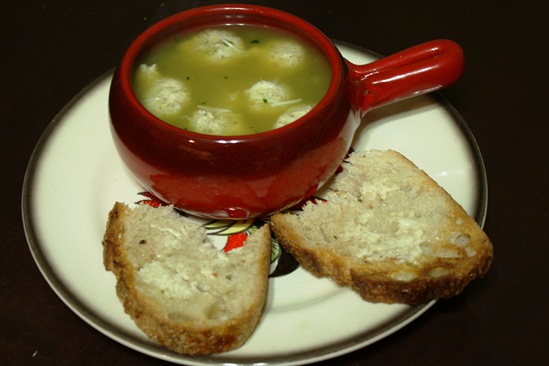 this soup was really fast, really easy, and REALLY GOOD.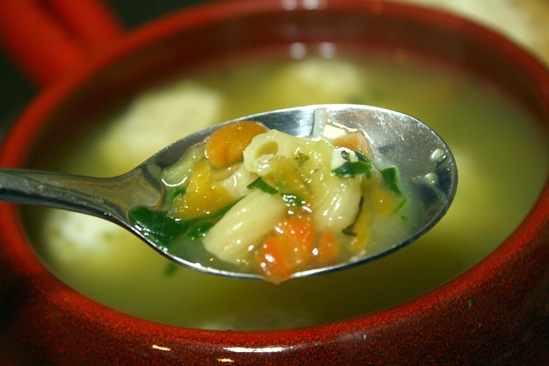 here are the stats per serving, based on the recipe making 4 entree-sized servings.. these are pretty generous servings, each serving has 9 meatballs!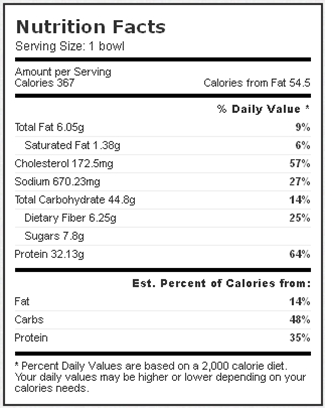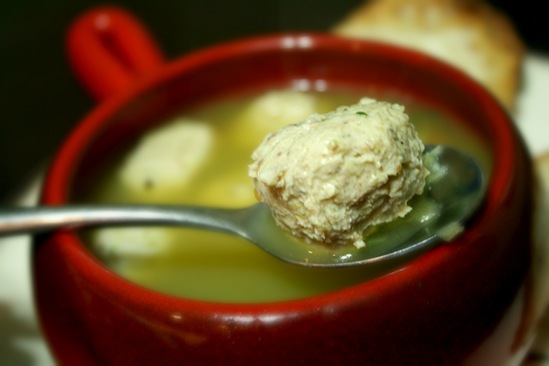 and here are the stats based on six side dish-sized servings, 6 meatballs each serving: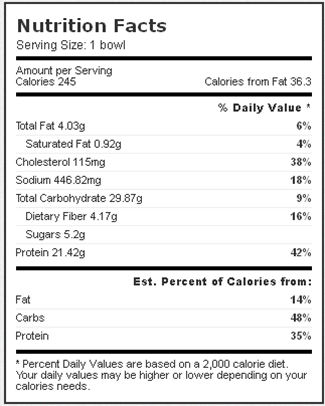 not bad.. not bad at all. and i can't believe how quick this soup came together!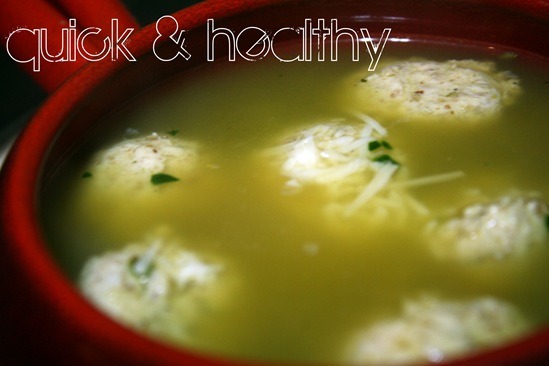 and there are leftovers for lunch! soup is always better the next day, if you ask me. (pretend that you did, kay?)
that's all for now! enjoy your weekend. any fun plans?
xo. janetha g.