let's talk about my guts! that always seems to be a popular topic here on meals & moves. if you don't care to read about digestion and what i'm doing to help my issues.. skip this one and come back tomorrow for a recipe. also, this post is going to be LONG with a LOT of words. brace yourself.
if you are just joining us, you can read this post and watch this video post. but, in a nutshell, i have something wrong with my colon. i have chronic pain, usually at night, and severe bloating. i poop maybe every 3 days, sometimes it is more like 5 and has been as bad as 10 days. i have had an endocopy, upper GI scope, colonoscopy, CT scan, and gastric emptying study. i have tried two kinds of antibiotics, a few kinds of probiotics, and two other prescription medications. my GI doctor cannot figure out what the cause of all this is. it is very annoying, painful, inconvenient, irritating.. all of the above, that's what it is.
the only conclusion that my GI has come to is that i have a very lazy colon and the smooth twitch muscle fibers (is that the right term? i don't even know) don't function properly. my muscle fibers don't communicate with my brain and my body just doesn't eliminate even though it really, really should. oddly enough, i have chronic UTIs and have had them since i was a child.. this is due to my body not thinking i need to urinate when i actually do.. and then an infection occurs. we are talking at least once a month, if not more. i have gone to specialists about this, but the only solution i have found is to drink a gallon of water a day and MAKE myself pee so i don't get a UTI. if i don't drink my water, then i get a UTI. every time. but if i am diligent, i am in the clear. i wish it was just that easy for number two.. but it's not. my colon hates me and won't eliminate on command. turns out, it's not trainable like a dog. shucks.
my GI said the next step for me would be surgery or putting me on prescription meds for all of time and eternity. no thanks. these are two options that i am not willing to consider at the moment, because i don't feel like i have done everything i can do to find a fix to the solution WITHOUT surgery or medication. sure, i have gone down several western medicine paths, but i haven't tried any alternative medicine nor have i tried tweaking my diet. i want to try every possible solution to see if it works before A) getting part of my colon permanently removed or B) taking medicine for the rest of my life.
so, i have looked at other avenues.
colon hydrotherapy.
as i mentioned a week ago, i had a colon hydrotherapy appointment (or a colonic, for short.) this is basically a professionally administered enema on steroids. there's no messing around with colonics.. they really clear you out. i went to innerlight colon hydrotherapy because it had great reviews and i felt like they practiced safe and sanitary procedures.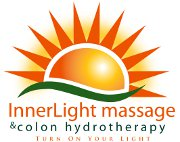 before the actual procedure, the technician, chad, took over 30 minutes to talk to me about my situation. he was full of suggestions and information! he wasn't telling me what was wrong with me, instead he was telling me what MIGHT be wrong with me and what steps i could TRY to see if they brought relief. he gave me several website links, product names, and relief suggestions. that right there was worth the $70.. but then i still had the colonic to look forward to! joy.
the procedure itself was really uncomfortable. i read this warning online, so i was prepared for the worst. i mean, how awesome is it to strip down to a gown and put a little tube up your butt? right. that's what i thought. and then, once the tube is inserted, water flows into your colon and intestines.. then it is flushed back out, along with whatever waste your body may be hoarding. i had pooped a whopping 3 times in 23 days, so there was a whole lot of waste hiding in my insides. the process of the water going IN wasn't bad at all. it really didn't feel like much. the part that was irritating was when the water was trying to come out (along with all my waste) because it kept getting held up for some reason.
chad suspected that it is because i have a redundant colon and the water was getting held up in the extra looping. either that, or my colon narrowed at some point and it made things get clogged up. i am planning to check with my GI on this matter, because i am pretty sure that is something that should be able to be seen on the CT scan results.. or at least on the results of one of my five hospital tests! it would make sense, though, because it seems as though i am always able to eat, eat, eat and never eliminate.
anyway, once the irrigation procedure was done, i was able to head to the bathroom to eliminate any excess water and waste. since the water had a hard time coming out of me each time he cycled it, there was a whole lot leftover. fun! it was actually a relief to get all that junk out of my trunk, so to speak. oh—added bonus? the toilet at innerlight. it was the fanciest toilet i have ever encountered in my life! heated seats, lots of crazy buttons, and a built in bidet.  i told marshall all about this fancy toilet and he informed me that the next thing he wants to spend our money on is a fancy shmancy toilet. noted.
i had an appointment to have another session of colon hydrotherapy, but then i landed this nasty cold and canceled my appointment. i want to wait until my sickness goes away before i go in for another sesh. luckily, i am feeling almost 100%, so i will be going in again soon. i know that this is not a long-term solution, but it sure is nice to get the pipes cleaned. if you live in SLC and are interested in a colonic, check out innerlight.. at least for the fancy toilet, if nothing else.
what i have done for the past week.
i am saving up for an appointment with a naturopath, but in the meantime i thought i would try out a few things myself to see if anything helped. i started these tweaks on monday, the 20th, and guess what? NO PAIN. ALL WEEK. none. no pain in my guts! you guys, this is huge.
YES i have still had extreme bloating, however it has been slightly less than usual.
YES i am still constipated, but the—uh—consistency of what i have been able to eliminate is no longer super rock hard and pebble-like. and i am not going to go into any more detail than that because quite frankly that's more than you need to know.
but NO.. i haven't had any pain.
here are the measures i have taken this past week.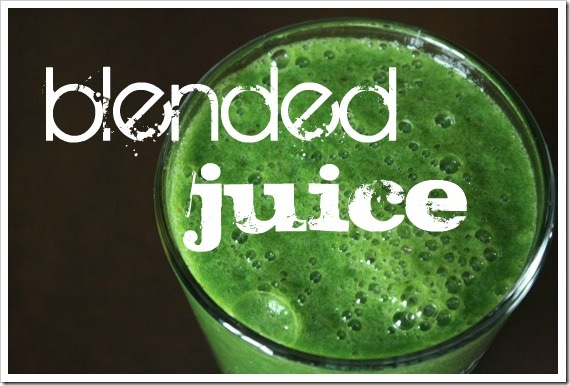 i have started making juice in my vitamix. yeah, yeah.. i know it's not real "juice" but it's blended vegetables and it is a whole lot more veggies than i would be able to EAT. i love this drink! i have had one a day for the past week. on the days that i had it first thing in the morning, my guts felt better than on days where i had it after work. my typical blend includes spinach, kale, celery, carrot, cucumber, apple, a splash of OJ, a little water, and ice. one time i added chia seeds and another time i added flax seeds. to make the juice,  i put all of the above in my vitamix and seconds later: liquid nutrition. marshall has been drinking one a day with me, too! we love it. i didn't have a juice until late last night, after i already had some intestinal pain. i was in a rush sunday morning and opted to skip the juice, maybe that's why my gut ached later on? who knows. the takeaway? keep drinking the blended juice and make sure to drink it in the morning.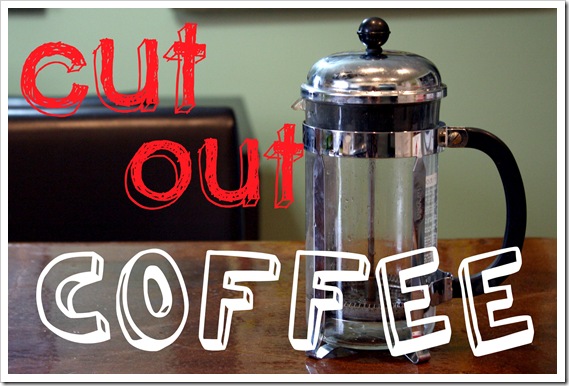 gasp. i know, right? while most say coffee helps you poop, i have read several studies and had several people tell me that coffee (and caffeine) can have the opposite effect on some people. i love my coffee, that's no secret.. but i also want to find relief. so, i nixed my morning java. i did have a cup on monday, but tuesday through saturday i didn't. it wasn't that bad, i think i like coffee more for the taste and ritual than for the caffeine, actually. i didn't have crazy caffeine withdrawals or anything like that.
on sunday, i had coffee at brunch. i REALLY wanted some, so i had two small mugfulls. it was delicious. oh, AND i pooped my first "normal" poop in over a month around 2 PM.. about 2 hours after brunch. (TMI? sorry!) but i also had some pain last night. not sure if it was the coffee or the fact that i didn't have the juice or WHAT. the takeaway? keep skipping the coffee and to be sure to try eliminating/adding things one at a time so i can see what the pain culprit is.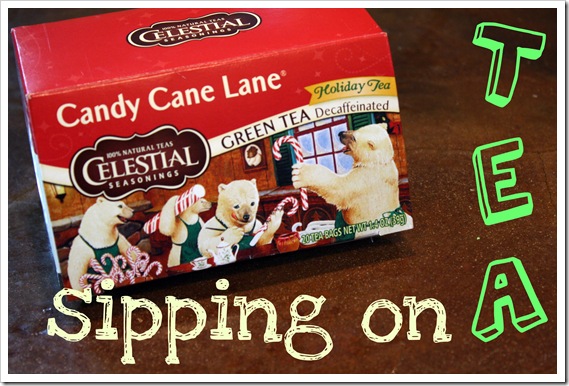 i have been drinking a mug of decaf peppermint tea each and every night for a week. i heard it was good for digestion and hey, it doesn't hurt anything, so i have been drinking it each night. i like it. it tastes good. it warms me up. the takeaway? keep drinking tea every night.. even if it's not helping my gut pain, at least it's keeping me warm!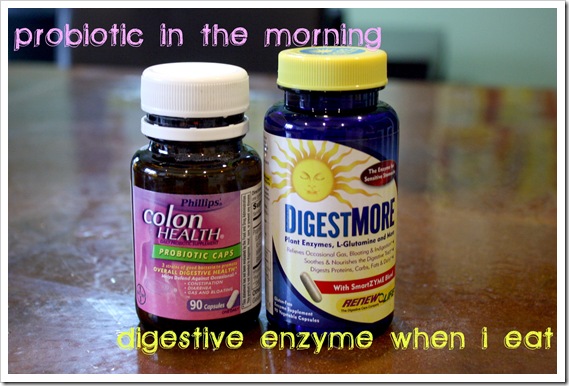 i have been taking this phillips probiotic for months now because my GI suggested it, but i took some advice away from my colonic and added a digestive enzyme to my regimen. this was also recommended by a lot of you guys, so thanks for that. i went with this brand because i trust renew life because i've used their products before (and they were a part of the great fundraising act!), so i went with the digestmore enzyme. when my probiotic runs out, i am going to go with a renew life probiotic, probably the one i reviewed awhile back. the takeaway: i really think the digestive enzyme is what's helping the pain the most.. but that's just my theory.
so, that's what i have been doing for a week. like i said, i had a bit of pain last night. nothing near what it's been in the past, and it eventually went away and was totally gone before i went to bed. yesterday was different than all the other days because i drank coffee, i didn't have the juice until about 9 PM, and i hadn't had any tea.. so who knows why i had the pain. shoot, it could have been totally unrelated to any of these things for all i know.
one other thing i have started being VERY diligent about is keeping a detailed journal of EVERYTHING i am eating and drinking (with the time), the time of day and type of exercise i do, and anything that happens (or doesn't happen) in the bathroom. i am also documenting how i feel and how bad the bloating is. i know i should have been doing this for MONTHS, but i am really bad at writing things down. i have good intentions and start out strong, but new habits die even harder than old ones for me.
i am brilliant and decided to download a journal app on my iphone. i am always on my phone playing games (obviously), so a journaling app on my phone seemed like something i could keep up with. i was right! i ended up getting "my journal" and i think it was $1.99.
i have kept a very detailed account of everything that's been going in and out of my body for the past week, so when i DO have pain i can look and see if there were any similarities in my diet on those painful occasions. i can also see what i was doing on the days that i felt great with no pain. please make me stick to this journaling thing, i think it will be really useful when i get into a naturopath.
what i am trying this week.
in addition to the tweaks i mentioned above, i am also trying out a seven day cleanse that my mom told me about: zrii.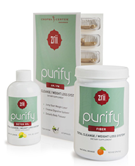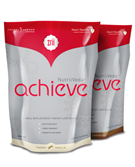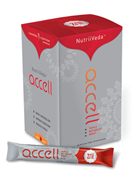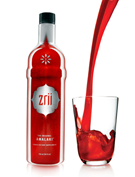 it is mainly used for weight loss, but it is not weight loss i am after. it is also GREAT for digestion. my mom and sister, suni, have both successfully completed the cleanse and both felt really fabulous after the seven days. even better, they both were very, very regular. not sure if it will help my regularity at all, since i am a freak of nature, but i am willing to give it a shot.
something fun: my boss has hopped on the cleanse wagon with me (it's weight loss purposes for him) and so we are in it together this week! i will elaborate more on the cleanse in another post, since this one is already pretty lengthy.
on my list to try.
there are a number of things i want to try out to see if they help me. a few are:
essential oils (recommended by my sister, marisa)
eliminating various items from my diet to see the outcome (some ideas: eat less/no meats & cheeses, eliminate all dairy, eliminate certain grains, etc)
seeing if birth control pills play a role (not sure how to figure this out but some people mentioned it)
acupuncture
seek direction from a naturopath
that last one is actually what is on TOP of my list.. but the naturopath i want to see is $285 for a 90-minute consultation and then $150 an hour for any appointments after that. i know it will be money well spent, but i am going to wait for pay day to roll around so i don't have to pull money out of savings.
i am always open to suggestions, but i am also very mindful that what works for one person will not work for another. there is no cure-all, but i am willing to experiment to find my own tailored cure.
i have to say one thing: you guys have been amazing. i have received hundreds of helpful comments and emails that have contained possible solutions. while i haven't been physically able to reply to each and every one of your bits of advice (i have a full time job!), i appreciate them ALL. so THANK YOU. thank you for caring and being concerned and giving me the time of day. i actually have a notebook where i have written down EVERY suggestion.. i am open to try whatever i can in order to find a solution to my problems. it's so nice to hear what has worked for you all. i know it may not work for me, but everything deserves a shot.
WOW, that was long. gut talk OVER.
in other news, i am currently obsessed with this new video from tegan and sara (collaborated with morgan page.)
doesn't it make you want to go pump some iron?!
one last thing: PLEASE vote for eden's salted caramel crock pot blondies. it would mean a lot to her. and me. click here, her recipe is the far right. thanks!
that's enough out of me. feel free to leave your thoughts.. if you made it this far.
xo. janetha g.
ETA: i linked to my zrii website that was generated for me when i bought the product. i signed up as an "independent executive" because it made the product cheaper for me to buy.. and that's when they made me the website. i am not trying to slang it to you, although you can make purchases from that site i am not trying to get you to do that! that link was just for those of you who were curious and had asked me about it so you could browse around and read what it is. i will do a comprehensive post about it soon.